I love using organic brown rice protein powder as a protein supplement! It's made by treating brown rice with enzymes that cause the rice's protein and carbohydrate components to separate. Organic brown rice protein isolates and concentrates include 37% essential amino acids and 18% BCAA, making it an optional source of protein. It's another excellent choice for vegans, like hemp protein powder. Give it a try and see how it works for you!
Brown Rice Protein Powder Nutrition Facts
It's an excellent choice for anyone who is lactose-intolerant or vegan and cannot consume whey protein due to lactose. Brown rice is a popular non-dairy plant-based protein supplement with many benefits over white rice.
Most rice protein supplements are brown because brown rice protein benefits more than white rice. Comparing brown rice powder protein vs whey, it has medium digestibility than whey, which gets digested faster, whereas casein absorbs slower. Try a rice protein shake and see how it works for you!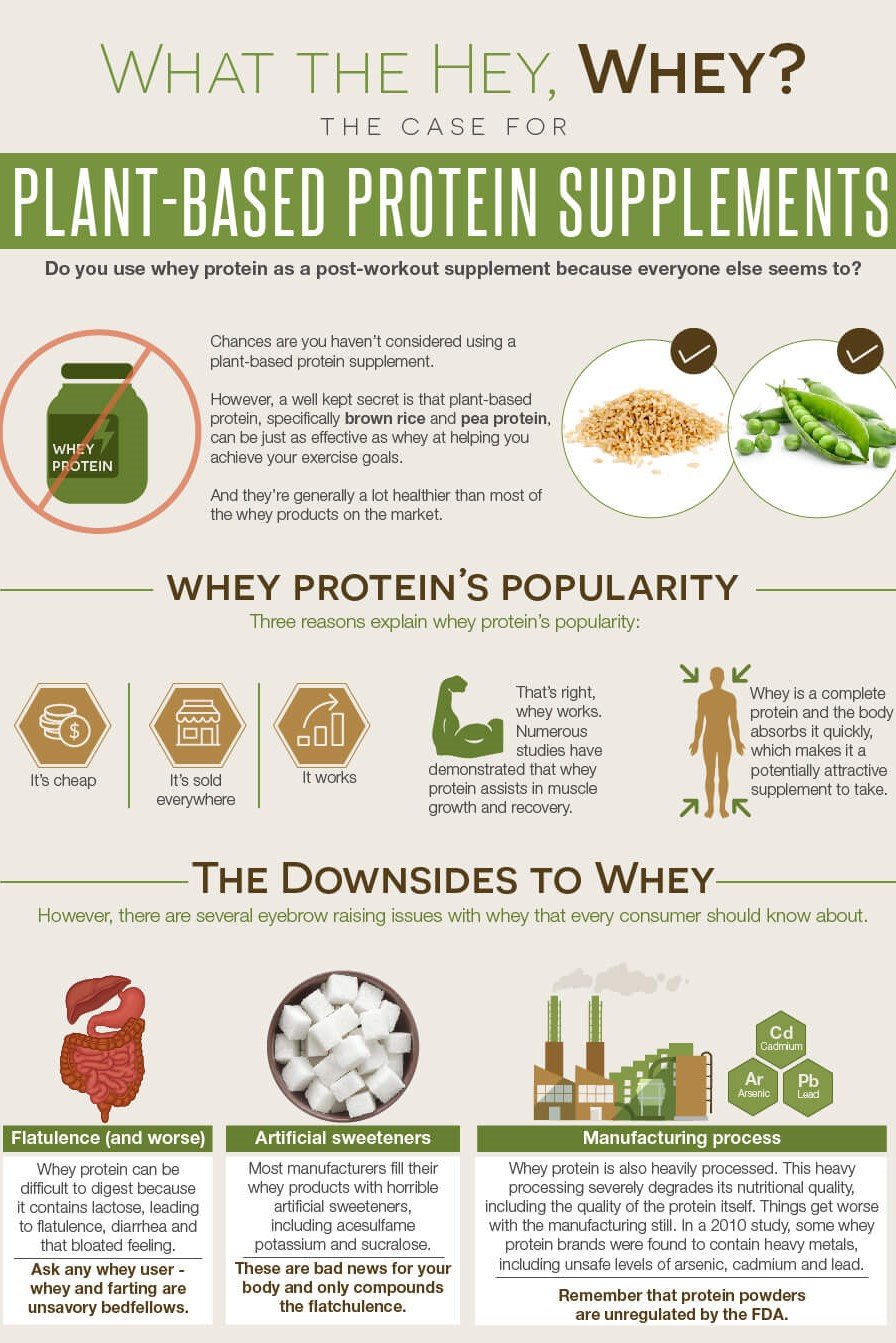 It's not a complete protein but has enough amino acids to be an excellent plant-based muscle builder. Brown rice and pea protein powder become a perfect match. For this reason, pea and brown rice-based protein powder are used together in supplements because they perfectly complement each other. For any shortcomings in one, the other makes up very well. For example, pea proteins have lower levels of amino acids methionine and cysteine, while brown rice protein is lower in the amino acid lysine.
Best Brown Rice Protein Powders
The best organic brown rice protein powder benefits are more for obvious reasons, so most companies use organic products only.
If you like brown rice protein powder vanilla or chocolate flavor, MyVegan is my favorite brand. It is the best-tasting brown rice protein powder.
Serving Size -25gm
Calories -110
Protein -24gm
Fat -0gm
Carbs -3gm
Dietary Fiber -2gm
Sodium, Calcium, Iron, Potassium
An 80% protein content makes it perfect for all sports and training goals, including weight reduction. A low-fat and sugar product makes a great vegan and vegetarian meal.
This organic rice powder contains 24 grams of plant-based protein, which helps build and maintain muscle mass. This product is 100% Brown Rice Concentrate with no other ingredients added or removed.
It also contains amino acids that help build and repair new muscles, crucial for reaching any fitness goal. It's a great fat and sodium-free addition to a balanced diet.
The most significant distinguishing feature of Myvegan protein powder is its mixability. Its texture makes it easy to integrate into baked goods, snacks, and drinks. Many customers dislike the flavor, describing it as harsh. Myvegan protein powder is very soluble.
Terrasoul Superfoods Sprouted Brown Rice Protein Powder
Serving Size – 10gm
Calories -40
Protein -8gm
Fat -0gm
Carbs -1gm
Calcium, Iron, Potassium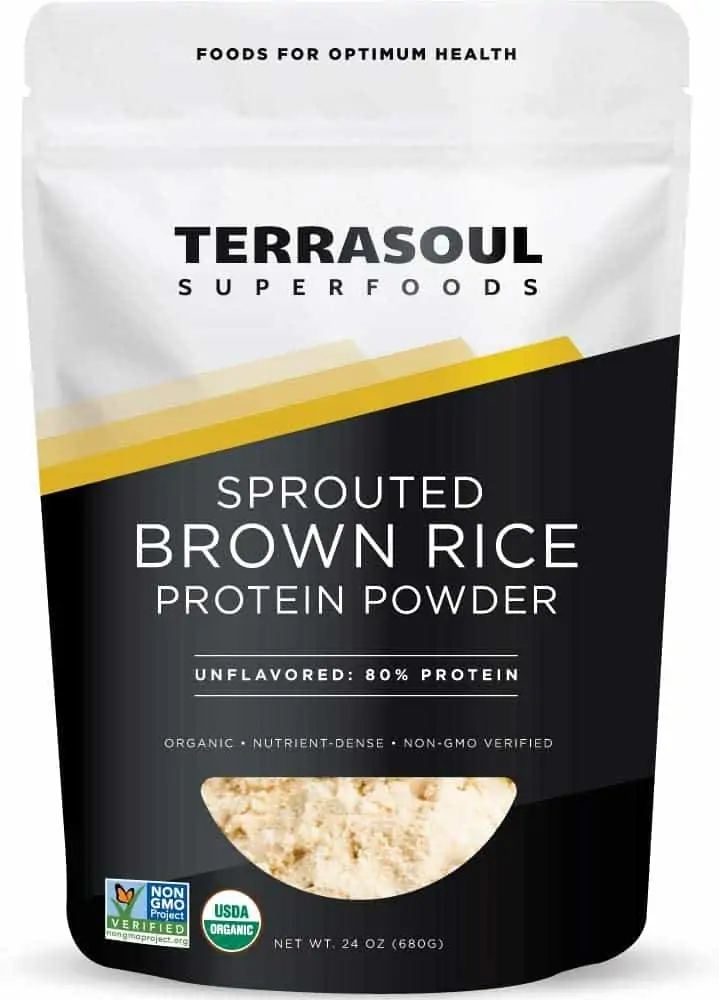 The sprouted brown rice protein is a high-quality, readily digestible plant-based protein. Its smooth texture and mild taste make it ideal for smoothies or mixed with other protein powders.
This brown rice protein does not include "natural" flavors or stevia; the company utilizes the purest whole-grain rice. The lab tests every batch of protein powder to ensure purity and quality.
These are non-GMO, USDA organic, and devoid of artificial flavors and other toxins. Each batch is pure, potent, and high in amino acids.
Judee's Brown Rice Protein Powder
Serving Size – 25gm
Calories -100
Protein -21gm
Fat -1.5gm
Carbs -0gm
Dietary Fiber -1gm
Sodium, Calcium, Iron, Potassium, and Phosphorus.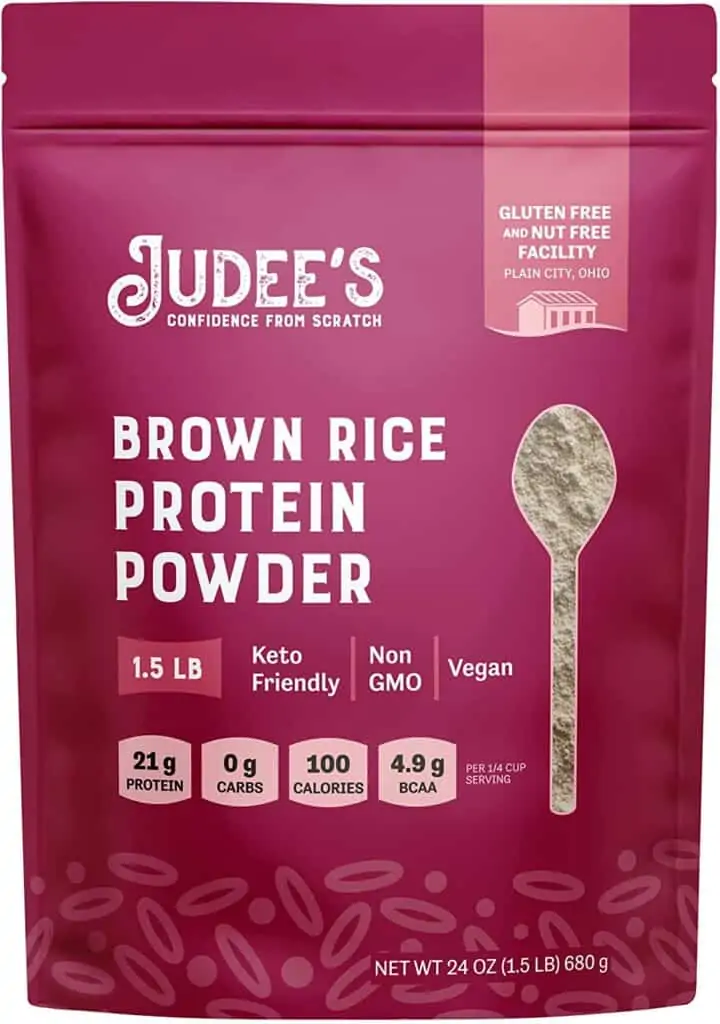 There are no flavors or additives. Its delicate texture and bland flavor make it a popular favorite. It is keto-friendly and low in calories.
Some individuals are allergic to plant-based proteins. It's a fantastic keto choice, but this brown rice protein powder may cause bloating. To test for sensitivity, start with 1/2 serving and work up to 1 serving.
Gluten-free and delivered in a resealable bag to maintain freshness. Sprouted Brown Rice Protein Powder is 100% Brown Rice Protein Powder.
NOW Sports Sprouted Brown Rice Powder
Serving Size – 5gm
Calories -15
Protein -4gm
Fat -0gm
Carbs -0gm
Dietary Fiber -0gm
Calcium, Iron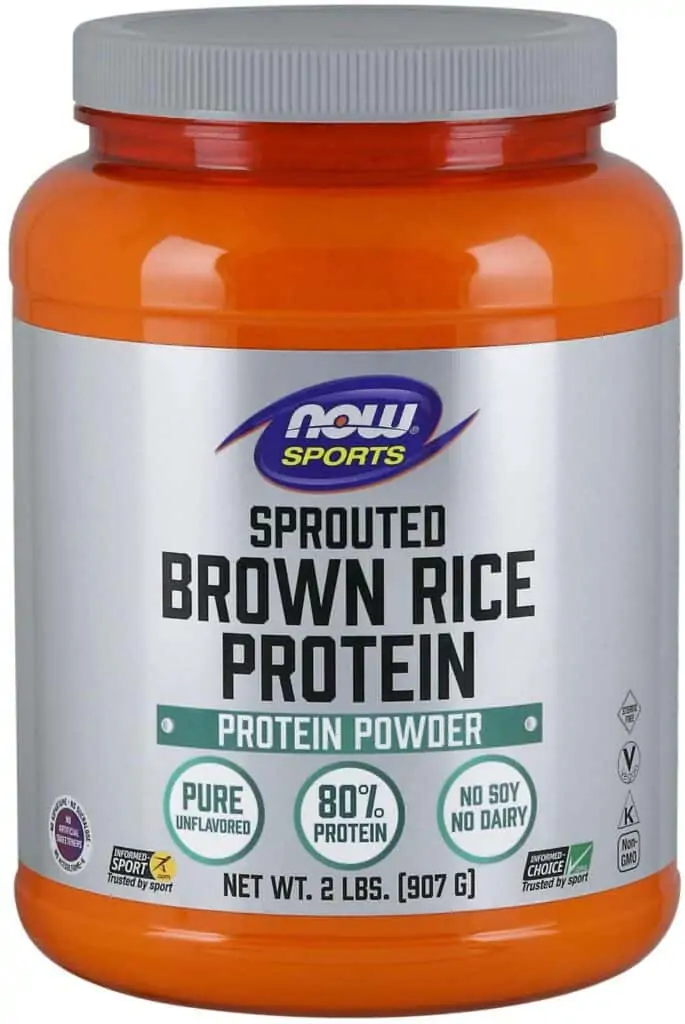 It is pure, unflavored brown rice protein powder and an excellent protein source for food allergies. This natural and pure brown rice protein blends effortlessly into your favorite drinks. It is GMP-certified, non-GMO, vegetarian, and vegan and has no artificial sweeteners.
As a result of NPA's A-rated GMP accreditation, every element of the production process has been scrutinized for stability, potency, and product formulation. Brown rice powder from NOW is a fantastic lactose-free option. Its low cost may help you get a nutritional boost when combined with other protein powder sources.
The flavor of this brown rice protein powder is the main gripe of users. So, don't combine this protein powder with water alone, or you'll be dissatisfied.
NOW provides an essential brown rice protein. Its nutritional benefits and low cost make up for its slightly unpleasant flavor.
Serving Size -30 gm
Calories -120
Protein -25gm
Fat -0.5gm
Carbs -4gm
Dietary Fiber -1gm
Calcium, Iron, Potassium, Magnesium
There is only one ingredient: the organic sprouted brown rice protein, free of GMOs, soy, and gluten. This protein powder is metal and melamine-free. Naked rice is a better vegan amino acid source with a similar amino acid profile to whey protein.
You will enjoy this product if you want a genuine brown rice protein powder with no artificial flavors, sweeteners, or ingredients in this vegan supplement.
With 25g of protein in every serving, it makes an excellent protein powder for athletes, weightlifters, and anybody looking to lose weight.
It has a good amino acid profile, similar to whey proteins. Aside from being costly and having superior nutritional value, the powder is melamine and heavy metal-free. It is also an excellent source of calcium, magnesium, and iron. But it feels granular and is costly.
NutriBiotic Certified Organic Rice Protein
Serving Size -15gm
Calories -60
Protein -12gm
Fat -0gm
Carbs -2gm
Dietary Fiber -<1gm
Sodium, Calcium, Iron, Potassium, Phosphorus, Magnesium
It provides readily digested protein with various naturally occurring amino acids. It is a nutrient-dense protein from organic, kosher, sprouted brown rice. GMO and gluten-free.
The proteins come from enzyme-treated brown rice, making this a vegan-friendly food. It is low in carbohydrates and calories. It is the most diet-friendly, and its simple ingredient list is ideal for those starting.
Nutribiotics also employ a unique formula to separate proteins from carbs. They use moderate temperatures instead of heat to keep the amino acids in their protein powders. The neutral flavor works well for some since you can mix it with weight-loss smoothies.
Zen Principle Organic Brown Rice Protein
Serving Size -30gm
Calories -130
Protein -25gm
Fat -2.2gm
Carbs -1.5gm
Dietary Fiber -3.4gm
Calcium, Iron, Potassium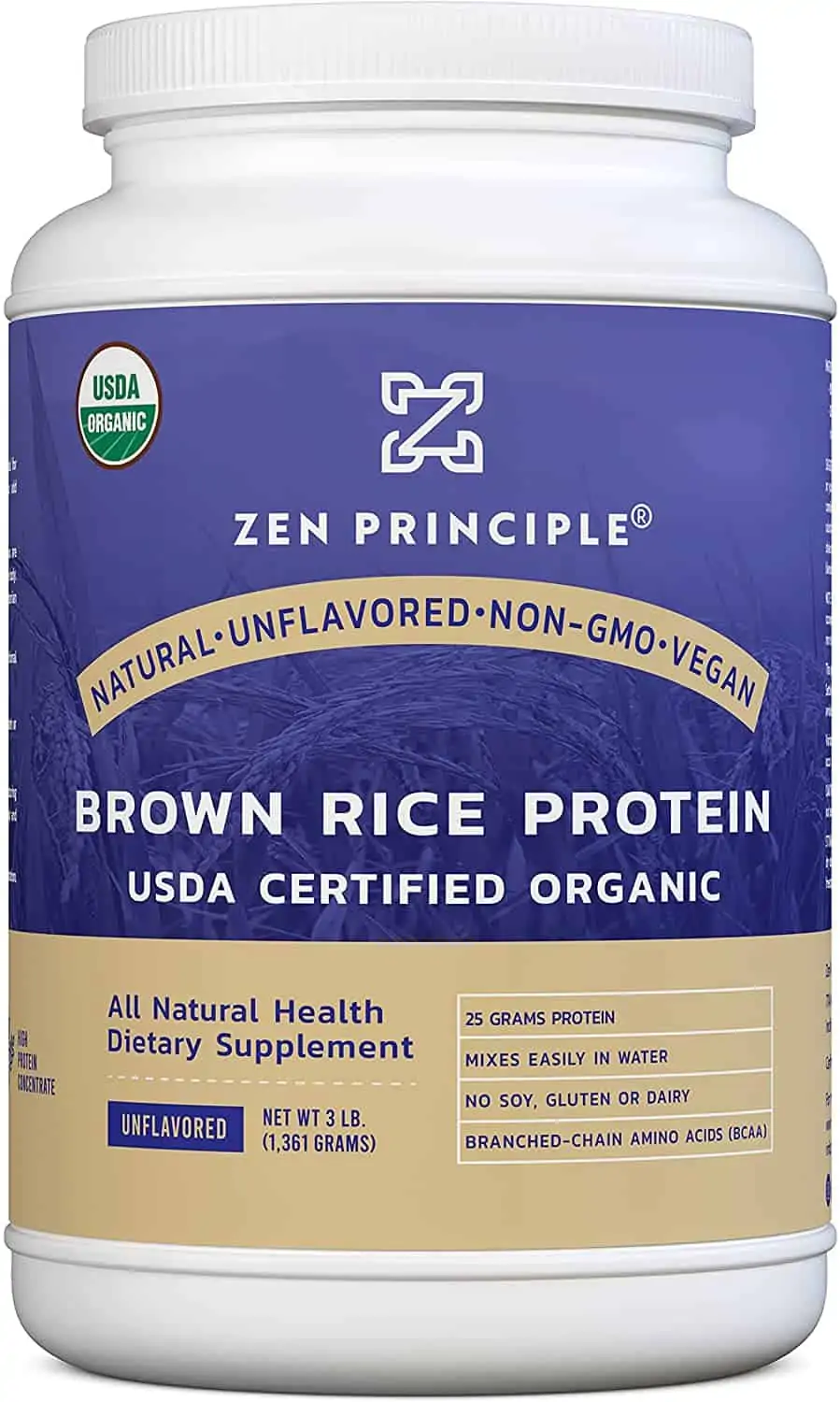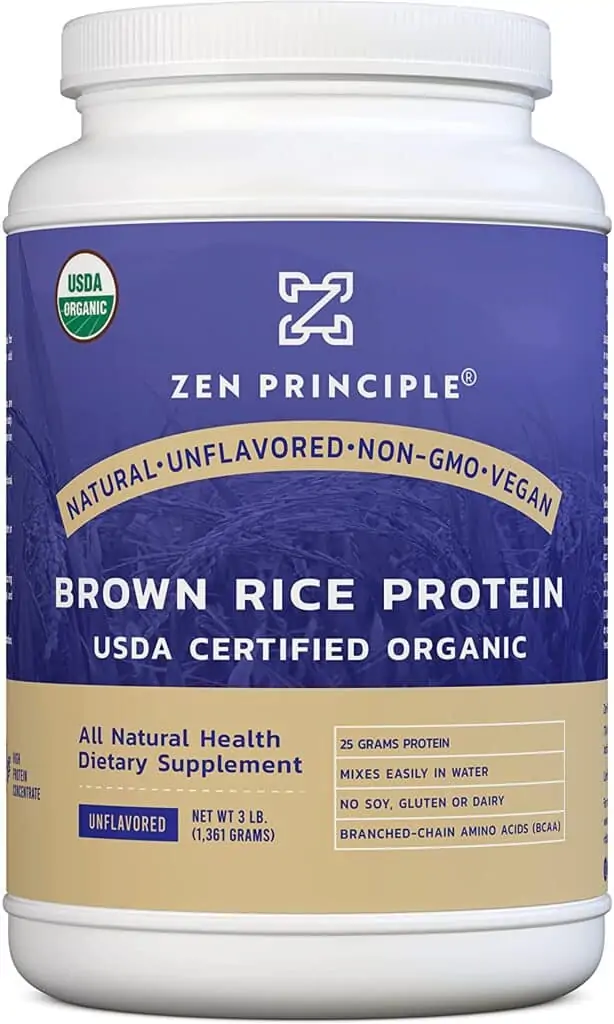 It contains 15+ amino acids, anti-inflammatory chemicals, and iron. It's hypoallergenic and devoid of soy, dairy, gluten, and GMOs. Few foods offer as much protein per serving as Organic Rice Protein!
It has 26 gm of protein per serving. It is also custom-milled to a more acceptable consistency for more effortless blending in cold and hot beverages. It has an earthy hue and a delicious fragrance.
This powder is an excellent value for money. It has a gritty texture and earthy taste. Regarding protein density, Zen Principle's brown rice protein powder is one of the more affordable choices. It is easy to combine it with fruit or green smoothies.
It also includes iron, amino acids, and anti-inflammatory components. If you need a nutritious supplement, this is the one.
Pure Rice Protein Powder
Serving Size -10gm
Calories -40
Protein -8gm
Fat -0gm
Carbs -2gm
Calcium, Iron, Potassium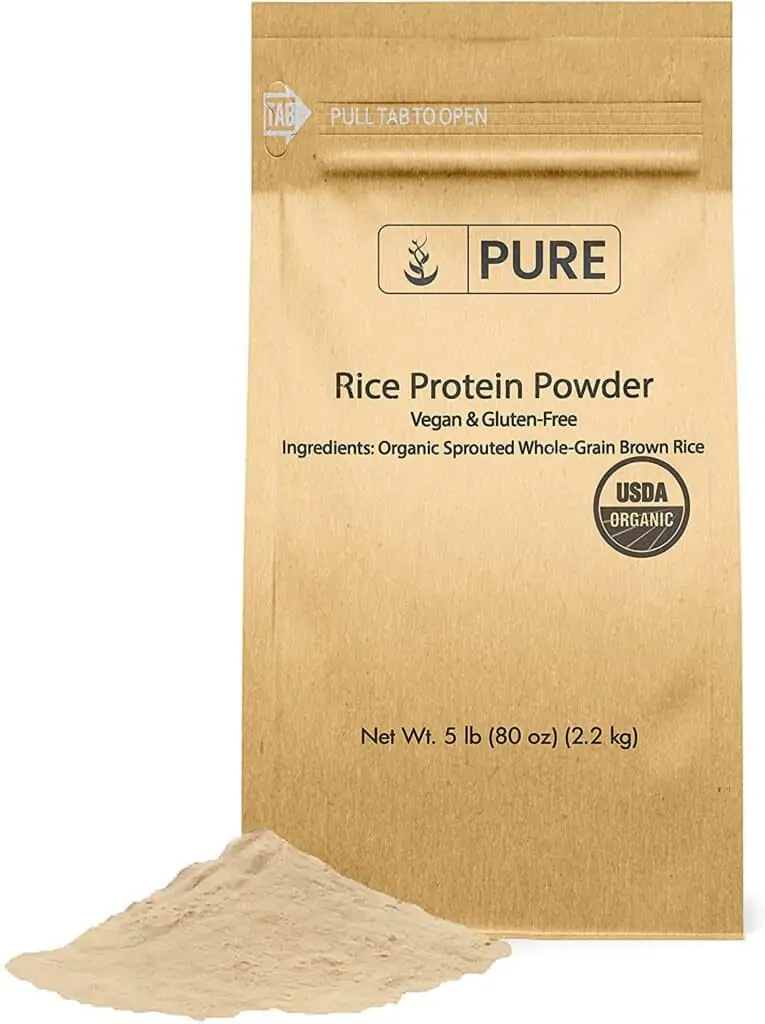 This Pure Rice Protein Powder is an excellent post-workout recovery supplement. It is vegan, gluten-free, and animal-free.
The amounts of sodium and cholesterol are minimal. A significant concentration of essential amino acids may be found in this product. This has a high concentration of antioxidants.
Is Brown Rice Protein a Complete Protein?
Technically, rice protein does not satisfy the completeness requirements, and a protein must include all nine EAAs and provide sufficient quantities of each.
Brown Rice Protein lacks lysine and must be supplemented with another lysine-containing protein. However, it isn't too far behind. It has all EAAs and lacks lysine only. Soybeans, tofu, spirulina, and fenugreek seed are all sources of lysine.
Pea protein is another popular plant-based protein powder with enough lysine (71mg/g). Interestingly, pea protein is deficient in just one amino acid—methionine+cystine. So, combining rice and pea proteins provides sufficient quantities of all nine EAAs.
To overcome the limitation of brown rice protein powder's amino acid profile, you can combine it with other plant-based proteins that are high in lysine, such as pea, hemp, or soy protein powder. This way, you can get a balanced and complete amino acid profile from your protein supplement.
Brown Rice Protein Powder Recipes
Here are some examples of brown rice protein powder recipes that you can try:
Summer fruit protein shake: This refreshing shake is made with brown rice protein powder, summer fruits, vanilla powder, water, and ice. It is a great way to start your day with antioxidants and protein.
Chocolate chip protein smoothie: This decadent smoothie is made with brown rice protein powder, cacao powder, almond milk, banana, cacao nibs, and walnuts. It is a satisfying treat that satisfies your sweet tooth and protein needs.
Kale protein smoothie with fresh mint: This green smoothie is made with brown rice protein powder, banana, kiwi, kale, mint, and water. It is a refreshing and energizing drink that will boost your immune system and metabolism.
Brown Rice Protein Powder Benefits
Brown rice protein is rich in cysteine, which may help improve lung health, athletic performance, and detoxification. It also contains methionine, which is needed to produce proteins and other vital macromolecules.
Brown rice protein may also help regulate cholesterol and blood sugar. A 2018 study in the Journal of Antioxidants found that brown rice is anti-diabetic, anti-cholesterol, cardio-protective, and antioxidant.
Brown rice protein is excellent for muscle development, recovery, and weight loss due to its "thermic effect." Difficult-to-digest proteins like brown rice keep the body burning calories long after consumption.
Brown Rice Protein Helps in Weight Reduction
Slow-release proteins may be more satiating. This hypothesis favors brown rice over whey because rice is absorbed slower, and its complex carbs should be more filling than whey's essential sugars. In any case, rice protein is equally or more efficient than animal protein in weight loss.
Brown Rice is More Sustainable and Eco-friendly
Rice protein uses fewer natural resources than dairy proteins like whey and casein and emits less carbon than dairy.
As long as pesticides are not utilized, brown rice cultivation is reasonably sustainable. Buy either non-GMO or organic brown rice since harmful pesticides pollute the air, water, and land.
A 2018 Oxford University study, the most comprehensive analysis of the damage farming does to the planet, found that avoiding meat and dairy is the single most significant way to reduce your impact on the earth. Animal husbandry provides just 18% of the calories but from 83% of our farmland.
Brown Rice Protein Powder Side Effects
Arsenic in brown rice protein powder, a highly hazardous trace element found in nature, is more prone to contamination. Organic and inorganic arsenic exist, and the inorganic version, found in water and rocks, is more harmful to humans. Because rice thrives in flooded areas, inorganic arsenic in the groundwater may enter the plant. Pollution and the use of chemical fertilizers may raise inorganic arsenic levels.
Brown rice-based protein powder side effects can also be there if we don't choose our product carefully. Brown rice's hulls contain more arsenic than white rice. So select a brand only if it has been tested for brown rice protein powder arsenic levels. Quality protein companies want to make sure you're not ingesting anything harmful.
Who Can Use Rice Protein?
If you shun rice products because you consider them "carbohydrates," it's time to harness the potential of rice protein.
Rice protein is an excellent alternative to whey or casein for vegetarians, vegans, and anybody who avoids dairy. Whether you're attempting to build muscle or increase your protein consumption for weight reduction or wellness, it is true. Like any other protein powder, you may consume rice protein by taking a scoop between meals or as a meal replacement.
But even carnivores may benefit from it.