There are various benefits of chia seeds. They are tiny yet packed with nutrients. They are high in omega-3 fatty acids, fibre, and iron. The 28-gram serving has 5.6 grams of protein.
High in Antioxidants: Antioxidants accomplish the impossible. They slow down ageing, resulting in younger skin, better hair, and even lower cancer risk. They are youth-giving chemicals.
Chia seeds provide more calcium per ounce than dairy products and are a life-changer for non-dairy eaters. Eat dairy, but mix it with yoghurt for a healthy dose of probiotics.
Nutrient Value of Chia Seeds
Benefits of Chia Seeds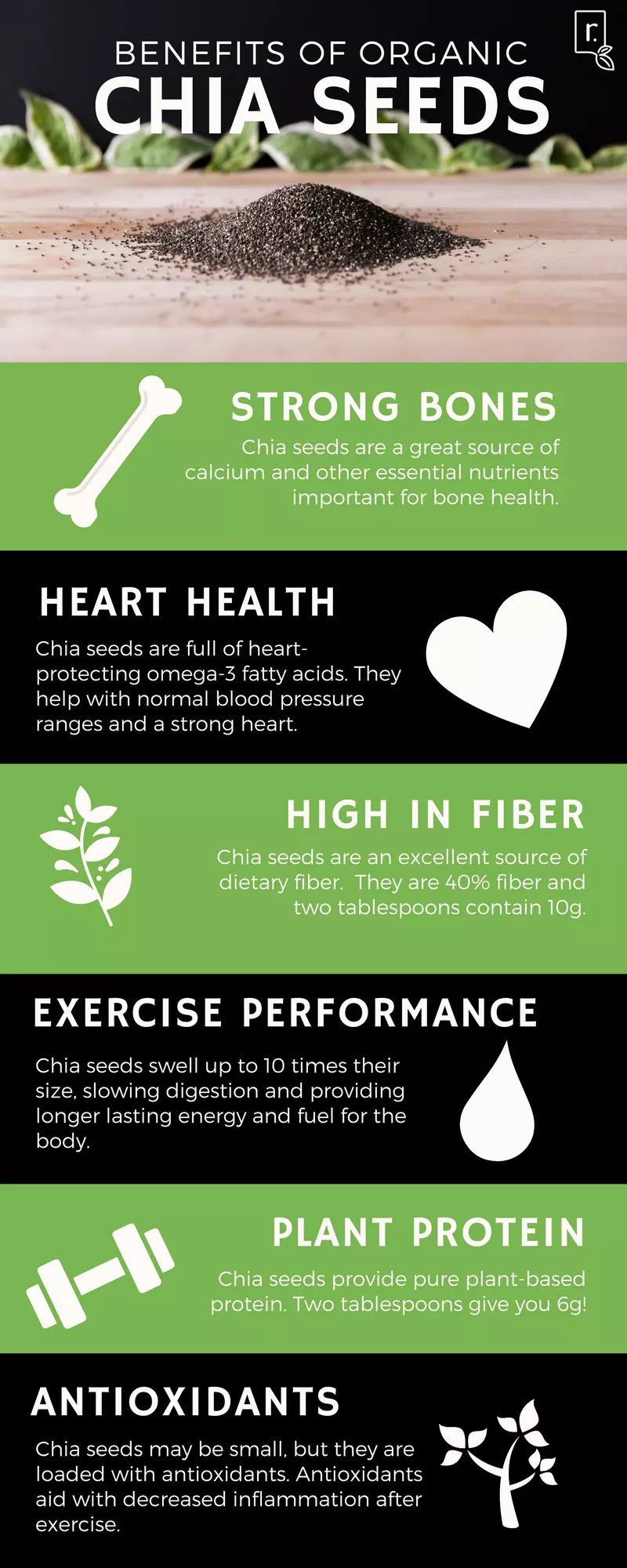 Chia seeds' benefits are much more as compared to their size. They have many parts that, when eaten as part of a plant-based diet, may help people stay healthy and avoid getting chronic diseases. There is a high concentration of alpha-linolenic (ALA) fatty acids, and Omega-3 fatty acids make up about 60% of chia seed oil.
Their fibres may help reduce LDL cholesterol, delay digestion, prevent blood sugar increases after meals and promote satiety.
In animal tests, chia seeds have improved cholesterol levels, weight reduction, and satiety. These results confirm that these may improve human health when included in a diverse plant-rich diet and other healthy lifestyle habits.
They provide all nine necessary amino acids that the body cannot produce.
In addition to nutritional value, it improves gastrointestinal health. They can help people with type 2 diabetes lower their triglycerides and improve their blood sugar levels.
Stops osteoporosis! These are rich in calcium, phosphorus, and manganese, making them good for bones.
Chia seeds are an excellent source of protein, according to the USDA.
Cardiovascular Health
Chia seeds have been proven to improve cardiovascular health in both animals and humans. They have been associated with lowering cholesterol, regulating heart rhythms and blood pressure, preventing blood clots and decreasing inflammation.
A particular effect of chia seeds on cardiovascular risk variables such as blood pressure, lipids, sugar, and inflammation has been demonstrated in human studies.
Related Readings

Facts on Creatine Powder: Important FAQs and 9 Best Sellers
Heavy Duty Treadmill for Sincere Runners: 9 Best- All 4HP
Muscular Endurance Benefits:10 Top Reasons for Senior Fitness
Chia Seeds Soluble Fiber
Chia seeds are high in fibre and low in carbohydrates. It implies you'll eat less, and it will help maintain your intestines' health.
Wet chia seeds form a gel-like substance, a soluble fibre at work. Soluble fibre bulks up stools, feeds gut flora, slows digestion to keep you full, and it also lowers blood sugar. These offer a third of your daily fibre needs.
According to dietary guidelines for Americans, males under 50 should eat 30.8 g of fibre per day, and women under 50 should consume 25.2 g.
Adults over 50 should consume 28gm of protein per day for males and 22.4gm for women. Most folks don't even get half of that.
Eat more plant-based foods, including fruits, vegetables, nuts, seeds, and whole grains, to boost fibre consumption. It contains 10 grams of fibre, nearly half the daily requirement for women over 50.
How to Use Chia Seeds for Weight Loss?
Fibre-rich foods keep you fuller longer and are typically lower in calories.
Chia seeds include almost 5 grams of fibre per serving and are rich in omega-3 fatty acids and alpha-linolenic acid, which may help with weight loss. You can also make the seed into a gel by adding water, which slows its digestion in the body, reducing hunger for longer.
But the proof is scarce. A study published in the Journal of Obesity finds that "there is little evidence to support the use of chia seeds for weight loss."
As chia seeds are high in fibre, they may help reduce overeating and weight gain. But there's no proof that eating these can help you lose weight.
They may even assist with animal weight reduction, but human research and reviews have yet to support these claims.
While chia seeds are loaded with nutrients, portion control is important to lose or maintain weight.
Chia Seeds Constipation
High-fibre diets have been shown to reduce flare-ups of diverticulitis by soaking up water in the colon and making it easier to go to the bathroom. Diverticular illness has been linked to a low-fibre diet.
Good nutrition with lots of fruits and vegetables helps reduce colon pressure and inflammation.
A diet rich in fibre reduces constipation and improves regularity. Regular bowel motions are essential for daily bile and stool toxin elimination.
An ounce is enough in a day, and more may result in bowel vengeance.
Chia Seeds for Cholesterol
Increased fibre consumption lowers blood pressure and cholesterol.
A meta-analysis of 67 controlled studies showed that adding 10 grams of fibre per day decreased LDL and total cholesterol.
Recent research suggests dietary fibre may help regulate the immune system and inflammation. It may reduce the risk of inflammatory diseases, including heart disease, cancer, and obesity.
Chia Seeds and Diabetes
Not much research has looked into chia's impact on blood glucose and insulin resistance.
However, chia seeds may convert glucose into a slow-release carbohydrate. It may help individuals with type 2 diabetes.
High-fibre diets can prevent diabetes and keep blood sugar levels steady.
The National Institute of Medicine showed that diets containing 14 grams of fibre per 1,000 calories significantly reduced coronary heart disease and type 2 diabetes.
Omega-3s for Heart Health
Omega-3s may reduce the incidence of thrombosis and arrhythmias, which may cause heart attacks, strokes, and sudden cardiac death. They may also reduce LDL, total cholesterol, and triglycerides, enhance endothelial function, and lower blood pressure.
It's easy to obtain omega-3 fatty acids from chia seeds, which are vital for brain function. One ounce provides 5 grams of omega-3s, plus you don't have to grind or boil them like flaxseeds.
They're an uncommon omega-3 source that is vital and helps combat depression, improves sleep, and reduces the risk of heart disease.
Risks of Taking Chia Seeds
Chia seeds can hold 27 times their weight in water.
An oesophagal blockage occurred after a guy ate a spoonful of dry chia seeds and then attempted to wash them down with water.
He couldn't swallow the seeds because they created a thick gel in his throat. It emphasizes the necessity of combining chia seeds with another food or drink before eating, particularly for those who have trouble swallowing. But don't give these to babies.
How to Eat Chia Seeds
They don't have much taste, so you won't notice them in your meal, save for the textural crunch and bump they add. We consume these for health, not taste.
Before the chia craze, most people would advise you to mix a tablespoon in a glass of water and consume it for healthy digestion. It's not a terrible concept, but there are better methods. They're great on cereal, yoghurt, oatmeal, and smoothies. They may also be cooked and put on bread, muffins or pancake batter etc.
To substitute eggs in vegan baking as an egg replacement, combine 1 tablespoon of chia seeds with 3 tablespoons water and rest for a few minutes, and it will create a gel that may replace eggs in baking.
Many people question whether these should be crushed or consumed whole. Because these are fragile and easily broken when wet, they are usually cooked with liquids. Unlike flax seeds, they are absorbed and digested in their entire form. Choosing ground chia seeds may enhance absorption if eaten dry.
These are shelf-stable for 4 years. Keep cool and dry. Chia seeds from Central America are a long-time superfood. You may turn them into pudding, smoothies, porridge, or even bread! They're not only adaptable but also healthy.
Is Eating Chia Seeds Bad for Your Health?
One tablespoon of chia seeds has just 69 calories.
However, their high fibre content may cause stomach problems. If your body isn't accustomed to regular fibre consumption, increase it gradually and stay hydrated.
There is no set amount to consume every day. But other physicians and organizations, including Columbia University, advocate consuming 20 grams of chia twice a day. Naturally, this varies by age, gender, and weight. Because they're high in fibre, increase your intake gradually and drink lots of water.
Caution: If you have allergies to sesame or mustard seeds, consult your doctor before adding chia seeds to your diet. Consult your doctor if you have high blood pressure, are pregnant or nursing, or use blood thinners. Finally, ALA, which is abundant in chia seeds, may raise your risk of prostate cancer.
This omega powerhouse is packed with nutrients that will help men and women live healthier lives. These are packed with nutrients like omega-3 and fibre, making them a perfect addition to any protein shake or smoothie. Its neutral taste means it may be mixed with any flavored drink or smoothie.
The Organic Chia Seeds are gluten-free, nut-free, low-carb, and non-GMO. Vegans, vegetarians, Keto, Paleo, and other stringent diets may easily include this healthy seed in their diets.
Chia seeds provide 5350mg of omega-3 and 10g of fibre, which is 7% of the DV for fibre!
Chia seeds are a hidden kitchen necessity. You can add these to almost any meal and not worry about the taste changing. Because they are flavorless, you may use them to add texture to cuisine without overpowering the original flavor.
The possibilities are endless! Mix it into baked goods like bread and muffins for a protein and fibre crunch. For a filling snack, sprinkle the seeds over yoghurt, pudding, salads, oats, granola, or cereal!
This package includes certified organic, Paraguayan Chia Seeds. Delicious & healthy. Sprinkle over salads, and cereals, or blend into a smoothie.
All of our goods are USDA Organic certified by California Certified Organic Farmers (CCOF). Our goods are USDA Organic Certified!
USDA Certified Organic Ground Chia Seeds, batch tested and verified gluten-free products of South America, packaged in California. South American product, packed in California.
It is a fantastic source of Omega-3 fatty acids, as well as antioxidants and fibre, among other nutrients. A wide range of vegan, paleo, and keto recipes will benefit from the use of this ingredient!
Omega-3 fatty acids, fibre, protein, iron, and antioxidants. Being tasteless, you may add these to your favourite meals. For a delicious and full snack, sprinkle chia seeds over oatmeal or add them to smoothies, salads, or yoghurt.
1 tablespoon chia seeds to 3 tablespoons water makes a vegan egg replacement. This omega powerhouse is gluten-free, vegan, nut-free, raw, low-carb, and paleo-friendly.
Viva Naturals chia seeds are sustainably sourced, high-grade seeds that provide excellent nutrition, flavour, and flexibility. Our unprocessed chia seeds are free of undesired additives and hazardous substances.
It is high in protein, omega-3 fatty acids, meglic acid, and fibre. It can be eaten whole. Yummy vegetarian & vegan ingredients.
Soak them for a delicious pudding or gel. Nutiva sources the world's best chia seeds from organic growers and strictly follows USDA organic and non-GMO standards to provide a superfood that is healthy for you and the earth.
Black/white/ground chia seeds in convenient, resealable, BPA-free packaging.
The chia seed is high in protein, fibre, vitamins, minerals, and antioxidants. Per serving, Navitas Organics Chia Seeds contain 11 percent DV fibre and 2g of protein.
Chia seeds are high in omega-3s. Inflammation-fighting omega-3 fatty acids are necessary for optimum health. Add it to chia pudding, salads, oatmeal, dips, smoothies, and baked goods.
USDA Organic, vegan, and gluten-free. All items are third-party tested for quality and nutritional value.
They are thoroughly cleaned and packaged in a nut-free, dairy-free and egg-free environment. All bitterness and grit are eliminated, leaving clean seeds that readily absorb liquid.
100% pure and uncooked, chia seeds are a fantastic source of plant-based protein that may be boiled, soaked, blended, or crushed. For a strong nutrient boost, add them to your kids' smoothies or cookies, or overnight oats or protein bowls.
Thanks to its high calcium, magnesium, iron, omega 3, zinc, B1, B2, B3, protein, and fibre content, chia is an important building component of bone, muscle, cartilage, skin, and blood.