The Exerpeutic TF1000 Treadmill is a high-capacity electric treadmill for walking workouts. It is a good option for anyone who wants to improve their fitness level.
Exerpeutic TF1000 Highlights
User Weight Capacity: 400 pounds.
Item weight: 142 pounds.
Speed: 4 Miles per hour.
Motor: 1.5 Horsepower.
Walking area: 40″ x 20″
Material: Carbon steel
Safety handles: 18″
Unique feature: Built-in hand grips.
Dimensions: 51.2″ D x 32″ W x 63″ H.
Power cord length: 5 feet.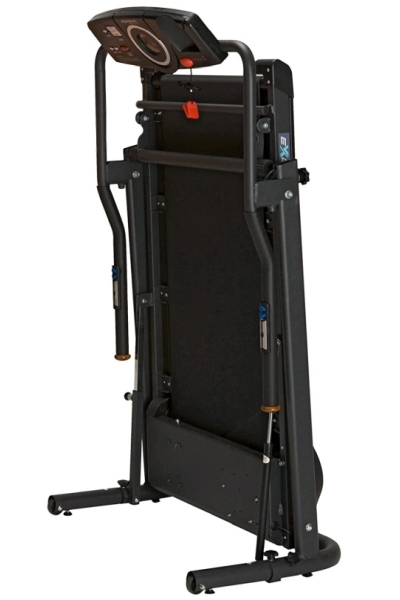 Folding Frame: Yes
Power Source: Electric
Display Type: LCD.
LCD monitors time, distance, calories burned, speed, and pulse.
Assembly required: Yes
Warranty: Frame: 1 Year, Motor: 5 Years, Parts: 90 days.
Exerpeutic TF1000 Features
The Exerpeutic TF1000 ultra high-capacity Treadmill has a sturdy, long-lasting, extra-strong steel frame. The frame has wheels for easy transport and can be folded for easy storage. Wide side rails on the frame act as foot platforms if you need to step off the belt.
The Exerpeutic TF1000 treadmill has long safety handles that extend from the console to the back of the machine. The handles are 18″ long and have foam grips for comfort and stability. The handles also have buttons for speed control and pulse monitoring, which are convenient and accessible.
You can stop the belt by pressing the emergency stop button on the treadmill console. The safety key for the treadmill has a cord that also attaches to your clothing. If you fall or leave the machine, the key will pull out and shut off the motor.
Thanks to its Bluetooth connectivity, you can sync your data from the treadmill with the Exerpeutic app on your smartphone or tablet. You can use the app to check your progress, create goals, and communicate your results with others. You can listen to your favorite music or podcasts by plugging your smartphone into the treadmill's audio socket.
The motor is suited for use at home because it is made to produce as little noise and vibration as possible. You can use this treadmill to exercise without bothering anyone or yourself.
Pros
It is reasonably priced and provides good value.
It has a large capacity and can support users of all sizes and weights.
It includes a thick, padded belt that creates a smooth surface for walking.
It offers a range of speed settings for varied fitness levels and objectives.
Long safety handles add to the stability and ease of the item.
Speakers and Bluetooth connectivity add entertainment and motivation while walking.
It is silent and does not vibrate or make a lot of noise.
Users have given positive feedback.
Cons
Because of its size and weight, moving or storing in tight areas could be challenging.
It has no automatic incline feature.
It does not have a backlight on the display, which may make it hard to read in dim light.
It does not have a fan or water bottle holder, which may make some users uncomfortable or dehydrate them.
Some users have complained about the belt's lifespan or the precision of the pulse sensor.
Though it has some drawbacks that may not be found in other treadmills, the company offers this treadmill at competitive prices. There is no other treadmill with 400 lbs maximum user weight at its price.
Additional Considerations
Here are some more details you might find helpful if you're purchasing this treadmill or want to learn more about it.
It has a straightforward screen that displays your heart rate and the duration, distance, calories burned, and speed of your walk.
While working out, keep a firm grip on the handrails to monitor your pulse.
If you wish to choose a new program or adjust your speed, a few buttons make it simple.
The Exerpeutic TF1000 manual is detailed and provides complete specifications, features, and assembly information.
User Experience
The Exerpeutic TF1000 treadmill is meant for walking only. It is comfortable and stable at higher speeds or angles. Because of the cushioning, the impact on the knees and ankles is minimized by the belt's wide enough stride. Additionally, the handles are long and comfortable to hold, which supports good posture and balance.
Users can see all the necessary data on the display panel, including time, distance, calories burned, speed, and pulse. The pulse sensor is precise as long as you grip the handles. Another feature, Bluetooth connectivity, also allows you to sync your data with the app and listen to music or podcasts while walking.
With more than 1100 views, 74% give it a 5-star rating. But 15% of purchasers give it a 1-star rating, which I feel is high.
We don't take any reviews from the company website. Nor do we take the top reviews from Amazon. We only take the most recent reviews. Some user reviews from Amazon are –
Lucy Danh says, "This works really good it's use by my kids and me. I'm over the weight limit and it works great no problems and not too loud like other machines."
Kevin B mentions, "I had a problem with this treadmill after about three and a half years of use. The company worked with me on the problem and I was able to make the necessary repairs to the unit. Diagnosing the problem took a while, but they stuck with it and we were able to get it running."
Maintenance and Durability
The Exerpeutic TF1000 Treadmill doesn't need much maintenance. The frame is solid and long-lasting because it is composed of strong steel. The motor is quiet and powerful, which reduces vibration and noise. The belt is sturdy and smooth, which reduces wear and tear.
You only have to do a few things to keep it working well. Clean it with a damp cloth often, put oil on the belt every few months, and make sure the metal parts aren't loose. Users have yet to encounter any significant problems or malfunctions with this treadmill.
Summary
The Exerpeutic TF1000 Treadmill is a reliable and durable option for walking workouts. It has a powerful motor, a spacious belt, a range of speed options and programs, and some unique features that make it stand out. It also has a high-capacity frame, long safety handles, and Bluetooth connectivity. It is affordable and offers good value for money. This treadmill might not be perfect because of its size, and it doesn't have an automatic incline feature. But it just takes a few minutes to get down while exercising and do it manually.
Conclusion
The Exerpeutic TF1000 Treadmill is good for people who want to get fit by walking home. It is easy to use and maintain, comfortable and stable to walk on and has great features that enhance entertainment and motivation. It is quiet enough not to disturb others or yourself while you walk. It also has a high-capacity frame, long safety handles, and Bluetooth connectivity. It offers good value for money. I recommend it to anyone who wants to improve their fitness.
FAQs
What is a good treadmill for a 400-pound person?
A good treadmill's user weight capacity should be 15 to 20% more than the person's weight. For a 400-pound person, it should have a high weight capacity, a powerful motor, a large and sturdy deck, and a range of speed and incline options. 
What is the weight limit on a treadmill?
The weight limit on a treadmill is the maximum amount of weight that the treadmill can safely support.
How do you unfold an Exerpeutic treadmill?
Unfolding an Exerpeutic treadmill is a simple process that involves releasing the lock latch and lowering the deck to the ground.