The Life Fitness T5 Treadmill is a modern, sturdy design that is simple to operate and includes many features. This pricey treadmill is made for jogging and running. It offers a powerful motor, a wide belt, and a console that can be adjusted. As a gym instructor for 24 years, here is my Life Fitness T5 Treadmill review.
Life Fitness T5 Treadmill Specifications
Motor: 3.0 HP (6.0 HP peak) DC motor with MagnaDrive motor controller.
Shock Absorption: Adjustable FlexDeck 3 settings to stimulate preferred running terrain.
Heart Rate Monitor: Contact and Wireless.
Power Requirements: All major voltage configurations.
Warranty: Frame and Shock absorbers – Lifetime, Motor – 10 years, Parts – 7 years, Console – 3 years, Labor – 1 year.
Dimensions: 79.5″ L x 32″ W x 61″ H
Maximum User Weight: 400 lbs (182 Kg)
Speed Range: 0.5 to 12 mph
Incline Levels: 0 to 15%
Item Weight: 341 lbs (155 Kg)
Display: LCD
Running area: 60″ x 22″
Walk, Jog, Run: Yes
Power Cord: 6 ft., front of the unit
Integrated Accessory Tray: Yes
Ergo bar: Yes
Cup holders: 2
User Profiles: 2, 4
Assembly required: Yes
Features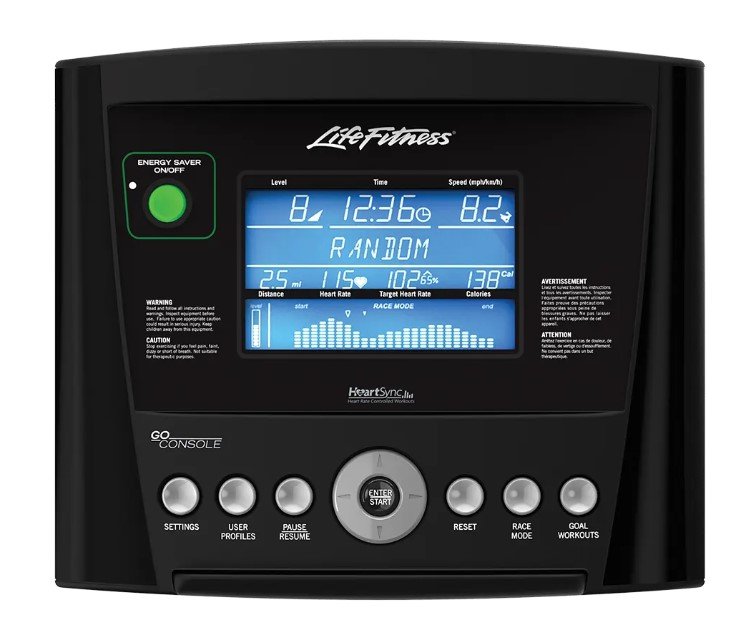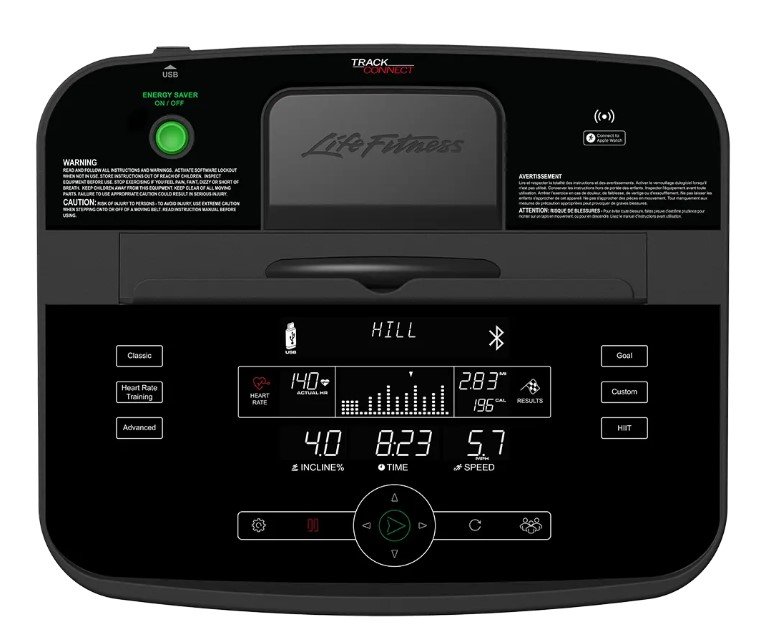 Frame: Heavy-duty steel construction makes up the frame, which can support 400 lbs. Its non-folding design offers more stability and longevity. Additionally, it incorporates transport wheels for simple movement.
Deck: The deck is 60″L x 22″ W, which provides plenty of space for most runners. Life Fitness T5 Treadmills offer Adjustable FlexDeck 3 settings to stimulate preferred running terrain. You can pick from three cushioning levels using the adjustable FlexDeck Select system. It has three options, i.e., running on pavement, grass, or a track. Your joints experience a 30% lessened impact thanks to the padding.
Handles: Ergonomically designed handles offer comfort and safety as you exercise. Additionally, they include contact heart rate sensors that take your pulse and show it on the console.
Connectivity: The treadmill contains features that might improve your training and motivate you. To track your progress in real-time, enjoy entertainment, and connect with friends, use Bluetooth or Wi-Fi to connect your device. To set targets, track your development, stream music or movies, or run with virtual partners. You may also use apps like LFConnect or third-party apps like Nike+ or RunSocial.
You can pick between the Go Console and the Track Connect Console. The Life Fitness T5 Go Console is necessary and contains an LCD screen that displays your heart rate, calories burnt, time, distance, speed, and slope. Additionally, it includes buttons for adjusting the angle and speed in 0.5% and 0.5 mph increments.
This treadmill has 16 built-in programs, divided into heart rate-controlled, classic, advanced, and goal-oriented workouts. The Track Connect Console is even more advanced, with a touchscreen that shows all the same info as the Go Console, plus extra details like your pace, rhythm, elevation gain, and calories per hour. Additionally, there are controls to change the inclination and speed in steps of 0.1% and 0.1 mph, respectively.
The treadmill contains a few features for everyone's safety. If you need to stop your workout immediately, press the emergency stop button on the belt. It also includes safety rails that offer stability and support while you train.
Pros
High-quality materials and components ensure the treadmill's durability and long life.
Customizable cushioning system and surface options.
The treadmill is effective for jogging and running at any incline or pace.
The inclination range is low to give your exercise variety and difficulty.
Connectivity for tracking progress, entertainment, and social engagement.
Safety measures to guarantee your comfort and security.
User Experience
The treadmill suits preferences and levels of fitness perfectly. Users can change their inclination and speed to match their speed and intensity. Running on the belt is comfortable and wide. The cushioning system responds quickly and adjusts to the terrain and preferences. The Life Fitness T5 Treadmill manual is easy to understand, informative, and provides all the crucial data.
Users also deal with the restrictions and difficulties of the treadmill. You need space and help to set it up or move it because it is large and hefty.
Maintenance and Durability
The Life Fitness T5 Treadmill needs little maintenance and is sturdy for the price. The maker advises using a silicone-based lubricant to lubricate the belt every six months. Regularly vacuum the dust from the motor area and clean the treadmill with a moist cloth.
Summary
The Life Fitness T5 Treadmill has a robust motor, a wide belt, and a console that can be adjusted. It is great for runners seeking a high-end, flexible alternative. Additionally, it has connectivity options, a flexible cushioning system, and a broad speed and incline range. It also has a solid warranty that increases value and durability.
The treadmill has significant flaws that might compromise its pricing and usability. It isn't easy to fit or move in tight locations due to its size and weight. The Life Fitness T5 treadmill price is $ 5,249, which is costly compared to other treadmills in its class.
Conclusion
You can use the Life Fitness T5 Treadmill to achieve your fitness goals because it is a dependable and sturdy treadmill. It has a modern look, is simple to use, and provides many options. It has a large weight capacity that can support the majority of users. It comes with a solid warranty, which increases value and toughness.
I suggest the Life Fitness T5 Treadmill for experienced runners who want to improve their performance and endurance. It's an excellent choice if you have some running experience and want to take your fitness to the next level.
It's also a good choice if you have enough space, a reasonable budget, and are willing to invest more for top-notch quality and features. I would not suggest this treadmill to beginners or walkers who do not require such a robust or advanced treadmill. In that case, it's a good idea to check out other treadmills that offer more features and are more reasonably priced.
FAQs
How does the Life Fitness T5 Treadmill compare to other high-end treadmills in terms of features and pricing?
Ans: The Life Fitness T5 Treadmill offers premium features but comes at a higher price point than similar treadmills.
Can beginners and casual walkers benefit from the Life Fitness T5 Treadmill, or is it more suitable for experienced runners?
Ans: While suitable for experienced runners, it may be less necessary for beginners or casual walkers.
What connectivity options and apps can the treadmill use to track progress and entertainment?
Ans: It offers Bluetooth and Wi-Fi connectivity, supporting tracking, entertainment, and social engagement apps.
Are there any specific assembly requirements or challenges associated with setting up the Life Fitness T5 Treadmill in a home gym?
Ans: Assembly may require space and assistance due to size and weight.