Horizon Fitness' T202 is the second in a line of affordable treadmills. It is for light running and walking. It's a modern treadmill with cutting-edge technology, a smooth incline, and Bluetooth that's fun to use.
It can go up to 12 mph. It is above par for walking and jogging, especially with an incline increase of up to 12%, which is ideal for calorie burning. Walking up a steep hill is a great cardio workout.
The T202 is an excellent, cheap treadmill. The Advanced Goal Center helps you focus and achieve long-term fitness goals, while the mobile device dock makes exercise more enjoyable. The Horizon T202 also has more already-set programs, a steeper incline, and better cushioning.
It is an excellent treadmill with simple features and no needless bling and is recommended for indoor walking. Its outstanding features make it an easy-to-use treadmill.
Motor
An ultra-reliable drive motor that recalibrates with each footfall eliminates delays and surges. The T202 motor also functions quietly. The Johnson Drive System operates at lower RPMs, keeping the motor cooler for longer life.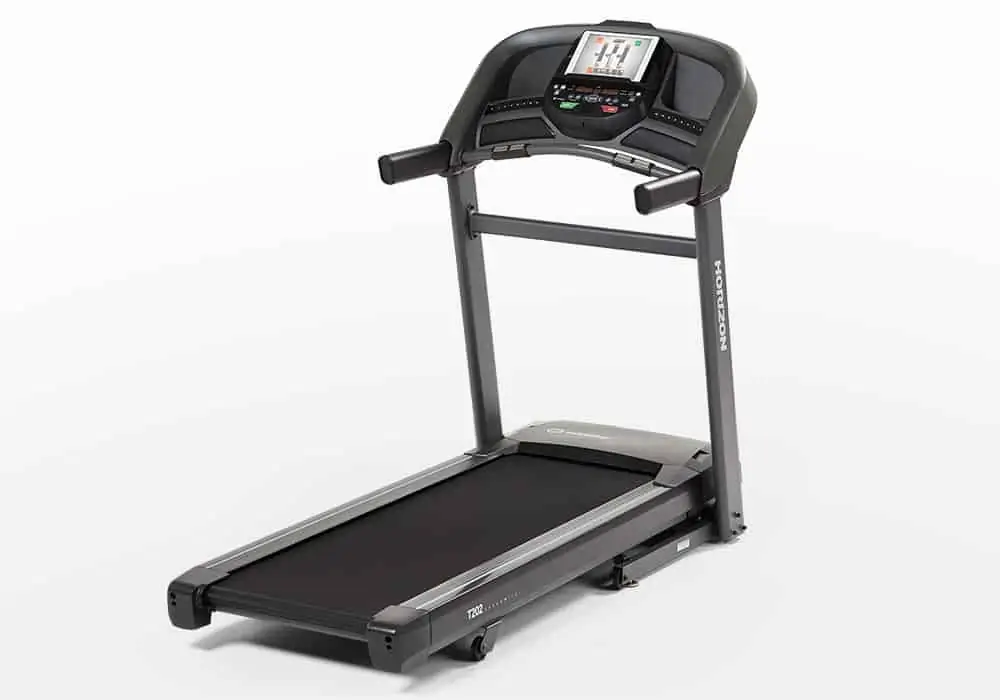 Even though the 2.75 CHP motor is not a commercial motor, its continuous horsepower rating shows how long it can last when loaded. With a motor under 3.0 CHP, you can rely on the T202 motor to get you through your walking and jogging exercises without stress.
Intense exercises are no problem for the 2.75 CHP motor. It also has a lifetime frame and motor warranty.
Display
The Horizon T202 has three LED windows, a backlit LCD screen, and a free phone/tablet sports app. You can also make new user profiles and control your gear with the touchscreen. 
The stylish console has two alphanumeric LED data windows and an LCD screen built into the treadmill console. Horizon calls its backlighting "backlit," with bright black lettering on a red background.
Below the device shelf are LED displays with windows that let you keep track of your distance and incline. This way, your treadmill workouts will help you achieve your ultimate health and fitness goals.
Weight and weighing capacity
The Horizon T202 weighs 187 lbs. and can support 325 lbs.
The T202's weight limit is one of its surprises. This treadmill is safe for people up to 325 pounds. This weight limit puts the T202 ahead of many more expensive treadmills.
You get a good treadmill when you combine the warranty with the weight capacity. The T202 is a sturdy machine that can handle a 325-pound person. It means it will last, and at this price, I think the T202 is worth considering for your home.
Preset Exercise Programs
The 12 built-in programs include manual, interval, and weight loss workouts. The T202 also has an Advanced Goal Center to track exercise for 31 days.
You can use this treadmill in manual mode, or if you prefer pre-programmed workouts, there are 12 to choose from.
Instead of doing the same old thing on the treadmill, try one of the T202's twelve workout programs. These workouts are divided into four categories: calorie burn, weight loss, distance, and time. Of course, if none of the preset programs suits your needs, you can always use the manual setting to create your own.
Calorie-burn, distance, time, manual, and weight-loss programs are all included.
AFG Connected Fitness, Under Armour Record, and My Fitness Pal are compatible.
Speed & Incline
The speed range is from 0.5 to 12 mph, and the incline ranges from 0% to 12%. Thus, even at higher speeds, the T202 is a quiet treadmill.
The T202's motor easily transitions between 0.5-12 MPH. The T202 has a quick one-touch speed and incline change, so you can focus on your workout, not the controls. You can instantly set your incline or speed with the touch of a button. It beats frantically tapping on the up and down buttons. It is beneficial for interval training.
The track on the T202 can be tilted up to 12 percent in 0.5 percent steps to help you get the most out of your workout. This range can intensify your jogging or walking workouts and help you burn more calories. In either case, the 12% slope allows for a more intense workout and solid muscle toning. Also, incline training works more muscle fibers than running on a flat surface, making the movement more efficient.
Related Readings

11 Best Unflavored Protein Powders – Inexpensive but Better
Amazing Benefits of Chlorophyll Water and 7 Best Sellers
Heavy Duty Treadmill for Sincere Runners: 9 Best- All 4HP
Running Track
The deck thickness is 0.7 inches. The 20″ x 60″ deck provides you with the space and comfort you need to run at your own pace. Besides, it has 3-Zone Variable Response cushioning for optimal flex and support throughout your stride.
The Zoned Variable Response Cushioning provides comfortable support and flexibility to relieve knee and ankle strain. In addition, the 3-Zone Variable Response cushioning allows the treadmill's three zones to respond differently to impact depending on the user's stride.
The T202 cushioning has three distinct zones, hence the name "variable response cushioning." The variable response cushion is designed to give the T202 user the right amount of cushion at the right time in their stride. 
The T202's cushioning is comfortable enough for walking and jogging.
Easy to Fold & Move
This treadmill has featherlight folding for storage and transportation. The T202's deck is light, and once you release the latch, the deck will fold back down to land featherlight.
The treadmill folds vertically for storage to save space when not in use. When folded, the T202 measures 47′′L x 34′′W x 65′′T, making it ideal for storing in a corner. Due to the hydraulic mechanism, though strong at 187 pounds, the treadmill will not feel heavy while folding or unfolding.
Heart Rate Monitor
With the dual grip monitoring system, you can monitor your heart rate. It allows you to exercise within a target heart rate zone and get the most out of each workout session.
Important Features
Bluetooth speakers and a secure device holder let you work out to music or fitness sessions. Bluetooth connects your smartphone to the inbuilt speakers for stereo sound streaming. The built-in device holder keeps your tablet or phone handy for entertainment and exercise courses.
USB Port During long exercises, USB ports keep devices charged.
So you don't have to stop running to drink water or your favorite protein drink.
It has a tablet rack for conveniently watching your favorite programs while jogging on the treadmill.
Sports App: Pair your tablet with a Bluetooth heart rate monitor using the free Sports app.
The Bluetooth-enabled treadmill has an audio in/out jack for user convenience.
Drawbacks
It has only a 1.4 mm thick one-ply silicone tread belt.
In comparison to some good treadmills with 2.5′′ rollers, the roller size is small at 1.81/1.65′′.
There are very few workout programs.
The built-in fan is not very effective.
There is no chest strap to keep track of your heart rate.
Using a tablet on the rack will obscure part of the screen.
Guarantee
Full refund guarantee in 30 days.
The guarantee for the frame and motor is lifetime, and a one-year warranty on parts and labor is included.
Compared to the Higher Model
Motor Size T303 – 3.0 CHP / T202 – 2.75 CHP
Weight capacity T303 – 325 lb / T202 – 325 lb.
Incline T303 – 12% / T202 – 12%.
Display T303 – 3 LED Windows & Backlit LCD / T202 – 3 LED Windows & Backlit LCD
Price T303 – $1099 / T202 – $999Price
Price
The MSRP was $1299 when launched, but now it is $999, including free shipping and assembly.
It is still available at $799 online. Buying this one should be a no-brainer at this price.
Preparing for a Race
Yes, you can prepare for a race on this one. It has a 2.75 HP motor with a maximum speed of 12mph and an incline of 12%.
Most of the runners will be able to train themself though it is not for professional or elite runners.
You can do a lot of interval training and hill runs on it.
But I suggest you not run at maximum speed or incline for long. It's like cars. Though the top speed mentioned is relatively high, one rarely drives at those speeds, even when there is no traffic on the roads.