"Hills are speedwork in disguise"

Frank Shorter
Most treadmills nowadays come with an incline function. Incline treadmill calorie burn benefits can be thrice the gains while normal walking.
The steepness of the ground or treadmill under your feet governs the treadmill's incline. The benefits of incline on treadmill are for the whole body.
Treadmill Incline Settings
There are three types of incline treadmills.
Manual inclines on manual treadmills.
Manual inclines on electric treadmills.
Electric inclines on electric treadmills.
You can set up the incline on manual treadmills by getting down and adjusting the incline manually. One can set it to three levels generally. It is the most cost-effective product, though with a lot of shortcomings.
The incline can also be a manual or an electronic function in the electric treadmill. The manual incline usually has three levels in the treadmills. However, manual incline treadmills are less expensive and with fewer functions.
To set manual inclines, you must get down from the treadmill, set the incline level and start again. In these cases, the incline is rarely greater than 10%.
The most common are those with an electronic incline. While most come with a 10 to 15% incline, some newer ones come with up to a 40% incline. This incline can increase or decrease by 1% while working on the mill.
Usually, runners prefer running on the roads or open spaces instead of treadmills. Therefore, it is recommended that running on an incline treadmill be set at 1% for such runners to give them a feel of road running.
Incline Treadmill Benefits
The benefits of incline treadmill training are many. It is better at building endurance and strength, which helps build pace. Calories burnt can increase by up to three times on incline treadmills. So these are better for weight loss compared to ordinary treadmills. The benefits of incline walking for weight loss are for the whole body and the muscle groups, mainly on the lower body's calves, glutes, quads, and hamstrings. It strengthens the core muscles as well.
It offers an artificial hill running on which you must run at a fixed height and a constant speed. In the same way, running on hills outside increases the intensity of your workout. You need to work harder to get up an incline, which works wonders for your heart and lungs. It is a perfect cardiovascular activity to increase endurance.
Incline treadmill burned calories are also much more as you work against the gravitational force and push yourself forward. There is less stress on joints and shins and more on muscle building. For this reason, it is better for seniors as well.
Does walking on an incline work for your glutes? Walking on an elevation stimulates the leg muscles, particularly the calves, hamstrings, and glutes.
Incline and decline
The treadmill should have an incline and a decline function to aid in training for running on hills. Most treadmills have a 12% to 15% incline. Fewer machines have a decline function, but it is usually 3%. The ability to decline-3% and incline by 15% is very good training for running marathons and losing calories.
What to Look for in a Treadmill?
Sturdy decks, frames, large running surfaces, and smooth incline and decline functions are some features you should look for in a good treadmill.
There are various bells and whistles also that you might like- Speakers, A jack for plugging in your electronics, a phone or tablet holder, and a few pockets here and there. A backlit screen to show you the stats like time, distance, speed, average speed, calories burnt, etc. If it folds away for easy storage, nothing like that. Is it a folding treadmill, and how much space does it occupy when folded?
Best-Inclined Treadmills on The Market.
70.2L x 39.6W x 71.6″ H
This is the ultimate dream machine for athletes with a 22″ HD touchscreen, 40% incline, 6% decline, and silent operations.
Warranty: Frame – 10yrs, Parts – 2 yrs Labour – 1 yr
The NordicTrack X22i treadmill has a 22-inch wide touch screen. It's more than just a screen. The X22i offers a lot of different options for all levels of fitness. It is the ultimate machine for incline exercise and reaping good high incline treadmill benefits. The X22i has a maximum incline of 40% and a power tilt of negative 6%. Treadmill training uses varying levels of incline and decline to stimulate your muscles, increasing your strength and tone.
Using the most intense incline setting, you burn calories at about five times the usual rate. The track will change incline in time with the program or Google Street View workout you pick to view on-screen.
The NordicTrack X22i is one of the most cutting-edge treadmills on the market, and it has onboard workout programs, dual AutoBreezeTM workout fans, and many other perks. To monitor workout stats, you can use the included iFit Bluetooth chest strap with the X22i.
The X22i has a 22-inch touchscreen display, ideal for getting lost in virtual outdoor exercise.
With the X22i, you can enjoy iFit membership in full view and clarity. This new state-of-the-art personal training technology can access custom-tailored workouts in beautiful locations. There are new family membership options for multi-user accounts.
Along with iFit, it comes with 50 preset workouts, ranging from calorie, incline, intensity, and speed. The X22i features Bluetooth audio capabilities and 3-inch digitally amplified speakers, making it easy to stream your favorite workout playlists and stay motivated. You can choose between using handlebar sensors and an iFit Bluetooth wireless chest strap, which is included with the purchase.
The new X22i offers tremendous power, complex incline/decline, and top-of-the-line electronics. The X22i Incline Trainer provides an exciting and immersive workout. iFit Coach offers personal training tailored to the needs of the individual user. This is one of the best treadmills on the market.
Dimension: 67.5″L x36″W x73″H
The least expensive iFit treadmill with a 10″ full-color HD touchscreen and FlexSelect cushioning.
Warranty: Frame- 10 yrs, Parts- 2yrs, Labour -1 Yr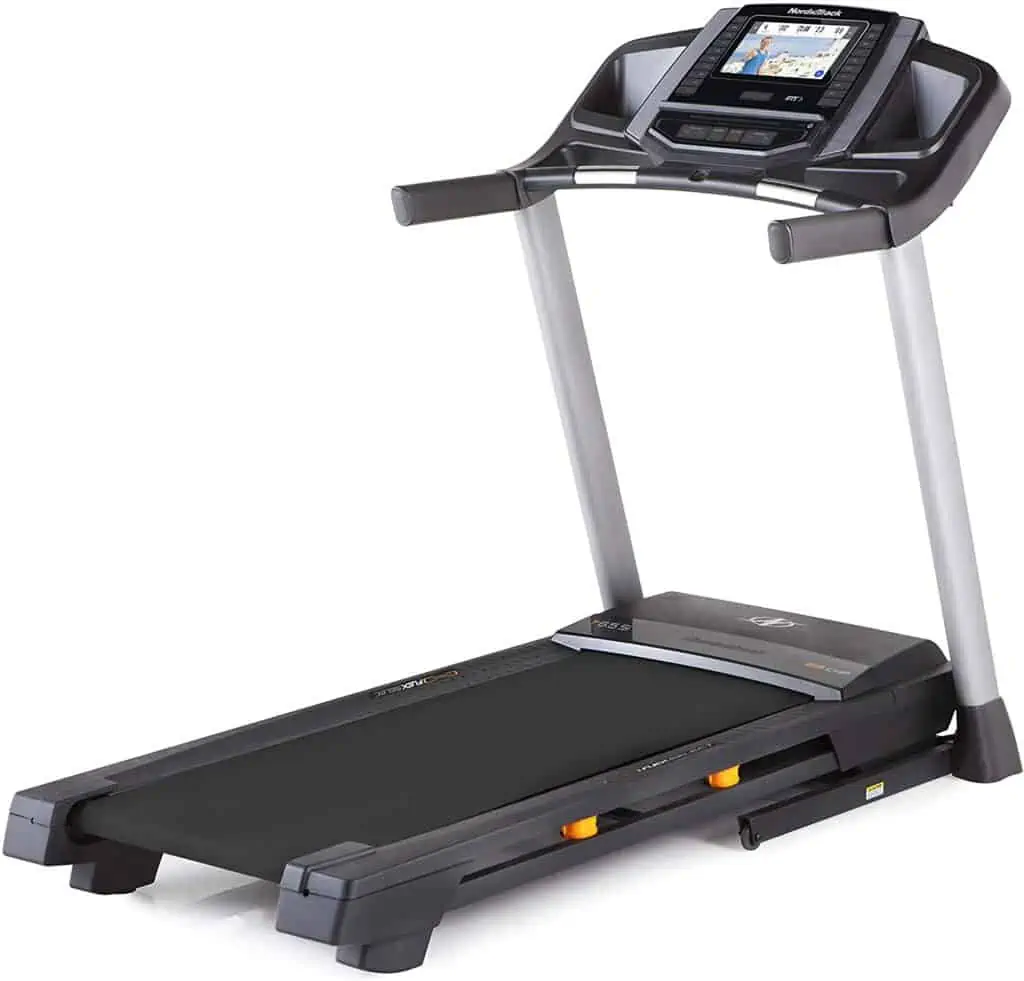 NordicTrack T6.5Si Treadmill is the most affordable treadmill by NordicTrack with a year's subscription to iFit. The iFit program provides everything from a walk in the Alps to a hardcore workout with a trainer. Running on a treadmill will never be boring again!
The machine has a 10″ very easy-to-use touch screen. It also has 20 pre-set workout programs and superb impact cushioning that can be turned on and off. It has textured, 4" non-slip side rails for safety and a self-cooling motor. It also has an auxiliary music port and digitally amplified speakers.
It is a quiet machine that makes no noise while walking on an incline treadmill. While running, too, the noise is minimal.
Dimension:71″L x 33″W x 56″H
With a 7″ full-color touchscreen, 38 built-in programs, a 1-inch deck, and 8 compression shocks, this is a very comfortable treadmill at this price.
Warranty: Frame – 10 Yrs, Parts – 2 yrs, Labor – 1 yr.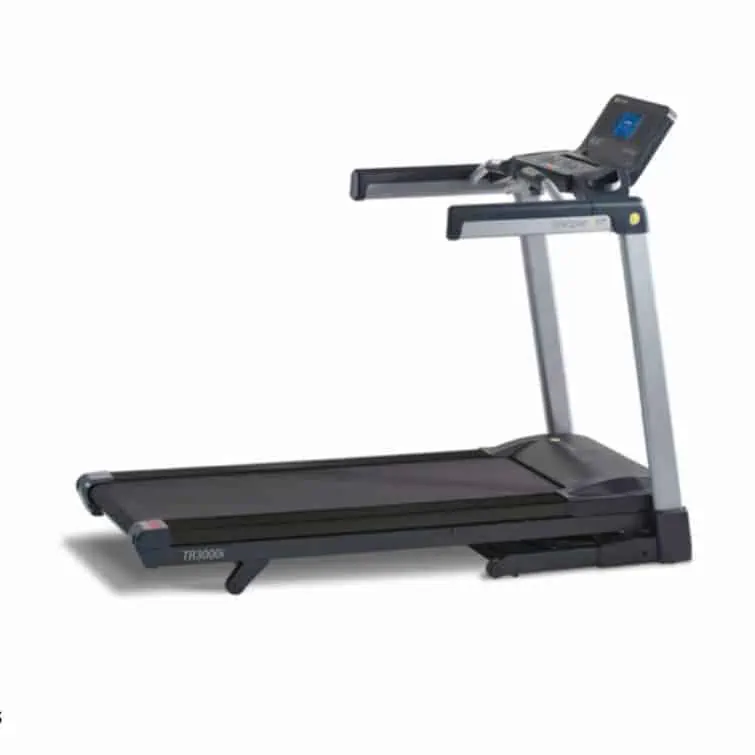 LifeSpan TR3000i – A good treadmill for staying in shape.
It is very comfortable with shock absorbers on the deck, and the three-speed fan ensures you stay cool. Treadmill operates quietly and smoothly at the selected speed. The treadmill comes with 38 pre-set workouts.

The LifeSpan TR3000i is a solid incline treadmill. Despite its lightweight build, it feels substantial, and the running surface is big. It tracks distance, time, calories burned, and speed. Treadmill data can be sent to your favorite training app as well. The TR3000i has everything covered. And, when you're finished, you can fold up the treadmill and put it away.
It has an extensive shock absorption system and several other positive features. For some people, working out on a treadmill places excessive stress on joints. The shock absorption system is employed on the treadmill's deck to alleviate some of this pressure.
Dimension: 82″L x 35″W x 57″H
With one of the best warranties and a high weight capacity, this is the best treadmill for walking and jogging in its category.
Warranty- Frame & Motor–Lifetime, Parts 3yrs, Labour-1yr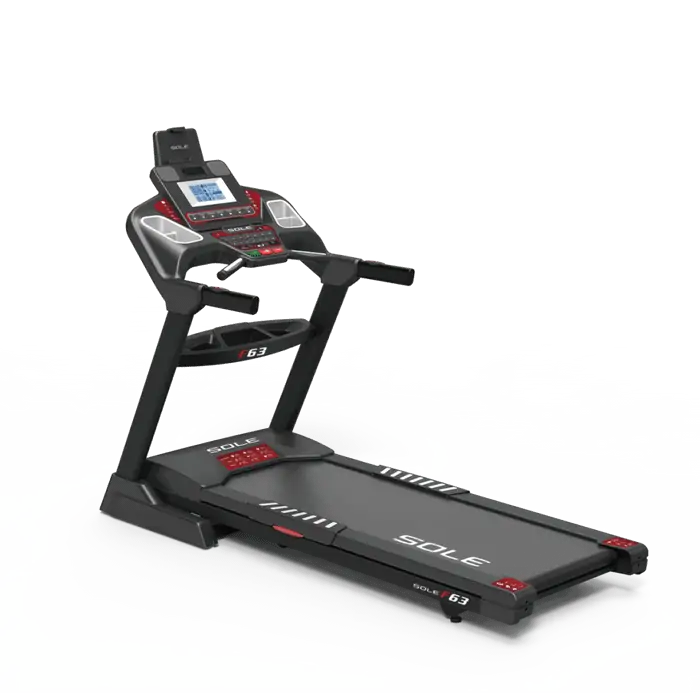 It's a budget-friendly gadget that doesn't cut corners on performance. There are plenty of options for beginner runners and walkers and a range of exercises to test even the most seasoned person. The Sole F63 is compact and foldable for fast storage with a cushioned deck for exceptional shock absorption.
It has a cushion flex deck to reduce the impact on joints. Is Bluetooth compatible with Sole App, Fitbit & My Fitness Pal? It has a Secure tablet holder, Wireless heart rate receiver, Contact pulse sensors, Personal cooling fans, Dual water bottle holders, a Fan built into the display, Bluetooth audio speakers, and a USB charging port. It also has a 30-day money-back guarantee.
Dimension: 78″L x 38″W x 66″H
A non-electric treadmill for walking, running, pushing, and pulling. 3mm PVC cushioned turf belt that is compatible with plastic field cleats
Warranty: Parts 2yrs Labour: 1 Yr
This HIITMill is self-powered. The magnetic brake offers resistance, which is adjustable. This is a resistance training treadmill. One piece of equipment does hill walking, sled pushes, lunges, and more.
The StairMaster HIITMill is designed for HIIT training. Push, drive, and sprint on this machine. The StairMaster is well-made and sturdy. The frame is 11 gauge steel. This is a gym piece of equipment. That also comes with a hefty price tag!
The StairMaster HIITMill would be ideal for serious lifters. This HIITMill is in-a-class-of-its-own. 11% incline to work legs and glutes.
Dimension: 77.2"x 35.2" x 57.6"
The T616 is Nautilus's best seller. It syncs via Bluetooth with third-party apps, has two LCD screens, 26 preloaded programs, and strike zone cushioning to lessen the joint impact.
Warranty: Frame & Motor: 10Yrs, Electronics: 3yrs, Labor: 1yr
Nautilus treadmills are popular in home gyms. The treadmill has 26 pre-set training programs, including manual/quick goal (calorie, distance, time), weight control, intervals, performance training, heart health, and custom workouts
The Nautilus T616 would be a good choice for most home fitness enthusiasts. This machine has a slower torque but comparable speed.
It's a bargain with many features. The running deck is soft. The running area is the widest in the category and long enough for tall runners to run. It measures well when comparing this machine to other machines in the same price range.
The console is huge, with two distinct screens displaying full metric stats from your session.
Nautilus Fitness Score – assesses the user's current fitness level after each session.
Sync with the free Explore the WorldTM App — and run across 19 places with 27 routes in real-time alongside people worldwide. The StrikeZone cushioning mechanism ensures a smooth run.
The SoftDrop folding technology allows your treadmill to be effortlessly relocated and stored.
Dimension:70″L x 34″W x 55″H
Horizon T101 is the least expensive treadmill with a lifetime warranty on the frame and motor. A fantastic treadmill for walking and jogging.
Warranty: Frame & Motor: Lifetime, Parts & Labor: 1yr.
The Horizon T101 is a budget fitness treadmill. Suitable for incline treadmill walking, jogging and running.
It's a basic but decent treadmill. Using the control panel is simple and straightforward. The instructions are easy to follow. It folds for easy storage. The impact-cushioning is also reasonable. The Horizon T101 Fitness Treadmill offers excellent value for the money.
You can run on it, but I wouldn't recommend it if you seek more serious training. If you want a treadmill for walking, jogging, and light running, I highly recommend the T101 from Horizon.
The Horizon T101 is constructed with sturdy construction, decent workout options, energy-saver mode, and quiet operation. These attributes make it a fantastic home treadmill.
You should purchase the Horizon T101 if you want a treadmill for only walking or running. This sub-$600 gets you no touchscreen or studio classes. You get a powerful, heavy-duty machine with a shock-absorbing track, fan, and Bluetooth speakers. It has a nice-looking dashboard, and you can control the speed and incline from there. Horizon T101 is hydraulically controlled for folding.

Horizon T101-04 offers 40 different workout programs so you never get bored and stay engaged while exercising. It's also better than most other 'cheap' treadmills. Due to cushioning, on the Horizon T101, running is much more comfortable than running on pavement.