Life Fitness Run Cx review is about a high-quality home treadmill that offers a superior workout experience. You can use this treadmill for both walking and jogging. Life Fitness Run CX allows you to customize your speed to suit your preferences and fitness level.
To increase the difficulty and variety of your workout, you can also change the incline level from 0 to 15%. The Life Fitness Run CX may meet your requirements and goals whether you want to jog, walk, or run.
The Life Fitness Run CX treadmill is big and heavy. It needs a lot of space and might not be suitable for small rooms, especially if you don't like noise.
Is Life Fitness a good brand?
Life Fitness has been making fitness equipment for over 50 years. They started with the Lifecycle exercise bike. And now, they offer a wide range of cardio, strength, and group training products for fitness centers and individuals. They are one of the best brands in the fitness equipment market in the US.
Life Fitness Run CX Treadmill Specifications
Warranty: Frame and LifeSpring shock Absorbers – Lifetime, Drive Motor: 10 years, Parts – 7 years, Console- 3 years and Labor- 1 year.
Motor: 3.0 HP (6.0 HP peak) DC motor with a MagnaDrive
Speed: 0.5 mph – 12mph
Console: Track Connect 2.0 with Enhanced Bluetooth®
Cup Holders: 2
Incline: 0.5 % – 15%
Dimensions: 79.5"L x 32"W x 61"H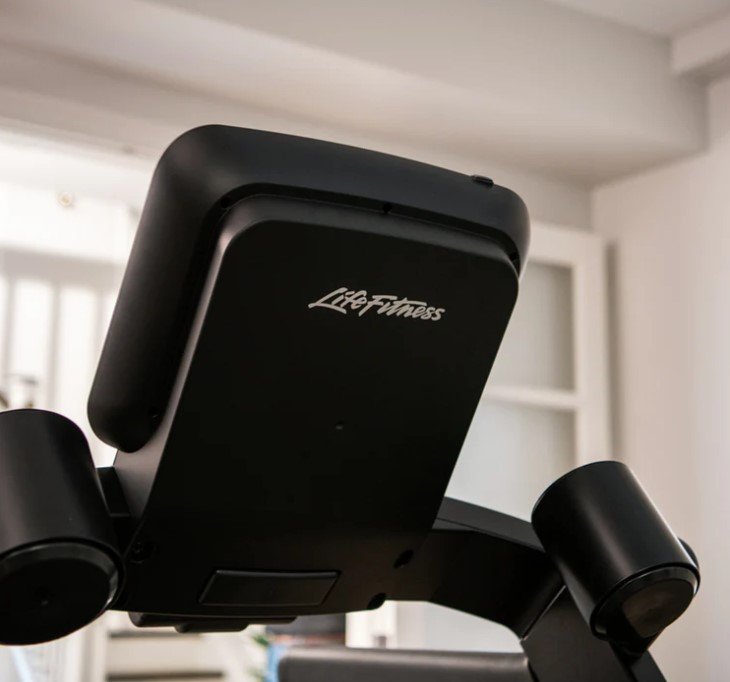 Shock Absorption: FlexDeck Shock Absorption
Item Weight: 341 lb (155 kg)
Power Cord: 6 ft, front of the unit.
Foldable: Yes
Max User Weight: 400 lb (182 kg)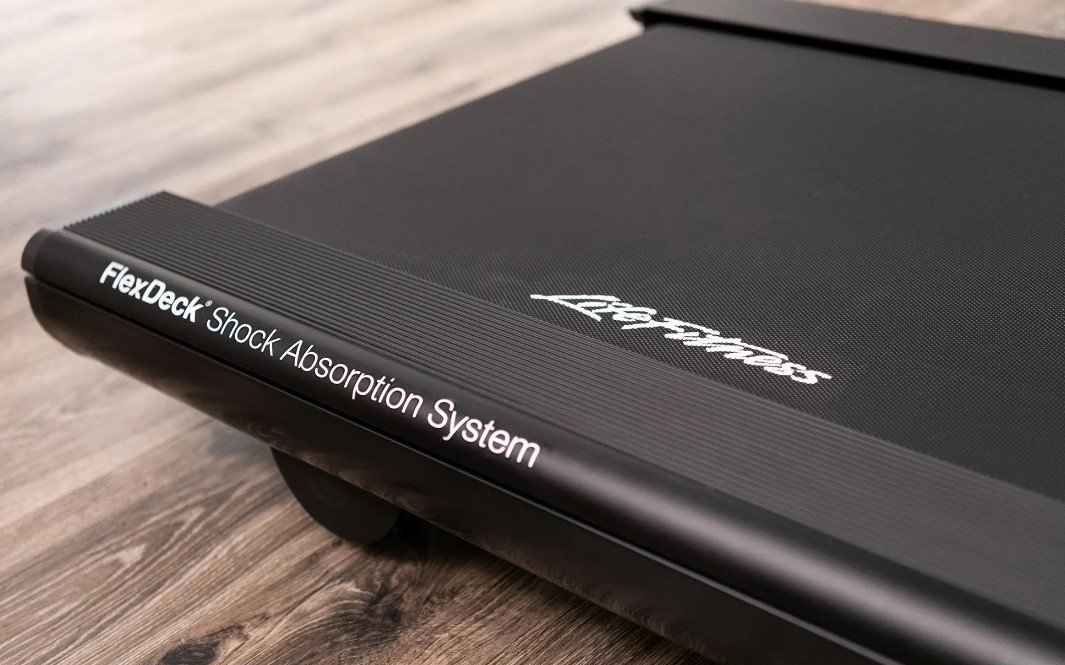 Life Fitness Run CX Treadmill Features
Motor: It has a 3.0 HP (6.0 HP peak) DC motor with a MagnaDrive motor controller, and it can handle inclinations of 0 to 15% and speeds of 0.5 to 12 mph. The controller assures smooth and reliable performance, while the motor is powerful and silent.
FlexDeck Shock Absorption: It boasts a large 60″L x 22″ W running area, giving you plenty of space to run safely and comfortably. A FlexDeck shock absorption technology that cushions the running deck also lessens the impact on your joints by up to 30%.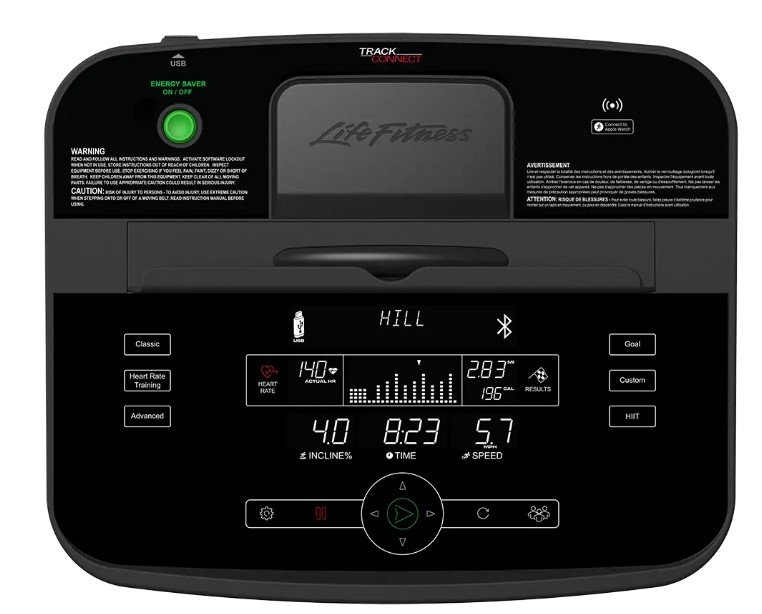 Console: It has two screens, a Track Connect console, and touch buttons that let you change settings. On the 7-inch LCD screen of the Console, you can see your speed, incline, time, distance, calories burned, heart rate, and other information. You can use Bluetooth to connect your gadgets like headphones or speakers to enjoy music, watch videos, or play fun games. With these devices, you can also use apps like Zwift, Peloton, or Netflix.
There are 12 personalized workouts included in the Console in addition to the 15 onboard programs. You can select from the following workout modes: HIIT, custom, goal, advanced, classic, and heart rate. You can also design personal workouts using the custom mode and save them for later use.
Heart Rate Monitor: The treadmill comes with a wireless heart rate monitor chest strap. With the aid of this strap, you can correctly monitor your heart rate and modify your intensity as necessary. You can also use the pulse grips on the handlebars if you'd like.
Frame: It has a sturdy frame that can accommodate users weighing up to 400 lbs. The frame is made of premium steel and features a sleek style that looks fantastic in any home. The treadmill incorporates transport wheels as well for simple movement and storage.
Pros
A vast running deck allows for various stride lengths and speeds.
Its strong 3.0 HP motor has a maximum speed limit of 12 mph and a 15% inclination.
It offers heart rate monitoring, HIIT mode, 15 built-in routines, and 12 custom workouts integrated into the Console.
Its strong and resilient construction can withstand up to 400 pounds of user weight.
Cons
Compared to other treadmills, it is more pricey. It costs $4,799.
It has no interactive features or online connectivity.
Some users who prefer more contemporary and sophisticated consoles may not like its simple user interface.
Additional Considerations
It features a safety clip that connects to your clothing and stops the treadmill if you fall or go too far back on the belt.
It also has a built-in fan with three-speed settings to keep you cool and comfortable during your workout.
It has two front wheels for easy movement.
User Experience
People who use the Life Fitness Run CX treadmill like its strong motor, ample running space, and how it doesn't fold up, making it feel like a gym machine. The clients also love customizable user profiles and Bluetooth connectivity. However, some users find the onboard content and interface basic, and the treadmill is heavy and oversized. Some users also had issues with Noise, fans, and Life Fitness customer service. The experience you have depends on what you like. Some people prefer things that last and are simple, while others want more options and new ideas.
Maintenance and Durability
Clean it regularly with a damp cloth and mild soap, avoiding abrasive cleaners or direct liquid sprays.
Inspect for loose or worn parts monthly and tighten or replace them as needed. Lubricate the elevation screws and pivot points with silicone spray or grease.
Calibrate the treadmill after assembly or if you notice speed, incline, or display issues. Use the Console's calibration mode with a hex wrench and tape measure.
Replace the running belt and deck every two years or as needed. Lubrication isn't necessary, but check belt alignment and tension regularly and adjust if needed.
Conclusion
The Life Fitness Run CX treadmill is a high-quality and durable machine that can provide a great workout experience at home. However, it is also a large and heavy machine that requires a dedicated space and a solid floor. It may not suit everyone's taste or budget. Before buying this treadmill, you may want to measure your available length and check your floor strength. I hope this information helps you make an informed decision.
FAQs
How do I assemble my treadmill?
Ans- To set up your treadmill, follow the steps in the manual that came with your product or find it online.
Here's a quick overview:
Remove the motor cover from the base unit and set it aside.
Attach the uprights to the base unit using the hardware provided.
Attach the bridge and Console to the uprights using the hardware provided. Reattach the motor cover to the base unit and secure it with screws.
Plug in the power cord and turn on the power switch.
Calibrate the treadmill by following the instructions on the Console.
Can Life Fitness Run CX be used in an apartment or a small room?
Ans- The Life Fitness Run CX treadmill is large and heavy. And it doesn't fold, so it's not suitable for small spaces like apartments unless you have a spacious area and a sturdy floor.
How many user profiles can the Run CX store?
Ans- The Life Fitness Run CX has four user profiles, each with three custom workouts.
Can Life Fitness Run CX be used without electricity?
Ans- You cannot use The Life Fitness Run CX treadmill without electricity. Operating the motor, the Console, and the incline requires a power source.