Walking or running enthusiasts will love the TR4000i LifeSpan Folding Treadmill. The treadmill is ideal with plenty of training assistance and a power incline to help shape muscles while fat melts away. Your smartphone or tablet computer's amusement adds to your motivation, and it is the brand's most significant foldable treadmill on sale or not.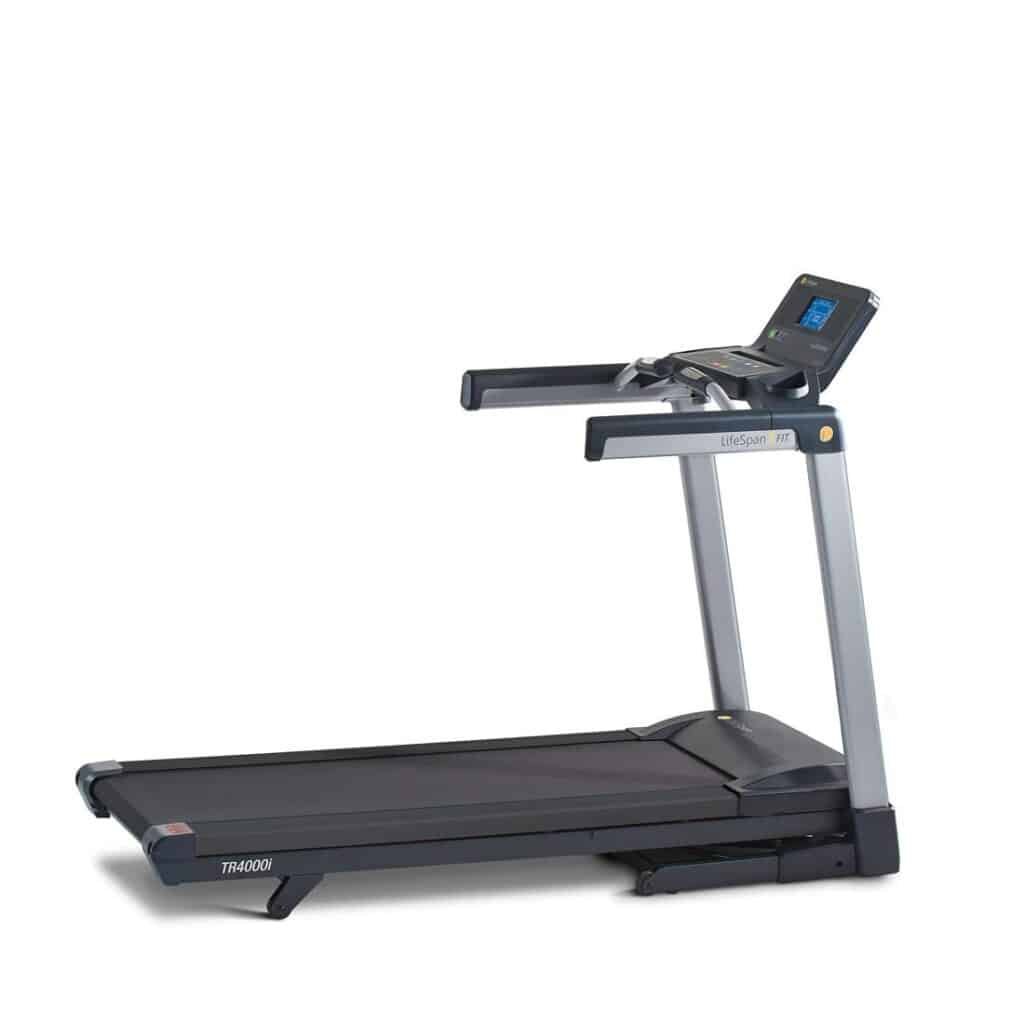 LifeSpan treadmills are renowned for their dependability, biomechanics, and programming choices.
The LifeSpan TR4000i Folding Treadmill is a high-quality, feature-rich, and a value for money treadmill. The LifeSpan TR4000i Treadmill's extra-thick 60′′ track and 3.25 HP motor beat other folding treadmills in its series.
Construction
The treadmill's belt is extra thick, the frame is steel, and the side rails are metal rather than plastic. Beyond the essentials, this treadmill continues to amaze, and an automated ramp, 50 training programs, and optional Bluetooth connection are noteworthy.
It has a big deck and a strong 3.25 CHP motor. It also has 50+ built-in programs, a peak speed of 12 mph, and 15 inclination and decline levels. It also comes with one of the most comprehensive warranties available on a treadmill in this price range.
The very thoughtful changeable deck doubles the life of existing LifeSpan folding treadmills.
The LifeSpan TR4000i has a cooling fan, twin Bluetooth speakers, and an Intelli-Step, a pedometer-like function.
Motor
The TR4000i has a 3.25 CHP motor that offers additional power to accommodate heavy usage. This treadmill provides a smooth, slick motion, whether jogging or sprinting.
One of the reasons for the TR4000i's outstanding training capabilities is its 2.5″ front and 2″ rear rollers.
Bigger rollers improve grip and minimize noise by contacting the belt more.
Overall, the TR4000i's strong motor and rollers are outstanding.
Speed & Incline
The TR4000i's motor can handle its 12 mph peak speed, 13 inclination, and two decline levels.
This variation allows you to exercise speed, intervals, or steady cardio. The TR4000i's inclination and decline settings are perfect for hiking and trail fitness. You may mix & match inclination, decline, and pace to suit your requirements.
The simple press alters inclination and pace, so the greater the elevation, the more calorie burn and muscular development.
The LifeSpan foldable treadmill's belt is 60 inches long, and it enables runners of all heights to run freely.
Related Readings

Best treadmill under $1500: Tough Choice in a Popular Range
Benefits of Pea Protein Powders: 9 New Top Selling in 2021
Best Mattress Topper for Back Pain & 7 to Keep you Coolest
Console & Display
It has a 7″ full-color touchscreen with three dashboard perspectives. You may monitor, measure, or graph views. It's wonderful to see your training factors like speed, time, distance, and inclination, and you also get to see calories, heart rate, steps, and elevation gained.
It contains five Quickset speed and five Quickset inclination buttons for rapid adjustments in incline or speed.
You can place your phone or tablet in the media holder. But this may obscure your LCD console's vision.
Easy to Fold & Move
Overall, LifeSpan has created a foldable treadmill for runners that is durable and affordable.
The treadmill's deck may be folded up hydraulically between sessions to save floor space.
This treadmill folds to 42″L x 32″W and 66.5″H from 74.5′′L x 32′′W x 56′′H.
It has a 9-inch step-on height.
Running Track
A 22″ x 60″ deck is comfortable for people of all heights.
Due to soft landing, exercise-related injuries are reduced by the deck's eight compression shock absorbers. The TR4000i is gentler on joints than outdoor exercise, ideal for older or injured athletes.
Intelli-Step on the deck acts as a pedometer, automatically counting your steps. LifeSpan Fitness's
Additional Intelli-Guard safety feature stops the treadmill twenty seconds after you walk off the treadmill.
A thick two-ply track is intended for durability and increased cushioning. An inch thick deck decreases the noise also.
Preset Programs
The LifeSpan TR4000i includes 50+ predefined training regimens, including races, fitness tests, and customizable personal programs, along with multiple dashboard view options. This treadmill is designed to help you achieve your fitness goals.
Its multitude of programs will keep you entertained. The training programs comprise heart rate programs, user-defined programs, preset programs, and a 5k/10k race. It also includes tests like Rockport Fitness Test and Navy Fitness Test.
Weight reduction, cardiac fitness, interval, and continuous heart rate management, sports training, and healthy living are fitness goals.
The Rockport Fitness Test times a 1-mile walk to assess your fitness, and exercise physiologists created it to help beginners track their development.
The Navy Fitness Test is appropriate for experienced runners or athletes. The Navy uses it, along with push-ups and sit-ups, to assess your fitness.
Weight & Weighing Capacity
The TR4000i's structure is strong enough to handle people weighing up to 350 lbs. The TR4000i weighs 239.5 pounds.
It is not very compact when unfurled. However, when folded, it saves a lot of room. This machine's collapsible and heavy-duty structure is impressive.
Important Features
It syncs with mobile applications, plays MP3s, charges gadgets, and securely displays your tablet computer.
The trainer's feature highlights include power incline, wireless app sync with fitness applications, music system, and tablet holder.
Your workout data is saved on a USB disc. You may use your analytics to track your progress, schedule exercises, and more.
A Bluetooth receiver automates exercise data transmission. Fitbit, MyFitnessPal, and other fitness monitoring applications are compatible.
A media holder allows you to display your tablet while exercising.
A wireless or touch sensor TR4000i can detect your pulse.
A fan keeps you cool while you practice
IntelliGuard is a safeguard that pauses if you leave the treadmill for 20 seconds.
Wireless connections are great for streaming music or synchronizing fitness data. It includes wireless chest straps and armbands.
Use the LifeSpan Fitness Club's website to chart your exercise data wirelessly or store it on a thumb drive.
Price
Though the company price today is $2199.99, it is frequently available for a lesser price. Sometimes even at $ 1499.00
Drawbacks
Bad positioning of media holder.
Warranty
There is a lifetime guarantee on frame and motor, and it is five years on components and two years on labor.
Extended warranties of three and five years are offered for 3 and 5 years. There is also a 30-day money-back guarantee on LifeSpan treadmills.
With guarantees like these, it's clear LifeSpan Fitness believes in their TR4000i.
The TR4000i is built to last, outperforming the market's conventional guarantee offers.
Conclusion
The LifeSpan TR4000i is unique, and it has a foldable frame, a large track, and excellent quality.
It has a great warranty and is reasonably priced.
It's also lovely that LifeSpan Fitness has included proprietary Rockport and Navy Fitness Tests in its TR4000i.
All these features do make LifeSpan TR4000i a strong contender in its category.