The ProForm Smart Pro 5000 Treadmill is a high-end treadmill that claims to offer many benefits for runners and walkers. It has a long track, a high peak speed, a shock absorption system, a wireless heart rate monitor, and other features that are designed for professional athletes.
However, it also comes with a hefty price tag and some drawbacks you should be aware of before buying it. In this proform pro 5000 review, we will give you an honest and detailed assessment of the ProForm 5000 Treadmill and help you decide if it is worth your money.
Proform Pro 5000 Treadmill Pros & Cons
| Pros | Cons |
| --- | --- |
| Pricey: Costs $1,399 and requires an iFit subscription after 30 days | 10-inch smart HD touchscreen: Shows workout data and iFit features, has a tablet holder |
| 10-inch smart HD touchscreen: Shows workout data and iFit features, has tablet holder | Reliability: Some users report quality and durability issues |
| Incline and decline: Power ramp from -3% to 15%, simulates outdoor terrain and adds challenge | Noise: Some users complain that the treadmill is noisy |
| High capacity motor: 3.75 CHP Mach Z Commercial Pro motor, self-cooling system | |
| Spacious workout surface: 22-inch by 60-inch belt, shock absorption system | |
| Folding design: SpaceSaver design, EasyLift assist shock | |
The ProForm Smart Pro 5000 treadmill is a great choice for running training. This heavy-duty treadmill can handle tough exercises, whether you're speed training or running. Coupled with intuitive controls, you have a treadmill that will last for years.
ProForm Smart Pro 5000 Construction
The Pro 5000's strong frame and large base keep the treadmill stable at any pace or inclination. It is a durable, multipurpose treadmill. The auxiliary bar adds greater strength and durability to this strong machine. 
It features a powerful motor and a greater inclination range than others. With its strong motor, low price, and extensive feature set, the ProForm Smart Pro 5000 treadmill is excellent.
It takes up a lot of floor area, but it can be folded quickly. The Pro 5000 is also one of our quietest treadmills.
Motor
This motor is a 3.75 CHP Mach Z commercial pro motor. For a regular household, its power is plenty and dependable for long-term usage. It can propel you through any activity, whether it's a walking routine with iFit Coach or a lengthy run during marathon preparation.
Despite its size and power, the Pro 5000 is one of the quietest treadmills on the market and delivers power without being loud, making it a fantastic alternative for people searching for a quiet treadmill.
The Pro 5000 treadmill's rapid response is due to its robust motor. This treadmill's professional motor ensures smooth training whether walking or running. This treadmill is also incredibly quiet while running, so you may work out without worrying about disturbing anybody unless you tend to make strong contact with the deck.
Speed & Incline
The Pro 5000 has a good speed range of 0-12 MPH and an excellent inclination range of -3 to 15%, so you can mix and match your speed and incline levels to test your fitness. This treadmill's swift speed and slope changes allow you to move quickly through your training.
Using the Pro 5000 treadmill's inclination range from -3 percent decrease to 15% incline increases your exercise's challenge and calorie burn. Although power inclines are common in treadmills, drops are not. An intriguing approach to workout is to use a ramp. This machine's inclination range allows you to replicate more realistic outside jogging and engage your body and muscles throughout your treadmill exercise.
You can fast change speeds without using the up and down arrows repeatedly. These keys sit flat against the console and absorb less dust, making cleaning easier.
Console & Display
Proform Pro 5000 smart treadmill with a 14″ touchscreen has several advantages.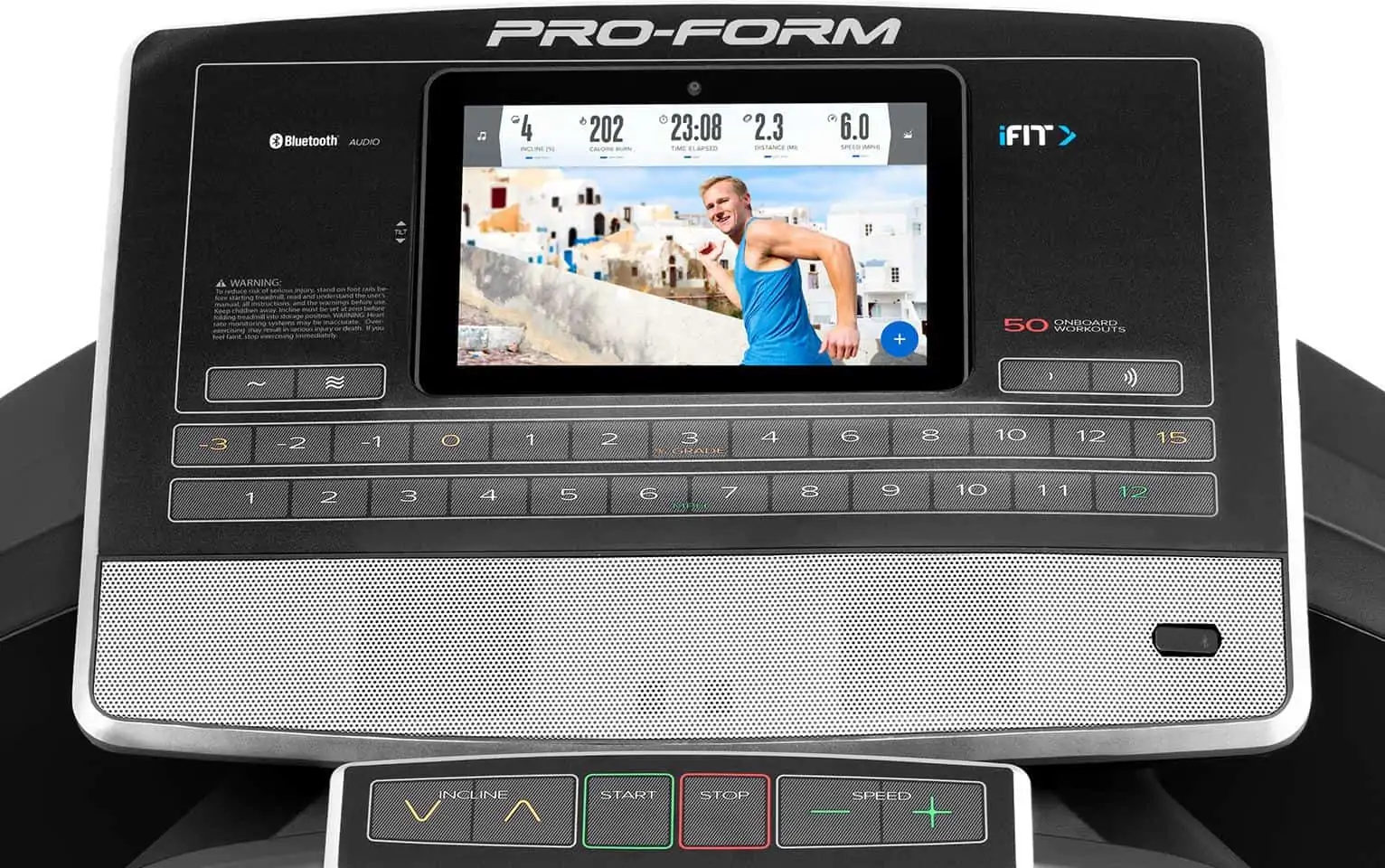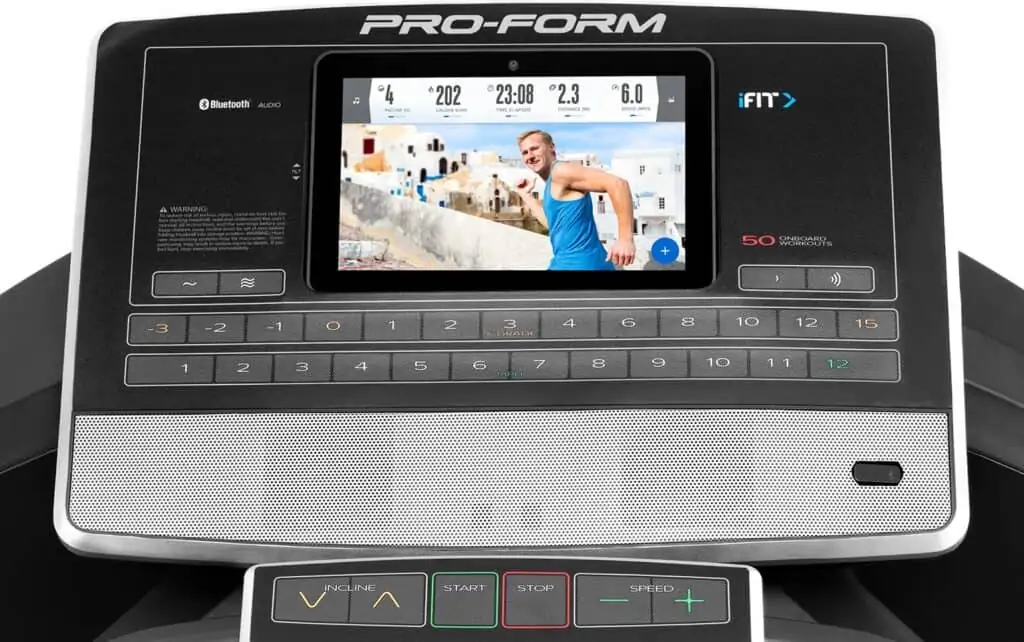 On this treadmill, you may easily access the pre-programmed fitness routines and iFit training, see your workout statistics, or log into your user profile. The touch screen is quite responsive and has great video quality.
You may also adjust the touchscreen's angle to suit your height. Also, don't worry about sweating on the touchscreen as it is water-resistant.
The console also contains a bracket for firmly connecting your tablet computer. The Pro 5000 treadmill's beautiful HD touchscreen provides several features, including quick navigation of the treadmill's choices through a water-resistant touchscreen interface.
Easy to Fold & Move
Even though the Pro 5000 treadmill is large, the EasyLift Assist function helps conserve room.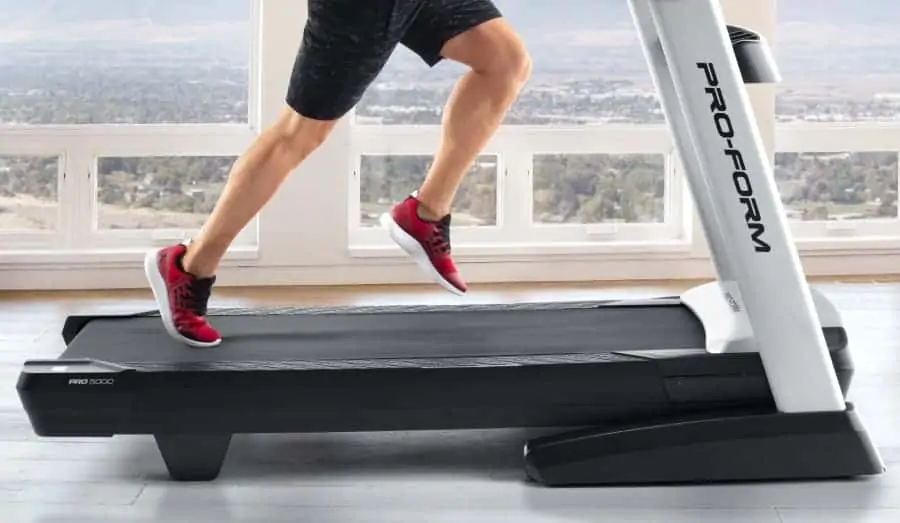 When you're done using the treadmill, elevate the treadmill deck high enough to hear the automatic lock activate.
Push up on the locking mechanism to unlock the deck for a workout. You may now stand back and let the deck fall. The treadmill deck will softly fall without your aid.
This cardio trainer folds up easily with the EasyLift Assist shock-assist technology. The Pro 5000 is one of the finest foldable treadmill solutions available. The Pro 5000's folding feature preserves durability and dependability while saving space.
Running Track
The Pro 5000's track is 60′′ long and 22′′ broad, making it wide enough for most runners. It also has a maintenance-free tread belt. With this much running room, you can max out your stride.
The ProShox cushioning protects you if you tend to hit the treadmill deck hard when exercising. This cushioning is standard on all ProForm treadmills and will help prevent you from overuse injuries that are prevalent among runners.
On the Proform Treadmill Pro 5000, ProShox cushioning can safeguard your joints, muscles, and bones. For many other outdoor runners, ailments such as hairline fractures in the foot and leg muscles prevent them from running.
The Pro 5000 also has textured foot rail grips that provide a safer landing than many treadmills.
Preset Programs
This treadmill has over 50 workout routines! These include incline exercises, calorie-burning workouts, speed workouts, high-intensity workouts, and mixed workouts targeting many exercise forms.
These programs are accessible even if you decide not to renew your iFit Coach subscription after the trial year.
Bringing the Pro 5000 treadmill home might introduce you to a new world of exercise. The Pro 5000 treadmill comes with a free one-month trial subscription to iFit Coach.
Your free monthly subscription gives you access to the iFit Coach exercise library. This fitness library has hundreds of training programs to help you mix up your routine. These exercises may be basic Google Maps routines, or you can follow an iFit Coach personal trainer.
These trainers can vary your pace and elevation to push you farther, but you can change it if it is too fast or too steep. You may build and store your own with the pre-made fitness plans. So, your Pro 5000 treadmill will be ready if you plan on doing particular training.
Enjoy immersive global experiences where all lessons are in front of stunning scenery!
The Pro 5000 supports iFit Coach, a popular workout program. iFit Coach has an extensive video exercise library, simulates outside hiking on your treadmill with any Google Maps route, adapts customized training programs to your activity record, and much more. The new Pro 5000's HD screen is perfect for iFit features like HD fitness movies and Google Maps routines with interactive Street Views. Your fitness/health will improve dramatically with iFit Coach.
Weight & Weighing Capacity
Because treadmills are great aids for weight reduction, having a large weight limit is crucial, and the Pro 5000 has it. This treadmill can help people lose up to 300 pounds, and its weight is 261 lbs.
Important Features
Proform Pro 5000 manual is quite detailed with all the features and specifications mentioned and the maintenance instructions.
Dual three-inch Bluetooth speakers allow runners to communicate with live trainers or listen to music while jogging.
With a CoolAire Fan, runners can keep cool throughout the long runs. Integrated EKG Grip Pulse Rate Sensor on the Pro 5000 handlebars.
The ProForm Smart Pro 5000 is compatible with various chest strap HR monitors.
Price
This treadmill is frequently available at a discounted price of $1499.00
Drawbacks
This treadmill has no chest strap.
A larger treadmill takes up a lot of space.
Consumers typically complain about the manufacturer's customer service.
Return shipping and a 10% restocking fee may still apply.
Warranty
The ProForm Smart Pro 5000 treadmill comes with a good warranty. The warranty on this treadmill covers components for two years and labor for one year. The frame and motor are covered for 10 Yrs.
Conclusion
This treadmill is a strong, well-priced, feature-packed gadget. It may take up more floor space than other treadmills in use, but it can be folded.
ProForm Smart Pro 5000 treadmill is an excellent value for money at $1,499.00. It can help expert runners while also providing specialized training for new users.
This treadmill is ideal for a family seeking one that can accommodate many members.