The market is divided between various kinds of protein supplements. The categories are not clearly defined, but the difference remains. There are Protein Powders, Fat Gainers, Weight Gainers, Meal Replacement Shakes, and others.
What is the Purpose of Meal Replacement Shakes?
Are you starving yourself to lose weight? There is no need to be hungry all day. All you need to do is substitute your meal with something healthy and low in calories. Consuming a shake rather than a complete meal can offer plenty of nutrition and calories to help you achieve the goal.
Is a Meal Replacement Shake Good for Weight Loss?
Meal replacement shakes outperform diets. Popular diets may succeed in the short term, but long-term adherence is a problem, and they may not be a long-term weight loss strategy. They may help you lose weight but don't compel you to alter your eating habits. In the long run, they may not be a sustainable option.
So how do you use meal replacement shakes for weight loss? You can substitute these for one or two of the day's meals. However, I would suggest only one. Do not forget that decreasing the daily intake of calories can result in a slowing down of metabolism. Once that slows down, your task of reducing weight becomes all the more difficult.
If you're monitoring your weight or attempting to lose weight, a meal replacement drink may help. A shake might help you fight the hunger that comes with weight loss. The finest shakes include minimal sugar and salt.
Alternatively, you can have homemade shakes using flavored or unflavored protein powders or other protein-rich foods. There are so many easy meal replacement shake recipes that having these can be more exciting than wholesome meals.
The glycemic index measures how fast a meal raises blood sugar. High GI meals cause blood sugar spikes and drops, causing fatigue and appetite. Meal replacement shakes for diabetics are also low GI.
When used as a snack or to substitute a small meal, meal replacement shakes while breastfeeding is acceptable. Especially if you utilize a protein shake with vitamins and minerals, digestive enzymes, and other useful elements. However, when nursing, make sure you're getting enough calories.
How to Choose Meal Replacement Shakes?
A low calories, low carb meal replacement shake is purposely developed to replace the regular food you consume at specific times. It comprises minerals, vitamins, fibre, and minimal sugar and fats. These caloric shakes are nutritionally balanced and are a healthy way to replace your meals. Also, they are a tasty and easy alternative to your daily meals.
How can Meal Replacement Shakes Help Burn Calories?
Meal Replacement Shakes are infused with a vast amount of minerals and vitamins and, therefore, can substitute for a meal. Shakes generally have fewer calories than complete meals. So if your objective is to lose weight, drinking a shake once a day will lower your daily caloric intake. You will establish a calorie deficit that results in progressive continuous weight loss. Inspecting the ingredients and nutrition facts printed on product labels before selecting is vital.
How do Meal Replacement Shakes Help Avoid Unhealthy Meals?
Regarding meal replacement shakes, they are easy and convenient to consume anywhere and everywhere. Being a whole meal against your daily meal helps you resist the temptation of unhealthy meals. It keeps you full for a long time without feeling hungry.
One of our biggest daily challenges is preparing a healthy meal to lose weight. Having a busy schedule is not always practical for having healthy, whole-food meals. But, with meal replacement shakes, you may not have to worry about that. They are easy to drink on the go and are a healthier alternative to processed or fast food.
Potential Problems with Meal Replacement Shakes
There are several benefits of using meal replacement shakes, yet there are a few constraints that should be taken into consideration. This includes:
Plenty of meal replacement shakes contain unhealthy ingredients
It may not serve as a long-term solution against a healthy diet full of whole food
You might regain weight when you stop replacing meals with shakes
Is it bad to drink meal replacement shakes?
While many shakes include essential nutrients, they can not fully substitute for a balanced diet. When you stop consuming shakes, you will likely gain weight if you return to your previous eating habits.
Because meal replacement powders are prepared, they often include fake substances. Artificial additives help preserve and nourish the goods. Many smoothies have sugar to improve their flavor. Read labels carefully.
Like Vega's shake, serve it with yogurt, fruit, or almonds to round out your meal. It may be a benefit or a drawback. To lose weight, you reduce your calorie intake. But calorie restriction is risky. Meal replacement shakes are usually between 150 and 200 calories, which isn't close to a meal. Compensate for lost calories with other foods.
How to Use Meal Replacement Shakes?
There are a lot of ways where you can use meal replacement shakes against whole food. You can easily pair it with healthy snacks that serve equally as a full meal. With this method, you are trying to feed your body all the nutrients required to keep you going throughout the day.
In reality, you need to consume around 25 grams of protein, 13 grams of unsaturated fat, 5 grams of fibre, and 400 calories. This way, it will keep you full without getting hungry again.
Our latest meal replacement shakes review has the best available on the market. We have covered various soy & non-soy shakes here.
| | | | | | | |
| --- | --- | --- | --- | --- | --- | --- |
| Products | Serving | Protein (gm) | Fiber | Carbs (gm) | Fats (gm) | Kcal |
| GoL Raw Organic Meal | 34.5gm | 20 | 2 | 12 | 2 | 130 |
| Equate Meal Replacement Shake | 325ml | 10 | 5 | 24 | 6 | 190 |
| Orgain Organic Meal Powder | 57gm | 20 | 2 | 25 | 5 | 230 |
| Naturade Total Soy Meal Replacement | 36gm | 13 | 2 | 16 | 3.5 | 130 |
| GNC Total Lean Shake + Slimvance | 53gm | 25 | 6 | 18 | 3.5 | 190 |
| Nutrition 53 Lean 1 Meal Replacement | 60gm | 20 | 11 | 26 | 7 | 210 |
| Reboundair WholeFood Meal | 50gm | 20 | 10 | 14 | 4 | 172 |
| Premier Protein Shake | 340ml | 30 | 3 | 5 | 3 | 160 |
GoL Raw Organic Meal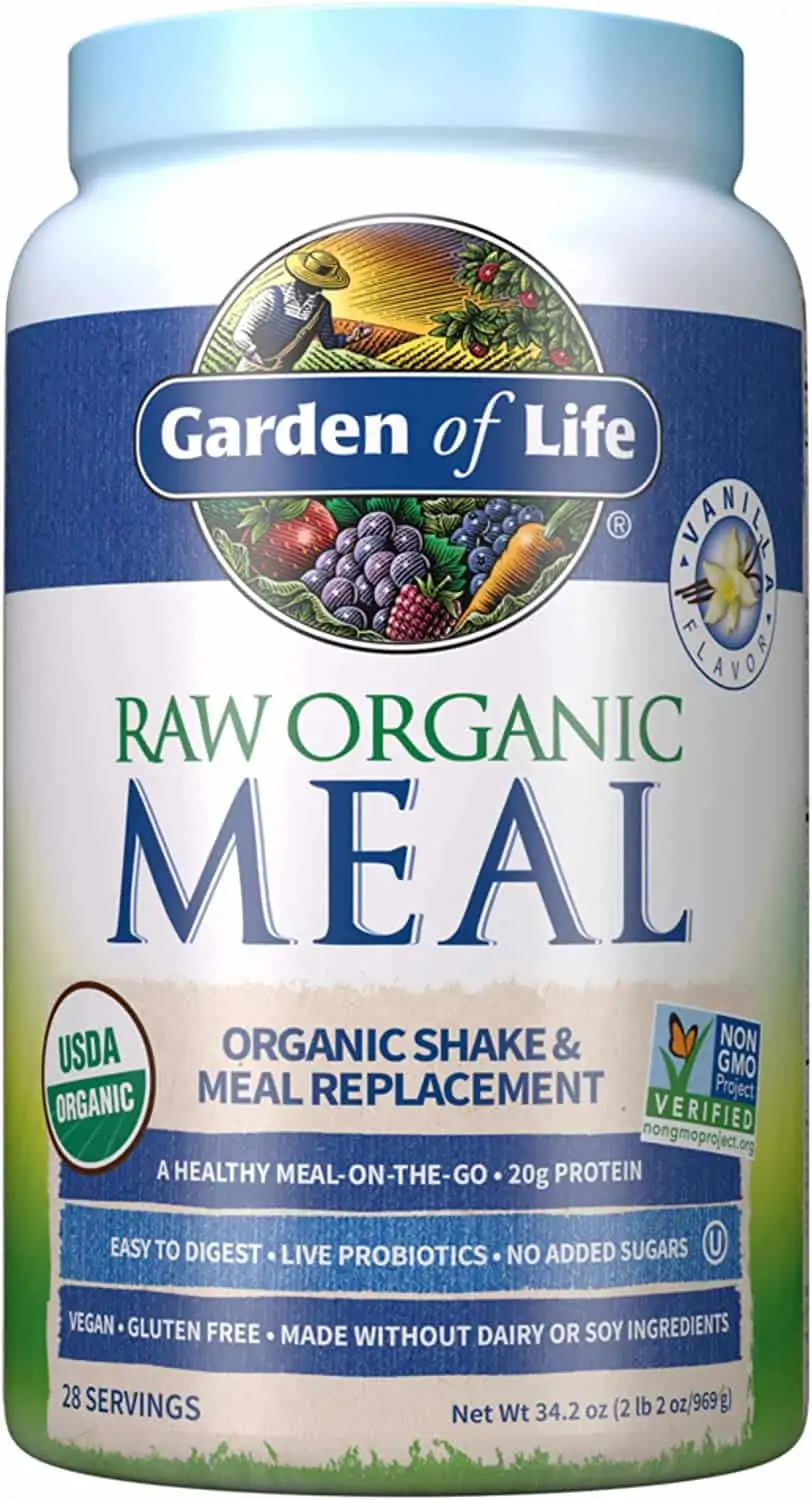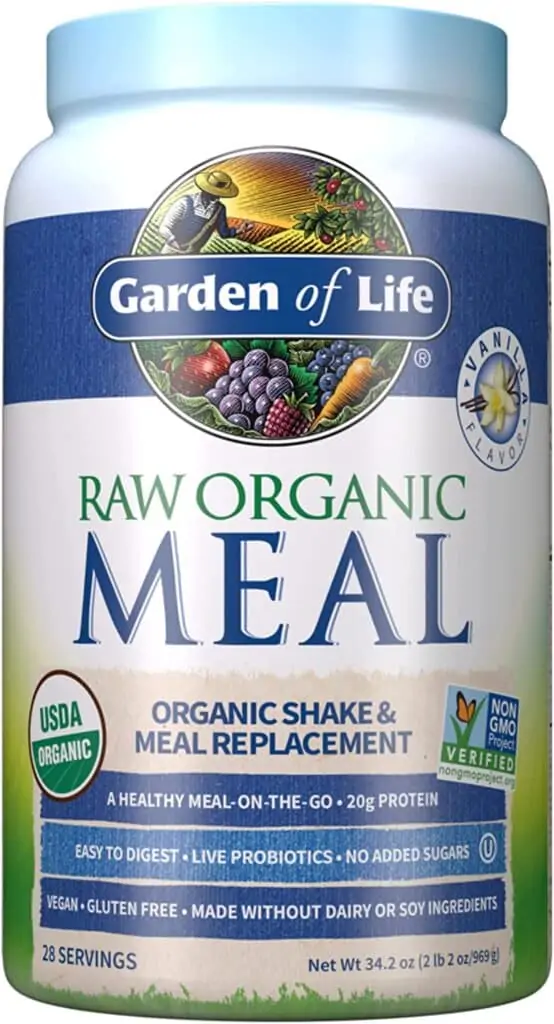 The Garden of Life meal replacement is Raw Organic Meal. Each serving is low in calories and has certain nutritional deficiencies as a meal replacement. For example, it contains too much protein and not enough vital fats. So I'd call it a snack or a nutritious boost.
It is a delicious and nutritious meal replacement that is organic and raw. It is undeniably a healthy dinner choice and a nutritious boost for most. The quantity of veggies in the mix provides important vitamins and minerals, antioxidants, and phytonutrients. A typical Western diet lacks all of these.
The quantity of heavy metals in these goods is one of the major concerns. However, they are in safe amounts in all Garden of Life products.
They serve best for post-workout recovery to build muscle growth and boost lost energy. Therefore, it's a power-packed meal replacement powder from 44 plant-based superfoods. This includes seeds sprouted grains, legumes, organic peas, grass juice, fruits & veggies.
The last factor in the Raw & Organic meal evaluation is the cost. While it is a bit expensive compared to other organic drinks, it is not compared to other meal replacements. However, there are other inexpensive meal replacement shake alternatives available.
Equate Meal Replacement Shake
This meal replacement shakes with 190 calories is sufficient for a medium-height and weight person for a full lunch or dinner. It is quite balanced compared to various others and is gluten-free, so it is suitable for more sensitive individuals. In addition to protein and fiber, it has 24 different vitamins and minerals. Having a bottle during lunchtime will keep you full for at least two to three hours.
On the other hand, some may not find it a favorable healthy drink as it has high sugar content, which is not a good nutritional drink.
The more adventurous can even replace two meals instead of one, though I don't recommend that. Kickstarting a weight loss program with meal replacement shakes is good, but depending wholly on them or making them a long-term alternative is not advisable.
While checking its reviews, most of these are favorable.
Orgain Organic Meal Powder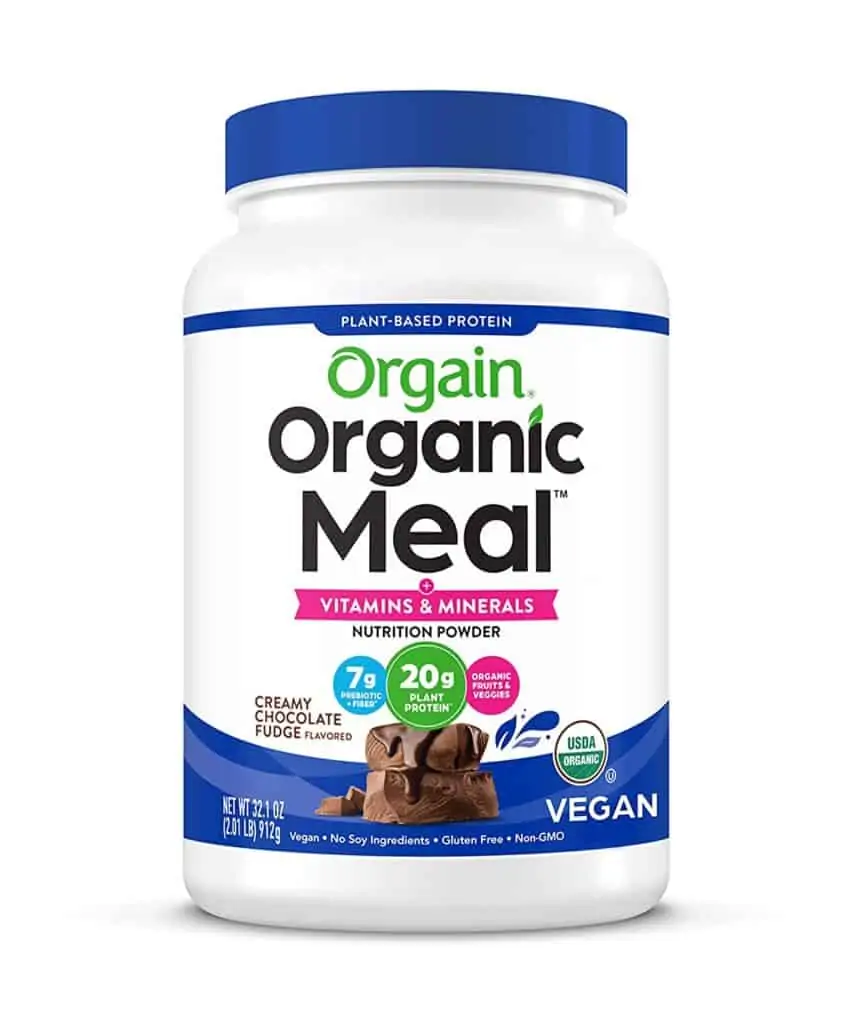 This is the one if you are looking for meal replacement shakes without artificial sweeteners. Orgain organic meal powder is a complete source of proteins, carbohydrates, fats, fiber, amino acids, vitamins, and minerals. However, unlike other meal replacements, Orgain meal replacement does not contain artificial sweeteners, preservative agents, dyes, emulsifiers, stabilizers, colorings, or flavor enhancers.
Our organic, plant-based meal powder is a tasty and fulfilling meal substitute. Each serving of this organic and vegan powder has 20g of plant-based protein. Our dairy-free meal replacement shakes are delicious and creamy. Enjoy with water or in your favorite smoothie.
In addition to this, it is 100% vegan with no added sugar. It's Gluten-free with non-GMO.
Hence, it is considered an ideal choice for healthy alternatives to traditional diet plans.
Naturade Total Soy Meal Replacement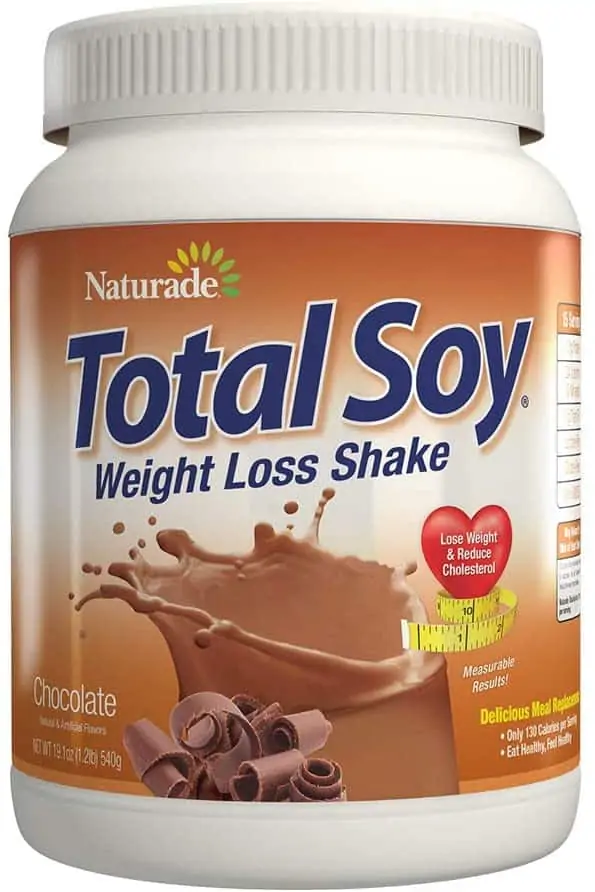 Like Naturade's famous Total Soy, Soy meal replacement shakes provide all the nutrients of a full meal but in a handy shake form. It contains all plant-based ingredients that can replace any meal and lose weight.
Naturade's Total Soy Meal Replacement is a fantastic all-around nutritious smoothie. Each serving has enough soy protein to support the FDA-approved heart health claim. Besides heart health, soy protein is an excellent protein source for adult men and women.
Soy protein is not as bland as whey protein. However, many sugars and flavorings don't mix with soy. The product is delicious and sells well in all three varieties. The Total Soy Meal Replacement is free of aspartame, artificial sweeteners, flavors, and preservatives. Total soy is a lactose-free meal replacement shake appropriate for vegetarians. Blend it with ice, soy milk, juice, peanut butter, or frozen fruit.
Naturade Total Soy may help you lose weight. The Food and Drug Administration said, "25 gm of soy protein per day, on a diet low in saturated fat and cholesterol, may decrease the risk of heart disease." One tasty 8 oz. Naturade Total Soy smoothie provides over half the recommended Soy Protein intake daily.
Nourishing, reduced in fat and cholesterol, and just 130 calories per serving, this delicious drink may replace one meal a day while cutting calories.
In addition, Naturade whole soy may help you lose weight and lower your cholesterol. It has less sugar, fewer carbohydrates, and more nutritional fiber per serving. So you may substitute one or two meals and reduce 500-1,000 calories daily without feeling hungry.
GNC Total Lean Shake + Slimvance
GNC meal replacement shake for weight loss, Slimvance helps the body burn calories faster than usual. The pounds will decrease together with the calories burned throughout the exercise.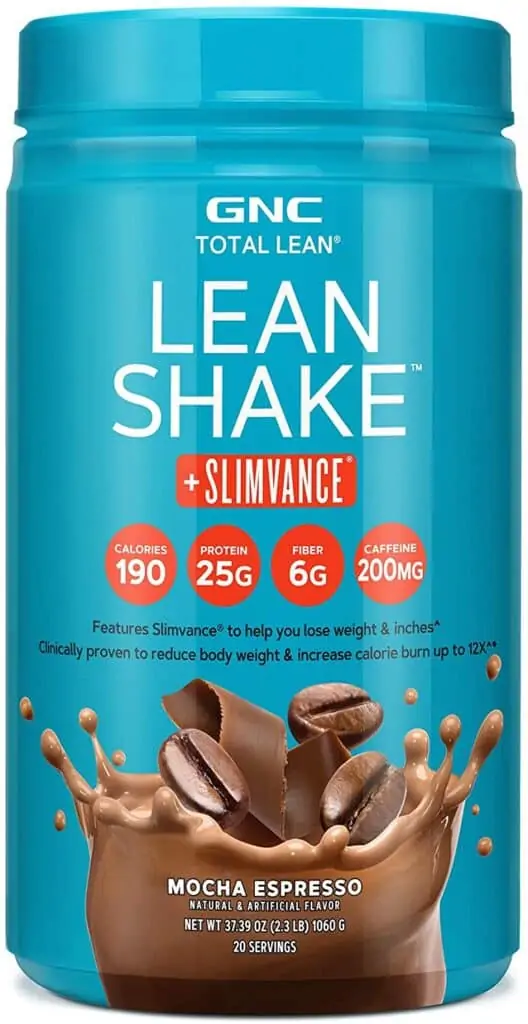 But that isn't the only advantage of using GNC meal replacement shakes. The GNC Total Lean Shake With Slimvance promises to help you lose weight. It contains prebiotics, which help improve digestion. That helps reduce bloating, so there's no weight gain there.
It isn't easy to lose weight if your digestive system isn't working properly. You may get blocked up and sluggish, affecting your exercise. So you won't lose weight or work out as hard. That shouldn't be an issue while utilizing this shake.
It contains 200mg of caffeine per serving. It's also natural caffeine, so there are no nasty side effects. Instead, you'll feel compelled to move.
Once you start working out, you'll need protein to repair and grow muscles. Workouts will be easier if you gain muscle. And the simpler it is to exercise, the easier it is to lose weight.
GNC Total Lean Shake + Slimvance contains 23 natural vitamins and minerals. Vitamins A and D, iron, calcium, magnesium, and other nutrients will give your body all it needs to function at its best.
So your body receives the nutrition and energy it needs to function properly. It would help to take GNC Total Lean Shake + Slimvance twice daily once you get into a habit. It has 20 servings and should last ten days.
Nutrition 53 Lean 1 Meal Replacement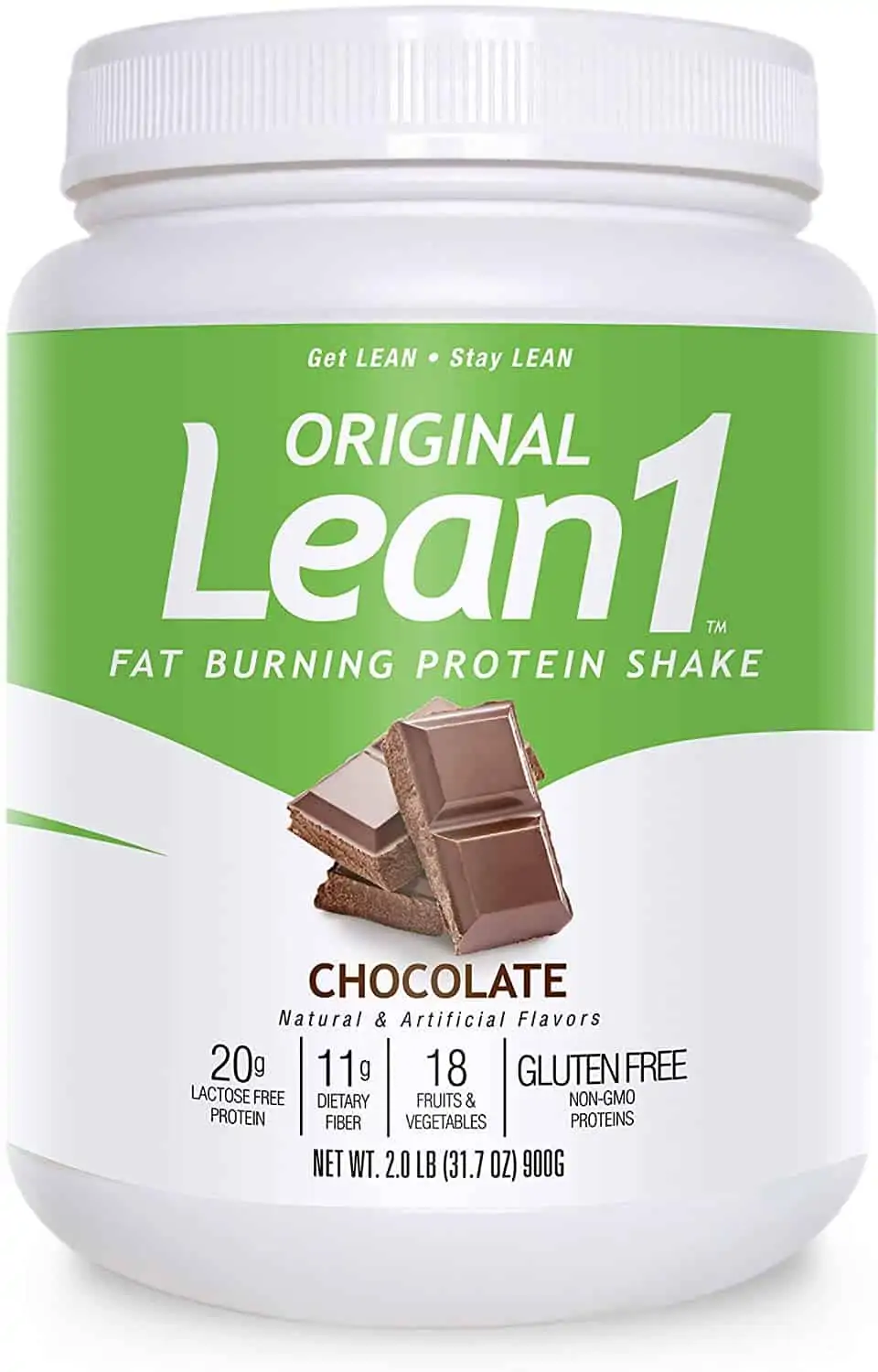 Nutrition 53's Lean 1 Meal Replacement is a vegan, lactose-free, fat-burning meal replacement. It's vegan and contains no animal products.
It contains protein, fiber, vitamins, magnesium, calcium, and Green Coffee Bean extracts. For starters, a serving has 20 gm of lactose-free protein and 10 gm of fiber.
It may satiate hunger, is an excellent pre-and post-workout drink, and burns fat up to 68% faster. It helps with heart health and post-workout recuperation too.
Lean 1 is a whey protein supplement. Whey protein aids in fat reduction while preserving lean muscle. Many consumers love Nutrition 53 Lean 1 for its whey protein content.
Nutrition 53 Lean 1 includes a lot of sunflower oil extracts. In addition, it contains vitamins K, E, and other minerals, is suitable for the heart, and lowers cholesterol.
Green Coffee Bean Extract is an essential component in dietary supplements. Again, Omega-3 is vital to a fit and healthy lifestyle. Green coffee bean compounds are abundant in Nutrition 53 Lean 1 muscular supplements.
Alkalized cocoa powder is a lesser-known ingredient for weight reduction and muscle development.
Lean 1 is a food supplement focusing on weight loss and muscle development. It may burn fat up to 68% quicker than when you don't take any supplements. The Lean 1 meal supplement comes in a variety of tastes.
Reboundair WholeFood Meal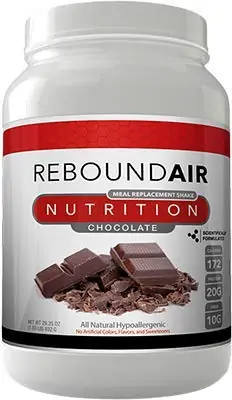 ReboundAir Nutrition's Whole Food Meal Replacement Shakes are one healthy option. A single source of European pea protein produced in optimum circumstances is used in these shakes.
Plant-based proteins from high-heavy metal-content regions like China are NEVER utilized. In addition to vitamins and minerals, this superfood mix includes protein and omega-3 fatty acids.
In addition, it includes a unique mix of phytonutrient-rich berries and super greens. ReboundAir Nutrition Meal Replacement is the BEST whole-food meal replacement on the market.
Delicious, whole-food meal replacement shake that is dairy-free and non-GMO. It is a gluten- and soy-free meal replacement shake with no artificial colors, sweeteners, or flavors and a low glycemic index. This product is hypoallergenic.
With many nutrients from around the globe, the highly concentrated whole-food mix is a nutritional powerhouse. It includes a proprietary mix of the world's most phytonutrient-dense berries and a refreshing concentration of greens. In addition, it is fortified with naturally occurring prebiotics and probiotics for good immune function, as well as over 74 natural food-based trace elements for healthy pH balance.
Premier Protein Shake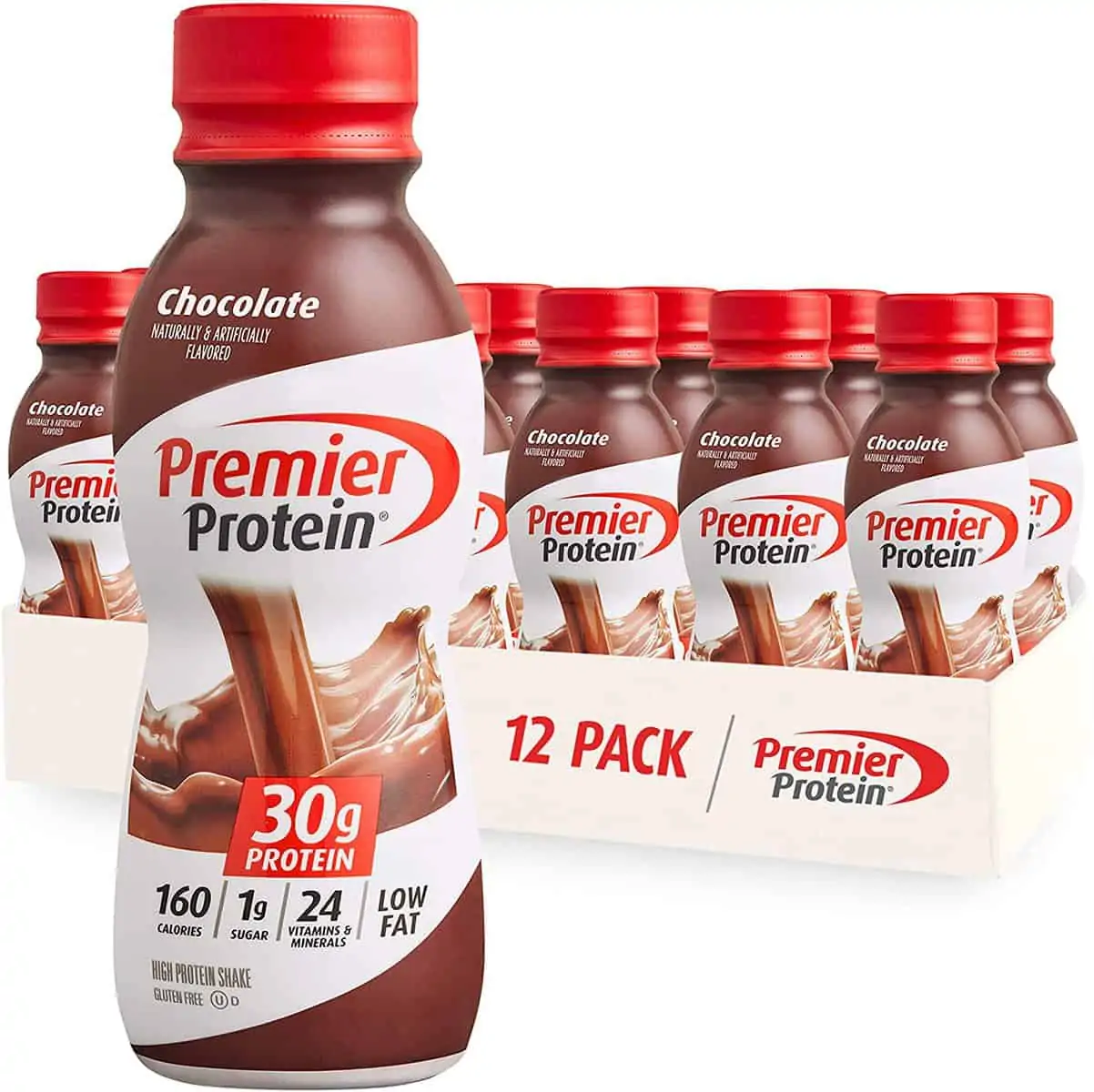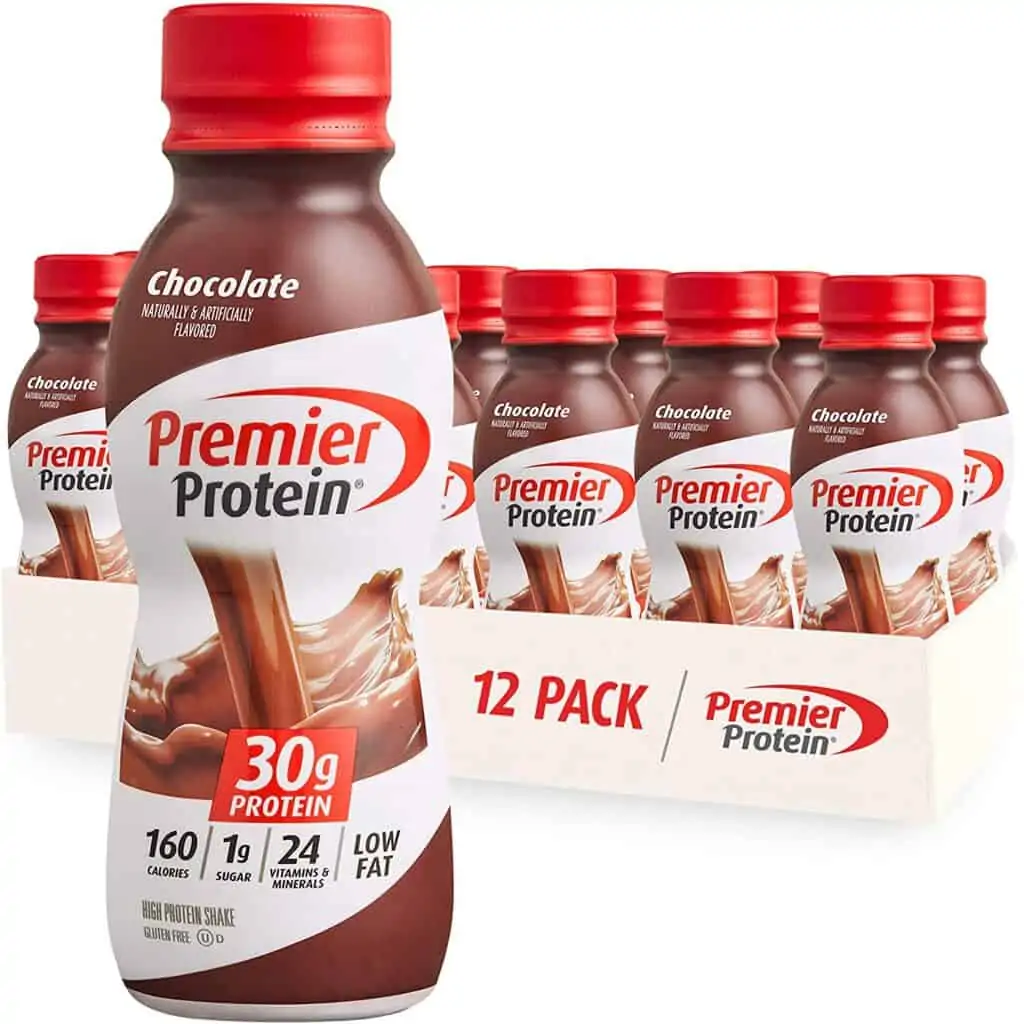 This is it if you are looking for a meal replacement shake keto. The Premier Protein Shake has 30g of protein (whey and casein), 1g of sugar, and 24 Vitamins & Minerals that help strengthen the immune system. It is Gluten-Free, with no soy ingredients, and supports Keto and Bariatric. Making it ideal as a weight-loss tool. It will provide the complete nutrient your body needs.
It has various flavors like Cafe Latte, Caramel, Chocolate, Cookies & Cream, Peaches & Cream, Strawberry, and Vanilla.
One of the most refined protein shakes out of all the available brands in the Premier Protein smoothie.
It is best used for muscle recovery after a heavy workout when your muscle gets sore or torn. In such times, it provides essential amino acids that help repair muscle tissues effectively.
Premier has 1gm of sugar, though sucralose is listed as an ingredient. Remember, if you're looking for a protein shake with no sweetness.
This shake's high nutritional value makes it suitable for meal replacement.
Premier Protein is one of the best-tasting in the world of bland protein shakes and has received various rewards.
You can also call it your favorite 3 pm snack after a heavy workout. It serves to be your go-to pick-me-up protein shake when you are headed out. So, you cannot go wrong with this, as it may be the tastiest motivator you will ever love.
It is beneficial for athletes who regularly undertake challenging exercises. One smoothie provides 60% of your daily protein needs.
Conclusion
While it is difficult to pinpoint any of these as the best, I usually keep changing my proteins from one brand to another. Generally, we like the one with the best taste and the highest quantity of protein. Here we need to look at the calories too. A big gap in calories can be detrimental to our health.