Introduction
Are you a fitness enthusiast? Are you looking for some healthy protein concentrate powders to build lean muscles? From building muscles to aiding weight loss, whey protein concentrate powder helps supplement gaps in the diet. With so many brands on the market, finding the best Whey Protein Concentrate Powder becomes a complicated task with optimal results.
Since they are derived from a variety of sources, a number of criteria must be considered before choosing the best option. In several cases, it depends on a range of variables such as budget, certification, texture, taste, ingredients, goals, macronutrients, and others. So, sticking to a reliable protein concentrate powder will help you build muscles quicker and more efficiently. Make sure the whey protein concentrate ingredients are all-natural only.
So, make sure you choose a well-known brand with healthy ingredients that are 100% natural. It must be easily digestible for mass gainers to prevent muscle breakdown. Not to forget, the taste and texture must be palatable to keep you using it.
What is whey protein concentrate?
Whey protein is a concentrated protein that has been derived from whey. It is commonly used as a protein supplement for health-conscious people. Moreover, whey is obtained from the watery portion of the milk when making cheese. That's why it's a byproduct of cheese production. Hence, it is considered a complete protein to improve your lean body and immune system. Furthermore, its improved nutrient content helps in athletic performance and increases strength. Whey protein ingredients are better than other types of protein, like soy or other plant proteins, as it is a complete protein with all the essential amino acids in quantities best suited to our bodies.
Is Whey Protein Safe to Consume?
Whey concentrate does not have any adverse effects on the body and is safe to use for all purposes. However, it is not recommended for lactose intolerant people as it might cause some digestive symptoms. So, if you are allergic to milk or milk products, you must avoid using whey protein to prevent any allergic reaction in your body. You can opt for whey protein isolate or other protein alternatives in such cases.
Otherwise, whey protein is entirely safe to drink every day without facing problems. The recommended dose for whey protein is 1-2 scoops per day.
Whey Protein Benefits
There are several benefits associated with whey protein concentrate powder. It includes:
It helps build muscle.
Lean muscle development.
Improve muscle strength.
Repair muscle tissue
Help with weight loss.
Cholesterol reduction
Immune system: boost your immunity.
Control your blood pressure.
Drawbacks of Whey Protein
There are no drawbacks to whey protein apart from stomach aches and cramps when consumed in high doses. Other than this, possible dangers include:
Fatigue
Loss of appetite
Headache
Nausea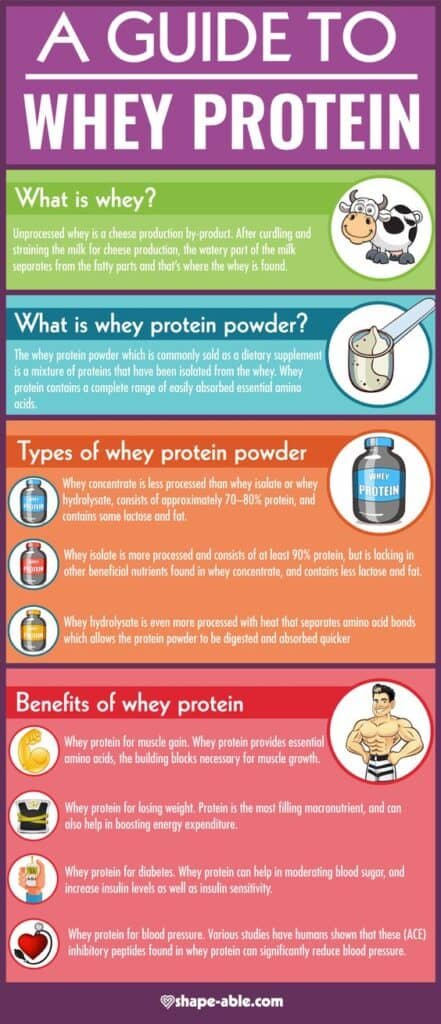 What are the types of whey protein?
Before beginning with your whey protein routine, you first need to understand and differentiate between the various types of whey protein on the market. So, there are three types of whey protein. It includes:
Whey Protein Isolates (WPI)
Whey Protein Concentrate (WPC)
Whey Protein Hydrolysate (WPH).
Difference Between Whey Protein Concentrate and Isolate?
Whey Protein Concentrate and Whey Protein Isolate vary in different ways. Several factors determine their variables, such as protein percentage, sugar content, pricing, processing, flavor, and others. Lactose is the main factor in whey protein vs isolate choice.
Whey Protein Concentrate (WPC)
Whey Protein Concentrate comprises the best flavors with a good amount of fat and milk sugar. It is put together in transparent form with high-quality ingredients. Also, its tasteful flavor and reasonable price make it a great choice among users.
The protein content is less than 90%.
Process: made from milk
Fat/Carbohydrates 3-8%
Sugar content is low.
Whey Type: Regular
Price: low
Whey Protein Isolate (WPI)
Is whey isolate the best protein? Yes, it is the purest form of whey that can be enjoyed as a supplement to boost your fitness level. It is essentially used to build solid muscles and stimulate muscle growth. It is processed to lower the fat and lactose content. As a result, it contains only protein. Therefore, it is suitable for allergic people to milk and milk products. It works as a great alternative protein for lactose-intolerant people.
90% protein content
Processed directly from whey.
Fat/Carbohydrates 1-2%
Sugar Content Is Low
Type of whey: highly processed
Cost: expensive
Top 9 Whey Protein Concentrate Powders
We have shortlisted the 9 best whey protein concentrate powders on the market to help every fitness enthusiast deal with post-workout recovery and muscle growth. Also, these lists will help you choose the best protein powder for your needs.
Now, let's look at the below-mentioned list to get a better idea of it:
Whey Protein Concentrate from BulkSupplements
Bulksupplements.com Whey Protein Concentrate is available in different sizes that range from 100 grams to 20 kilograms. Therefore, you can choose your package depending on your needs and preferences. Also, the starting cost for this protein powder is $12.96. It works best for muscle recovery, muscle growth, post-workout recovery, and others. In this way, the product aids the healing of tired muscles after a hard workout.
The taste of this protein powder is plain and non-flavored. You can use it in any food portion, like mixing in your morning oatmeal or different foods. So, it's a good source of protein with a mild flavor. Also, it doesn't taste too sour or too good.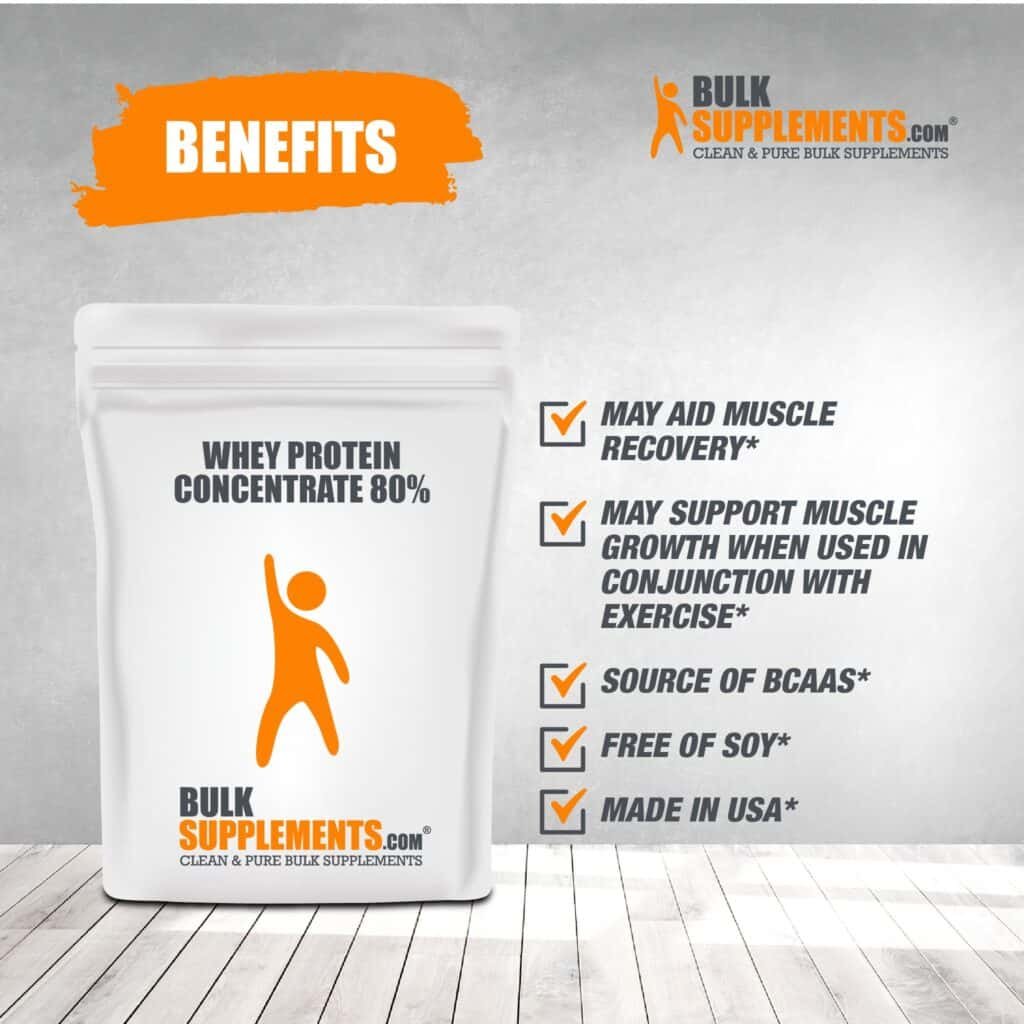 Levels Grass-Fed Whey Protein
Levels grass-fed whey protein is one of the best kinds of protein concentrate powders on the market. It is available in different flavors such as double chocolate, pure chocolate, vanilla bean, unflavored, strawberry, chocolate peanut butter, cold brew, vanilla cinnamon, and chocolate mocha. Hence, it ensures good flavors for better taste. It is also available in different sizes, from 2 lbs. to 10 lbs.
The starting cost for this protein powder is $34.95. It works best for improving body composition, fat loss, and post-recovery workouts. Also, it can be used as a valuable high-protein snack to boost your lost energy.
The best part about this protein powder is that it does not contain any artificial flavors, added sugar, fillers, bleach, or other sweeteners. It also includes the best ingredients, including 24 g of protein, 3 g of carbs, 130 calories, and 5.4 g of BCAAs.
That's why fitness enthusiasts and athletes trust it.
Nutricost Whey Protein Concentrate
Nutricost whey protein concentrate ensures high-quality protein per serving. The protein powder is gluten-free and non-GMO. It comes in various flavors, including chocolate, vanilla, and choc peanut butter. Moreover, you can also get this in unflavored form if you want some plain and non-flavored taste. Furthermore, the protein powder contributes to an average flavor with 25 grams of protein.
You will get it in two available sizes: 2 lb. or 5 lb. The starting cost for this protein powder is $30.95. It works best for muscle strengthening, weight loss, regulating blood pressure, high cholesterol, and type 2 diabetes. Hence, it works as an incredible tool to help you achieve your objectives.
Therefore, if you aim to shed those extra pounds, Nutricost Whey Protein Concentrate can provide you with the best result. It satisfies your hunger for longer between meals. However, it contains a little bit of fat equal to regular milk.
Optimum Nutrition Gold Standard 100% Whey Protein Powder
Optimum Nutrition Gold Standard 100% whey protein is one of the best protein powders on the market that ensures muscle support and post-workout recovery. It is made from a 100% whey blend that enhances lean muscle mass.
It also consists of high-quality ingredients such as 5.5 grams of BCAAs, 11 grams of EAAs, 4 grams of Glutamine, and Glutamic Acid. It contains 24 grams of protein in each scoop and can be mixed well with water and milk. Moreover, it is best suited for vegetarian people. You must take it before or after a workout or in the middle of a meal for best results.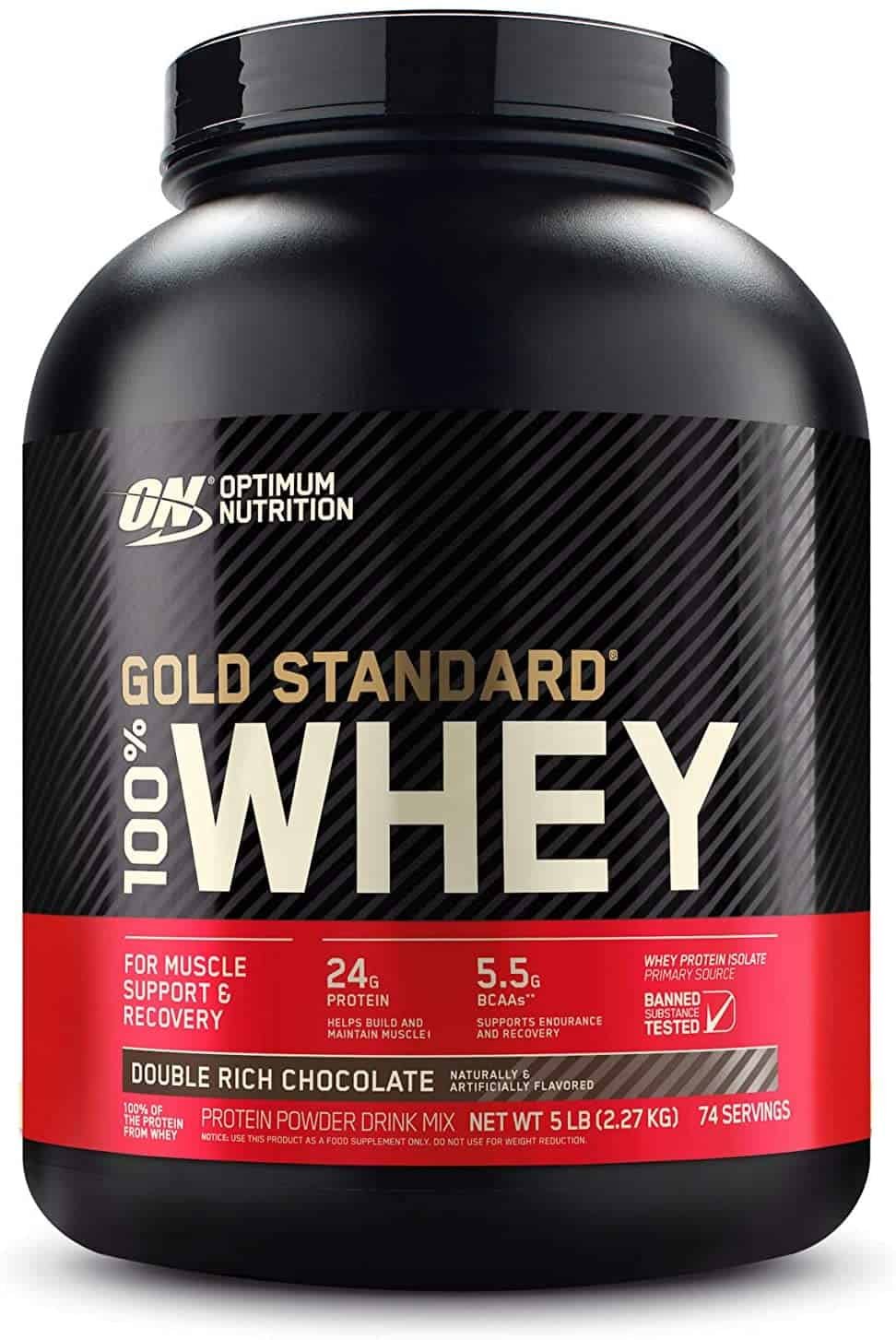 The starting cost for this protein powder is $9.99. It helps to improve digestion, increase strength, aids in low-carb diets, and assists in the recovery process. This protein powder ensures high quality to serve the best taste with the gold standard. It is available in various flavors, such as chocolate, coffee, vanilla, strawberry, and unflavored.
Now Sports Nutrition Whey Protein Concentrate
Now Sports Nutrition whey protein concentrate is concentrated with 24 grams of BCAAs that ensure easy digestion for anybody. However, this protein powder is not recommended if you want to lose some weight.
That's why it works great as a food supplement but is not ideal for weight loss. Its unflavored texture mixes well for baking or making smoothies. The starting cost for this protein powder is $29.99.
Also, it does not consist of any artificial ingredients and mixes instantly for better results. It comes in two available sizes, 1.5 lbs. and 5 lbs. It is all-natural and contains no Aspartame or Sucralose.
Muscle Feast Grass Fed Whey Protein Concentrate Powder
Muscle Feast Grass Fed whey protein concentrate is 100% natural with no added sugar or artificial sweeteners. It's gluten-free certified by the Gluten-free Organization.
Muscle Feast whey Protein is also best-suited for vegetarians. It contains essential ingredients, such as the strong amino acid that ensures a muscular physique. It also provides good taste at reasonable pricing.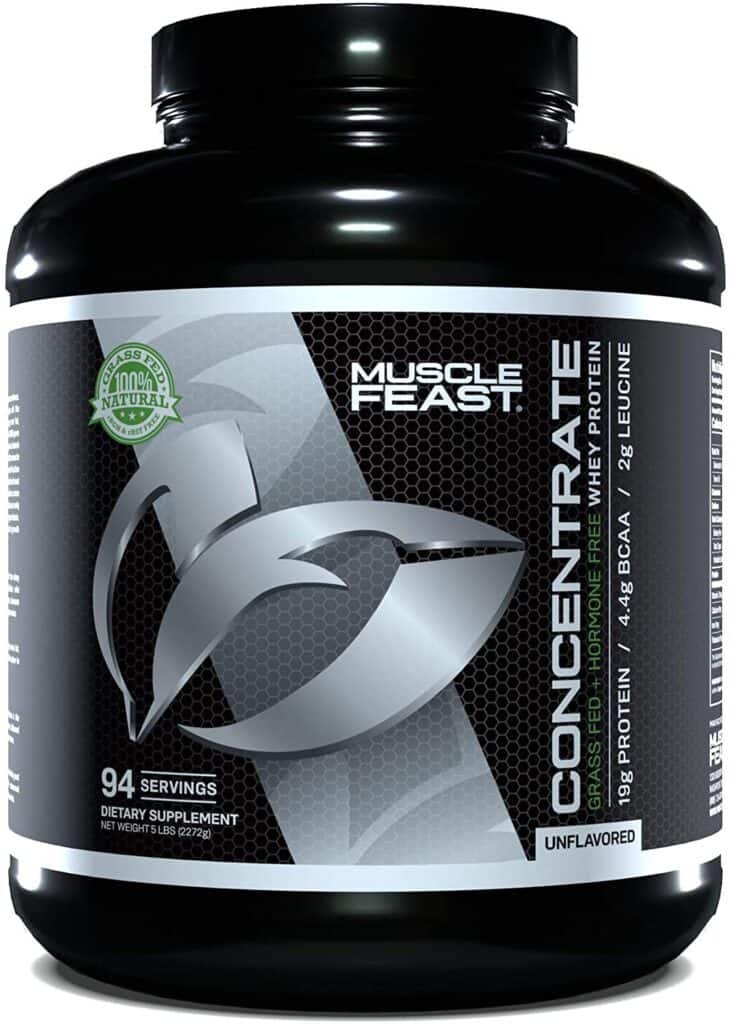 The starting cost for this protein powder is $39.99. Hence, it's a quality product with the proper minerals and vitamins. Moreover, it is available in vanilla, chocolate, and unflavored flavors. It comes in two available sizes, 2 lb, and 5 lb. It aids in weight loss and reduces appetite.
Rule One Proteins R1 Whey Blend
Rule One Proteins R1 Whey Blend is made of a 100% whey protein formula. It comes in 15 flavors: chocolate fudge, birthday cake, strawberries & crème, strawberry banana, lightly salted caramel, chocolate peanut butter, frozen banana, café mocha, pumpkin spice, fruity cereal, mint chocolate chip, chocolate hazelnut, vanilla ice cream, and toasted cinnamon cereal.
It is available in four sizes: 2 lb, 5 lb, 10 lb, and 1 lb. Each scoop contains 24 grams of protein with the natural presence of BCAA, EAA, and Glutamine. It includes zero filler, zero spiking, and zero non-whey protein. You can instantly mix it well with a shaker cup or a spoon. The starting cost for this protein powder is $31.49.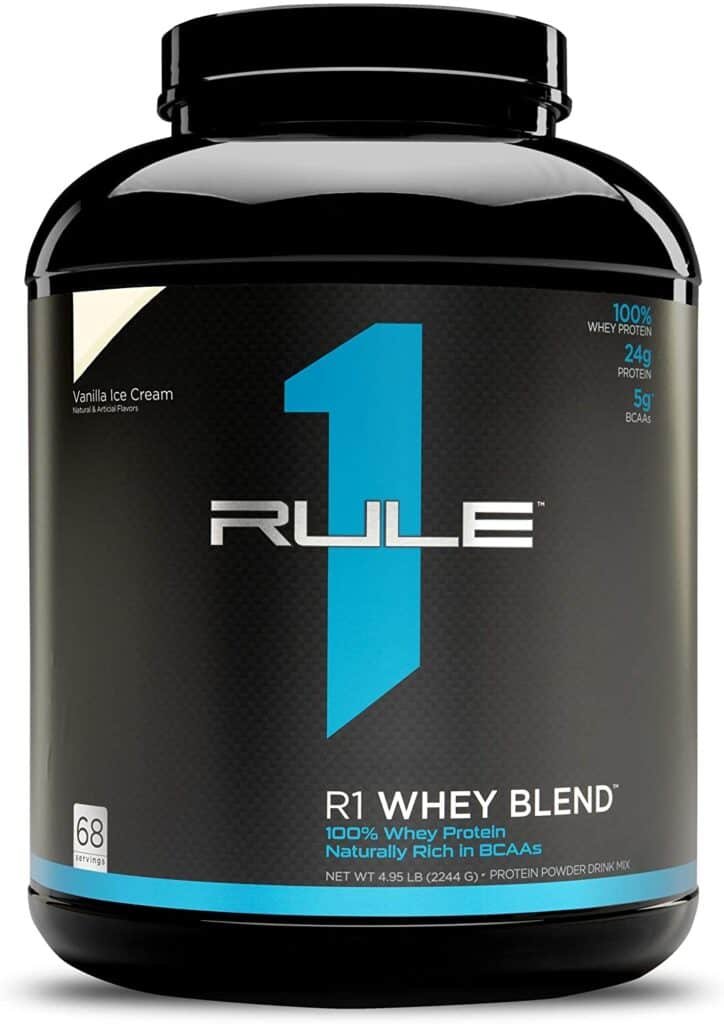 Rule One protein is also suitable for weight loss and ensuring your body gets the nutrients it needs after working out. With this, you can successfully meet your daily protein goal.
Opportuniteas Grass Fed Whey Protein Powder Concentrate
Opportuniteas Grass Fed Whey Protein Powder Concentrate works as an excellent nutrient option for everyone. It is cold-processed and non-GMO. It is known for its quality products.
It contains unflavored whey protein that mixes well, quickly contributing to a good taste. Being unflavored won't change the taste of drinks or food. You can easily use this mix in a shaker bottle to boost your energy.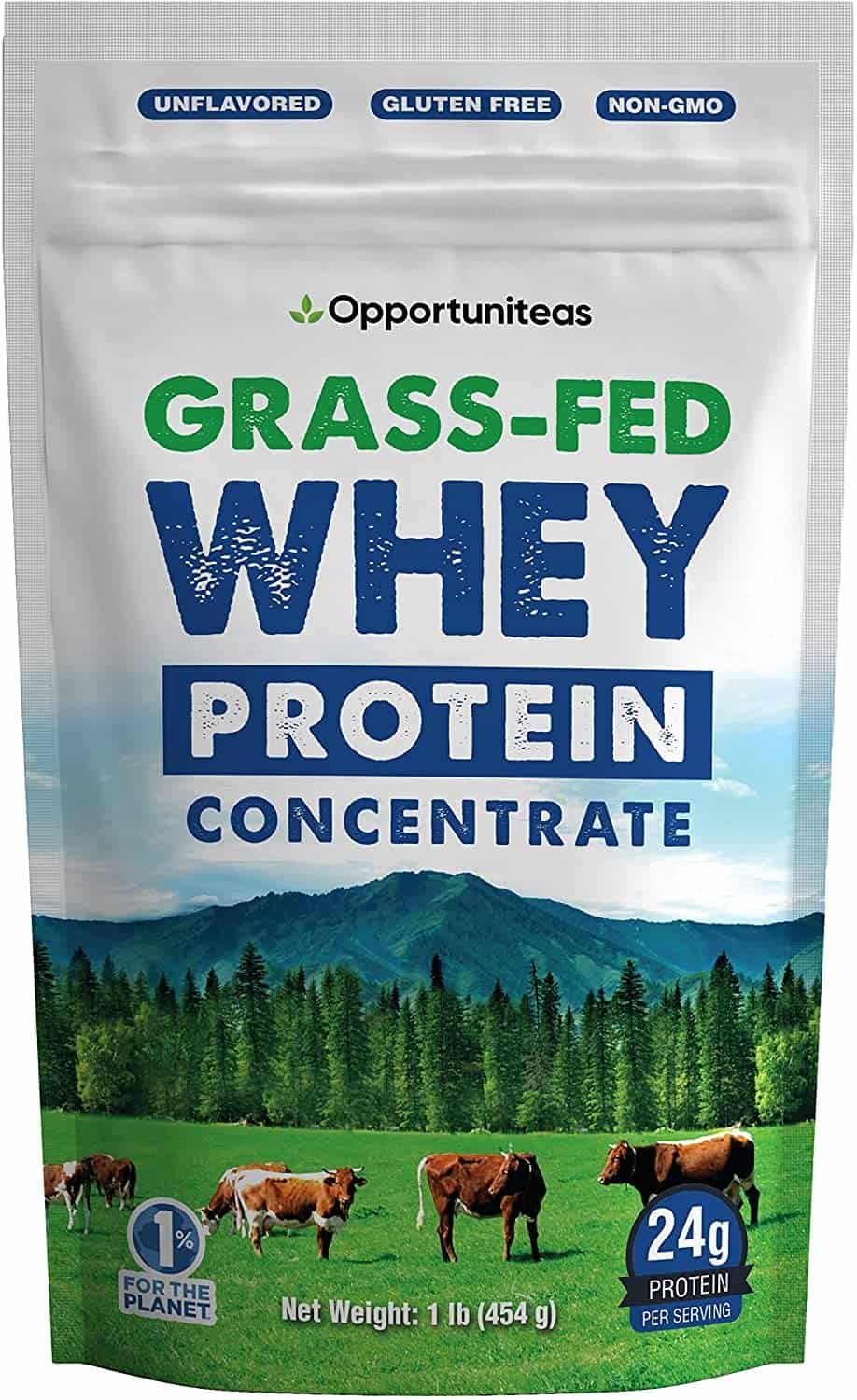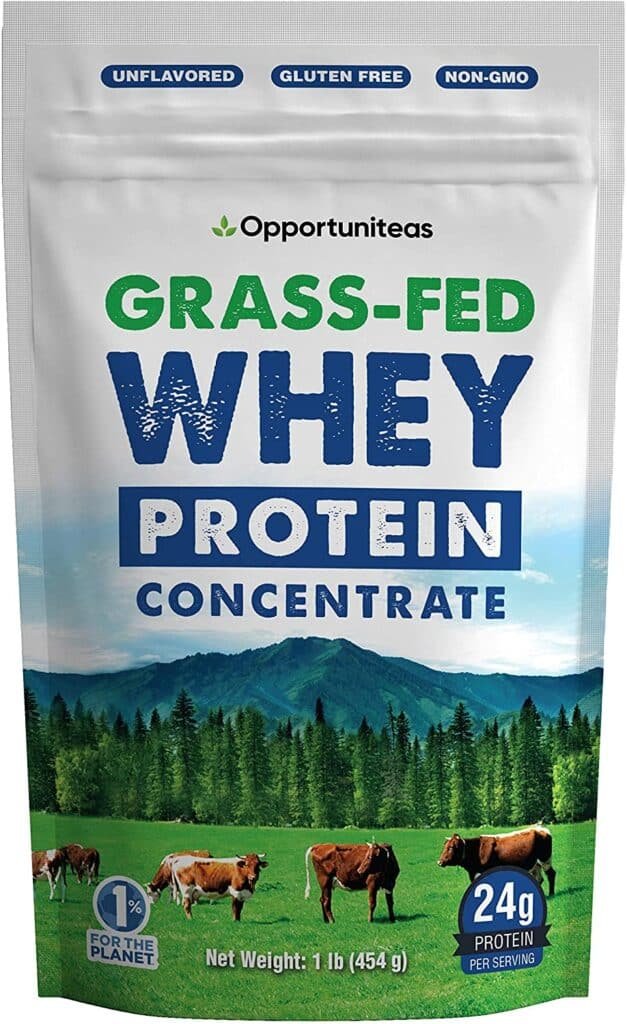 Every serving provides 24 grams of protein to build your muscles' power back to work. It's also perfectly digestible with no ill effect. The starting cost for this protein powder is $27.99. It is best used for optimal recovery and preserving strength.
Whey Fantastic 100% Pure Grass Fed Whey Protein
Whey Fantastic Pure Grass Fed Protein gives better results for men and women by managing weight, stimulating muscle growth, and enhancing recovery post-workout.
It contains no artificial sweetener, flavor, or added sugar. Also, it's gluten-free, soy-free, and non-GMO. That's why it has 100% pure premium whey. Each serving contains 24 grams of protein, which helps you look and perform at your best. Other ingredients include 1 gram of fat, 5.8 grams of BCAAs, and 1 gram of carbs.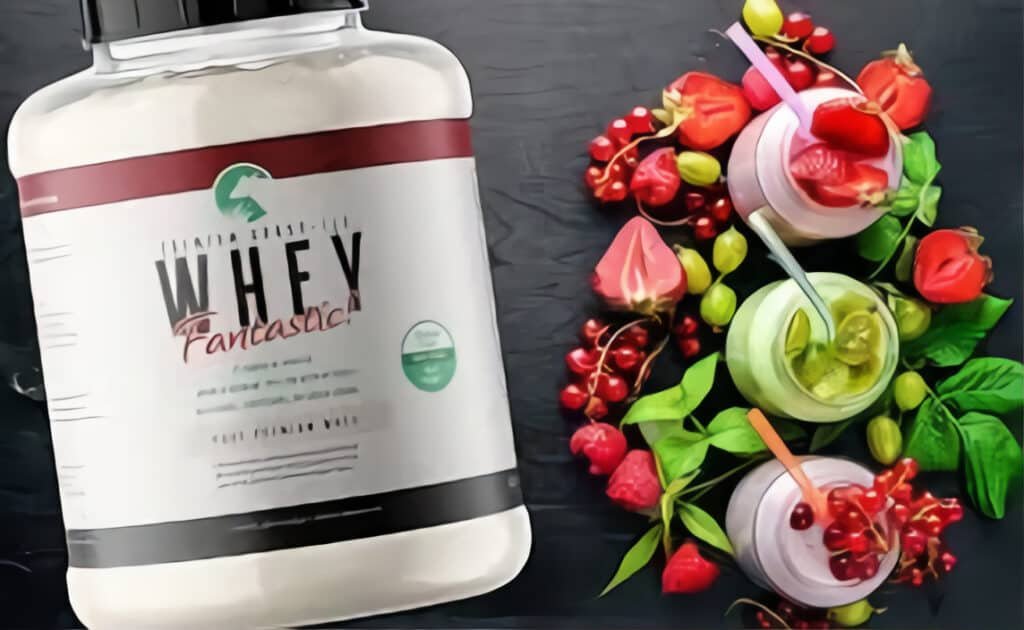 Therefore, Whey Fantastic completely transforms your body to help raise your metabolism rate and achieve your goals for a healthy, fit body. The starting cost for this protein powder is $24.95.
Conclusion
Well, it's a challenging task to chalk out the best one for your daily protein needs that comes with its natural benefits for a healthy body. However, you must focus on your body's requirements to choose the right protein supplement. For instance, if you are lactose-intolerant, you must go for Opportuniteas Whey Protein Powder, which is gluten-free and free from lactose. It is processed in a unique way that helps to remove all fat and carbohydrates from the milk product. That's why it is considered one of the highest protein supplements on the list.