Get fit with the NordicTrack T6 5Si. With iFit, you get an ever-expanding exercise library, Google Maps training routes, and automated data monitoring. The T6 5Si exemplifies NordicTrack's ability to combine value, style, and substance. The NordicTrack T6.5Si treadmill is a low-cost home treadmill from one of the fitness industry's leading brands.
The Nordic Track T6.5Si sound system is Bluetooth compatible, and the twin 2″ speakers can play music, podcasts, or anything else you want to listen to. After training, the EasyLift Assist function helps you raise and fold the track.
The monthly cost of iFIT varies depending on the package and payment frequency. A year-round family plan is $396, a monthly family plan is $39, and a year-round individual plan is $180.
An automatic 10% inclination and a cushioned deck with adjustable stiffness are all features of the NordicTrack T6 5Si. It has a 10MPH top speed, 20 training routines, and iFit compatibility. Low-impact decks reduce stress on knees and hips.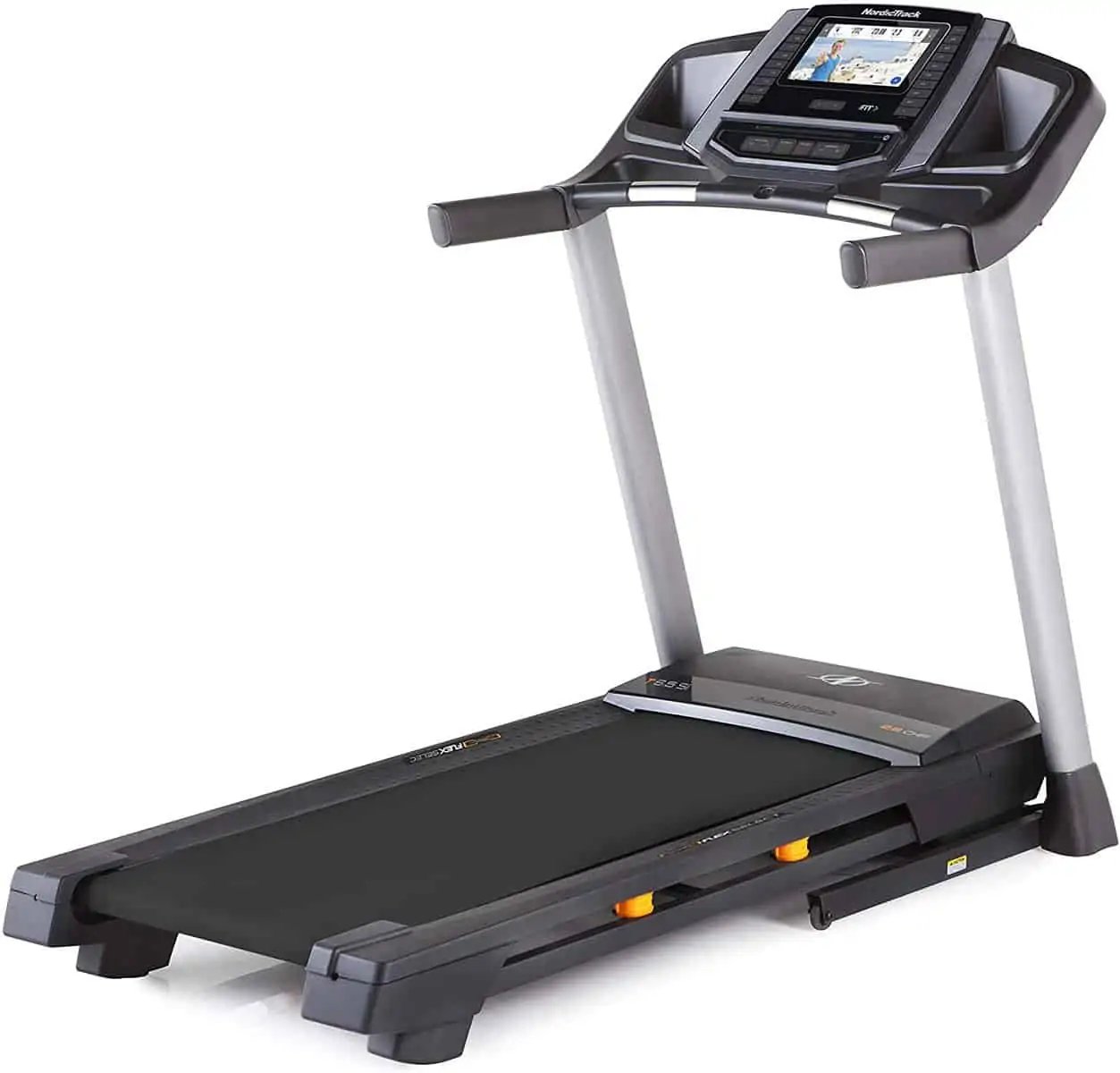 Can I use NordicTrack without iFit? -You can still access your iFit profile, see your statistics, and use your NordicTrack machine without iFit. You can still use your NordicTrack equipment without iFit since it has built-in routines and manual workouts.
The NordicTrack Treadmill T6.5si folds up using the revolutionary SpaceSaver design with EasyLift Assist.
NordicTrack T6 5Si Construction
The dimensions are 67.5 x 35.75 x 73 inches. The T6.5si is durable but foldable with a steel side and cross beams, providing a solid foundation. Its handrails and console are supported by powder-coated chrome rails, and the deck is made of composite material for further durability.
Like the console, the back of the handrails is covered in black plastic molding, while the front is coated with a soft, spongy grip substance for a comfortable grasp.
The grips of a horizontal railing that extends in front include heart rate sensors.
The handrails are simple and easy to reach since they are beside the side rails, allowing you to grab them as required.
The NordicTrack T6.5si manual provides complete details about all the specs, features, and treadmill assembly.
T6.5Si Motor
2.6 CHP DurX Commercial Plus Motor: 2.6 CHP indicates the motor can sustain any preset speed. The engine is self-cooling and should suit most joggers and walkers. Most inexpensive treadmills manufactured for walking and jogging have their motor in this range.
T6.5Si Display
The T6.5Si has a 10-inch HD touchscreen display for optimum viewing of training programs and sceneries. It is a significant boost due to the screen size and interaction. The screen is huge, in your line of view, and simple to use.
Touchscreens make selecting exercises and metrics a breeze. The touchscreen controls volume, inclination, and pace. The T6.5Si's 10″ touchscreen is comfortable and responsive even with wet palms. The visuals and videos are bright and clear. The screen is neither excessively bright nor dull. It also pivots up and down to avoid reflected overhead illumination. Because iFit is so prominent on the 6.5 Si, the larger screen helps showcase the stunning videography of the courses and outdoor locations.
Weight & Weighing Capacity
The NordicTrack T 6.5 Si weighs 210 pounds and can accommodate 300 lbs. However, running any treadmill at its maximum weight capacity might shorten its lifespan. Your weight should be 40 lbs less than the maximum weight capacity of the treadmill for the treadmill to work smoothly over a long period.
Pre-Set Exercise Programs
A one-year subscription to iFit and 20 built-in programs keep your workouts interesting.
T6.5Si Treadmill provides more than enough programs, particularly with iFit compatibility. Twenty in all, plenty to meet individual exercise objectives – and an astounding number for a treadmill at this price range. iFit is a fantastic feature that enables you to run on different terrains across the globe while the treadmill replicates and adjusts your resistance level accordingly.
iFit is NordicTrack's exclusive online class and outdoor route database. You will need internet connectivity to operate iFit since it needs WiFi. The inbuilt apps don't need WiFi.
iFit offers studio-based courses taught by personal trainers that motivate and engage you. The treadmill will automatically alter inclination and speed to meet the trainer's instructions.
It also has outdoor routes recorded all throughout. These are also conducted by personal trainers who run with you, giving feedback and instructions.
There are 20 inbuilt routines for individuals who don't want iFit, and it is a decent selection of exercises to meet your specific objectives. Standard metrics include speed, distance, pace, calories burned, time remaining, and heart rate. You may also run any of your Google routes on the treadmill, and it will adapt to the terrain.
Speed & Incline
It has a 10% inclination and a ten mph peak speed.
OneTouch controls the speed and incline of the screen on each side. To browse straight from the console, you can use the buttons labeled 1–10.
Live instructors regulate the T6.5Si's inclination and pace. Members of iFit, an interactive coaching system, may use this function for free for one year. Your coach will alter the slope and speed throughout your live exercise session. The process also works with iFit's Google Maps component for running or walking. Here, the inclination function adapts to the terrain's height changes as you run.
Running Track
The running deck is 20 x 55 inches and is slightly tiny for tall runners who are over 6 feet in height. But for all others, it is perfect.
The T6.5si's tread belt is commercial quality, and it shows. Reduced deck vibration stabilizes the belt, preventing "slapping" noises when operating.
The deck's 4″ side rails are textured and anti-slip. These are inclined slightly toward the deck so you don't fall off.
Four orange dampeners control the cushioning element beneath the deck. Turn on the dampener until it shows "Cushion." Turn the dampener to "Off" to simulate outdoor surfaces. Indoor exercise has the added advantage of protecting joints from overuse and impact problems.
Running is a high-impact activity, and FlexSelect cushioning reduces the joint impact. Thus impact injuries and pain are prevalent. The T6.5Si provides cushioned comfort for indoor runners and walkers on a smooth surface. Orange dampeners beneath the deck provide mild cushioning that may be turned on or off. Unless otherwise required, leave the cushioning 'on'. In addition, it lessens impact and tiredness.
Easy to Fold & Move
This model has the revolutionary SpaceSaver design with EasyLift Assist for one-step folding. No hard lifting or bending is required.
The T6.5Si folds smoothly. Raise the deck, and the EasyLift assist will help you fold the machine. Due to its tiny footprint, the T6.5Si is just 73″ tall when folded vertically. It allows you to keep your treadmill in a common area or even a bedroom while not in use. Press your foot on the foot bar beneath the deck to release it.
Heart Rate Monitor
CardioGrip sensors in the handlebars track your heart rate. The handlebars include built-in sensors to measure your heart rate. They are, however, not exceptionally exact and should only be used for approximate measures. The treadmill does not come with a heart rate chest strap, nor is there a provision for the same.
Bluetooth
The T6.5Si lacks Bluetooth. So there is no Bluetooth to wireless headphones or other devices from the T6.5Si. Only the AUX-in port connects your phone and listens to music via the speakers.
Drawbacks
At 20 x 55 inches, the running deck is small. However, we suggest this treadmill for walking and jogging only. Besides, a more extended deck is needed only if runners over 6 feet tall use it.
This model's speed and incline options are lacking. Ten mph and 10% elevation is lower, even in the category <$1000.
No heart rate chest strap. The readings through the chest strap are more accurate than grips.
There are no cooling fans on the treadmill.
NordicTrack has reduced the warranty period, which is low compared to competitors.
The treadmill is slightly loud.
To use the T6.5S's numerous features, you must subscribe to iFit. Though iFit is in addition to 20 programs within the treadmill.
Nordictrack T6 5s vs T6 5si
Here is a comparison of the features of the old discontinued NordicTrack T 6.5 S and the new T 6.5 Si treadmills:
| Feature | T 6.5 S | T 6.5 Si |
| --- | --- | --- |
| Price | $649 | $999 |
| Screen | 5″ LCD (not touch) | 10″ HD touch-screen |
| iFit membership | Not included | Included for 1 year (family plan) |
| Motor | 2.6 CHP | 2.6 CHP |
| Speed | 0-10 mph | 0-10 mph |
| Incline | 0-10% | 0-10% |
| Deck size | 22″ x 55″ | 22″ x 55″ |
| Belt cushioning | FlexSelect™ | FlexSelect™ |
| Folding | Yes (with Easy Lift Assist) | Yes (with Easy Lift Assist) |
| Programs | 20 built-in | 20 built-in + unlimited iFit workouts |
| Max user weight | 300 lbs | 300 lbs |
| Heart rate monitor | Handlebar sensors | Handlebar sensors |
| Fan | No | No |
Guarantee
The frame is covered for ten years, the components for two years, and the labor for one year under this model. The manufacturer's components warranty covers the motor. The company sometimes offers extended warranties as special promotions.
Compared to the Higher Model
Motor Size T8.5S – 3.5CHP / T6.5Si – 2.60 CHP
Weight capacity T8.5S – 300 lb / T6.5Si – 300 lb.
Roller size T8.5S – 1.9″ / T6.5Si – 1.9″
Display T8.5S – 10″ HD touchscreens / T6.5Si – 10″ LCD
Price T8.5S – $1299 / T6.5Si – $1299
The weight capacity, roller size, display, and price are the same. Only the motor size is bigger in the T8.5S, making it a typical runner's treadmill. It also has a peak speed of 12mph and an incline of 12%.
Though both MSRP is the same, they are available for less in various stores.
Nordictrack T6.5Si Treadmill Price
Even though this is NordicTrack's most inexpensive treadmill, it does not seem like a low-cost, bargain-basement alternative. The MSRP is $1299, but it is currently available for $649.
A 10-inch touchscreen treadmill with a price tag of less than $1,000 is a pretty good deal for someone on a limited budget. It has everything you'd expect in a product in this price range.
Preparing for a Race
It is a reasonably good treadmill for walking and jogging at this price point. But no, it isn't for racing or training for marathons, so it better not prepare for races on it. The treadmill motor is small for serious running exercises.