The ProForm Carbon T7 is a reliable treadmill. It's ideal for walkers and joggers. Compact and foldable, the T7 protects your joints while working out. In addition, it is a budget-friendly treadmill that provides in-depth interactive training.
The Carbon T7 is ideal for individuals who wish to work out for 30 minutes or less daily but want certain features.
Proform Carbon T7 Construction
Not the most powerful or heavy-duty type available, but it's sturdy and dependable enough for home training.
The Carbon T7 is small and entails making some concessions. However, it is a good bargain treadmill under $1000 for power walkers, hikers, and joggers with a fold-up running deck.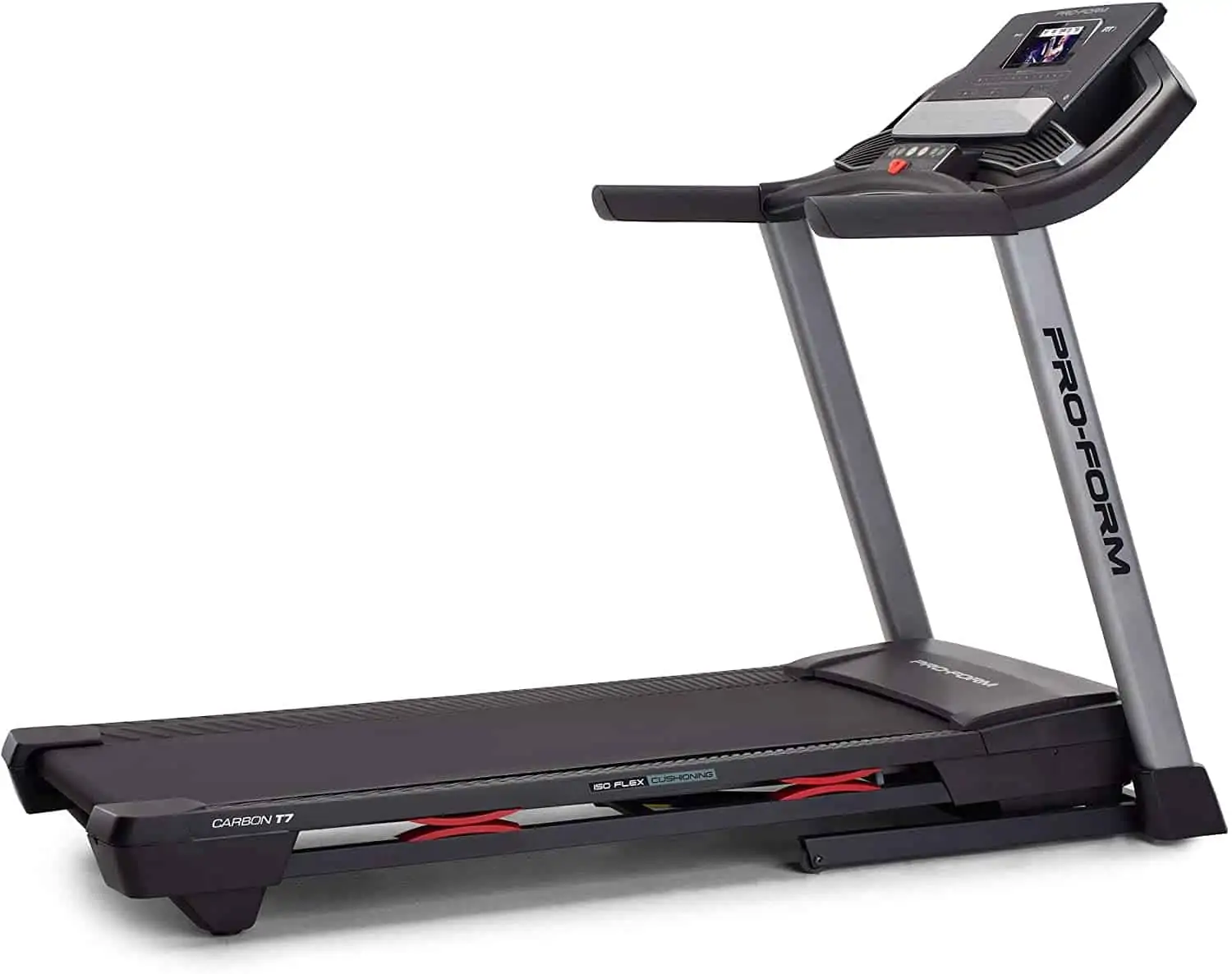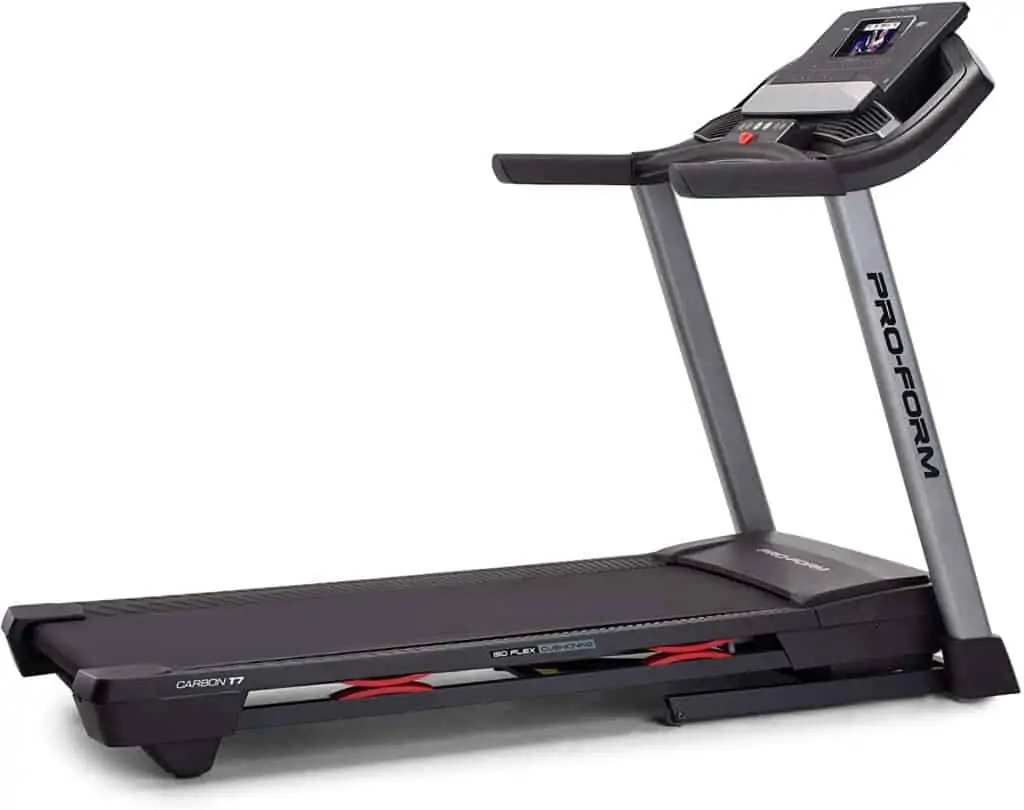 An iFit subscription-free in the first month provides expertise and convenience to the Carbon T7. It makes it a low-cost interactive treadmill. It also works in practically any home gym. The finest training comes from watching an expert. And what better place to exercise than at home?
T7 Motor
Carbon T7 has a 2.6 CHP motor. So it's better for walkers and joggers, not runners. For runners, it is better to buy treadmills with 3.5 CHP motors or above. All other specifications also match the motor in terms of performance. For example, the track length is smaller. The maximum speed is ten mph, the incline is 10 percent, and the rollers are non-flexing 1.9″ only. Similarly, the maximum weight capacity is also 300 lbs. 
So clearly, it is not meant for heavy-duty work like long or fast runs, nor is it to be used by persons who weigh more than 260 lbs. So here I must mention, make sure while buying a treadmill that the person for whom you are accepting the treadmill should weigh at least 40 lbs less than the maximum mentioned by the company for prolonged and durable use of the same.
Display
The Carbon T7 has a 7″ Smart HD touchscreen for iFit training. A 1-year iFit subscription gives you access to an almost limitless collection of training sessions and Google Maps trails worldwide. During exercises, the iFit trainers can automatically adjust the pace and inclination of your T7 treadmill for an immersive workout.
Weight & Weighing Capacity
The product weight of the Carbon T7 is 223 lbs. The Carbon T7 treadmill supports up to 300 pounds, which means it is sturdy enough, and a person weighing up to 260 pounds can do his workouts comfortably on it.
Pre Set Exercise Programs
There are no inbuilt programs in T7, which is very surprising. No other treadmill has zero inbuilt programs on our list.
T7 relies only on interactive programs from iFit, which are free for only one month. After that, you have to pay monthly for the subscription.
The treadmill itself is free if you take a three-year plan for an iFit subscription.
Get unlimited access to on-demand exercises with qualified personal trainers with iFit. Exercising outside or in a studio, there's also a Google Maps option that lets you virtually travel the world. With iFit, the incline and decline of your machine change automatically based on the trainer's program or the view outside. This function provides a more immersive exercise.
Speed & Incline
With inclination training, you can truly prepare your body for those challenging uphill journeys. The Carbon T7 has motorized incline adjustment. On a treadmill, inclination gives your legs the most laborious exercise imaginable. 
It offers up to a 10% incline and a ten mph peak speed. So it's better for walkers and joggers, not runners. The running space is 20″ x 55″, and the treadmill has smaller 1.9′′ balanced, non-flexible rollers. This is a trade-off for the small design.
Related Readings

9 Best Manual Curved Treadmills – Most Effective and Sturdy
7 Best Treadmills with Screen: More Luxury in Running
Treadmills with 400 lb Capacity: 9 Best to Lose Weight in 2022
Running Track
The running space is 20′′ broad and 55′′ long. It has ISO Flex Cushioning, which provides excellent impact protection for your joints. However, taller users may find this too short.
It has Full-deck shock-absorber cushioning. The 20-by-55-inch deck is made with ISO Flex cushioning, which gives your legs a softer landing surface so you can work out comfortably.
The Carbon T7's cushioning reduces impact so that you can jog longer and train harder. While not the most cushioned deck on the market, it is an excellent feature on a foldable treadmill. Comfortable for walking and jogging. We suggest it for both.
Easy to Fold & Move
The Carbon T7 boasts a SpaceSaver® Design that allows you to fold the deck and save room when not in use. In addition, the SpaceSaver's folding shape makes it easy to store after usage. And comfort isn't sacrificed either.
Heart Rate Monitor
The EKG-grip pulse heart rate sensor on the T7 may be used to monitor your heart rate. It isn't the most precise method of determining your heart rate, but it's simple. First, grasp the handlebar until you receive a reading.
Bluetooth
Because it lacks Bluetooth, you'll be unable to utilize the iFit with your tablet. However, having a 7″ Smart HD Touchscreen tablet built-in is sufficient for most people's needs.
The cool air fan, incorporated into the treadmill, provides three degrees of air to keep you feeling fresh even during the most demanding exercises.
You may use the built-in twin 2-inch speakers to listen to music or watch videos. You may use the auxiliary audio connector to connect your mobile device.
Carbon T7 Drawbacks
It is a small walking and jogging treadmill made for people who are not very tall or who are overweight. All specifications will obviously be in accordance with that and will be small. Smaller features like the 2.6 CHP motor, and 55″ x 20″ track cannot be called shortcomings. 
However, there are certain drawbacks like
No inbuilt programs.
One-year warranty on parts
No Bluetooth connectivity
Warranty
The Carbon T7 is covered by a 10-year frame warranty and a 1-year parts and labor warranty.
Proform offers a 30-day money-back guarantee on the Carbon T7 deck rollers.
Compared to the Higher Model
Motor Size Carbon T10 – 2.75 CHP / Carbon T7 – 2.60 CHP
Weight capacity Carbon T10 – 300 lb / Carbon T7 – 300 lb.
Roller size Carbon T10 – 1.9″ / Carbon T7 – 1.9″
Display Carbon T10 – 10″ HD touchscreens / Carbon T7 – 7″ LCD
Price Carbon T10 – $1403 / Carbon T7 – $999
Price
Includes an iFIT Family membership for a full 30 days of streaming live and on-demand fitness. The current price is $999/-
Preparing for a Race
Carbon T7 cannot be called a treadmill for a marathon or race training. It is meant for walking and jogging only. Though at ten mph & 10% incline, it cannot be called a slow treadmill. But it is always better to attain a maximum speed of 7-8 mph. That way, you can use the treadmill for a longer time.