When it comes to treadmills designed for business usage, the Precor TRM 835 sets the bar high.
Their dependability and ease of maintenance are highly regarded by facility management staff. A wide variety of exercises, an incline/decline track, and an industry-leading shock absorption system are all features trainees love.
You may add audio channels and a 15-inch viewing screen to this Precor for an additional level of luxury.
Precor's innovative track technology dramatically reduces joint stress and fatigue, so gym members like these treadmills.
The TRM 835 offers the most significant value for money of the three commercial treadmills in this series, offering a wide range of training options.
The Precor TRM 835 has a 4.0 HP engine, a 60-inch track, an automatic incline and decline, 27 exercise programs, and wireless heart rate monitoring.
This treadmill, the TRM 835, is an excellent pick for commercial gyms. If you're looking to become healthy, this treadmill has enough room to accommodate both walkers and runners, and its 27 pre-programmed workouts may help you achieve your fitness objectives.
For uphill and downhill training, it has an automatic ramp with an incline range of 3 to 15 degrees. In addition, this treadmill has a Ground Effects Impact Control System that other treadmills can't compete with.
Extended handrails and an emergency stop function ensure the safety of all users. The Precor TRM 835's unique features and commercial warranty are detailed here.
Features of Precor TRM 835 Treadmill:
Motor
Precor's commercial treadmill has a 4 HP AC motor, a common feature in gym equipment. It starts much more quickly than a DC motor. It is the ideal motor. It is long-lasting, dependable, and efficient. A new power factor correction and an internal cooling mechanism have been included in this device.
Panel for Controlling a Touchscreen
The 830 Line Console provides Easy-to-use motion controls on the TRM 835 treadmill console. The LED console displays vital fitness data and serves as a constant source of inspiration for the user. The console has a lever that you may use to adjust the treadmill's pace and inclination. QuickStart and a numeric keypad are also included.
Incline and decline.
In addition to incline and decline, Precor's Experience series treadmills provide various workout options. The range is wide enough to allow for various training options, ranging from 3% to 15%. You can change the slope in 0.5 percent increments.
Water Bottle Holders
Two holders protect the water bottle on this treadmill. Additionally, an accessory tray can hold a phone or tablet.
Tread belt
The Precor TRM 835 treadmill uses a tread belt made of multi-ply polyester material. The belt's lifespan is extended thanks to the lubricating system's effectiveness. A reversible tread belt, this one doesn't need a lot of care and attention.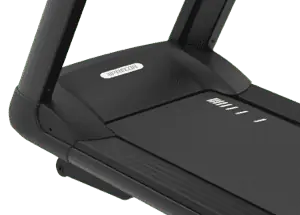 Cushioning Options-ON/OFF
Ground Effects cushioning (GFX) is used on this treadmill to make the front section of the deck where the footfalls are cushioned and the back area stiff to provide a firm push-off when running, jogging, or walking. Thanks to the deck's innovative design, the user will have a far more enjoyable training experience.
Weekly Heart Rate Evaluations
The Precor treadmill's heart rate monitor uses touch heart rate sensors to collect data. The handlebars are simple to grip for the user while exercising.
The console displays the heart rate measured by the sensors. The chest strap is equipped with a heart rate telemetry readout, so you may also use it to monitor your heart rate.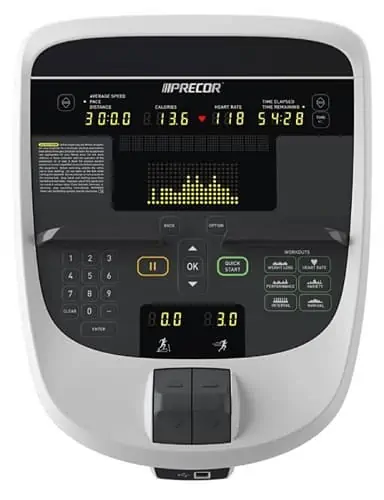 Deck
60″ x 22″ is the length of the treadmill's deck on this Precor model.
Audio
Android and Apple smartphones are not supported, and there is no sound system on this treadmill. However, a 15-inch screen with wireless audio receivers is available as an add-on option. The Precor TRM 243 EnergyTM Series Treadmill and the Precor TRM 731 Treadmill also include audio controls.
Workout programs
This treadmill has 27 training options to help you meet your cardio fitness objectives. Categories include Manual, Interval, Weight Loss, and Variety. Heart rate and performance are also included. In the performance area, you'll find long-distance exercises and fitness tests modelled after those used by police enforcement, firefighters, and US military members.
Pros
The design is incredibly safe and comfortable to work with.
From 0 to 16 mph, the speed range is enormous.
There are motion controls and a quickstart button included in the controller.
It has a large selection of 25 pre-programmed workouts.
Both incline and descent are available on this machine.
It has a 4.0 HP AC motor that is very long-lasting and robust.
Because it is flippable, the deck requires little upkeep.
Cons
There are no cooling fans.
There is no Bluetooth.
No sound system
No place to plug-in devices
Not compatible with Apple or Android
Warranty
The structural frame is covered for 7 years and the treadmill drive motor for 5 years.
Mechanical and electrical parts for 3 years in US and Canada and for 2 years in other countries. Product labor cost is also covered for 1 year.
Verdict
Precor's TRM 835 treadmill is a top-of-the-line machine. You can see from the above evaluation that it provides excellent performance and comfort. This type is found in Precor's Experience Series treadmills.
With 25 built-in training choices, it provides a wide range of workouts for the user's benefit. These treadmill features include a 4.0 HP motor, Ground Effects Impact Control Technology, and a revamped P30 console.
With a maximum speed of 16 mph, it has the widest variety of inclines and declines of any Precor treadmill and an extra-long deck. Regardless of your current fitness level or desired activity, this treadmill will get you in shape fast while also targeting all major muscle groups.
FAQs
How much does a Precor treadmill cost?
The Precor TRM 835 price is $8495/-
How long do Precor treadmills last?
Precor is a well-known brand that can easily last a decade if properly maintained.
How much does a Precor treadmill weigh?
Precor TRM 835 weighs 420 lbs.