Life Fitness is one of the world's most well-known fitness companies. Although they're most known for their commercial products, they also have a stellar residential product range. It's difficult to identify the difference between their business and household devices.
Life Fitness manufactures a wide range of fitness equipment, including treadmills, ellipticals, and strength training machines. They have an assortment of folding and non-folding treadmills for the home, and the Life Fitness Platinum Club Series is the company's top-tier home treadmill. Because of this, it features the company's most powerful motor and most complex console.
Home gyms might benefit from the Platinum Club Series Treadmill from Life Fitness, available in four different finishes and three console styles. Features include a 60-inch incline track, a four-horsepower motor, many programmable options, Bluetooth connectivity, and a 21.5-inch touchscreen television. It is perfect for any room.
It's a high-quality product and costs a lot. In addition, this purchase is well-guarded as well. Parts are under warranty for ten years, labor for a year, and the frame for life.
Related Readings

The Precor TRM 835: Great Design and Highly Reliable
Heavy Duty Treadmill for Sincere Runners: 9 Best- All 4HP
Life Fitness Platinum Advantages
Treadmills in the Platinum Club Series from Life Fitness include the following:
It's not just a display; the SE3 HD console's LCD touchscreen is a digital entertainment bundle that provides you with access to the web, TV, apps, and an array of interactive courses and workouts.
The SE3 HD console provides access to up to 42 distinct workouts. For years to come, you will be able to keep your workouts interesting and enjoyable with this much variation.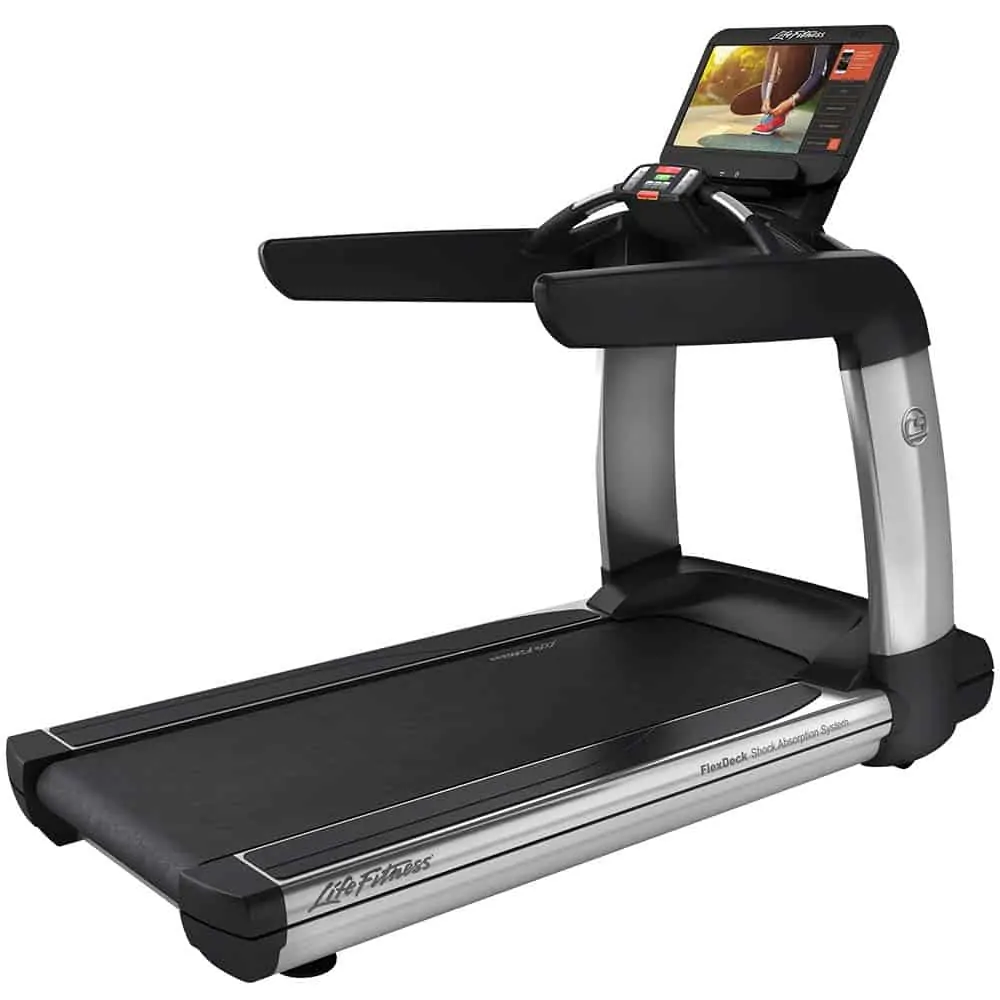 The console has built-in fitness testing and a variety of other fitness tests (like the US Army or Navy tests). You can use them to track your progress and determine your fitness level over time.
There are quick-start buttons on the console if you don't have time to go around with all the menus and options. If all you want to do is walk or run at a steady pace, this is a great option.
This treadmill allows you to create as many user profiles as you choose, making it ideal for households with many people.
To get more precise heart rate readings while exercising, you can use a wireless chest strap monitor or a contact heart rate monitor.
These cup holders are great for keeping your water bottles close at hand while you're out for a long run.
The wide reading rack is a fantastic addition if you want to read or watch videos on your iPad while working out.
Disadvantages
Prices start at $8,999 for the Platinum Club Series. One of the priciest treadmills we've reviewed is on this site.
Life Fitness treadmills typically take two to three weeks to arrive at their destination after being sent. For an additional $199, you may have White Glove delivery, which includes assembly of your furniture.
This 80-inch-long, nearly 450-pound treadmill is a behemoth. You can't fold it like some others to conserve floor space.
A step-up height of ten inches is too high for certain trainees but not for most competitive runners.
A few things are missing from the Platinum Club Series, such as speakers and fans.
Life Fitness often has a stringent return policy. The company accepts a return of damaged transportation merchandise within 15 days after delivery. Life Fitness has the last say in the matter.
The customer service department isn't always available, even though you can reach them by live chat. Most of the time, you'll be redirected to their email account.
This treadmill is for:
The Platinum Club treadmill is built to last because it has a well-padded surface, a wide range of workouts, and a powerful motor that can do a lot of work.
The Platinum Club treadmill offers a wide range of customization possibilities, from the color of the treadmill to the console.
Do you need something that will last forever? The Platinum Club's metal frame is so thick that you cannot fold it. Although the treadmill's arms are made of moulded plastic rather than metal, they are equally as strong.
Specs:
4.0 CHP motor capacity
Area for running: 60″ L x 22″ W.
weight capacity of 400 pounds
The following dimensions (W, L, and H) are taken into consideration: 37″ x 80″ x 62.25″
Incline percentages range from 0% to 15%.
Twelve miles per hour is the maximum speed.
The treadmill is best suited for serious runners.
120V
Warranty
It's a good warranty to have. Our favorite feature is the 10-year parts warranty, which is more extensive than most other warranties (5 years is pretty standard for nice home treadmills).
There should be a lifetime warranty on the frame and motor in this price range, but it's always possible. Standard operating procedure calls for a year's worth of labor, but some companies are now offering up to three years' labor as an option.
Verdict
This treadmill is a high-end model. When we imagine our ideal home gym, we're likely to see a treadmill like this one. The reason for this is that it's a high-end commercial treadmill with all the gizmos.
The Platinum Club Series treadmill has it all: a large running area, a powerful AC motor, and a high-tech digital panel. In addition to the price tag, the only true drawback I can think of is the difficulty of putting it together—professional assembly is strongly recommended.