Finding the right treadmill can be difficult. At myactivetribe, we're unbiased and to the point, helping you navigate the options.
Today, we present the Proform Pro 9000 review. The Proform Pro 9000 smart treadmill offers a powerful and quiet 3.6 CHP motor that can handle speeds up to 12 mph and inclines up to 12%. ProForm Pro 9000 is a premium treadmill with a large HD screen, strong motor, and iFit. It has a decline, too. We break down its specs, features, pros, and cons to ensure you have all the info you need to make an informed decision.
The ProForm 9000 treadmill is designed for intense, frequent use. It can suit any workout with access to various classes and programs. It has a retro look that may appeal to some buyers. However, some users may need help with its tech. Besides, for some users, the price is too high. It also requires regular maintenance and care to ensure its longevity and performance.
ProForm Pro 9000 Treadmill Specifications
Warranty: Frame – 10 years, Parts – 2 years, Labor – 1 year.
Display: 22-inch Smart HD Touchscreen
Motor: 3.6 CHP Mach Z motor
Tread Belt Size: 20″ W x 60″ L
Treadmill Speed: 0 to 12 mph with QuickSpeed Button Control
Incline: 0 to 12%
Decline: 0 to -3%
Weight Capacity: 300 pounds
Dimension: 35.3" W x 77.3" L x 59.6" H
Audio: Bluetooth connectivity with dual two-inch speakers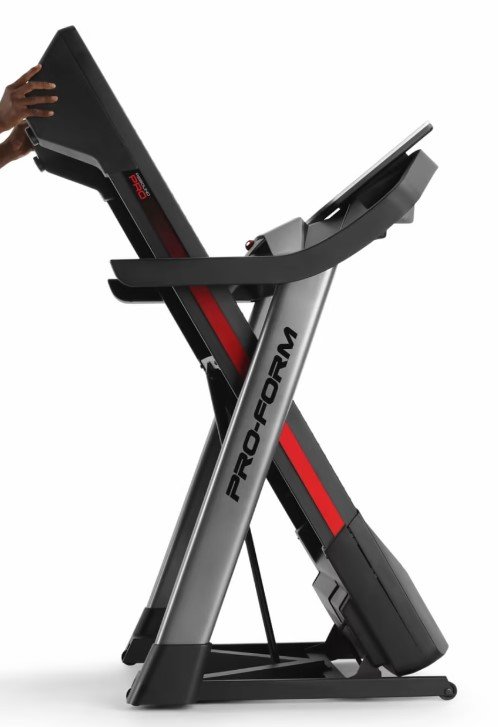 Features
Frame: The Proform 9000 Treadmill's all-steel frame gives it a sturdy and stable feel, ensuring durability and safety, even during intense runs. It can accommodate users weighing up to 300 Pounds. Its extra-long railings provide a convenient option for rest intervals or casual walking. The handlebars have heart rate monitors, although the palm-based EKG monitors may not be the most practical for runners. Additionally, its SpaceSaver design allows for easy folding and storage. The integrated cooling fan can help maintain a comfortable workout environment.
Motor: The PRO 9000 boasts a robust 3.6 CHP Mach Z motor, capable of managing extended runs, interval workouts, and sustained heavy usage. It can quickly handle speed and incline changes, which is excellent for tough workouts. This motor is designed for quiet and smooth operation.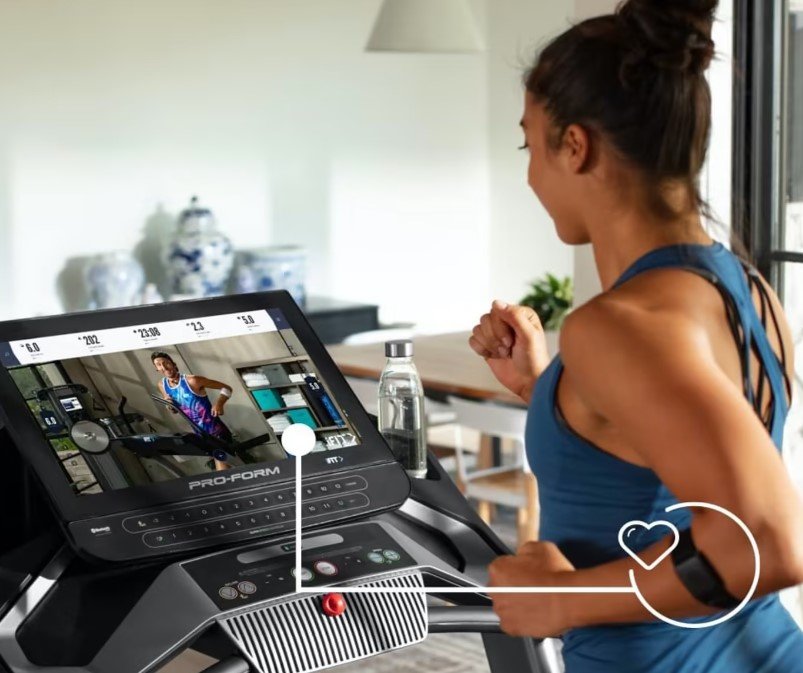 Console: The treadmill has a 22-inch HD touchscreen display, delivering an engaging experience, particularly when enjoying iFit's virtual outdoor workouts. The screen is well-lit and adjustable to reduce glare, making it easy to track essential workout data. While there is a slight console movement during running, it doesn't distract from the screen's content.
The console layout, with speed and incline buttons, is straightforward, but there's room for improvement in ease of use. The console also features a powerful fan with adjustable settings and ample storage space for essentials like a phone, water bottle, and towel. Overall, the console's large touchscreen and audio quality enhance the treadmill experience. However, for full functionality, a stable internet connection is required.
Heart Rate Monitor: The ProForm Pro 9000 treadmill gives you two ways to check your heart rate. You can hold onto the handlebars to get a reading through your palm. Or you can buy the SmartBeat Forearm Heart Rate Monitor for a hands-free check using optical technology. And it's important to note that you cannot connect a different chest strap type to this machine.
Running Area: The Pro 9000 treadmill offers a spacious 20″ x 60″ belt, which is excellent for running, providing ample room for comfortable strides and sprints. While it's 2″ narrower than other treadmills, our reviewers didn't feel restricted by this width. Still, some users might prefer more space. The 60″ length ensures that even taller individuals can have a full stride without feeling cramped.
The ReBound Pro cushioning reduces foot impact, making running less harsh on your joints. The big belt size and cushioning work together to make the running surface comfy and welcoming, which is especially great for taller runners who usually find smaller belts on home treadmills a bit restricting.
Incline/ Decline: The ProForm Pro 9000 offers a -3% decline to a steep 12% incline. This versatile feature is rare in treadmills and allows you to replicate various terrains in your workouts. It's not just the 12% incline that's impressive; the ability to decline to -3% adds a unique dimension. Training on a decline is valuable for simulating downhill race conditions.
Speed Range: The ProForm Pro 9000 treadmill has a speed range from 0 to 12 miles per hour, making it versatile for various workout styles. It remains stable and secure even at the highest speed of 12 MPH.
iFit: With the ProForm Pro 9000 treadmill, you get a 30-day iFIT trial. With over 16,000 classes in its library, iFit offers diverse workouts. iFit trainers guide you through studio classes and worldwide virtual journeys, automatically adjusting your treadmill's speed and incline to match their instructions. This interactive training lets trainers control speed, incline, and decline, engaging in workouts tailored to their fitness goals and abilities. It offers running through different places and studio classes led by personal trainers at home. It tracks your fitness progress and uses the data for future exercises.
Preset Programmes: If you prefer not to subscribe to iFit's monthly service, the Pro 9000 also offers a free version. In manual mode, you can access various classes, both trainer-led and preset programs, without an instructor. For those who prefer simplicity and want to set a speed and run, you can bypass the preset programs.
In manual mode, the screen shows a white track to indicate your running speed and distance. In contrast, a white display bar at the top of the screen provides details on incline, speed, time, space, and calories burned. You can customize which stats are displayed, whether you're using preset programs, manual mode, or iFit classes.
Pros
A 22-inch touchscreen display enhances the interactive iFit experience.
12% incline and -3% decline offer versatile training options.
iFit classes allow automatic speed and incline adjustments for a hands-free workout.
Easy deck folding and unfolding with lift assist for space-saving.
Over 16,000 iFit classes for a personal trainer-like experience.
User-friendly operation for interval, decline, and incline training.
Cons
Less ideal for users with limited floor space in their home gym.
Weight capacity of 300 Pounds, limiting suitability for more significant users.
Mediocre WiFi connectivity.
Console movement while running causes screen shaking.
Customer complaints about technical issues.
Additional Considerations
Price: The Pro 9000 is relatively expensive, with a price tag of around $2,299, making it a high-end option in the home treadmill market. It's advisable to compare it with similar models to determine if it aligns with your budget and fitness needs.
Assembly: Assembling the Pro 9000 can be time-consuming and may take up to two hours or more, depending on your proficiency. It's worth considering that you require assistance from another person due to the treadmill's weight and size. Professional assembly service is also available at an additional cost.
Space: The Pro 9000 is a substantial, heavy treadmill occupying significant space. Its dimensions are 35.3″ W x 77.3″ L x 59.6″ H, weighing 263 pounds. Ensure you have adequate room to accommodate it and allow for safety clearance. Even when folded, the treadmill will still require some floor space.
Custom Workouts: If you like doing your workouts and don't need iFit, there might be better choices than this treadmill. It focuses on using iFit for personalized training experiences.
User Experience
From my experience with the ProForm Pro 9000 treadmill, I found it to be stable, well-built, and smooth in its performance. There were no noticeable noises or vibrations, even when I adjusted the speed and incline settings. However, I got a bit frustrated with the mandatory iFit account creation for certain features, which was a push towards their subscription service.
The assembly process was straightforward, and I recommend self-assembly to save on installation costs.
Some users have mentioned the treadmill's long-term durability. Still, I did come across concerns about IFIT's customer service and possible issues with quality control. There were also mentions of problems related to the touchscreen and electronics, especially after the short warranties had expired.
Maintenance and Durability
Routine maintenance is crucial to ensure peak performance and minimize wear and tear.
1. Regular Inspection:
Tighten all parts before each use.
Replace worn parts with manufacturer-supplied ones.
2. Cleaning Routine:
Turn off and unplug the treadmill.
Wipe the exterior with a damp cloth and mild soap.
Avoid liquids on the console.
Thoroughly dry with a soft towel.
Conclusion
The ProForm Pro 9000 treadmill offers diverse features for an effective workout. Its incline and speed options cater to various training needs. iFit integration adds interactive exercises, though it may only suit some. The treadmill's sturdy build and user-friendly design are notable. However, before purchasing, you should consider price, warranty, assembly, and space.
FAQs
Does the Proform Pro 9000 Treadmill fold?
Ans) Yes. You can fold up your treadmill deck after your workout using EasyLift™ Assist and maximize storage space with the SpaceSaver® design.
How complicated is the assembly of Proform Pro 9000?
Ans) The ProForm Pro 9000 treadmill has out-of-the-box easy assembly. You will want two people for assembly because some pieces are pretty heavy. Ensure to abide by your equipment's user manual for proper setting-up instructions, including the Important Precautions at the beginning of the manual.
Can I get a professional assembly service?
Ans) You can opt for professional assembly service, which costs extra. You can contact ProForm customer service or visit their website to schedule an appointment or get a quote.