Finding the right treadmill can be difficult. At myactivetribe, we're unbiased and to the point, helping you navigate the options.
Today, we present the NordicTrack EXP 7i treadmill review. The NordicTrack EXP 7i offers a 2.6 CHP motor that can handle speeds up to 10 mph and inclines up to 12%. We break down its specs, features, pros, and cons to ensure you have all the info you need to make an informed decision.
The NordicTrack EXP 7i is an affordable treadmill with a 7-inch HD touchscreen and FlexSelect cushioning. It includes a one-month iFit membership for interactive workouts. The treadmill is suitable for walking, jogging, and light running.
NordicTrack Exp 7i Treadmill Highlights
Warranty: Frame – 10 Years, Parts – 2 Years, Labor – 1 Year.
2.6 CHP Plus Motor.
0% to 12% Incline.
0 – 10 MPH Speed.
1.9″ Precision and Balanced Non-Flex Rollers
300 Pounds User Capacity
7″ Tilt HD Touchscreen
30-Day iFIT Trial Included
Bluetooth Headphones & Heart Rate Connectivity
20″ x 55″ Commercial Tread Belt
Features
Frame: Two steel uprights connect to the frame and extend upward to form the handles integrated into the console. There's no longer a steel crossbar between the uprights in the console area.
While the handles do not extend very far on either side of the deck, they are covered with textured plastic to prevent a slippery feel. Additionally, given the compact design of the Nordictrack Treadmill EXP 7i, the handles and console are conveniently within reach. I appreciate that the front horizontal handle is a single, unbroken piece, making it easier to grab when needed.
We evaluated the SpaceSaver® design and determined it's an excellent option for compact or challenging spaces. The EasyLift™ assist feature made it easy to fold the Nordictrack exp 7i folding treadmill after use, creating more space. Unfolding it for your next workout was also quick.
Motor: The treadmill's motor has a capacity of 2.6 CHP, which is slightly smaller than the Sole F63 but on par with the Horizon T101. This motor is suitable for walking, jogging, and occasional light running. This motor should suffice if your exercise routine involves walking and jogging a few miles daily. However, there may be better choices for running at high speeds for extended periods or distance training.
Regarding noise, the drive motor responsible for moving the belt operates quietly. However, the incline motor is a bit noisier and slower when adjusting the incline. In comparison, the Sole F63 and T101 have quieter incline mechanisms. The overall sound output of the EXP 7i treadmill remains relatively quiet.
iFit: iFit is a comprehensive training platform integrated into the NordicTrack EXP 7i. It offers a wide range of fitness classes led by instructors, covering various exercise equipment such as treadmills, exercise bikes, ellipticals, rowers, and mat-based workouts like yoga, strength training, and meditations. iFit is available on fitness equipment from several brands, including NordicTrack, ProForm, Matrix, and FreeMotion.
When you purchase the NordicTrack EXP 7i, you get a free one-month trial of iFit. After the trial period, a subscription fee is required to continue using iFit. However, even without a subscription, the EXP 7i provides onboard workouts and a manual mode for users.
With an iFit subscription, you can access a constantly updated library of on-demand classes. These classes are led by instructors and filmed in various locations worldwide, both indoors and outdoors. You can virtually explore places like Venice, Italy, or glaciers in Alaska while being guided by the instructor, who also shares interesting facts about the area.
Indoor classes on iFit aim to replicate the experience of in-person studio fitness classes.
iFit also offers a unique feature that allows you to create workouts and explore new routes using Google Maps. You can draw paths anywhere in the world, and as you work out, Google Images are displayed on the screen to show you the chosen location. This feature is found in the "create" button in iFit's library.
In conclusion, iFit offers diverse fitness options with 180+ experienced instructors. On the NordicTrack EXP 7i, you can do running, walking, hiking, and interval workouts. It's a valuable addition to the EXP 7i treadmill.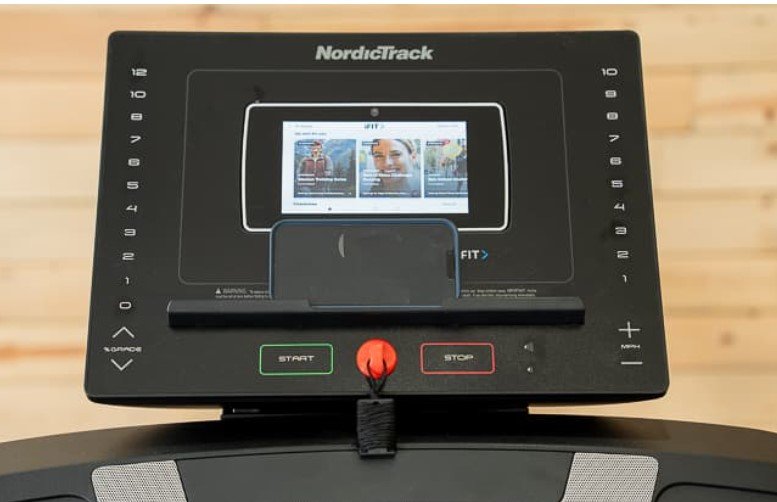 Console: The EXP 7i's display screen, while small, effectively shows iFit, onboard workouts, and workout metrics like time, distance, speed, and calories. However, it needs to be adjustable and might be challenging to see and navigate due to its size.
The console design includes conveniently placed buttons for adjusting speed and incline in smaller increments. The start and stop buttons are easily accessible as well. While the speakers provide clear and adequately loud sound, there is no built-in fan like in the EXP 10i and EXP 14i models.
It offers features like cupholders and adds a rack for your phone or tablet, allowing you to stream your content. This feature enhances your workout experience by allowing you to use your device with the touchscreen.
Speed and Incline: The treadmill can reach a maximum speed of 10 mph, which is a brisk pace for most users. It also offers up to 12% incline, providing a decent range of incline options, slightly more than the T101 and Carbon T7 models.
Running Area: It measures 20 inches in width and 55 inches in length. While this size may not comfortably accommodate users with longer running strides, it should be adequate for slower jogging and shorter running strides. Typically, a 60-inch length deck is considered ideal for most users, but the 55-inch deck can work well for those with shorter strides. It can accommodate users weighing up to 300 Pounds.
Users with a shorter stride can comfortably achieve a good jogging pace on the EXP 7i, even at its highest speed. A standout feature of the NordicTrack EXP 7i is its deck cushioning, which is soft and similar to higher-end treadmills. This cushioning is especially beneficial for users with joint problems and provides a comfortable experience, even during walking, by minimizing the impact on joints.
Pros
iFit-enabled touch screen offers a wide range of workouts and automatic adjustability.
2.6 CHP motor suits walking, jogging, and light running.
A budget-friendly option ($1,299) with features comparable to higher-end models.
Compact, lightweight, and foldable design suitable for various home spaces.
The deck features softer cushioning for enhanced comfort.
Convenient phone/tablet holder for streaming personalized content.
Cons
It's not ideal for extensive training and long-distance running.
It is not recommended for people with poor eyesight who desire a larger screen.
The incline function can be somewhat noisy.
Less suitable for smaller workout spaces.
Additional Considerations
NordicTrack EXP 7i treadmill assembly instructions are simple and clear, but you might need an extra person to assemble it.
Warranty: Like many other NordicTrack models, a 10-year warranty covers the EXP 7i treadmill for the frame, a 2-year warranty for parts, and a 1-year warranty for labor.
To access the iFit experience, you need a Wi-Fi connection. Activation requires a credit card, and the iFit membership will automatically renew at $39 per month plus tax unless canceled beforehand. This offer is applicable for new members exclusively.
Regular treadmill lubrication is essential for a comfortable workout and to prolong the life of both the running mat and motor. Typically, lubricate every three months or after every 130 miles of use, but for more intense use, check more frequently. Don't wait for squeaking or unusual sounds to emerge. To check, unplug the treadmill, loosen the belt using the appropriate tool, and slide your hand underneath. If it's dry, it's time to lubricate; if it has oil, there's no need.
User Experience
My experience with the NordicTrack EXP 7i treadmill has been quite good. I still need to renew my iFit subscription, which hasn't caused problems. The onboard application has been acceptable, and I've found the exercise experience enjoyable.
However, Users have faced problems like a sudden black screen and issues with the machine's quality and software. Users also complained about its customer service.
Users loved the iFit workout programs. Dujuane T said that the workouts provided have been exactly what she was looking for, and she found them highly effective. "I thoroughly enjoy the runs and the workout series available, which has left me wanting more." Donna B commented.
Maintenance and Durability
Regular maintenance is vital for optimal treadmill performance and durability.
· After each use, inspect and tighten all parts, replacing worn components with manufacturer-supplied parts.
· Cleanliness is essential; turn off the power, unplug, and use a damp cloth with mild soap for exterior cleaning.
· Avoid direct liquid contact with the console to prevent damage.
· Thoroughly dry all parts with a soft towel to maintain the treadmill's condition.
Conclusion
The NordicTrack EXP 7i treadmill offers a range of features with a reasonable warranty and a motor suitable for walking, jogging, and light running. Its compact, foldable design and comfortable deck cushioning appeal to those seeking joint comfort and space-saving options. The 7″ tilt HD touchscreen and a 30-day iFIT trial add value for those who enjoy interactive workouts.
However, varying user experiences, including issues with screen blackouts and quality concerns, call for caution. Regular maintenance is essential for optimal performance. The 7″ touchscreen may not be suitable for people with limited sight.
FAQs
What is the weight of NordicTrack EXP 7i?
Ans) The in-box weight of NordicTrack EXP 7i is 228 Pounds.
Is the NordicTrack EXP 7i a foldable treadmill?
Ans) Yes. While the NordicTrack EXP 7i has a foldable design that saves space, it remains substantial and less suitable for compact or crowded spaces due to its weight.
How do I lubricate the walking belt?
Ans) To lubricate the NordicTrack EXP 7i tread belt, follow the below steps:
Obtain silicone-based treadmill lubricant from customer services.
Unplug the treadmill and loosen the belt.
Lift the belt slightly and apply 3-5 lubricant sprays underneath on each side.
Lower the belt and run it slowly for 5-6 minutes.
Unplug the treadmill and wipe any excess lubricant with a soft cloth.
Tighten the belt, plug in the treadmill, and it's ready for use. Repeat this process every 2-3 months.