Finding the right treadmill can be difficult. At "my active tribe", we're unbiased and to the point, helping you navigate the options. Today, we present the XTERRA TRX2500 treadmill review.
The XTERRA TRX2500 Treadmill is a folding treadmill with a 2.25 HP motor and extra soft deck cushioning. We break down its specs, features, pros, and cons to ensure you have all the info you need to make an informed decision.
The XTERRA treadmill TRX2500 can fold up, and it comes with various features to make your workouts comfortable and productive. It's a good choice for people who like walking or light jogging. However, there may be better fits for those who want to use it a lot at high speeds or for individuals with limited space and power sources.  
XTERRA TRX2500 Specifications
Warranty: Frame and Motor – Lifetime. Deck, Parts, and In-Home Labor – 1 Year.
Motor: 2.25 HP
Speed Range: 0.5 – 10 mph
Incline: 0% – 10%
Item Dimension: 72.3″Lx35.5″Wx56.1″H
Fold Dimension: 48.3″Lx35.5″Wx61.8″H
Item Weight: 207.3 Pounds
Max User Weight Capacity: 300 Pounds
Belt: 2-ply, 1.6 mm
Step Up Height: 7.74″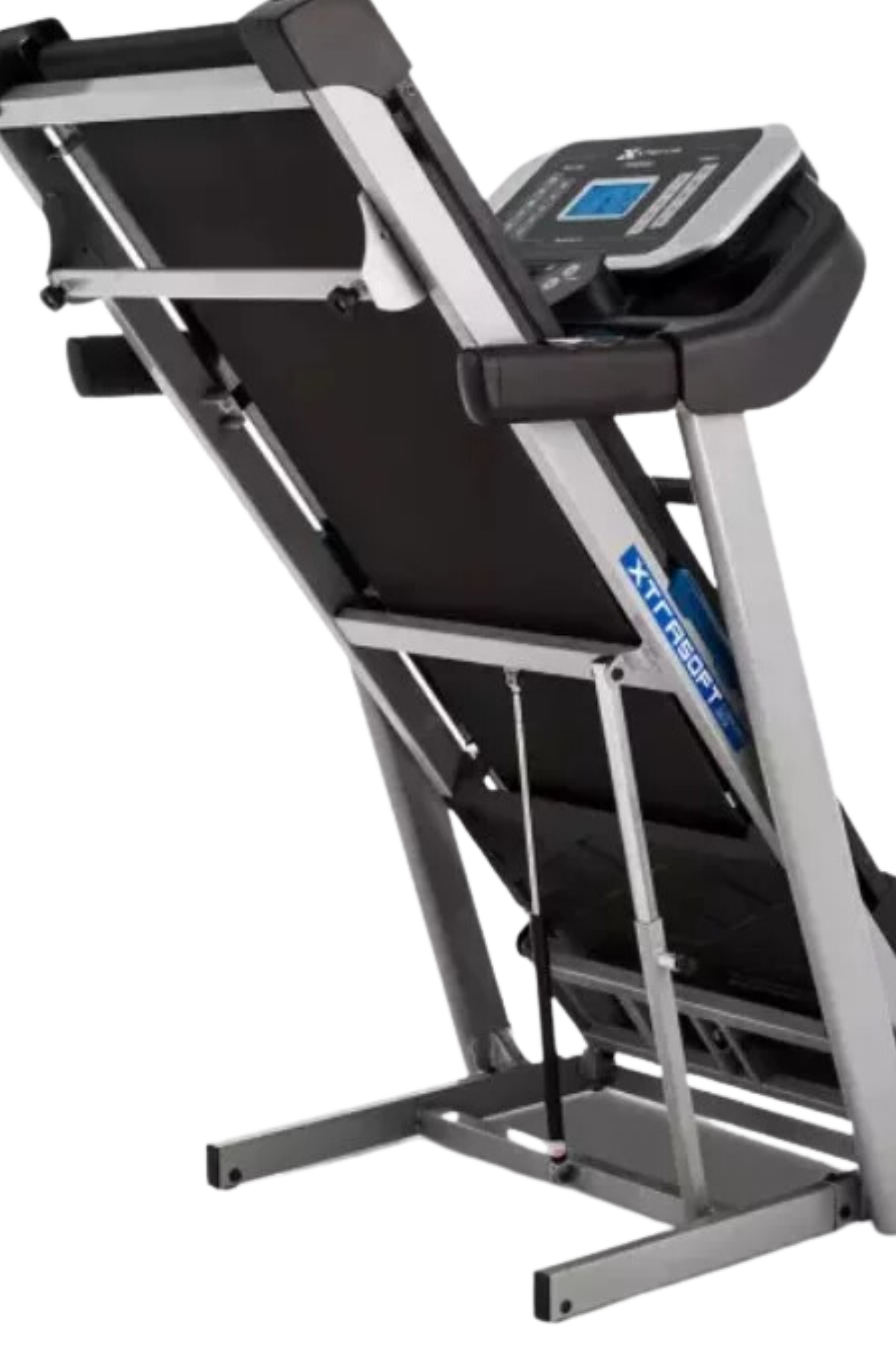 Running Surface: 20″ x 55″
Running Deck Thickness: 18 mm
Deck Cushioning: XTRASoft
Display: LCD blue/Backlit
Display Size: 4.7″ x 2.3″
Foldable: Yes
Features
Frame: The XTERRA TRX2500 treadmill is built with a heavy-gauge welded steel frame. The frame is foldable with LiftAssist technology, making it easy to fold and unfold, perfect for saving space. You can fold or store it vertically to free up more floor space. It also has a Safe Drop feature that gently lowers the deck for safety. Transportation wheels allow for easy movement.
Motor: It boasts a 2.25 HP motor, ideal for walking and jogging workouts.
Running Area: The treadmill XTERRA TRX2500 has a 20″ x 55″ running area and a two-ply belt that enhances durability and minimizes noise during workouts. Two-ply belts are rare in this price range. The maximum user capacity is 300 Pounds.
Speed and Incline Options: The speed ranges from 0.5 to 10 mph, accommodating varied fitness abilities. The power incline buttons allow you to work out on an incline of up to 10%. This option is helpful for more effective calorie burning and improved muscle toning compared to walking on a flat surface.
Console: The treadmill features a 5.5″ blue backlit LCD that monitors your workout program details. Including time, speed, pace, distance, calories burned, incline, and heart rate. The console has preset speed and incline buttons for effortless and rapid adjustments to your workout settings. It also features a 3.5mm Audio Jack and Built-In Speakers for an engaging workout.
Speed and Incline controls on the handlebars offer extra options for convenient adjustments. They are positioned for a comfortable and secure workout experience.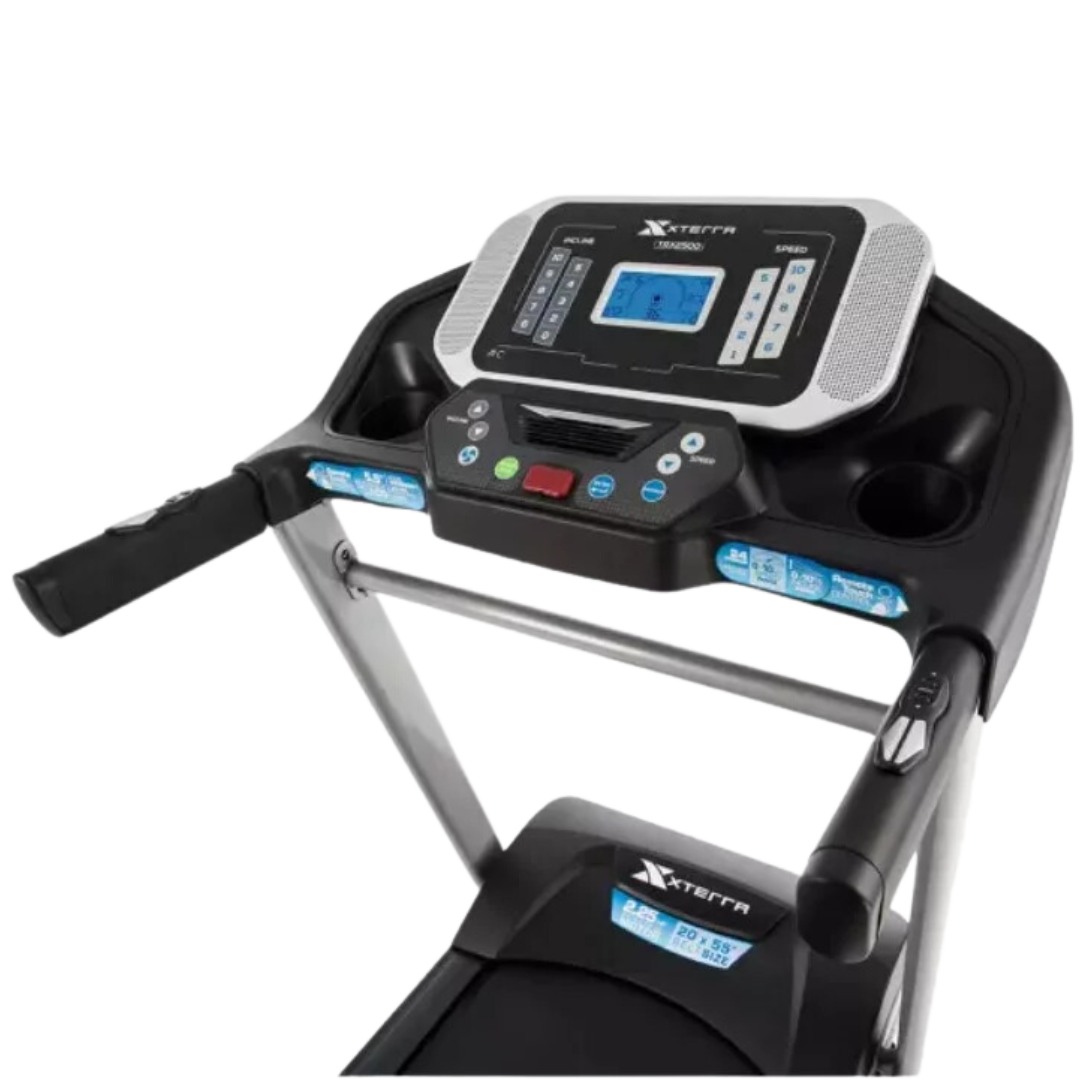 The treadmill has 24 preset programs, including 12 for speed, 6 for incline, 4 custom ones you can set, 1 based on your heart rate, and 1 manual program.
The XTERRA TRX2500 has a heart rate system that checks your heart rate using sensors on the handlebars, and it shows your heart rate on the screen.
The XTRA SOFT DECK CUSHIONING absorbs impact well, especially when you're walking or jogging, right where you need it.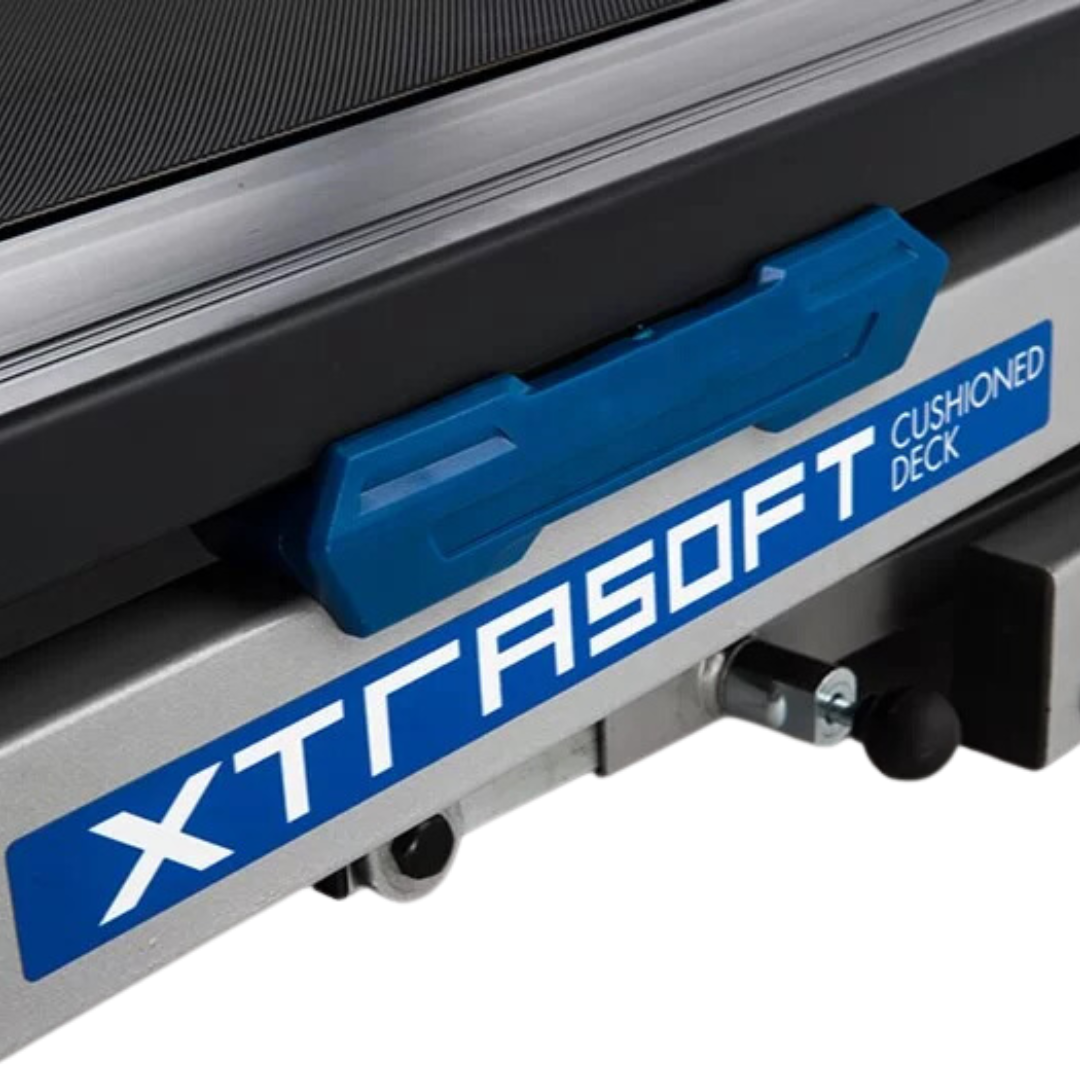 Additional Features: The treadmill offers a reading rack for books or tablets. It also has a cooling fan and 2 cup holders.
Pros
The price is $ 1099.99, making it a budget-friendly option.
24 Preset Workout Programs.
The treadmill is foldable.
Extra soft deck cushioning.
Lifetime Warranty on Frame and Motor.
Cons
Limited running space.
Plastic Parts: Less durable than metal components.
No Bluetooth or USB Port
High Maintenance: Requires lubrication every 180 hours of use.
Limited Warranty on Parts and Labor: Only one year of coverage for parts and labor.
Additional Considerations
The XTERRA TRX2500 has dimensions of 72 x 35 inches and a shipping weight of 227 pounds. It requires ample space and physical strength for setup and relocation. The foldable frame helps save space, but the folded dimensions are 48.3 x 35.5 x 61 inches.
While the treadmill is relatively quiet due to its motor and two-ply belt, it's not entirely silent. Some noise may come from the belt, fan, and speakers. To lessen the noise, especially if you live in an apartment or have neighbors who prefer quiet, consider putting the treadmill on a mat or carpet. Adjusting workout times can also help avoid disturbing others.
The XTERRA TRX2500 is a budget-friendly treadmill not intended for heavy usage or high speeds. It may have a different longevity or resilience than more expensive models, especially for intense workouts. The warranty coverage may not extend to extensive use or strenuous exercise.
XTERRA Fitness TRX2500 treadmill reviews
I'm impressed with the XTERRA Fitness TRX2500 treadmill. It's sturdy, runs smoothly, and offers a variety of preset workout programs. The quiet operation and built-in sound system enhance my experience. XTERRA fitness trx2500 folding treadmill has LiftAssist technology to make folding and moving easy. The lifetime warranty and 30-day money-back guarantee provide great value.
However, assembly was challenging, and leveling the treadmill wasn't straightforward. Moving it can be tricky due to its weight. Pulse monitoring accuracy can be inconsistent, and the display could offer more features.
Maintenance and Durability
Lubrication: Apply the provided lubricant every 180 hours or as needed to reduce friction, heat, and wear on the belt and motor. Follow the manual for guidance.
Cleaning: Regularly clean the treadmill with a damp cloth and mild soap. Avoid harsh chemicals or abrasive materials. Wipe down the belt, deck, console, and frame to remove sweat, dust, and dirt.
Belt Alignment and Tension: Check and adjust the belt alignment and tension to ensure it runs smoothly and evenly on the deck. Use the hex keys provided to tighten or loosen the rear roller bolts.
Power Cord Inspection: Examine the power cord and plug for damage or wear. Do not use the treadmill if they are frayed, cracked, or broken. Replace them if necessary.
Storage: When not used, store the treadmill in a cool, dry, and well-ventilated place. Avoid direct sunlight, moisture, or extreme temperatures. Utilize the LiftAssist technology to fold and secure it with the safety latch.
Conclusion
The XTERRA TRX2500 is a foldable treadmill that offers many features. It's a reliable and affordable choice for walkers and light joggers. However, it could be better for heavy use or limited spaces with specific power requirements. This treadmill is not for you if you are a severe workout enthusiast or an athlete. It may entail additional effort and cost for assembly and maintenance. I hope this article has given you the insight to decide wisely.
FAQs
Q: How do I fold and transport the XTERRA TRX2500 treadmill?
A: The XTERRA TRX2500 treadmill has a folding frame with LiftAssist technology.
Make sure the treadmill is turned off and unplugged.
Hold the handrails and lift the running deck until it locks into place with a click sound.
To move the treadmill, hold the handrails and tilt it slightly backward until it rolls on its wheels.
Carefully push or pull the treadmill to your desired location.
To unfold the treadmill, hold the handrails and press down on the safety latch on the right side of the frame.
Gently lower the running deck until it rests on the floor.
Q: How do I lubricate the XTERRA TRX2500 treadmill?
A: The XTERRA TRX2500 treadmill requires lubrication every 180 hours or as needed. The treadmill comes with a lubricant bottle and a manual explaining how to apply it. Lubricating the belt can help prevent friction, heat, and wear on the belt and the motor.
Q: How do I calibrate the XTERRA TRX2500 treadmill?
A: The XTERRA TRX2500 treadmill has a calibration function that can help you adjust the speed and incline accuracy of the treadmill.
Ensure the treadmill is plugged in and the safety key is inserted.
Press and hold the STOP and SPEED + buttons for 3 seconds until you see "CAL" on the display. Press ENTER to start the calibration process.
The treadmill will run at 1 mph for 10 seconds, then increase to 6 mph for 10 seconds, then stop.
Press ENTER again to calibrate the incline.
The treadmill will rise to the maximum incline level, lower to the minimum, and stop.
Press STOP to exit the calibration mode.