Sole Fitness treadmills have been popular among consumers for decades, known for their robust construction and ability to withstand heavy use. Initially designed for commercial gyms, Sole treadmills have successfully transitioned into the home fitness market. Their flagship model, the TT8 non-folding treadmill, offers an unparalleled fitness experience at an attractive price point.
Related Readings

Heavy Duty Treadmill for Sincere Runners: 9 Best- All 4HP
Sole F85 Treadmill (2022): Best suited for serious runners?
Highlights – Sole TT8 Treadmill
The Sole TT8 treadmill is comparable to commercial devices in a higher price range. It has
6 levels decline, and 15 levels incline to simulate a more natural workout from the comfort of your home.
56 x 152.5 cm(22 x 60 inches) running surface suitable for tall runners.
2-ply belt adds to the runner's comfort and durability of the treadmill.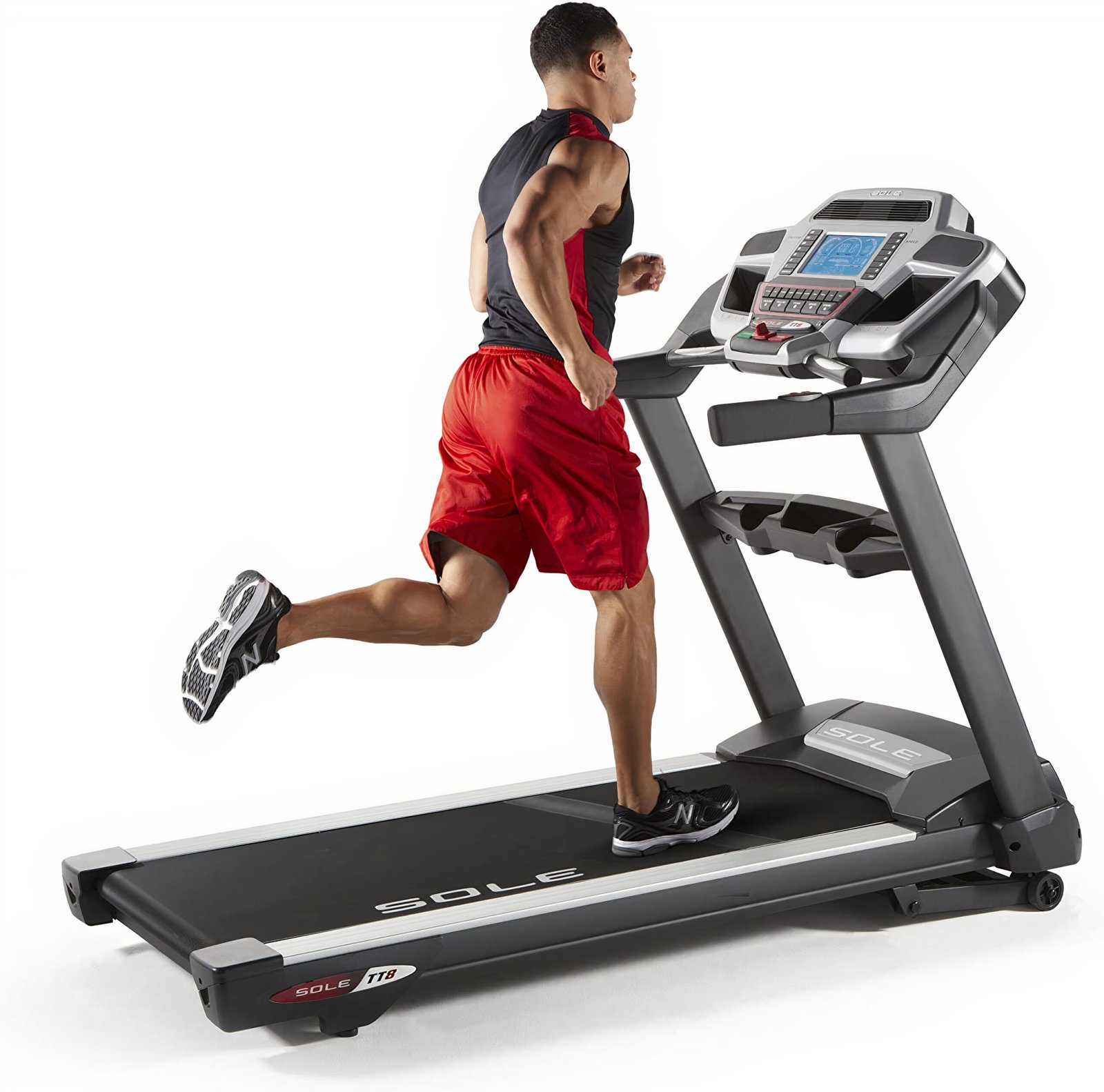 4.0 HP motor with a 4.5 kg flywheel for smooth and uninterrupted power.
3″ rollers to match the motor and the fly-wheel.
15.6-inch touchscreen display.
Perma-Waxed reversible deck for years of working.
Quiet deck with Cushion Flex suspension.
Bluetooth to record workout data from the treadmill to a smart device.
Track fitness data on the free SOLE FITNESS APP and transfer it to other compatible applications.
Built-in tablet holder to watch shows or track training routines on smart devices.
Bluetooth audio speakers
A USB connector for charging your smart devices
Who would love to live with it?
People who wish to incorporate uphill and downhill training into their running routines.
This treadmill is ideal for big and tall runners because it has a higher weight capacity and a considerably larger running space.
People with enough room in their home gym for the Sole TT8 treadmill.
Pros and Cons of Sole TT8
Reasons to fall in love with it:
The following are consumer preferences for liking it:
Commercial motor with 4.0 CHP.
Power decline and incline ranging from about -6% to 15% on a sizeable 22′′ x 60′′ running surface.
15.6-inch touchscreen display
Bluetooth connectivity
A built-in tablet holder
Music on Bluetooth speakers for listening to music
A USB charging port
CushionFlex Whisper Deck rollers
Warranty options for light commercial and domestic use
Sole provides in-home installation as well as excellent customer service.
Reasons to not like it:
Talking about why the customers dislike it is as follows:
Non-folding treadmill, taking up a lot of space, with a 38′′W x 82.5′′L deck.
Few(Only 10) preset programs.
Who is the Sole TT8 treadmill best for?
One of the most significant issues tall users face when using home treadmills is that the running area is small. While most users may not mind a smaller surface, an individual 6′ tall or more will have a problem running on it.
The commercial-grade 4.0 CHP motor in the Sole Fitness TT8 also runs reasonably quietly.
Consumers typically overlook quality construction, as most of their attention is focused on items that appear more vital, such as features, specifications, power, etc. The Sole TT8 has a powder-coated, steel welded frame with fantastic build quality.
Adj. Cushioning will greatly help those who struggle to run on treadmills due to joint pain. The Cushion Flex shock-absorption Whisper Deck is included with the Sole Fitness TT8. It reduces the impact on joints by up to 40%.
The Sole TT8 treadmill is excellent if you enjoy listening to music while working out. It includes an integrated iPod port as well as built-in speakers.
The Sole TT8 Light Commercial Treadmill has a motor cooling mechanism that enables extended use with several users or long runs without overheating.
You can easily change the speed and incline of your walk or run using the side handrails.
Free-size: You can monitor your heart rate using the pulse grips or the free wireless chest strap with the Sole TT8.
What does the warranty cover?
Every Sole Fitness offers an exceptional guarantee period that ensures the machine's lifetime protection. Like:
The Sole Fitness TT8's frame and motor have a lifetime warranty, indicating the company's confidence in its products.
Deck, parts, and wear items are protected for three years.
Winding up!
The TT8 treadmill from Sole is the company's best-selling non-folding machine. If you're searching for one of the best commercial treadmills comparable to those in gyms, this is likely one of the most cost-effective possibilities.
In other words, if you're looking for something that doesn't cost upwards of $5,000 but performs practically everything a gym treadmill does, the Sole Fitness TT8 might be your best bet. Although some preset programs may restrict some users, the TT8 is an excellent choice for people who appreciate simplicity over high-tech.