Finding the right treadmill can be difficult. At myactivetribe, we're unbiased and to the point, helping you navigate the options.
Today, we present the Sunny Health and Fitness Treadmill SF-T4400 review. The SF-T4400 offers a speed range of 0.5 to 9.0 MPH and 9 built-in workout programs. We break down its specs, features, pros, and cons to ensure you have all the info you need to make an informed decision.
Table of Contents
Highlights of the SF-T4400 Treadmill
Warranty: Structural Frame- 3 Years, Parts And Components- 180 Days.
Motor: 2.2 Peak HP
Manual Incline: 0 to 2.5 Degrees
Speed Range: 0.5 to 9.0 MPH
Maximum User Weight: 220 Pounds
Incline Levels: 3
Foldable: Yes
Dimensions: 62″L x 25.5″W x 50″H
Built-In Programs: 9
Pulse Sensors: Yes
Shock Absorption: Yes
Soft Drop System: Yes
Transportation Wheels: Yes
Running Area: 49″L x 15.5″W
The Sunny SF-T4400 treadmill is designed as a space-saving machine, occupying a minimal floor area with just 25.5″ W x 62″ L x 50″ H dimensions. This is particularly advantageous for individuals with limited workout space or those residing in tiny homes or apartments. Additionally, the treadmill is foldable, allowing for even greater space efficiency by enabling users to fold and store it when not in use.
Features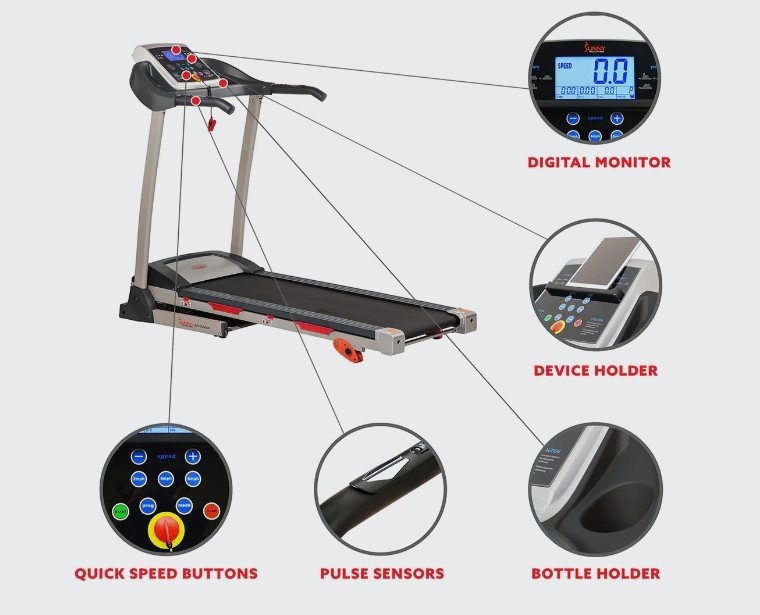 Quiet Motor
The Sunny Health & Fitness SF T-4400 features a quiet 2.20 HP motor. The motor does not overheat even after prolonged use.
The Sunny T4400 is an excellent choice for walking enthusiasts, offering a speed range from as low as 0.5 miles per hour to a maximum of 9 mph. Its adjustable speed feature caters to walkers, making it an ideal treadmill for beginners.
The Sunny Treadmill SF-T4400 has speed controls integrated into its handrails for an uninterrupted experience, which allows you to initiate, stop, and adjust speed during exercise.
Digital Monitor
The comprehensive and easily readable LCD screen presents your workout details, such as speed, distance, elapsed time, calories burned, and heart rate. The backlit display allows you to stay focused on your exercise, but if you utilize the media shelf on the console, it will obstruct the screen. Additionally, the console has two bottle holders to keep water or your phone within arm's reach.
3 Manual Incline Levels
The SF-T4400 offers three manual incline levels ranging from 0% to 2% and 4.37%, allowing you to increase resistance in your workouts for greater effectiveness. However, it cannot adjust incline levels dynamically. To change the incline, pause your treadmill workout, manually set the incline level, and resume your exercise with the chosen Incline.
Compact Running Area
The SF-T4400 features a compact running surface measuring 15.5 inches by 49 inches, which is relatively small. This size makes the treadmill particularly suitable for individuals under 6 feet tall and better suited for walking than running. Jogging at lower speeds may still be feasible, but shorter individuals will likely find this treadmill more comfortable than taller users. Some users who are 6 feet tall have reported comfortable walking and jogging experiences on the treadmill.
However, it's worth noting that taller users, around 6'1″, have mentioned difficulties in seeing the console at that height, and some have experienced issues with hitting their hands on the handles.
The treadmill deck is equipped with built-in shock absorbers, effectively minimizing the impact of the workout on your knees, back, and joints. It can accommodate users weighing up to 220 Pounds.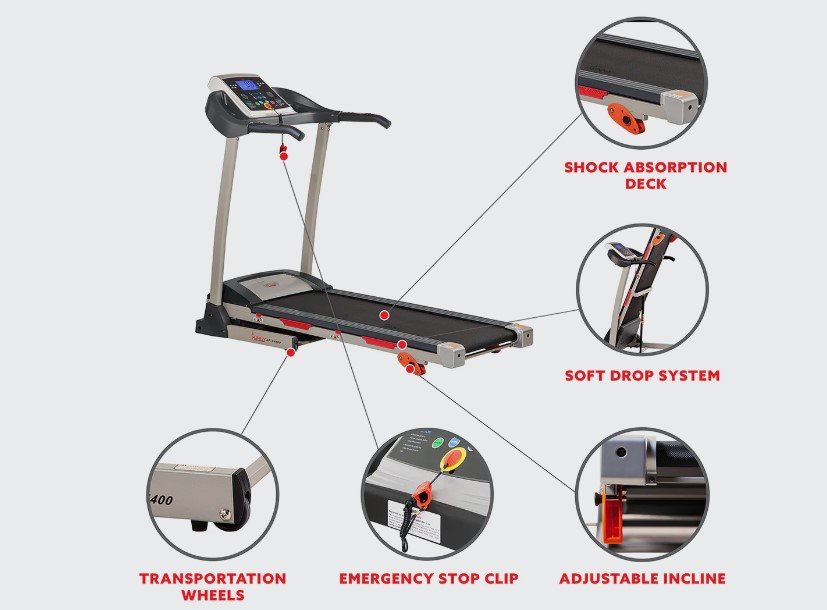 9 Built-In Programs
The SF-T4400 treadmill stands out by providing nine preset workout programs, a feature often absent in competing treadmills within its price range. This aspect sets the SF-T4400 apart, offering user-friendly programs with clear instructions conveniently printed on the machine for ease of use.
Heart Rate Monitoring
The hand grip pulse sensors mounted on railings make monitoring your heart rate in real-time simple. These aren't precise like most handlebars, so you should only use them as a rough estimate.
Safety Features
This treadmill has a safety stop key fastened to the user's body and the console. This safety feature ensures that the treadmill stops automatically if the key is disconnected, protecting the user against potential accidents.
SoftDrop Folding System
Sunny Health & Fitness SF T4400 folding treadmill includes a Soft Drop hydraulic mechanism to simplify the unfolding process. This mechanism ensures a gentle fall of the treadmill's deck during unfolding to prevent damage to your wooden or carpet floor. It also incorporates transportation wheels for easy movement and storage.
Pros
Folding design with Soft Drop System for hassle-free folding and unfolding.
Built-in hand grip pulse sensors for real-time heart rate monitoring.
Maximum speed of 9 mph.
Well-built and praised for its solid feel.
Easy-to-use monitor with 9 workout programs.
The deck cushioning system protects joints.
95% pre-assembled for easy setup.
Affordable with standard features for its price range. ($ 419.99)
Cons
Compact running area.
Manual incline adjustment.
Weight capacity is limited to 220 Pounds.
Limited warranty coverage.
Additional Considerations
You can test the treadmill and determine your satisfaction within a 30-day money-back guarantee period.
The Sunny SF-T4400 weighs 115 Pounds and supports users up to 220 Pounds. However, given its weight capacity and the warranty only covers parts for 90 days, it's likely not built to withstand daily use. Light users who work out a few times a week might get about a year of use, but if you prioritize durability and value, this treadmill may not be the ideal choice.
For those seeking more intense workouts, the NordicTrack T6.5 S, though pricier by a few hundred dollars, provides a considerably enhanced exercise experience with advanced features. It boasts a significantly larger running surface, a higher top speed, electric incline capabilities of up to 10%, and compatibility with the iFit app.
The Xterra TR150 treadmill even though it comes with a slightly higher price tag of around $500 compared to the Sunny T4400 treadmill. Both treadmills share similar features, such as a soft fold system, manual incline, and reliable build quality. However, the Xterra TR150 edges ahead with its 50″ x 16″ running belt, offering an additional inch in width and length. Deciding if that extra inch is worth it is up to you.
User Experience
Despite its narrow appearance, there's ample room to run, and it feels sturdy. For reference, I am 5'4″ and 133 Pounds. While there's some jiggling during running, it's not unsettling. The treadmill meets my expectations regarding size, incline capabilities, foldability, footprint, and cost. It's become a convenient daily workout solution, and I'm thoroughly impressed with the quality, given its affordable price.
The Sunny Health & Fitness Treadmill has a 4.6 average rating on the company's website and a 4.4 average rating on Amazon. The majority of reviews are positive. Users appreciate this home treadmill for its portability and user-friendly design.
Timothy C gave this treadmill a 5-star rating and stated, "Basic treadmill, easy to assemble, good price and very easy to use controls. I use it for walking, but my son ran on it and said it was good for running. Plus, it's 100 pounds lighter than others."
Maintenance and Durability
Perform regular general cleaning to enhance the treadmill's longevity and performance.
Dust the components regularly to maintain cleanliness.
Clean both sides of the running belt to prevent dust accumulation underneath.
Keep running shoes clean to avoid wearing out the running board and belt.
Use a clean, damp cloth to clean the surface of the running belt.
Power off the treadmill for 10 minutes every 2 hours to prolong its life.
Fully power off the treadmill when not in use.
Maintain the appropriate tightness of the running belt to prevent issues.
The recommended tightness is pulling 50-75 mm from the running board.
Conclusion
The Sunny Health and Fitness SF T4400 stands out as an appealing treadmill choice primarily because of its affordable price. While it may not be the top pick for dedicated runners or rigorous training, it effectively serves the purpose of walking, jogging, and light running without putting a strain on your budget.
FAQs
Does SF- T4400 have workout videos?
Ans) Certainly! The SF-T4400 offers an impressive collection of workouts. You can access them through various platforms, such as the free SunnyFit app, the workout section of their website, and even on their YouTube channel.
Can SF- T4400 be used for running?
Ans) The SF-T4400 treadmill suits walking, jogging, and light-intensity exercise. Running on this treadmill may cause too much impact and damage to the machine and increase the risk of injury for the user. If you are looking for a treadmill that can handle running, you may want to consider a different model with higher motor power, a larger tread surface, and a higher weight capacity.
How loud is this treadmill?
Ans) The noise level of this treadmill is minimal, providing a quiet operating environment for your workouts.
How comfortable is the running experience on this treadmill?
Ans) The treadmill is outfitted with shock absorption technology, effectively minimizing joint impact with each step and delivering a stable running surface.