Silent treadmills are the best because they don't distract you or your neighbors from your workout.
We found many options when we looked for the best quiet treadmills for apartments. The quietest treadmill depends on several factors. Some factors affect your treadmill's performance and efficiency as well. So we compiled a list of factors responsible for keeping a treadmill noiseless.
We did not consider the walking treadmills with smaller motors here as these are mostly quiet except for those substandard ones.
Comparison Table – Silent Treadmills for Apartments
Model
Motor
CHP
Track
"
Incline
%
Speed
(mph)
Capacity
(lbs)
Price
NordicTrack 2950
4.25
60 x 22
-3 – 15
12
300
2499
LifeSpan TR5500i
4.00
60 x 22
-2 – 13
13.5
350
1899
Bowflex BXT216
4.00
60 x 22
0 – 15
12
400
1799
Nautilus T616
3.00
60 x 20
0 – 15
12
300
1299
Spirit XT285
3.00
60 x 20
0 – 12
12
350
1699
Horizon Elite T7
2.75
60 x 20
0 – 15
12
350
1499
Reebok Jet 300+ Series
2.50
59 x 20
0 – 15
12.4
308
1100
Quiet apartment Treadmill
The following aspects have to be noted for the best ones for apartments:
Motor Type: There are two kinds of motors. AC & DC. While AC motors are more powerful, DC motors are quieter comparatively and are more suitable for homes.
Motor Size: A smaller motor is typically more silent than a 3 or 4-HP motor. But you can't always go in for a smaller motor. For example, a walking treadmill will always be quieter than a running, needing a bigger motor. So it is better to check which size will be optimum, considering the task and the noise.
A cushioned running track will absorb the thumping sound of footfalls better than an ordinary deck.
If there is a mat placed below the treadmill, it is very effective in absorbing such sounds.
A tight or loose belt will be noisier than a normal belt.
A weak floorboard will keep making squeaking noises under the pressure of your feet as you run.
An unlubricated belt will also make loud noises as the first sign of needing lubrication.
A treadmill with a heavy and stable base will be less noisy than a lighter one.
Similarly, rubber feet beneath a treadmill will reduce its sound further.
One should well lubricate the second motor used for the incline & decline function to minimize noise.
You must also wear cushioned running shoes properly to avoid the thumping sound of footfalls.
The quietest folding treadmill is ideal for apartment dwellers. These options are also great for starting a healthy lifestyle without disturbing others.
Related Reads

Treadmills vs Ellipticals – The Best 1 to A Better Physique?
High-Speed Treadmills: 7 Best for Serious Runners in 2023
7 Best Treadmills with Screen: More Luxury in Running
NordicTrack 2950
Preset Programs – 40
Warranty- Frame & Motor- Lifetime. Parts- 5yrs Labor- 2yrs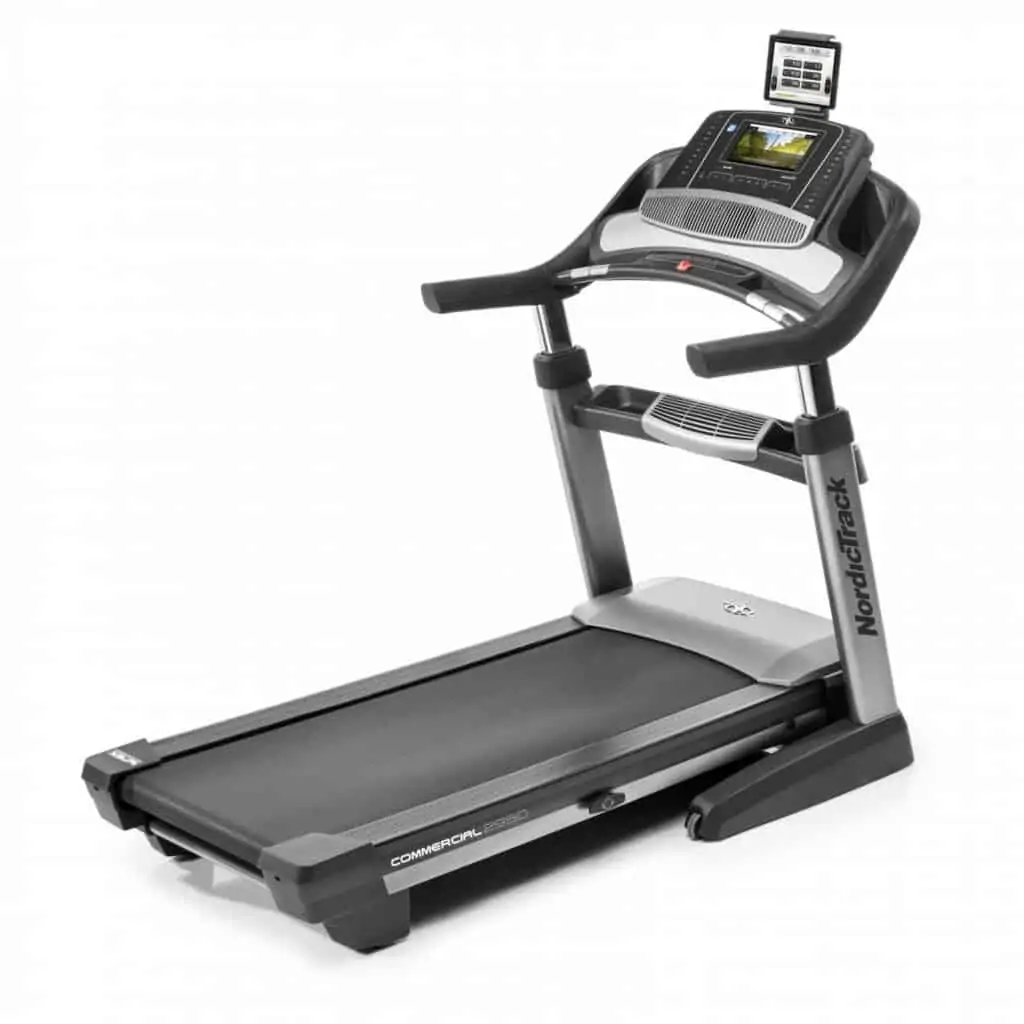 The Commercial 2950 is a flagship model of Nordictrack. An ace of a treadmill in all aspects of silent running. Although it has the biggest motor in the selected list of treadmills, it is very quiet.
It features a 22-inch touchscreen to promote longer workouts. The large screen is also HD, making the most of the interactive iFit Coach video exercises available.
You may pair Bluetooth headphones with the treadmill. The treadmill has a power incline and decline, cooling fans, water bottle holders, and storage compartments. The NordicTrack's training surface may be power-adjusted from -3 to 15% slope.
With these programs, the treadmill's pace and inclination are controlled to mimic landscapes and help you achieve particular fitness objectives.
The WhisperQuietTM Deck: The treadmill deck reduces the sound of your feet hitting the ground. It makes the Commercial 2950 a quiet fitness machine that can be used at home and is great for working out.
Long enough for a running stride and 2 inches broader than usual for additional elbow space. The tread belt is two-plied for longevity and quiet operation.
Tracking your heart rate during treadmill exercises helps you exercise more effectively. The new 2950 comes with a Bluetooth wireless chest strap for a continuous heart rate reading.
Keep cool with three exercise fans. You may set the AutoBreeze to your speed. Alternatively, you may control the speed of the fans.
Pros
22-inch touchscreen display
The heart rate monitor
Use the iFit app to control incline, decline, and speed.
Outdoor workouts for all fitness levels
Live classes and leaderboards
Cons
It is expensive.
Personnel from the company were required to assemble.
LifeSpan TR5000i
Preset Programs – 40
Warranty- Frame & Motor- Lifetime. Parts- 5yrs Labor- 2yrs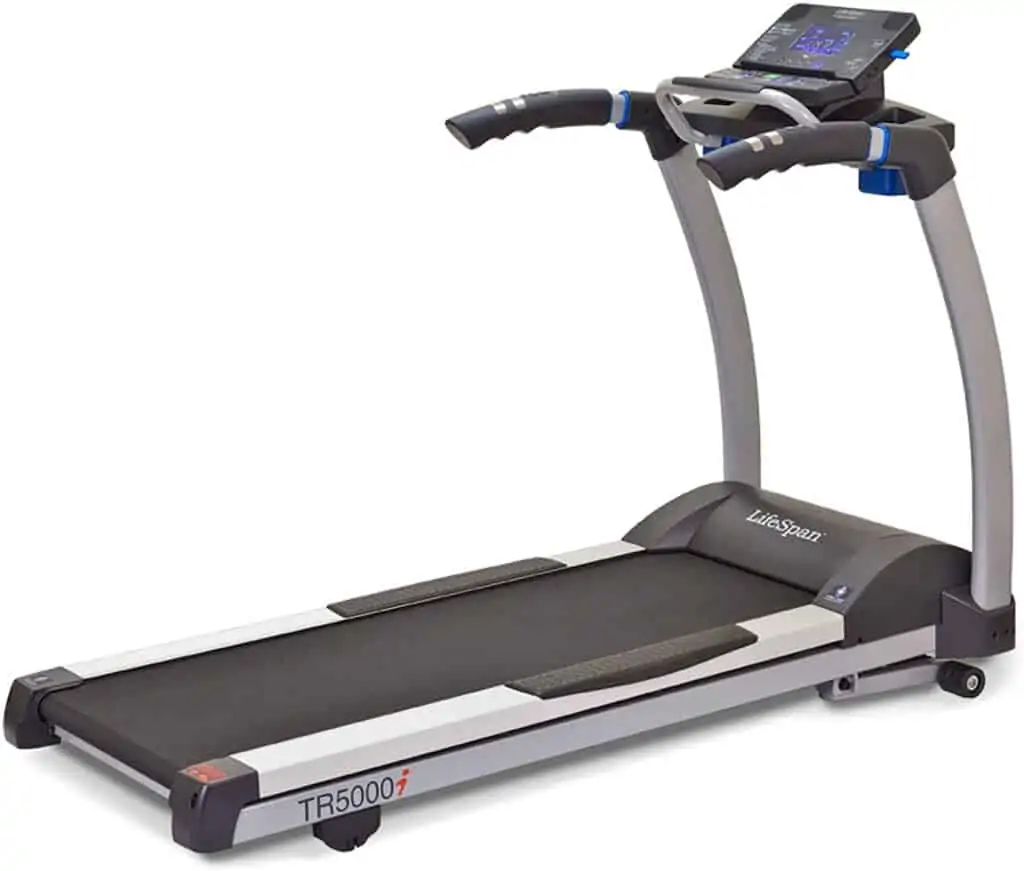 The new LifeSpan TR5500i is the best apartment-friendly treadmill with an incline. It outperforms many higher-priced competitors. The track's top speed potential of 13.5 mph stands out to advanced runners. Other features include:
A built-in step counter or pedometer.
A power decline.
Two downhill slope settings for incline training.
The tread belt is 2.8 mm thick, and the running surface is extra wide for elbow room.
The treadmill comes with more than 40 pre-programmed workouts. The workout screen has prompts for weight loss, sports training, heart rate goals, and more. The chest strap is sold separately. You can save your workout data long-term on a USB drive or via Bluetooth.
The console has a three-speed fan, a tablet rack, and smartphone speakers. It is displayed on a 6-inch backlit LCD.
Eight independent shock absorbers help the treadmill deck flex to protect your joints and connective tissues.
A ramp with an 800-pound thrust motor supports 15 incline angles.
Weight loss, sports training, healthy living, heart rate, and decline training are included in preset workout programs.
LifeSpan treadmills include smartphone jacks and speakers. The console cooling fan has three speeds.
This treadmill has a wireless heart rate receiver, but the chest strap is sold separately.
Pros
USB charging port for your device.
There is even a step counter.
Intelli-Guard turns off when you step away.
Cons
The console takes time to get used to.
Subscription options are not there.
The chest strap is not included in the heart rate monitor.
Bowflex BXT216
Preset Programs – 11
Warranty- Frame & Motor- 15yrs, Mechanical Coverage -5yrs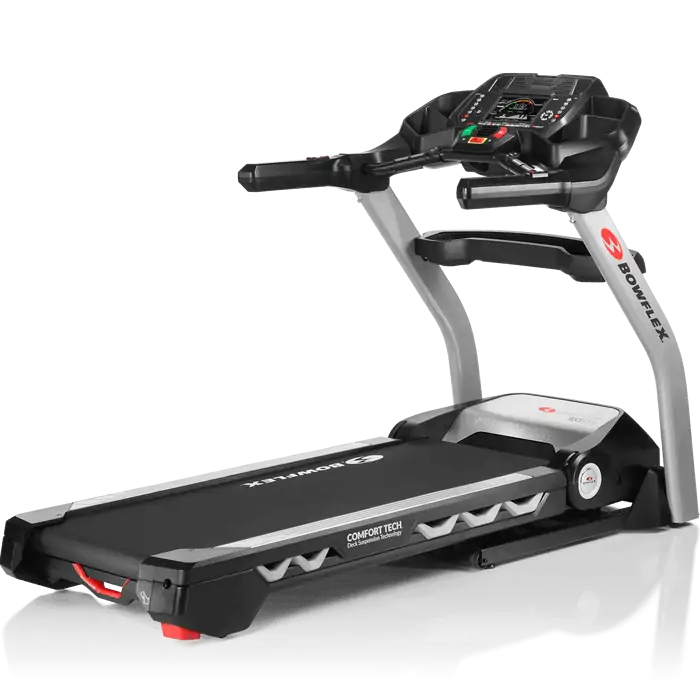 The Bowflex Results BXT216 is a tempting treadmill. Incredibly powerful and versatile, this top-of-the-line machine will satisfy the most ardent runners. Bowflex Results treadmills include high-quality workout belts, Bluetooth connectivity, and cushioning. It also has a full-colour screen, calorie calculators, and wireless heart rate monitoring.
It has a foldable frame. Generally, that home-friendly feature sacrifices another desirable quality. However, this treadmill appears to be top-notch. Shock-assist makes folding and unfolding the BXT216 simple.
It has the largest workout belt surface in the new series. In addition, Bowflex results treadmills have three-ply maintenance-free workout belts. As a result, it eliminates the need to wax and recalibrates the belt due to stretching. The treadmill also has a rope that you can pull to stop the unit if a user steps off.
The belt runs over 2.75-inch-diameter rollers. It explains why the treadmill is so durable for the price. The roller diameter is large for the quiet home treadmill, which reduces belt and motor wear.
"Results" is in the name, and it's true. The burn rate is a great example. Other machines show calorie burn, but only for the entire session. More accurate calorie burn data can motivate you to train harder. BX Results treadmills have wireless chest straps for "hospital-accurate" heart rate monitoring.
Connectivity via Bluetooth allows you to export your fitness stats. In addition to the manufacturer's new Results mobile app, the treadmill can sync with MyFitnessPal and FitBit. This feature allows users to listen to their music while running.
Full-color workout programs are displayed on a 9-inch widescreen. The Burn Rate console has a media shelf with a USB charging port. Vigorous workouts with cool-down programs are available. The BXT216 is a folding treadmill. Hydraulic assistance simplifies folding and unfolding.
The Bowflex BXT216 has a moderate level of noise compared to other models.
The BXT216 is a light commercial cardio trainer priced for home use (and foldable!). This machine delivers comfort, durability, electronics, and performance. With so many home treadmills on the market today, this model aims to be the complete package. It delivers. Take the plunge if this machine has tempted you.
Pros
Maintenance-free tread belt with three plies
9-inch colour screen.
Four user profiles are available.
Blue tooth connection.
Speed/Incline controls in handgrips.
Handrail with a coating
Cons
Comparatively new in the market
Nautilus T616
Preset Programs – 26
Warranty- Frame/Motor- 10yrs, Electric Parts- 2yrs, Labor- 1yr.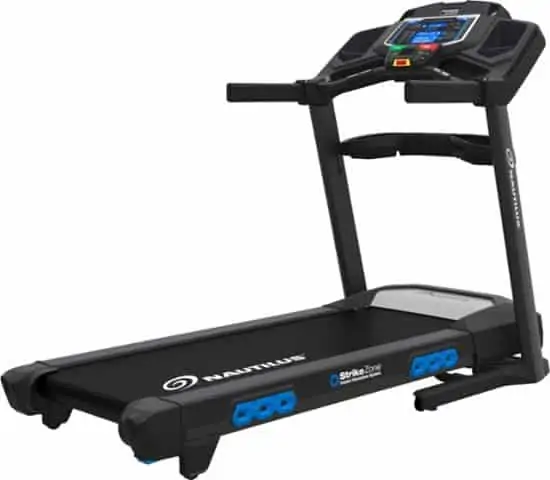 The T616 has large 2.75-inch crown rollers. In addition, it has a soft drop-folding design.
This model is all about comfort. This model has a strike zone cushioning system and a six-hex cell design for extra comfort. e
The console is the model's highlight. Two high-resolution blue backlit LCD screens display up to 13 workout details on the dual-track display. Four customizable workout programmes and four user profiles separate the 26 built-in workout programs. The Bluetooth-enabled console makes it simple to store and sync all of your workout data. In addition, you can use the contact grips built into the handlebars or the included chest strap to monitor your heart rate. There are also built-in speakers, a USB media charging port, and an MP3 input port. This model also includes two water bottle holders and a 3-speed fan.
Bluetooth connectivity allows you to sync workout data with the Nautilus connect, Nautilus Trainer, or MyFitnessPal apps.
An easy-to-use console. A fan. full audio system. The incline keys are on the left, the speed keys are on the right, and there are one-touch keys for workout programs.
Cons
Unlike competitors, no lifetime warranty
Weight capacity too low at 300 lbs
Spirit XT285
Preset Programs – 12
Warranty- Frame/Motor/Deck- Lifetime, Parts- 10 Yrs, Labor – 1Yr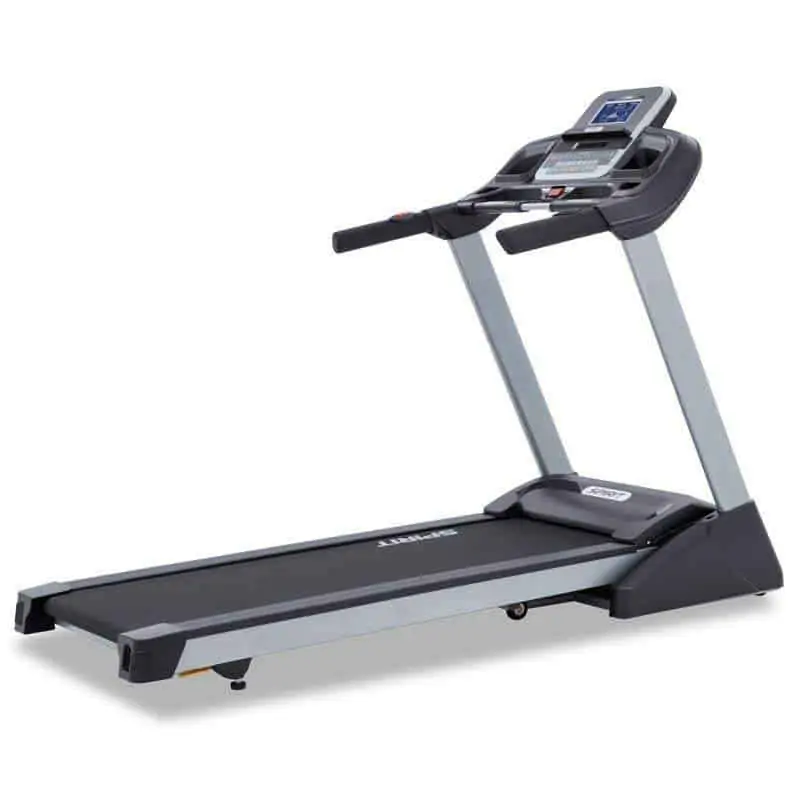 The Spirit XT285 excels in several key areas of a well-designed treadmill. Comfortable belt and cushioning system, powerful motor, durable and stable frame, simple console, and programming.
There are two heart rate programs, two additional levels of incline, Bluetooth for the SpiritFIT App, speakers for digital music playback, an audio jack, and a deck 1/4 inch thick.
The 7″ blue backlit LCD screen displays 9 data points simultaneously to keep you informed and motivated. In addition, ECG monitoring and contact heart rate monitoring improve workouts.
The XT series includes basic walkers and hikers as well as advanced programs and components for runners.
You can tell much about a product's quality by where the manufacturer invests their money. Do they spend it on unnecessary frills or parts to improve the product's quality and performance? Spirit Fitness supports quality products like cast motor mounts. Why? A stamped steel motor mount does not give a high-quality treadmill the secure mounting it needs. If the motor shifts, the drive belt loosens, causing the walking belt to slip. Examining beneath the motor cover reveals much about a treadmill's design.
The Spirit Fitness Folding Treadmill folds up and down easily. When not in use, the treadmill folds up into a small space. First, pull the yellow handle on the back of the treadmill frame to unfold it. Then, please pick up the treadmill deck until it hinges. Our assisted design makes this simple and convenient.
Motor covers keep the drive and elevation motors and electronics cool. In addition, motor covers have ventilation, and lower electronics have large aluminium frames that act as heat sinks.
Pros
Bluetooth for apps compatibility
Heart rate monitor with chest strap
Speed/Incline buttons on the handlebar
Good warranty
Cons
Competition has stronger motors.
A wider running surface is needed.
Horizon Elite T7
Preset Programs – 42
Warranty- Frame & Motor- Lifetime, Parts- 5 yrs, Labor- 1yr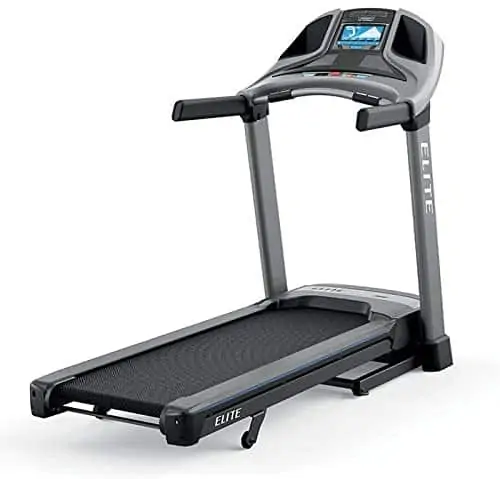 The Horizon Elite T7 Treadmill is a fantastic home fitness gadget with various benefits. It has Passport video workout technology. It has the ViaFit app to track exercise data. It also has 42 preset workouts.
It's made for runners and walkers, and the advanced cushioning makes it comfortable and quiet.
It has variable response cushioning with three firmness zones below the track. It reduces the chances of injury compared to running on the road. It also increases efficiency.
It has an extra-wide 8.5-inch blue LCD screen. It displays speed, distance, time, incline, calories, and pulse. The user can adjust the incline angle. Preset programs can do the same thing.
A book rack, two cup holders, a fan, speakers, and a wireless chest strap. It is much more accurate compared to grips.
The Elite T7 Treadmill has a USB port for MP3 players and smartphones. In addition, prominent speakers are fixed in the console.
It is a low-maintenance treadmill that requires no lubrication. It goes into an energy-saving mode if not used for a while.
Their customer service, however, requires some upgrades. Except for that, it is a highly recommended treadmill.
Pros
FeatherLight folding technology.
Many built-in workout programmes.

Variable Response Cushioning in the

deck.
Power saving mode gets activated automatically on getting down.
Cons
Too many button controls.
Customer service is a question mark.
No. of plastic parts should be less
Reebok jet 300 Treadmill
Preset Programs – 24
Warranty- Frame – Lifetime, Motor- 10yrs, Parts & Labor- 2 yrs
The Jet 300 treadmill is a new addition to Reebok's Jet series. The Jet 300 Treadmill has an air-motion running deck. The treadmill has all the modern features it needs to work quietly and give you a good time.
The 5.5-inch LCD console displays vital heart rate, speed, time, incline, and pulse. The Soft-drop hydraulic folding mechanism is another key feature of the Reebok Jet 300 Treadmill.
The treadmill is excellent for home use for those who have just begun their fitness journey and regular users. Customers receive the Reebok Jet 300, 95% assembled, with only minor adjustments required before use.
Reebok's Jet 300 Treadmill uses the latest technology and design to provide users with safety, entertainment, and fitness. The running area provides a hassle-free workout for people of all sizes. The Reebok Jet 300 Treadmill has an integrated speaker and a USB port. Speakers of superior quality keep you entertained while you work out.
The tread belt is made of high-quality material. The thickness determines the visible class. The tread-belt has been designed to provide users with a safe and enjoyable experience.
The treadmill also has air pods that cushion the user's footsteps. The main goal of these AirPods is to reduce ground reaction force to avoid overuse injuries.
The main goal of the heart rate receiver is to monitor the runner's heart rate during workouts. Hand pulse sensors collect and display all heart rate readings on the console.
The treadmill has 24 built-in workout plans and body fat analysis. These options engage the user and motivate them to try more. If needed, it must be returned within 30 days of delivery.
Pros
Durable, high-quality & sturdy
24 pre-sets
Pre-assembled
Exceptional workout performance
Cons
The safety key is very sensitive.
Anil delights in assisting others in enhancing their health and fitness. Anil, a runner and blogger, has spent the past twenty-four years motivating others to lead healthy, fulfilling lives. Join Anil in his efforts to better the world.