The iMover ThermoTread GT review concerns its whisper-quiet mechanism and the first treadmill desk with a touchscreen LCD. It ushers in a new era by being one of the best office treadmills.
iMovR's design features a small footprint, a low-profile deck, a quiet motor, low power consumption, and accurate digital interfaces.
The iMovR treadmill is an IoT appliance connected to the cloud via the optional iMovR cloud station. It allows iMovR to offer a variety of software updates that will help the ThermoTread product line grow.
The iMovR ThermoTread GT desk treadmill is the first designed from scratch for a high-end office. The ThermoTread is intended for long hours and at a slow pace.
The iMovR ThermoTread offers an easy console interface and can manage slow walking with significant friction and torque. It is easy to use while standing at your desk and without disturbing others. iMovR designed it for the home or office with several safety features to protect any business that uses treadmills for offices. Its dimensions are 67.5″ x 28.35″ x 9.5″.
Second, the user must "clickwrap" a liability waiver before using the treadmill. It protects the company from unsafe operations and liabilities. The feature is intended for large corporations and public spaces.
ThermoTread GT Construction
The iMovR Thermotread GT office treadmill base is designed to be sturdy with a powerful self-cooling motor to support slow, high-friction walking hours. Its quiet 2-ply belt and large rollers provide endless walking.
ThermoTread GT's additional high-tech features, superior performance, and longer warranty compel budget-conscious buyers to pay more for this treadmill.
ThermoTread is optimized for walking. So we have a durable office treadmill that can run at low rates for several hours a day.
Motor
Endless walking hours are possible with the quiet 3.0 HP motor at 4000 RPM. The belt makes some noise as it moves, though the motor is silent. ThermoTread uses less power but is faster and more durable over time.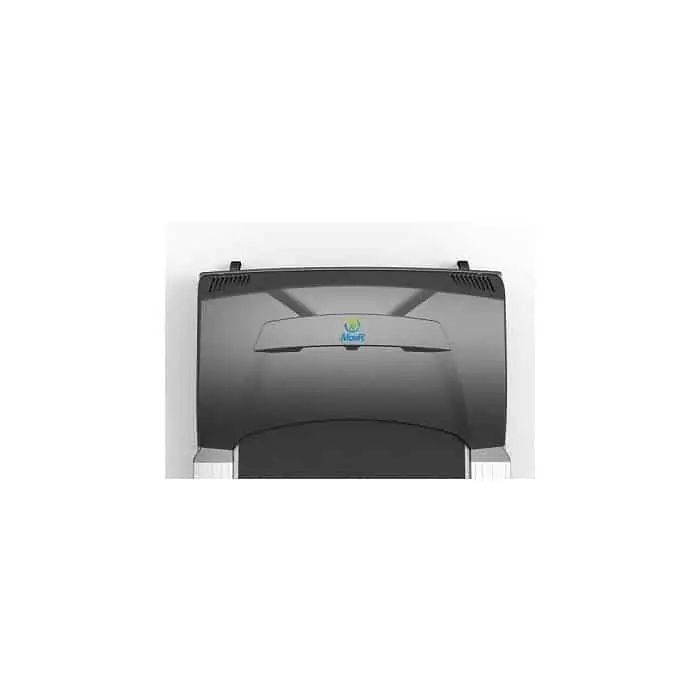 The iMovR ThermoTread GT is for walking and has a self-cooling motor. The duty cycle of this motor is unlimited; it supports slow walking.
The motor's noise level is only 42 dB, making it the quietest under-desk treadmill that won't bother others in the office.
A low-profile motor hood on the front of the treadmill protects the motor while keeping it quiet.
Display and Console
The ThermoTread GT touchscreen console matches modern office laptops and tablets and is easy to use as a smartphone.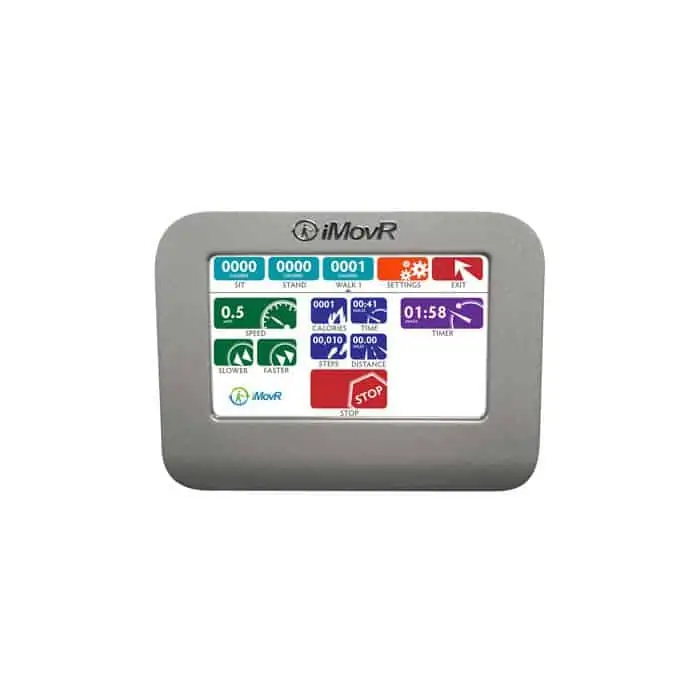 The LCD shows the usual speed you walk, total time walked, distance covered, steps taken, and calories burned. You may change your pace as needed, and there is a timer too.
The console supports multiple profiles, allowing multiple users to share a workstation.
A red key below the console allows you to stop the workout quickly.
The app allows you to upload various metrics to track your progress. This high-resolution touchscreen has many functions and screen readouts.
The switches on the console tend to crack due to heavy use.
The ThermoTread GT uses a modern touchscreen LCD desktop controller with many built-in functions. The console even tracks your time sitting, standing, and walking, including a programmable interval timer that reminds you to get up and move.
Weighing Capacity and Weight
It weighs 147 pounds, slightly more than comparable walking treadmills. It is due to the sturdy design and reinforced frame.
This high maximum user weight, at 400 lbs., will support most workers.
It weighs 147 pounds, slightly more than comparable walking treadmills. It is due to the sturdy design and reinforced frame. This high maximum user weight, at 400 lbs., will support most workers.
The ThermoTread has been subjected to 247 simulated stress tests to ensure the maximum user weight.
ThermoTread GT has no duty cycle restrictions and can be used continuously without fear of component burnout.
Preset Exercise Programmes
The ThermoTread GT has no preset programs, as it is only for walking.
Speed & Incline
The treadmill's UL speed limit is 0.5 to 2.5 mph. Most treadmill injuries occur due to mishaps or cardio exhaustion due to high speed. The treadmill supports rates that allow users to work while walking.
You can set your preferred speed and time to do your walk accordingly. These tools give absolute control over health and work too.
Running Track
The ThermoTread has a footprint of 67.5′′L x 28.35′′W x 9.5′′H. The walking belt measures 20 inches wide by 50 inches long, allowing for a comfortable stride.
The treadmill has a cushioned deck and a rubberized 2-ply walking belt. The rails are higher compared to the belt, preventing foot slippage. The ThermoTread supports walkers of all heights thanks to ample forward and backward space for a comfortable stride.
Six compression shock absorbers under the ThermoTread deck control impact walking. Though not as high-impact as running, a little cushioning is quite effective. Compression shocks absorb the impact of each step, resulting in long walks and no fatigue.
iMovR earlier used melamine and phenolic materials. Later, it was upgraded to a better 1 ′′ Bakelite, a more durable material.
Stepping on and off is simply because there is only a 5′′ step-up.
The ThermoTread design provides enough space between the side rails and the walking belt to easily lift the belt and dispense lubrication in under a minute.
In addition to the belt, there are aluminum side rails for standing.
Easy to Move
The iMovR treadmill desk fits anywhere. Roll two wheels forward underneath the motor housing to put the ThermoTread GT under a desk.
One person can lift and push it under the desk with two front-mounted transport wheels.
Don't move the treadmill regularly. To get the best output, move the treadmill only occasionally. We recommend a mat at the base to protect the floor and the treadmill. A mat also dampens any other noise like thumping or vibrations.
Important Features
Each user's profile displays their stats like distance, speed, time, and calories, and you can create five such profiles.
There is internet access.
The console can sync with the iMovR CloudStation to track your fitness stats, including a step counter, data storage, and multi-device control.
ThermoTread is NEAT certified and will help you burn more calories and overcome the effects of a sedentary lifestyle.
There's no need to be concerned if the plugs are far from your workstation. A 100-inch power cord is provided.
Easy downloads via USB Updates. "
iMovR promises to add new features over time. Software updates are simple via the USB port. You log in, select one of three options (sit, stand, or walk), and the computer automatically adjusts the treadmill speed and desk height. Instant mode changes.
Treadmill bases bundled with other manufacturers' desks have been the most common.
With iMovR's new ThermoTread GT treadmill, we expect many users to go all-iMovR.
Price
The company price of the ThermoTread GT is $2,199.00 as of date, though it might be available at a discount too.
Drawbacks
This system does not include a desk; you must provide your own.
It costs more than comparable treadmills without a desk.
Warranty
The treadmill's frame has a lifetime warranty, and the motor has a three-year warranty. A two-year warranty on parts and a one-year labor warranty are included.
The treadmill is also guaranteed for 100 days. If you decide to return or exchange your iMovR ThermoTread GT Office Treadmill, you will get a refund in full minus a 20% restocking fee. Handling and shipping costs are non-refundable.
Conclusion
ThermoTread GT is almost silent and a very compact treadmill for the home or office. You can do your walking with no disturbance to others at all.
With this treadmill, you'll burn more calories while reducing the adverse health effects of a sedentary lifestyle. This sturdy treadmill, though expensive, is ideal for anyone trying to improve their health and lifestyle.
FAQs
What is the quietest under desk treadmill?
The quietest under-desk treadmills are:
iMovR ThermoTread GT: This is the only treadmill on the market that is virtually silent, measuring in at 42.7 dB at a 2.0 mph speed.
LifeSpan TR1200-DT3: This is one of the most popular under-desk treadmills, measuring 49.9 dB at a 2.0 mph speed.
WalkingPad C2: This intelligent folding treadmill measures 50 dB at a 2.0 mph speed.
GoPlus Electric Treadmill: This affordable treadmill measures 52 dB at a 2.0 mph speed.