These days, every individual looks for a home gym setup to stay fit and healthy for an extended period. In this regard, treadmills play an important role, and the Sunny Health & Fitness model SF-T7718 is one of the better treadmills from this company.
The Sunny SF T7718 is a lightweight treadmill that is delivered pre-installed. It is good for walking and jogging but can reach 9.0 mph, which is not exactly jogging.
Its main benefit is that the Sunny Health & Fitness Strider Treadmill is a very affordable home treadmill that can be folded flat and stored, thus saving space. Therefore, it is a good treadmill for average-height people who are beginners.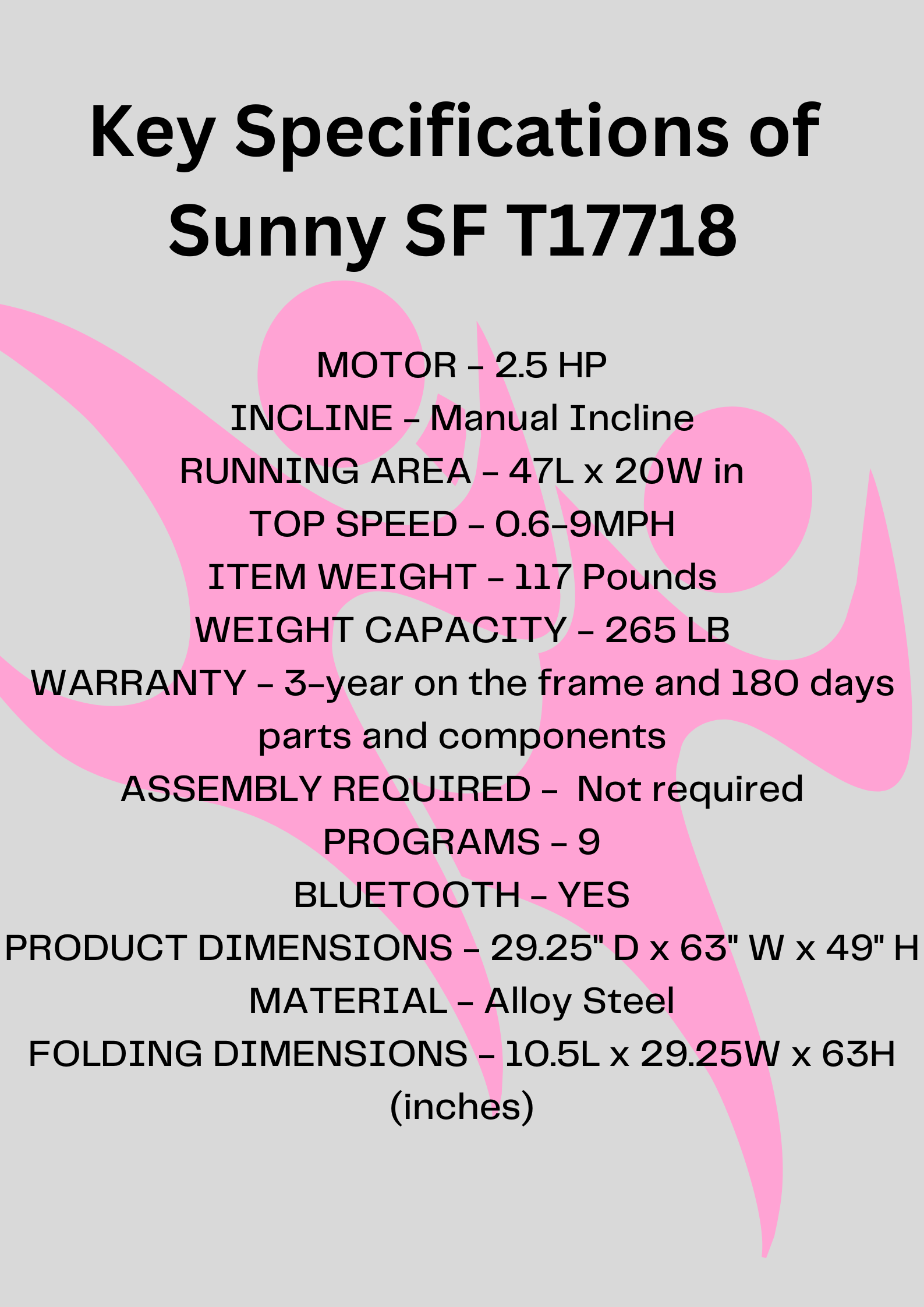 Related Readings

Echelon Stride Treadmill: A Fair Review: Is It Priced Right?
Goplus 2 in 1 Folding Treadmill: A Fair Review
9 Best Portable Treadmills – Can Be Pushed Under The Bed
Sunny SF T7718 Construction
The Sunny Health & Fitness SF T7718 treadmill is a plug-and-play machine that comes fully assembled. All you need to do is unfold it, plug it in, and start walking on the track. Just don't forget to attach the safety key.
This treadmill is also small, sleek, and low profile, making it easy for even older people to use. This Sunny Health & Fitness treadmill is a robust machine; the frame is made of alloy steel.
ABS also protects the motor, console masts, and side rails. Because it is a lightweight model, it provides excellent stability. For added stability, it includes adjustable levelers on the rear side and solid rubber pads on the front sides.
If you are an older adult with concerns about joint or knee pain, don't worry; the manufacturer has added two shock absorbers on either side of the deck.
Wide Belt Treadmill
This treadmill with a 20-inch wide belt is built with steel and has ABS covers on the console, side rails, and motor.
Though a low-capacity treadmill, the SF T7718 itself isn't lightweight. The base has adjustable levelers at the back to balance the unit on uneven surfaces. The front rests on rubber pads. The machine's deck is sturdy enough for a small treadmill. So, there is no wobbling during workouts.
It is lower to the floor than most treadmills to give confidence and balance to beginners and seniors. It also has 14″ cushioned side rails for safety, and you can swing them out of the way when not needed.
| | | | | | | | |
| --- | --- | --- | --- | --- | --- | --- | --- |
| KM/H | Miles /Hour | Mins/km | Mins/Mile | 5K | 10K | Half Marathon | Marathon |
| 14.50kph | 9.01mph | 4:08 | 6:40 | 00:20:41 | 00:41:22 | 01:27:18 | 02:54:37 |
9 Miles per Hour is equal to
Sunny SF T7718 Motor
This Sunny Health & Fitness Treadmill SF T7718 has a 2.5 HP peak power and a 1.25 CHP motor for walking or jogging. It is located at the unit's front base and has an ABS lid.
The motor is barely audible during a walking workout, though you will hear your steps with the sound depending on your speed if you run. But it still doesn't interfere with TV or music.
Console & Display
The console unit has a three-window LCD. From left to right, the windows cover the distance, calories burned, time spent and steps completed, and then your speed and pulse. Speed and distance travelled are in miles.
For seniors, it has good readability even in dim light and a touchscreen interface.
Press the contact sensor on the right to read the heart rate while walking or jogging. Though not hospital-grade, it does give you a good indication of how you are doing. It also calculates your BMI.
With its secure tablet holder, this treadmill will allow you to watch TV shows and movies or play games on your phone while you work out.
The console works with the Sunny Health & Fitness mobile app. It's free and works with Bluetooth.
Weight & Weighing Capacity
Its net weight of 117 lbs gives it plenty of stability and supports up to 265 lbs of user weight without overheating.
The motor propels users weighing up to 265 pounds to walk, jog, and run.
Pre-Set Exercise Programs
The console has nine preset programs that are interval-based and alternate speed settings for each interval. In addition, the console beeps before each interval to announce speed changes.
In addition, each program is written on the console to make it easier for customers to use.
Preset programs are rare in this price range.
You may also set your goals for time, distance, and calories; their countdown starts as you start.
Speed & Incline
The smooth surface supports 0.6-9 mph. In addition, speed controls are built into the handrails for convenience during workouts.
The unit has 0.1 mph increments. Use the right side control +/- keys for gradual speed adjustment and 3 and 6 mph quick speed controls on the left.
This Sunny Health & Fitness Treadmill has no incline and a low-profile walking surface that is only 3″ high.
Sunny SF T7718 Running Track
The belt is 46′′L x 20′′W. It has shock-absorbing elements on each side, which protect your joints better than walking or jogging on the road.
The console's lubrication reminder tells you to re-lubricate the belt every 188 miles.
For seniors, high-density, slip-resistant rubber handrails provide extra support as you walk. Though it is recommended that these should not be held while walking or running, they do give extra confidence to seniors or those recuperating.
Sunny SF T7718 Easy to Fold & Move
The SF T7718 has a fold-flat frame that can be stored in small spaces. The console with side grips folds completely over the deck. Despite its 117 lb weight, you can push it under your bed or sofa set after the workout due to the transport wheels.
The treadmill's wheels and easy folding make transporting it a breeze. It unfolds to 63L x 29.25W x 49H inches and folds to 63L x 29.25W x 10.5H inches. So it can be folded and stored under a bed with a clearance of 11″ or, better yet, against a wall.
Heart Rate Monitor
The SF T7718 doesn't have a heart rate monitor. Though it has a handgrip HRM, it is not as accurate as the chest-strap heart-rate monitor.
Sunny SF T7718 Important Features
It can calculate BMI.
The console has built-in Bluetooth, and you can sync it with your phone or tablet to access the Sunny Health & Fitness app for online workout tracking.
There is a USB port for charging your phone or tablet.
The console unit has a non-slip tablet holder to keep your phone or tablet safe. It can also be folded, allowing for better machine storage.
There are two small speakers located under the console.
An MP3 cable is included to connect your phone or tablet to the console.
Maintenance
The maintenance required is lubricating the tread belt when the lubrication reminder sounds. After 188 miles of coverage, this happens.
Aside from that, keep the treadmill clean and store it somewhere clean, dry, and cool.
Price
Though the price on its site is $ 608, it is available much less frequently. You may get it for anywhere between $ 300 to $ 400. And it is a bargain at this price
Drawbacks
It does not have an incline, which can be a big drawback.
Warranty
The warranty coverage for the structural frame is three years, with a 180-day warranty covering all other parts and components.
What do we like about this treadmill?
A space-savvy treadmill that you can fold easily and place anywhere in your home.
Comes with 4 transportation wheels for easy movement.
The device holder of the treadmill fits almost every tablet and mobile device.
Built-in premium quality speakers that offer enhanced sound quality.
The treadmill's design is compact and sleek, perfectly maintaining balance and confidence while exercising.
The speed controls are built into the console and handrails.
Needs minimal maintenance.
The deck of the treadmill is fitted with shock absorption elements.
Comes fully assembled.
Have the ability to remind for lubrication.
Wide running deck
Non-slip handlebars.
What do we not like about this treadmill?
This treadmill doesn't have any incline.
The track length is less if you are above 6′ and want to run on it.
Conclusion
The Sunny Health & Fitness folding treadmill SF T7718 is great for the usual price. At a maximum speed of nine mph, it is much better than jogging. The warranty is also much better than most other treadmills in this price range.