The Urevo Foldable Treadmill is a motorized treadmill suitable for walking and running on flat surfaces. This Urevo Treadmill is a good product for people who want to start their fitness journey. It doesn't have a lot of fancy features, but it has everything you need for a good workout.
This Urevo Treadmill review is all about its features and shortcomings, if any.
The Urevo Folding Treadmill manual is comprehensive and covers all its specifications, features, and other details well. The package also includes hardware for assembly and a 6-piece anti-slip mat. It would be best not to place the treadmill on a thick carpet.
Features include a quiet motor, a premium steel frame, a flat, and a stylish console on which users can work while exercising.
The Urevo folding treadmill for home has a top speed of 7.5 MPH and a 16-inch wide belt. Its six-inch height, when folded, allows it to be slid under a bed.
The treadmill saves space, as it is compact when fully assembled at 55.2″ L x 38.2″ W x 27.8″ H.
Urevo Foldable Treadmill Construction
The Urevo Portable Compact Treadmill has a powder-coated steel frame. It is a complete treadmill desk in itself. It is easy to assemble as most of it is pre-assembled. Just a few screws, and within 15 minutes, it is ready to be used. The package includes all necessary hardware and instructions.
The soft-drop system and easy-folding mechanism allow you to unfold your treadmill safely. The folded dimensions are 55.2″L x 27.8″W x 5.1″H, and the unfolded are 55.2″L x 38.2″W x 27.8″H.
The power cable is 63 inches long.
Motor
The 2.5 peak HP Moter provides speeds of 0.5-7.5 MPH. The motor is smooth and quiet, so users can exercise early in the morning or late at night without disturbing others.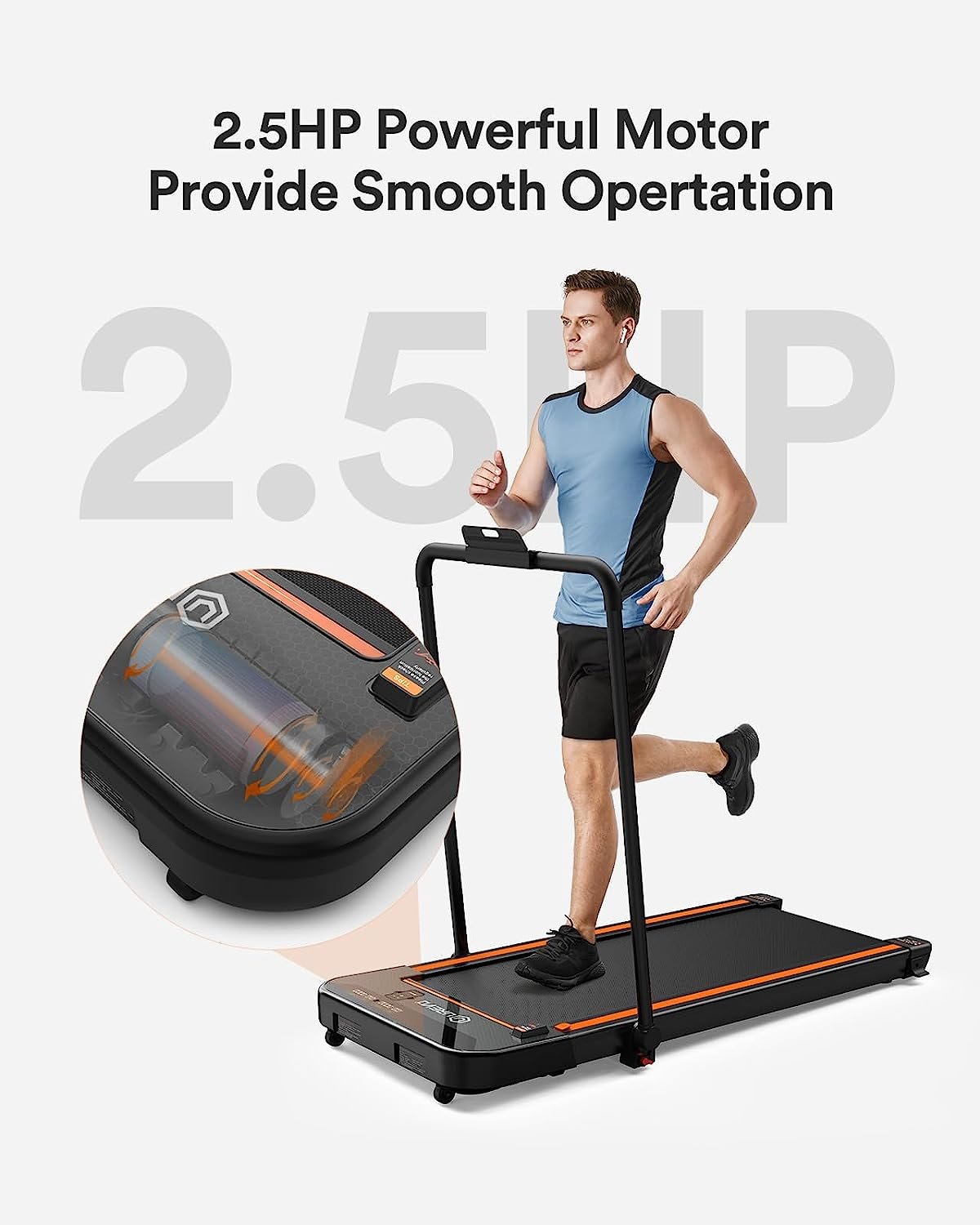 Speed & Incline
The Urevo Foldable Treadmill has a speed range of 1 to 12 km/h (0.5 to 7.5 miles per hour).
But it doesn't have any incline.
Console & Display
The treadmill's console has an LCD that shows distance, time, speed, and calories burned. It's flat, so users can use laptops on it. The console has easy-to-use buttons below the LCD screen. These are
Start
Speed
Program
Mode
Speed+
Stop
The treadmill has 12 preset programs to simulate outdoor exercise and increase efficiency. These are half-hour workouts with varying speeds. If the program's rate is too fast, you can slow it down manually.
Setting a goal has three modes: time, distance, and calories. The timer stops when the goal is achieved.
The console is only 36 inches above the treadmill's belt, so a tall person has to look straight down to check the readings, which feels awkward. The console has a phone holder on the top, but it should be deeper to hold a tablet securely.
Easy to Move
To fold and lay the console flat, you must completely unscrew the four knobs and let the arms down. The front wheels are at an angle and difficult to move by a single person. So pushing the treadmill under the bed is a long drawn process.
But the treadmill has a soft drop system that simplifies folding and unfolding. It folds to 5.1 inches thick and can be stored under the bed or in a cupboard.
Safety
A 20-inch string with a clip is attached magnetically to the Urevo treadmill. If you trip while wearing this clip, the key will detach from the console and stop the treadmill.
The 42.5″L x 17″ W belt is multilayered and anti-slip to protect your joints and knees from impact. The layers are for higher strength and reinforcement, noise reduction, and shock absorption.
You can walk and jog comfortably on it, but running will be a problem for taller people.
Weight & Weighing Capacity
The treadmill weight is 75 lbs, whereas the user weight limit is 260 lb.
Important Features
Good stability
Easy-to-use console with LCD showing all workout metrics.
12 preset workouts
5-layered, non-slip running belt for safe and comfortable exercise
Price
The Urevo treadmill sells for $360. Many other models in this price range have various additional features. There are also various cheaper treadmill models available on the market now.
Drawbacks
Because folding arms takes time and cannot be done every day, the 2in1 concept fails.
The phone slot is meant for that only. It can't hold tablets as it isn't deep enough.
It is not a value-for-money product with all these flaws.
It doesn't have an incline.
It doesn't connect to an app to track progress.
No Bluetooth speakers
No touchscreen.
Conclusion
You can't lock the arms in place, the console has oddities, and the phone slot isn't very useful. Urevo foldable treadmill seems overpriced, looking at the features of other treadmills.
But it has features that others in this category do not have. The 12 preset programs, multi-layered belt, and soft-drop system for unfolding make it a good buy.
FAQs
Which country made the Urevo treadmill?
Urevo treadmills are made in Shanghai, China, by a company called Shanghai Runmi Technology Co.
Can you run on a Urevo treadmill?
It is better to avoid running on these treadmills or any treadmills with a motor below 3HP power.