Xterra TRX4500 Treadmill review offers a close look at the various features and specs of the treadmill and its various pre-structured workouts ideal for great exercise sessions in the comfort of your home. The company Xterra Fitness has over 30 years of experience in the fitness field and is known for good customer service. Its equipment is built to last over a long period.
However, when choosing the right treadmill, you must look at its technology, motor, running surface area, construction quality, speed control, and more.
Summary
The Xterra Fitness TRX4500 Treadmill running surface area provides enough room to feel comfortable and secure with users of all sizes. Its motor power gives a smooth run and is covered by a lifetime warranty. The speed range on this treadmill allows users of all fitness levels to challenge themselves.
The preset speed and incline console buttons allow quick and easy control of your workouts. The display is easy to read and keeps you updated on all the necessary information. It is easy to adjust the incline for maximum workout variety.
Also, you can sync and track your fitness goals with the help of the Xterra Fitness App. In addition to this, you can access multiple user profiles and access the alternate tablet workout display option. It also comes with a wireless chest-strap heart rate transmitter that helps keep your workout safe and effective.
Xterra 4500 treadmill has a built-in cooling fan and speakers for listening to music. It provides a comfortable workout with heart rate pulse grips placed on the handlebars where you can control the speed and incline options. So, you can control the pace according to your needs and convenience.
Xterra TRX4500 has a safe-drop feature allowing you to lower the treadmill deck safely. Moreover, it provides maximum impact absorption exactly where you need it. It also comes with a large LCD so you can see everything.
Xterra TRX4500 Construction
The Xterra TRX4500 Treadmill assembly is simple and can be done by a single person though two individuals are needed due to the heavy parts. The Xterra TRX4500 is built on a highly durable heavy-gauge welded steel frame. The aluminum side frame ensures a stylish look and a secure standing surface. The entire treadmill is protected by chip-resistant and corrosion-resistant paint to maintain its durability for the long run.
Motor
The Xterra TRX4500 is designed with a powerful 3.25 horsepower motor. It strengthens runners' fitness goals by providing smooth and noise-free running. Therefore, you can challenge yourself with a long run at maximum speed. Also, with the Xterra TRX4500, you will get a lifetime warranty on the motor. Because it has a powerful motor, it does not show any overheating or performance issues. It also produces less vibration due to the flywheel connected to its side. As a result, the front roller of the treadmill exhibits smoother motion for the runners.
Speed & Incline
The treadmill helps you control or regulate the speed. You can thus adjust it accordingly to your needs and preferences. The speed range varies for this model from 0.5-12 MPH. The speed control on the console is placed on the machine's handlebar. Therefore, you can set your fitness goals with quick speed adjustments. Users can perform interval and sprint workouts too.
On the other hand, the machine is operated by a motorized incline system. The incline range is set from 0% to 15%. You can also control the incline from the console fitted into the handlebar like the speed.
Console & Display
The display is a large 7.5-inch LCD screen with a blue backlight. Due to its large size, it is visible to the runners easily. The top section of the display screen has various modes such as time, pulse, distance, pace, and calories.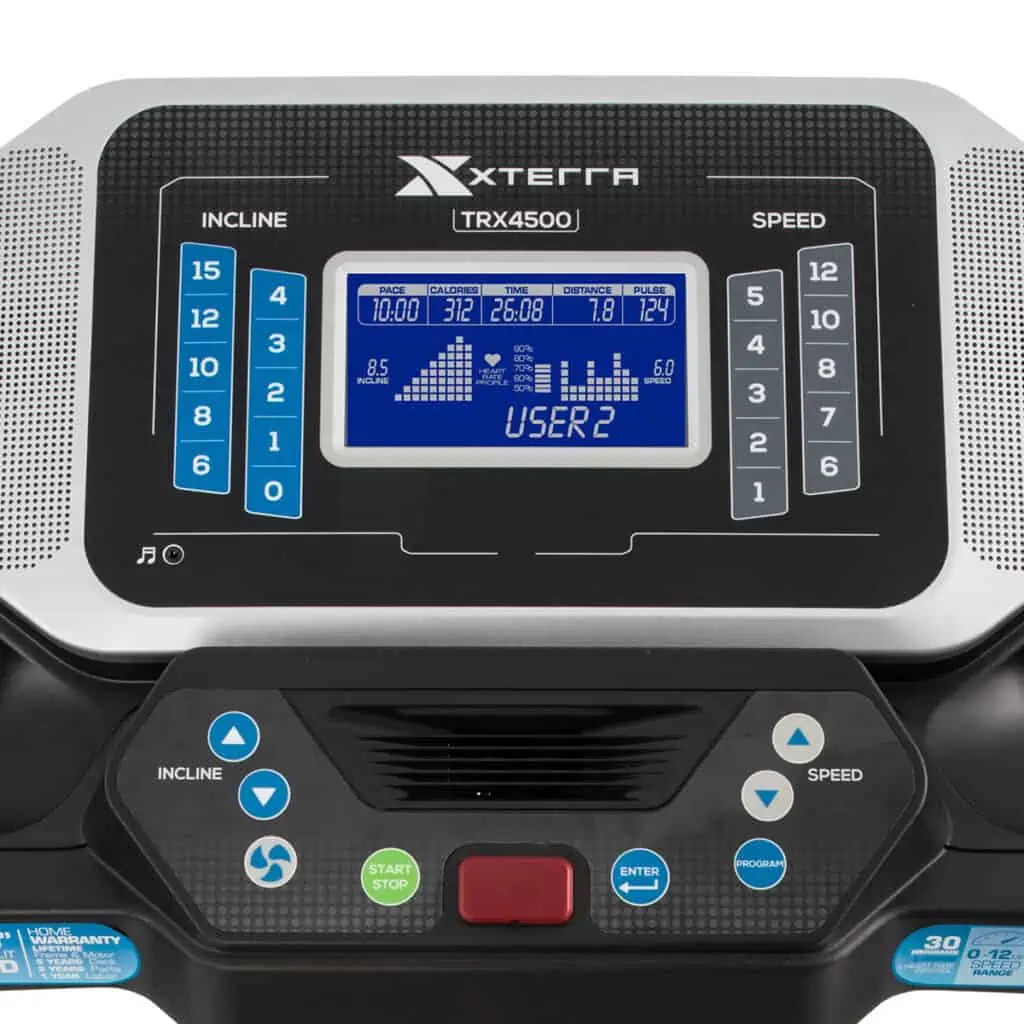 The middle section of the display screen has preset programs, speed levels, incline, etc.
The console is also programmable and telemetric, which helps the users monitor their heart rate with the help of the attached HR chest strap. Also, it is Bluetooth enabled so that users can connect to their devices.
How to fold Xterra Treadmill?
The machine is foldable and can be stored away when not in use. So you can store it in between your workouts. In addition to this, you can also lock it up at around 65 degrees. The Safe Drop and Life Assist feature help with safe folding and unfolding.
Running Track
The running surface area is 60′′L x 20′′W, which allows runners to run, jog, or walk comfortably. Due to the track's size, it is also usable by tall athletes. The front roller measures 2.4 inches, and the rear measures 1.8 inches, making the belt more long-lasting.
Preset Programs
The machine has 30 built-in programs to give a good shape to your fitness journey and consists of 1 HRC program, two custom programs, and one manual program. The 30 built-in programs include stamina, high cardio, intense calorie-burning, and intervals. Users can also use two programs under the user's profiles and custom programs.
On the other hand, the manual option allows users to manually control the speed and incline from the console button. You can also customize your preset program for 5 to 99 minutes.
Weight & Weighing Capacity
The weight capacity of this fitness machine is about 350 pounds. On the other hand, the treadmill weighs about 221 pounds. It's a heavy machine that allows access to all sizes of athletics. Also, it requires two people to unbox and assemble.
However, the machine's weight makes the fitness training program very stable.
Feature Highlights
The Xterra Treadmill TRX4500 comes with several features and specifications. It includes:
Easy folding and unfolding
3.25 HP motor
Sturdy & long-lasting
Spacious running surface area
Bluetooth Enabled
Built-in Xterra fitness app
Programmable & telemetric
Quick control for speed & incline
30 built-in programs
Cooling fan and speakers included
Safe Drop & Access Life enabled
Affordable
Xterra Treadmill customer service
The Xterra TRX4500 Treadmill manual is quite elaborate and gives complete details about specs, features, and assembly processes.
Price
This treadmill is about $ 1,399.99 with access to Xterra Fitness App. You can also grab this training machine at the best price from Amazon.
Nearest Competitors
The nearest competition is Xterra TRX4500 Treadmill vs Sole F63. But there are several competitors like:
Horizon 7.4AT
Nautilus T618
ProForm Pro 2000
Schwinn 870
Lifespan TR3000i
Drawbacks
The fan is insufficiently powerful.
Too many unnecessary features.
Placing the tablet on the holder partially blocks the screen.
Warranty
The frame and the motor come with a lifetime warranty, and the deck has a 5-year warranty. The parts/electronics come with a 2-year warranty and a 1-year labor warranty.
Conclusion
To conclude, we can say that the Xterra TRX4500's overall build is excellent and sturdy. It is well-suited for all types of athletics for a smooth run. But, the Xterra TRX4500 lacks in the technology department compared to other brands in the market. However, it's solid build and valuable warranty make it a good workout machine. So, it's a more heavy-duty and utility-based treadmill.
FAQs
Who makes Xterra treadmills?
Xterra treadmills are made by XTERRA Fitness, a company specializing in home fitness equipment. They offer a range of treadmills with different features and prices, such as the TR150, TRX3500, and TRX5500.