Treadmills are a great addition to the home gym that helps you remain fit and healthy. But with time, they are also prone to breakdowns. So, are treadmill warranties worth it?
I think a treadmill warranty is a must-have, like any other machine. Let's consider the pros & cons of a treadmill warranty.
Pros:
Save money on repairs or replacements
Have peace of mind and a reliable machine
Afford a better model with more features
Cons:
Pay more upfront for the warranty
Besides, warranties do answer a lot of questions, like
What is the best brand for treadmills?
what is the most reliable treadmill?
what are good treadmill brands?
what is a good quality treadmill?
A company confident about its brand can only offer a long-term maximum warranty on its product.
So it is essential to consider the brand and model quality and reliability along with the cost and duration of warranty vs. potential repairs or replacements. Also, the terms and conditions of warranty coverage and the claim process are equally important.
Treadmills with the best warranties usually have the best customer service.
So we researched the market for treadmills with the best warranty and having at least 3 HP motors. Treadmills with 3 HP motors are the highest-selling in the running segment. Knowing how long one should run on a treadmill is very important. Similarly, we selected another list of treadmills with a lifetime warranty and 4 HP motors.
Comparison Table – Treadmills with Best Warranty
| Brand | Lifetime | Motor (Yrs) | Parts (Yrs) | Labor (Yrs) |
| --- | --- | --- | --- | --- |
| Precor TRM 425 | Frame & Motor | – | 10/3 on Console | 1 |
| Sole F80 | Frame & Motor | – | 3 | 1 |
| Sole F65 | Frame & Motor | – | 2 | 1 |
| Sole F63 | Frame & Motor | – | 2 | 1 |
| Horizon 7.4 AT | Frame & Motor | – | 5 | 2 |
| Horizon 7.0 AT | Frame & Motor | – | 3 | 1 |
| 3g Cardio | Frame & Motor | – | 5 | 1 |
| True Fitness M30 | Frame | 30 | 5 | 1 |
| Life Fitness Run CX | Frame | 10 | 7/3 on Console | 1 |
Treadmill warranties are in 3 to 5 different parts. While a frame warranty varies from a year to a lifetime, the labor warranties are usually one-year. Various other parts have different warranties depending on the manufacturer's confidence in his product.
People prefer treadmills with lifetime warranties as it could save them a lot of money. Considering all this, we have summoned up the top 10 treadmills with lifetime warranties and 3 HP motors.
Best Treadmills with Lifetime Warranty & at least a 3 HP Motor
With ten years on parts, Precor does have the best treadmill warranty in this category.
Precor is the leading commercial-quality residential treadmills brand with the best warranty in the 3 HP motor category. TRM 425 of Precor is a non-folding base model of the precision series, which is simple as it doesn't offer any entertainment options.
This treadmill is designed with a unique stride support system called Integrated Foot Plant Technology that reduces stress on the body joints by adjusting the speed of the belt.
It is also infused with Ground Effects shock absorption technology, which delivers comfort and stability by providing perfect cushioning.
The Precor TRM 425 treadmill is designed with a maintenance-free dry silicone lubrication system that delivers durability.
It is the only treadmill in this category with a 2% decline in addition to the 15% incline giving it an edge for good interval training.
Another exciting feature of the Precor TRM 425 treadmill is its reversible deck, which makes the machine belt highly durable without requiring necessary maintenance.
In addition, the warranty section of the treadmill is a bit special. It comes with a lifetime warranty on the frame and motor and a remarkable 10 years on parts, usually 5 years on other treadmills.
The Precor TRM 425 Precision treadmill has a simple console with a 5" LCD and 9 built-in programs to motivate users. It has 13 exercise metrics and two user profiles.
This variant includes a Polar-compatible chest strap transmitter and touch and wireless heart rate monitoring. The console's SmartRateTM Zone heart rate monitoring tool lets users see how their workout zone matches their weight loss, fat burning, etc., goals.
On top of that, 3 years on the console and one year of labor. This warranty shows that Precor has complete confidence in its treadmill.
Benefits
Amazing warranty
Ergonomic design
Heart rate monitoring
Decline feature
Wider running surface
Detriments
Expensive
Entertainment options are not available.
The length of the running area is less for tall runners 6′ and above.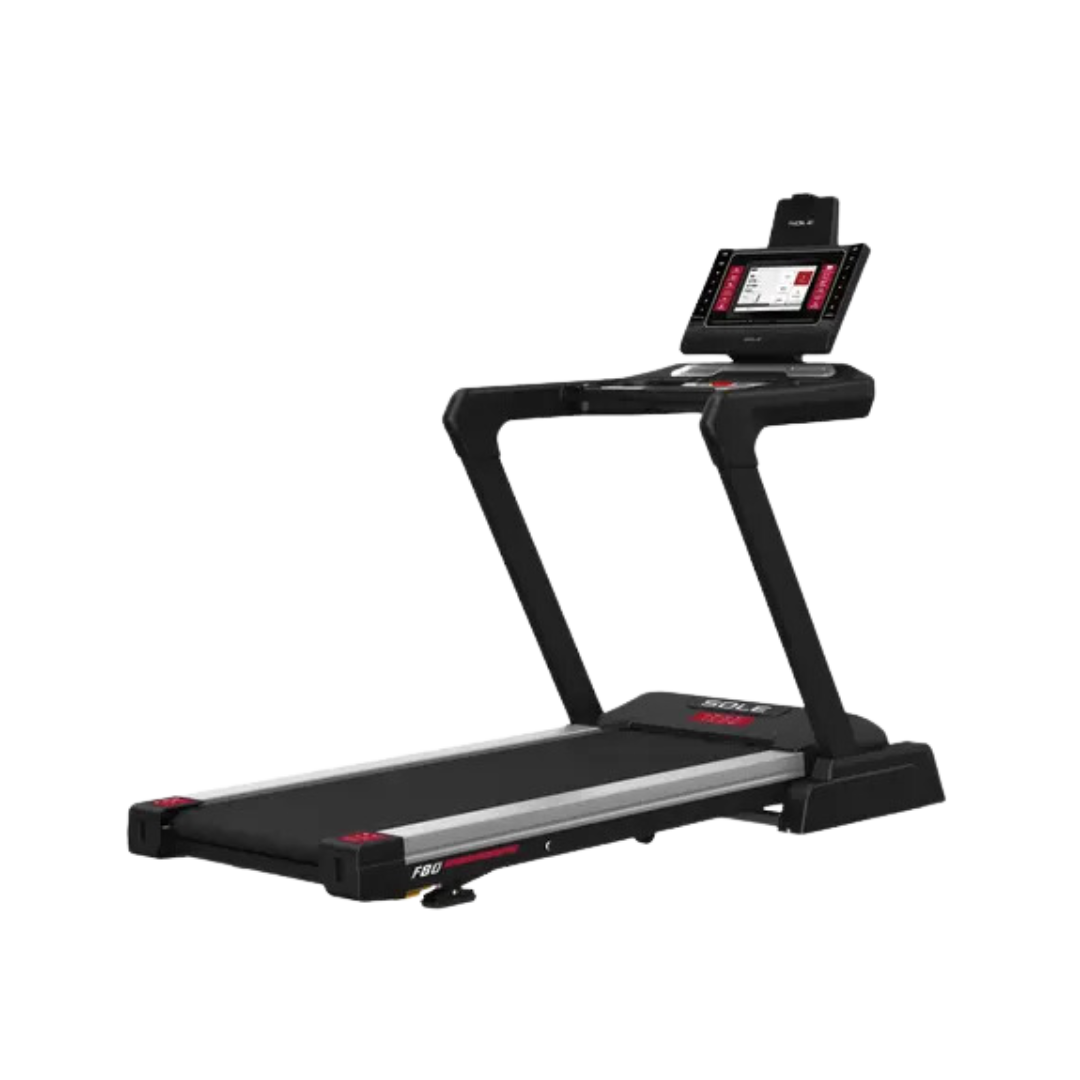 If you talk about its frame, Sole F80 is built to last for years while offering the user a comfortable ride and extensive weight capacity. The F80 treadmill offers an industry-leading aluminum frame with a new Z-shape design.
It has a roomy 22 by 60-inch deck, which is highly comfortable for larger users. Its top-of-the-line cushioning system is designed to take stress off the joints.
It's an easy-to-fold machine that automatically gets folded with just a flip and has four wheels for moving it. The treadmill console is easy to use! The large 10.1″ touchscreen display makes saving your user profile, tracking your progress, and customizing your settings simple.
The display shows heart rate via the integrated Sole chest strap via Bluetooth. As chest strap heart rates are the most accurate, this is nice. For convenience, handrails have heart rate EKG monitors too.
Furthermore, Sole has ten preset workout programs that motivate you to reach your fitness goals quickly. Manual, Hill, Fat Burn, Cardio, Strength, HIIT, 5K, 10K, Custom, HRC, and Fitness Test (Air Force/Army/Coast Guard/Gerkin/PEB/Marine Corps/Navy). It also has a good range of speed and incline settings to perform fast sprints, slow uphill climbs, and many more workouts.
Benefits
Four transport wheels make shifting easier.
Onboard workout modes, screen mirroring, and streaming from apps like Netflix, Youtube, and Hulu.
Excels in noise management
5 yrs extended warranty for $ 139.
Detriments
Cushioning is not as soft.
The fan has a single setting only.
The Sole F65 treadmill is the perfect machine both for walking and jogging. Its powerful 3 HP motor supports inclines up to 15 levels with a speed of 12 mph.
It has ten workout programs packed into a 9″ LCD (White Backlit) that can be displayed on the user's mobile devices.
The console displays accurate real-time HR measurements. Handrails have EKG sensors for convenience.
The F65 has a compact design that can be easily folded by flipping a switch. Moreover, the track of the Sole F65 is thick with a two-ply belt paired with 2.36″ rollers to offer quiet operation.
It has CushionFlex Whisper Deck, making it easier on your ankles, knees, and hips. Furthermore, it is also integrated with a tablet holder, USB charging port, Bluetooth audio speakers, cooling fans, water bottle holders, etc.
Benefits
Widest deck in its price category
Simple LCD Panel. No subscription is needed to run onboard programs.
A USB port is built into the console's tablet holder.
5 Year extended warranty by paying $ 109.
Detriments
The motor is small for serious running.
Less cushioning.
Preset buttons skip two-by-two.
The Sole F63 is another great treadmill for walkers and joggers for around $1000. It weighs 267 lbs and easily supports weights up to 325 lbs, which is significantly higher in this price range.
The Sole F63 treadmill has a solid, sturdy frame for longer stability. The 1-ply belt of the treadmill is highly durable and textured for added foot comfort while walking.
Bluetooth lets you connect your phone and play music on the treadmill. The console has an adjustable phone or tablet holder.
Another F63 perk is the EKG pulse grips on the handles to check the heart rate on the screen.
It has a white, backlit 6.5-inch LCD displaying large digital numbers.
Sole F63 has ten pre-set programs: manual, hill, fat burn, cardio, strength, and HIIT. Two heart rate regimens target 60% and 80% max. There are two user profiles.
The F63 has hydraulics to unfold the deck slowly and four wheels to roll and slide it.
Benefits
Very sturdy frame.
Gentle cushioning
Quiet motor
Detriments
Not best for heavy training
Fewer tech options
Not an effective fan.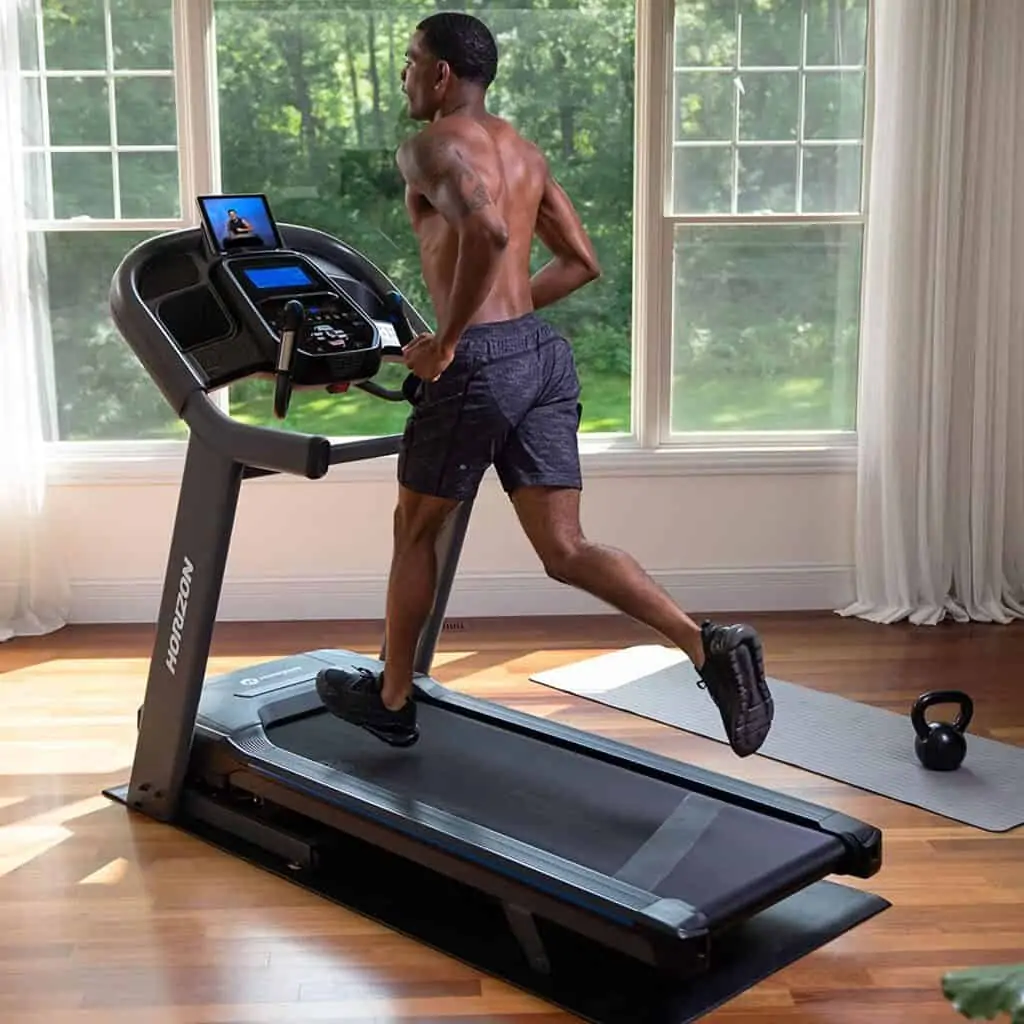 The Horizon 7.4 AT is a mid-level treadmill with advanced features you will not find in any other mid-level machine. However, one of the most outstanding features of this treadmill is that it is integrated with a wide range of online training programs.
The 3-zone cushioning system infused in the treadmill offers a cushioned foot strike, a supportive mid zone, and a solid toe-off.
Additionally, the Ortho-Lite belt design of the machine reduces strain on joints. Horizon offers a Sprint 8 program that is preloaded to target HIIT training. However, it doesn't have a touchscreen but is accommodated with a tablet shelf so that you can use your device.
Another amazing feature of this treadmill is the roll dial controls, which are only found in higher-priced treadmills. This dial-up enables the user to turn on and off any feature quickly.
Bluetooth Audio lets you connect your phone to the treadmill to play music or podcasts. Horizon 7.4 has a heart rate chest strap for tracking and training.
Benefits
Features blue QuickDials that roll up or down to change speed and incline instantly.
Compatible 3rd party apps
3-Zone Variable cushioning allows long runs.
350-pound capacity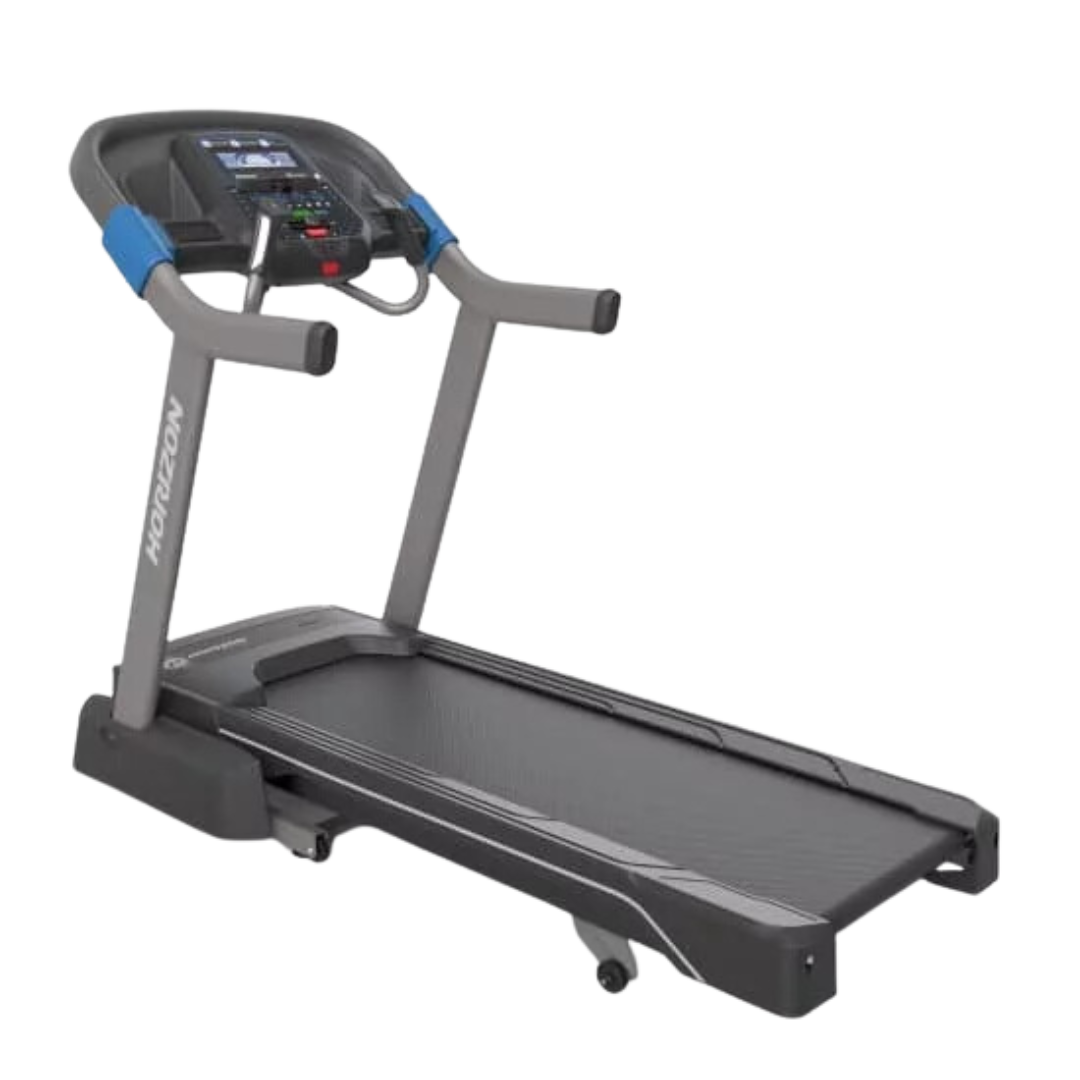 The Horizon 7.0 AT is a budget-friendly option for cost-conscious runners who need equipment to improve their performance.
The Horizon 7.0 AT comes with seven pre-programmed training options. But the main selling point of this treadmill is its compatibility with third-party apps. Also, the 3-zone variable response cushioning reduces the impact of the foot strike by about 30%, which is a clear plus.
The console has a 7.25″ LCD screen and four LED windows beneath it. These displays are bright and easy to read regarding visibility, and the metrics displayed are calories, distance, heart rate, incline, speed, and time.
It has various workout programs like 5k, calorie, custom, distance, fat burn, hill climb, manual, and target heart rate. It also connects Bluetooth to Peloton, Zwift, Studio, and other fitness apps. There are Bluetooth speakers to play music from your device through the speakers
Benefits
Compatible with 3rd party apps
Featured with QuickDials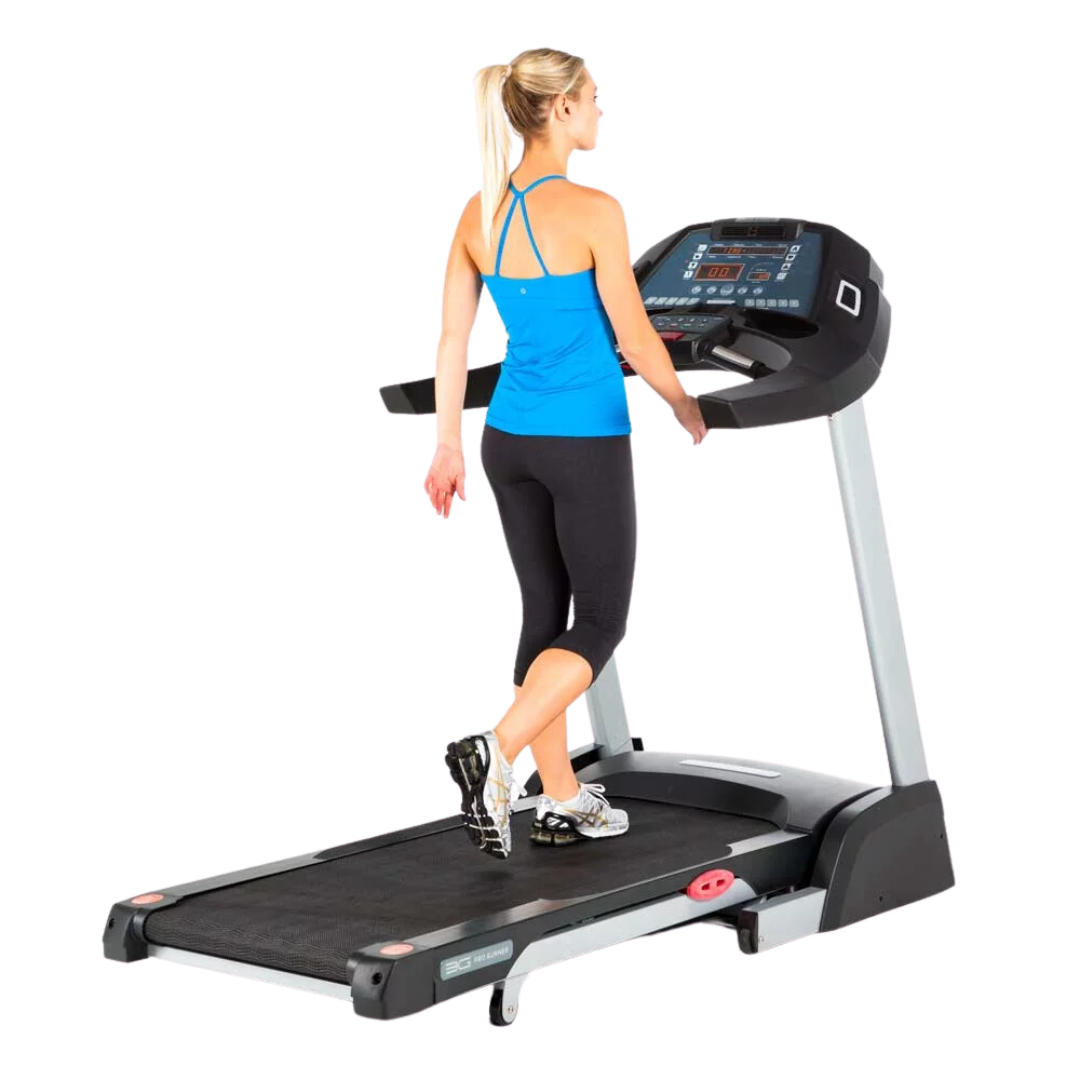 The 3G Cardio Pro Runner is another reliable treadmill equipped with the Ortho Flex Shock Suspension System to offer maximum comfort to the user.
It has an orthopedic running belt with 2″ rollers to comfort the user during workouts.
3G Cardio Pro Runner has 3 screens for heart rate and distance and a third for displaying workout data like speed, distance, calories expended, etc.
The console of this model comes with two water bottle holders, a multi-speed cooling fan, a heart rate tracker, and many more. Also, this treadmill features eight built-in workout programs, three fitness test programs, and two custom programs.
3G Cardio Pro Runner treadmill can be easily folded for storage. One Touch Controls make this model highly impressive because they allow the user to change incline and speed with the touch of a button.
Benefits
Orthopedic belt to make the training experience enjoyable
Wide range of built-in programs
It has a contact grip and a wireless chest strap
The Motivation Series treadmill from True Fitness, the M30, is made for home gyms. It comes with a strong motor of 3.0 HP that fully supports a speed of 12 mph. The sturdy frame of the True Fitness M30 treadmill weighs around 220 pounds and can support a weight of 300 pounds.
This treadmill is equipped with a long and cushioned track, which is best for all runners.
The M30 has seven pre-set programs: speed training, heart rate control, and climbing hills. Two custom-made treadmill routines can also be saved.
The 7″ backlit console panel displays time, distance, calories, and pulse. The Quick Speed and Incline buttons simplify programming. Water bottle holders and reading racks are also included.
There are grip heart rate sensors. Wireless pulse monitoring with the True M30 is more accurate and convenient, but the chest strap is offered separately.
The treadmill tracksuits all runners except those above 6′. The back of the track is stiffer for pushing off, and the front padding reduces landing shock.
It does have wheels to move if needed.No folding option
Benefits
Home treadmills of commercial quality.
The orthopedically cushioning provides a stronger push-off.
LCD consoles offer inbuilt workouts without a subscription.
Excellent for running and intense use.
Detriments
No folding option.
Expensive.
Are you looking for a treadmill that benefits your whole family? If yes, try the Life Fitness Runner CX, one of the affordable treadmills by Life Fitness.
This treadmill is large and doesn't fold, but it has two front wheels for transport. Bluetooth-compatible, the Run CX syncs to the Life Fitness app for on-demand classes and speed/time/distance tracking. Apple Health, Strava, and Zwift are also compatible.
The console has a tablet holder and a data screen. Life Fitness' "Track Connect" touchscreen is simple to use. View the time, heart rate, and calories burned, and adjust inclination and speed with a finger.
The Run CX can accommodate all body types with its 400-pound weight limit. The Run CX treadmill is one of the most durable treadmills.
This treadmill has 15 preset programs and is perfect for a quick start. The Run CX has 12 configurable programs for creating different workouts. HIIT interval training one day, steady state running the next. This treadmill lets you save all those fitness plans and more.
Benefits
Strong commercial-grade frame.
Bluetooth-compatible deck
Includes a huge device holder.
Flex deck shock absorption reduces joint stress.
15 preset and 12 personalized exercises
You can connect to Zwift, Apple Health, Strava, and FitBit, as well as the Life Fitness app.
Detriments
The motor's 10-year warranty is short.
Expensive.
The bottom line
These are some superlative treadmills with a lifetime and powerful warranty. So, if you plan to buy the best treadmill with a lifetime warranty and a powerful and quiet motor, choose from the above list.