Is whey protein isolate good for you?
Whey is a complete source of protein compared to any other source of vegetable proteins or any protein from animals and there are three types of whey. That is why Whey protein is the most common form of protein powder. As all requirements of amino acids can be completed through whey it is called a complete protein.If you are doing resistance training then your protein requirements increase.
The best alternative, your diet of protein-rich foods should be able to suffice your requirements. But when increases in protein requirement have to be supplemented then you have to be aware of your lactose tolerance. 60% of the world's adults are lactose intolerant. These adults prefer Whey protein isolate or some other plant-based protein.
Based on processing techniques protein is divided into three forms of whey: Hydrolysate, Concentrate, and Isolate. Their processing steps and purifying process differentiate the three. Each form of Whey has its own properties, advantages, and drawbacks. Whey protein isolate is a type of whey protein refined to extract much of the fats and carbohydrates. (source: Wikipedia) This product is relatively new to the dietary supplements industry.
By the method of isolating protein from whey, the whey protein isolate is prepared. It contains 90 percent protein content and is a healthy source of one of the anabolic essential amino acids, leucine. By filtering or centrifuging the liquid that is leftover from cheese making, whey isolate is made.
Isolate is a type of protein that is used in muscle building and muscle fiber development. Protein intakes in this form are favored by bodybuilders since this high-quality protein is the purest form. It is used around the world by runners, bodybuilders, weight lifters, and other exercise enthusiasts. Some health enthusiasts say their performance during workouts is also better by consuming Whey Protein Isolate though I personally don't feel so.
What is the side effect of whey protein isolate?
Whey protein isolate is a protein from milk that is refined to extract lactose content and fat. Milk protein is called a complete protein because it contains all the necessary muscle-building amino acids. Isolate is a more processed form that can lack any of the other normal milk nutrients.Although it is usually thought to be healthy for your health to increase protein consumption, eating so much whey protein can contribute to some unexpected side effects. To read more about side effects, please check out the following detailed article about whey.
https://www.myactivetribe.com/protein-digestion-101-too-much-proteins/
Whey Protein Isolate vs Concentrate
The difference between Whey Concentrate and Isolate is that of lactose levels. Whey Protein Concentrate has high levels of lactose i.e., 3 to 3.5%. Processing of Whey Concentrate by further filtering processes leads to Isolate.
Looking at nutritional differences Concentrate has more carbs, fats, and certain vitamins and minerals. Isolate has almost nil Carbs, Fats, and any other minerals and vitamins.
So the key factor i.e. protein quantity is about 90% in Isolate whereas it is a maximum of 80% in concentrate. To increase your daily protein intake you can either have Isolate or increase your concentrate intake.
There are not many positive effects of this except for the weight loss industry. In terms of health benefits, there are more calories in concentrate and less in isolate. As it is digested faster than Concentrate the food cravings are also decreased
Most of the health enthusiasts who do whey protein supplementation prefer concentrate as it is less expensive.
Fake or Spurious Products
Due to its beneficial effects, though it is expensive, it is very popular among fitness enthusiasts. Due to the high demand and huge margins available in manufacturing spurious products, a lot of those products are available in the market. This is prevalent in the food industry in spite of the fact that spurious food products are a potential risk to the consumer's health.
Be very cautious and alert when buying one. Fakes can easily be recognized if we look closely. The packaging can never match the original product. To counter this, their manufacturing date is also very old, usually close to expiry. This is to explain to the consumer that the packaging looks old as it actually is old. So more discount is also offered on it. Companies also have various ways to authenticate the product.
The best way is to check with the retailer how he can prove that the product is original. He knows how to prove if it is original. For online purchases buy from a reputed retailer who is concerned about his reputation and check the product packaging before opening it. Send it back to the retailer if you are unsure. I even emailed the packaging image of a Muscletech Product to the manufacturer in Canada. They replied within 24 hours that it is genuine.
Hydrolysed Whey Protein Isolate
Whey Protein Hydrolysate is whey protein isolate powder in pre-digested form. By further processing whey protein, by heating it or treating it to acids or enzymes, whey protein hydrolysate is formed. It has the smallest chain of amino acids.
It is usually prescribed to patients who have protein digestibility problems. It is said to give the fastest recovery from intense workouts and does the fastest muscle protein synthesis.
As it is treated to such an extent sometimes consuming it is not considered so healthy as there is no other nutrient in it except protein. This can create an imbalance of nutrients in the body. It is much more costly as compared to the other two types of protein.
Grass-Fed Whey Protein Isolate
This is one of the sources of protein. It is important to understand this protein in relation to Whey Protein Isolate. Grass-fed whey protein as the name suggests is obtained from grass-fed cow's milk only.
Such cows are raised only on grass feeds. But this is not regulated by FDA so it is difficult to assume that it is entirely true.
The difference in the product is in terms of fat. Grass-fed cow's milk contains more healthy fats and vitamins like A & E along with glutathione. Specifically, it contains Omega-3 fatty acids. There is little or no increase in protein value or decrease in carbohydrates in the grass-fed cow's milk. Nor is there any increase in its Amino acid score.
Now the interesting part is that during the processing of Protein Isolate mostly all carbs and fats are removed. So the healthy part or all the nutritional benefits of grass-fed cow's milk is actually removed before serving it to you.
Best Whey Protein Isolate in India
You can complete your protein intake goals with the following brands of Best Whey Protein Isolates. Perfect to give you a toned body if consumed along with proper and regular workouts. It can be difficult to say, which is the best of all these, given all the possibilities out there. That's why we have assembled this list of the top 10 labels.
As Isolate requires a different more efficient filtering process the prices are higher compared to most concentrates and blended powders.
Being premium protein powders all have good to excellent mixability.
Each of these is available in numerous flavors but more than 50% of them are usually out of stock.
ON Platinum Hydrowhey Protein Powder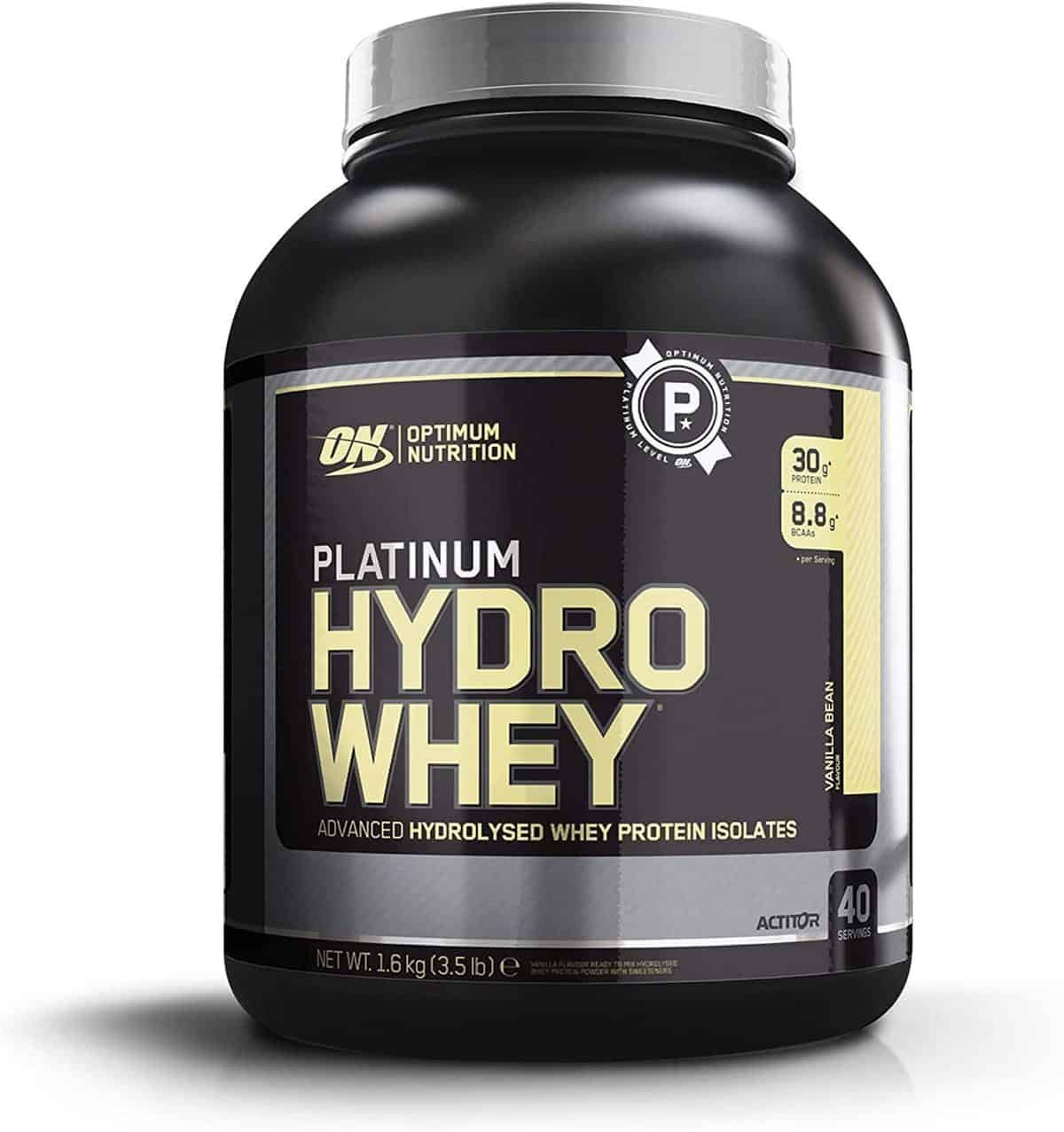 Scoop Size – 39gm
Energy – 140 Calories
Protein 30 gm
Fat 1 gm
Carbs – 3 gm
Sodium – 170 mg
BCAA – 8.8 gm
ON is recognized the world over as a very quality conscious company not compromising on any product quality at all. Best quality whey protein undergoes advanced purifying processes where in a part of it is hydrolyzed as well to form the best whey isolate that is most liked in the world. About 88% pure protein/serving though if we check calories, 86% calories are from protein. It is Gluten-free and tested for a banned substance as well. It has an artificial flavoring substance called acesulfame potassium.
Price – It is expensive no doubt but considering its quality most people still consider it value for money.
Flavors – ON protein powders are available in 20 different flavors but availability of a particular flavor or an SKU is always a chance. My favorite is Double rich chocolate which is mostly available.
Ultimate Nutrition ISO Sensation 93 Isolate
Scoop Size – 33gm
Energy – 130 Calories
Protein – 30 gm
Fat – 0.0 gm
Carbs – 1 gm
Sodium – 50 mg
Ultimate Nutrition ISO Sensation 93 is a protein powder that has a pure composition of whey isolate. Its 93% calories are from protein due to which is called almost only protein. It's a wonderful product which was clearly built with the wellbeing and taste of the customer in mind. It also has various.
Price – If you calculate the per gm protein price that you get it is actually very inexpensive
Flavors – It has seven different flavours. My favorite is Chocolate fudge which is almost like Double chocolate of ON Gold 100%
Dymatize ISO 100% Whey Protein Isolate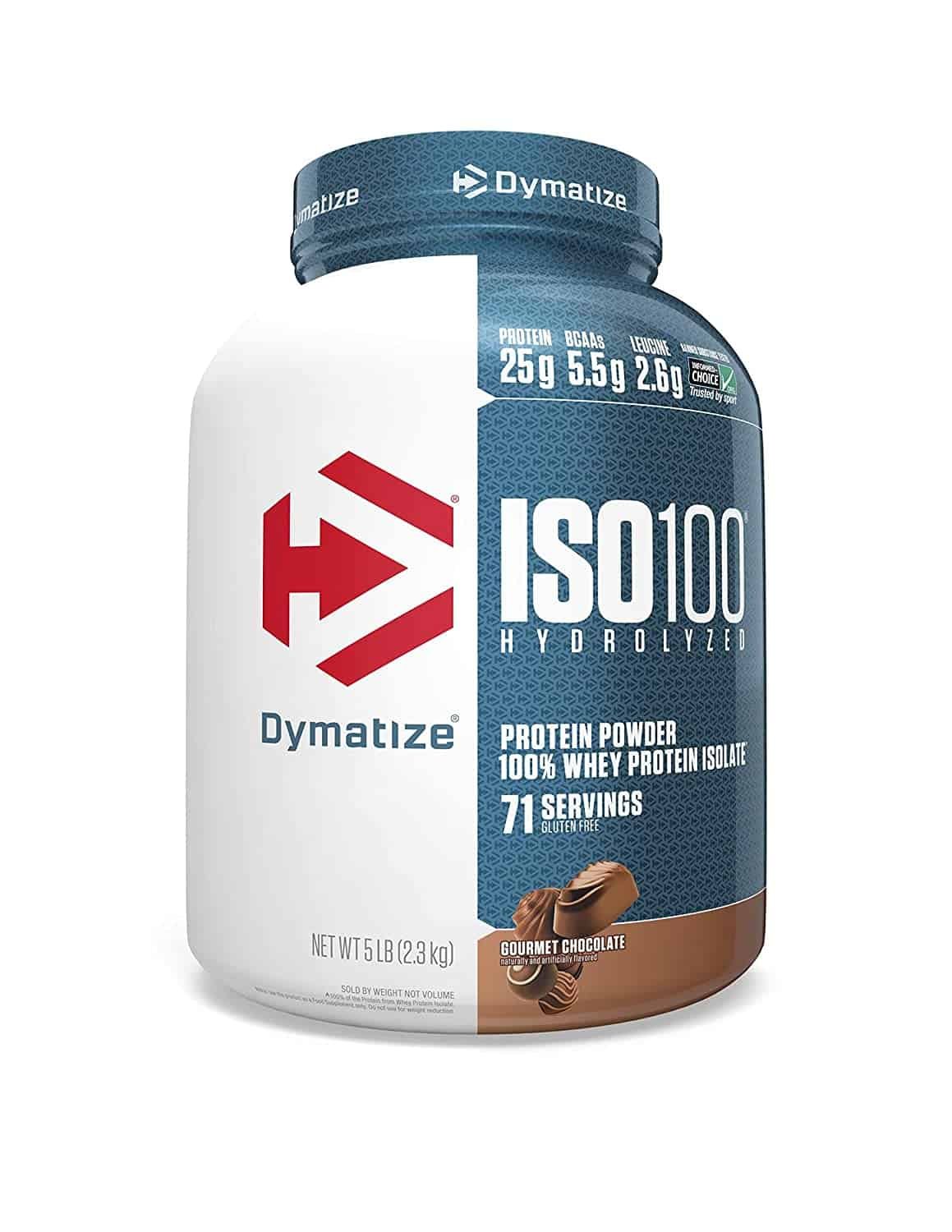 Scoop Size – 32gm
Energy – 120 Calories
Protein 25 gm
Fat- 0.5 gm
Carbs – 2 gm
Sodium – 160 mg
BCAA – 5.5 gm
Dymatize Nutrition Elite 100 percent is a product of Dymatize Nutrition, an organization that has been in operation since 1987.
Yeah, Dymatize whey protein isolate could be the finest you could buy for the bulging muscles you love, one of the best whey protein products with a consistency like no other.
Price – Due to its high pricing, we have put it in the third position. It offers only 78% protein in a 32 gm scoop which is only 83% in calories.
Flavors – It comes in 12 different flavors though all are rarely available. My favorite is Gourmet Chocolate
This product contains everything you'll hear about in any recommendations about protein powder, making it one of the best quality protein powders currently on the market. It is an ultra-premium whey isolate powder and has an ultra-fast absorption composition.
NutraBio 100% Whey Protein Isolate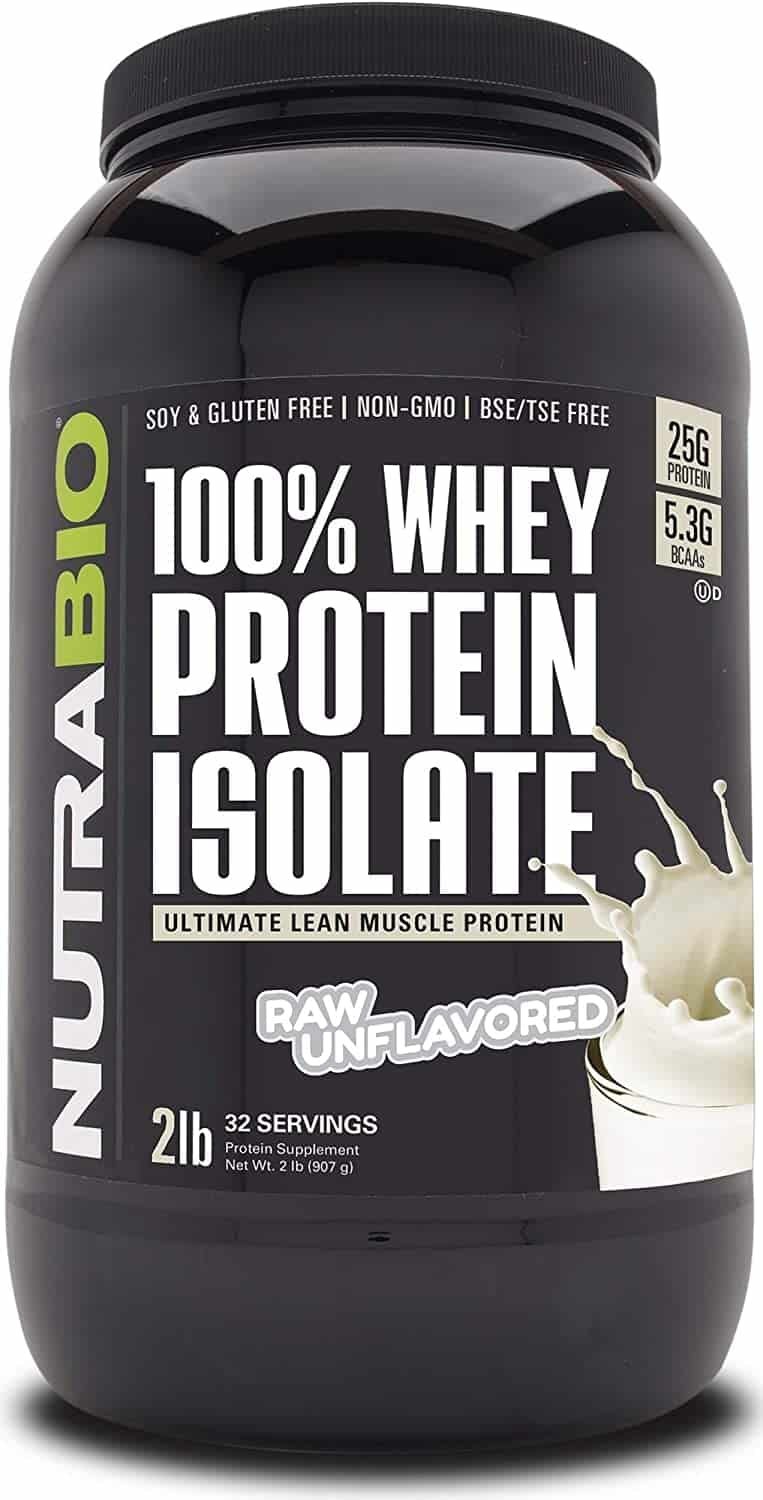 Scoop Size – 29.76gm
Energy – 110 Calories
Protein 25 gm
Carbs – 1gm
Sodium – 96 mg
BCAA – 5.3 gm
NutraBio as a company is very highly regarded for its quality products. Nutrabio 100% Whey Protein Isolate is also one of their finest. Being an isolate is fast-acting for repair and recovery. It has zero Soy, gluten, or hormones. By weight, it has 84% protein in it which is 91% in terms of calories
Price – It is expensive as compared to others as the company feels they provide the purest form of protein.
Flavors – It comes in 11 different flavors though I have never seen more than six.
Muscle Feast Whey Protein Isolate
Scoop Size – 24gm
Energy – 88 Calories
Protein – 20.5 gm
Carbs – 0.2 gm
Sodium – 41 mg
BCAA – 6 gm
This is a pasture-raised, grass-fed protein. It does not contain Soy, Gluten, added sugars, artificial colors, artificial flavors, or sweeteners. It has 85% protein in it. It has zero fats and almost zero carbs and is a certified vegetarian product by American Vegetarian Association.
Price – Being pasture-raised and grass-fed protein it is expensive comparatively.
Flavors – It is available in 6 flavors and an unflavored variant is also available.
BSN SYNTHA-6 Isolate Whey Protein Powder
Scoop Size – 38gm
Energy – 140 Calories
Protein – 25 gm
Fat- 1.5 gm
Carbs – 7 gm
Sodium – 160 mg
BSN SYNTHA-6 Isolate Whey Protein Powder is an innovative protein powder produced by BSN, which has been a market pioneer for decades. This is not a complete isolate of whey protein, but a 50/50 mixture of isolates of both whey and milk protein. This offers both rapid and slow-release protein sources for your body, making it a perfect choice for a supplement for post-workout recovery.
Compared to other Isolates it has a high proportion of Carbs & fats in it. It has only 66% proteins in it which is 71% in terms of calories.
Price – Due to it unique formulation the company has kept the prices at a premium.
Flavors – There are various flavors in it but mostly out of stock.
Isopure Zero Carb 100% Whey Isolate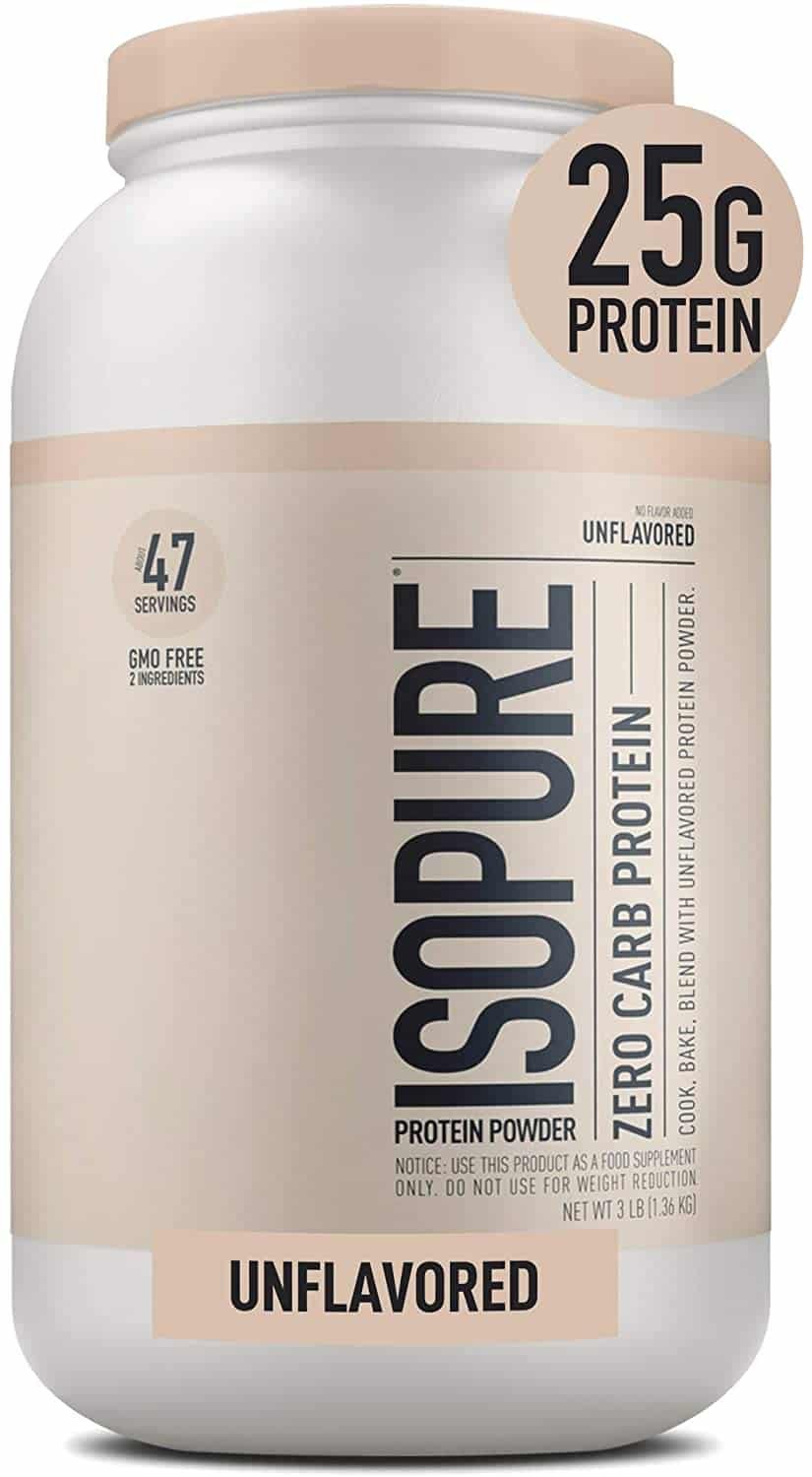 Scoop Size – 20gm
Energy – 100 Calories
Protein – 25 gm
Fat- 0 gm
Carbs – 0 gm
Sodium – 160 mg
A common whey protein supplement is Isopure Zero Carb 100 percent. It's manufactured by Nature's Finest, a major protein supplement maker. The powder is a complete extract with virtually no fats or carbohydrates.
It does not contain any chemical sweeteners, colours, or spices. It's lactose-free and gluten-free. It has 86% protein per scoop which is 100% protein calories only.
Price – As it is flavorless the price is less compared to several others.
Flavors – This one does not have any flavor.
Now whey protein isolate
Scoop Size – 33gm
Energy – 120 Calories
Protein – 25 gm
Fat- 0.5 gm
Carbs – 2 gm
BCAA – 5.5 gm
Now is another brand of isolate which is fast-digesting, inexpensive, and with 5 flavors and one unflavored varient. Its main claim to fame is its price.
Every scoop has 75% protein which is 83% in calories.
Muscletech Performance Series Whey Isolate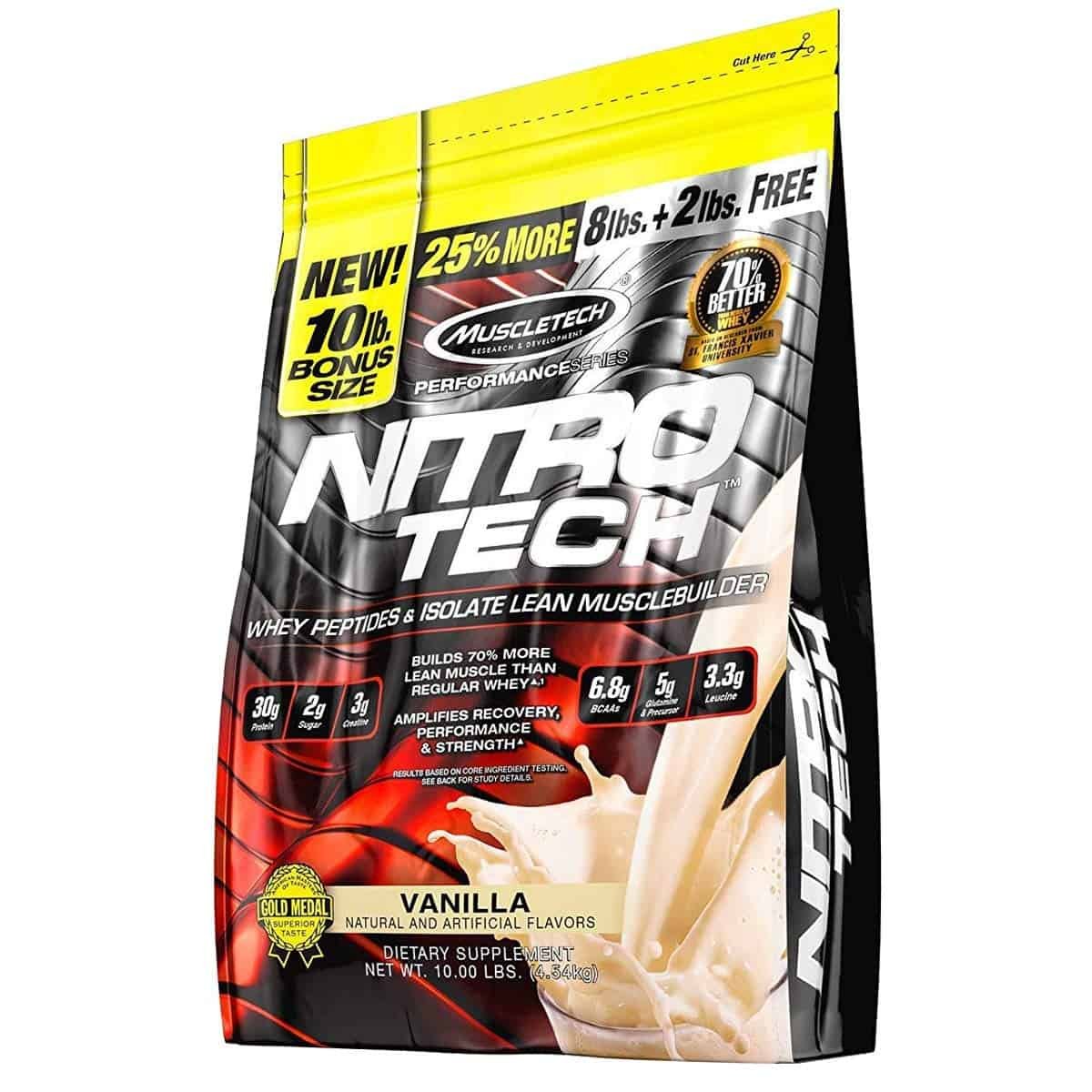 Scoop Size – 46 gm
Energy – 160 Calories
Protein – 30 gm
Fat- 3 gm
Carbs – 4 gm
Sodium – 140 mg
BCAA – 6.8 gm
A unique blend of whey protein is Muscletech's new Nitrotech powder. It is not really a whey powder that is concentrated, isolated, or hydrolyzed. Instead, it's a blend of three distinct whey protein forms, and it's been processed to speed up the vitamin absorption it provides to your muscles. To help intense work and fast regeneration, Nitrotech is engineered to provide the fuel your body requires. Proteins are only 65% in one scoop which is 75% of calories. Rest of the calories are from Carbs and Fats.
It contains peptides in whey protein, which are amino acid chains that have been broken down into small parts that are more readily ingested. To eliminate still more calories, it is a low-fat whey protein that has been further broken down. This powder also involves hydrolysate of whey protein.
Price – It is not in the ultra-premium category and you can get this one at a good discount.
Flavors – This also comes in various flavors but my favorite is milk chocolate.
Kaged Muscle Micropure Whey Protein Isolate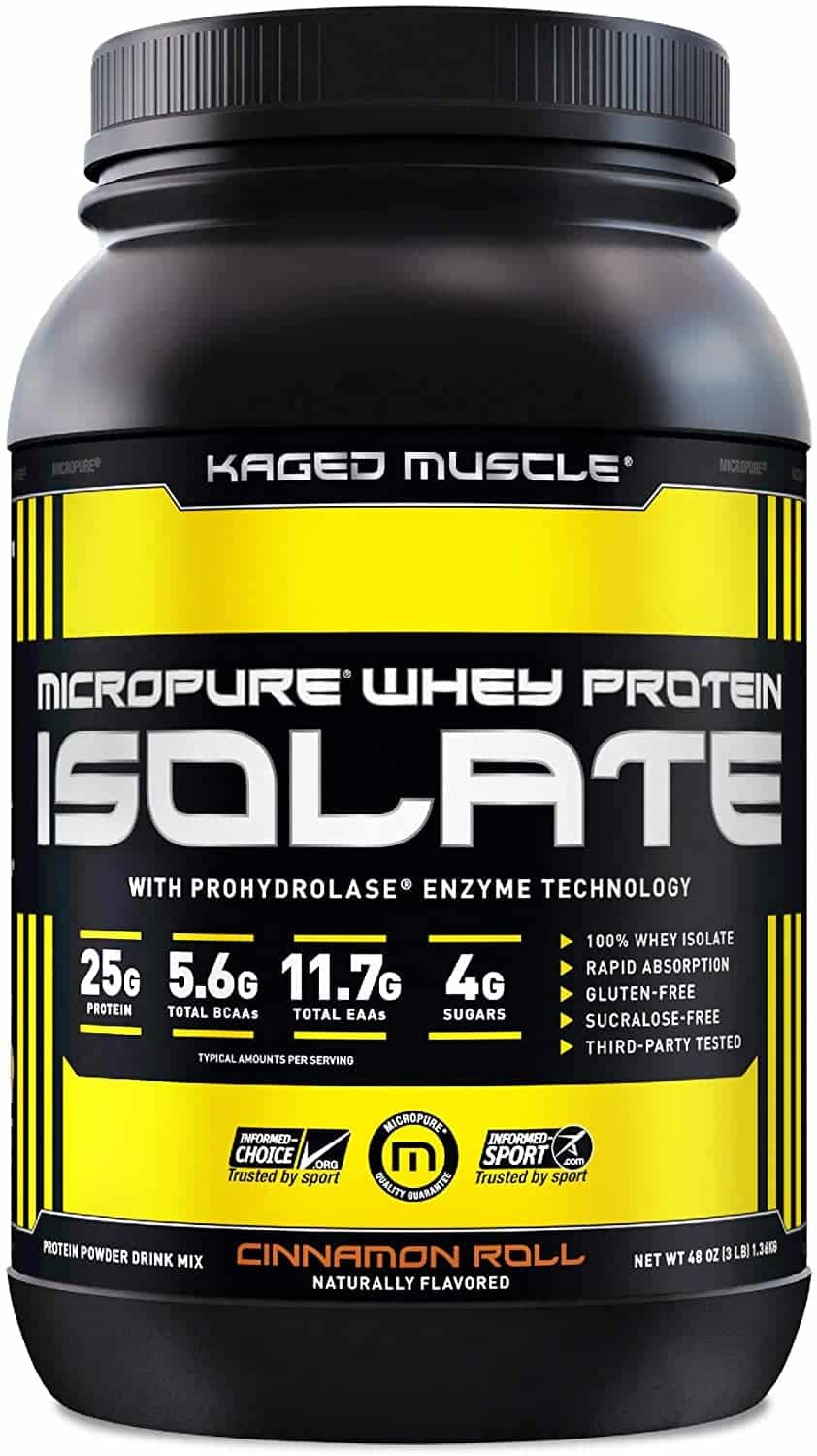 Scoop Size – 34.3gm
Energy – 130 Calories
Protein – 25 gm
Fat- 1 gm
Carbs – 6 gm
BCAA – 5.5 gm
The company calls its product a new generation of Whey protein isolate as it is pure, clean & the fastest digestion. There is no addition of Concentrate and no protein blends in it. Due to added digestive enzymes, the digestion is fast.
But there is 6 gm of Carbs due to which the protein per scoop is only 73%, i.e., only 77% of calories.
Price: It is in the average Isolate price bracket.
Flavor: It has seven flavors, but generally, one or two are only available.
Reviews
Please also check reviews of the product that you plan to buy. All most all products will have good as well as bad reviews. But if the good reviews are more. Check the date of reviews. If the reviews are old, check a couple of more sites for the latest reviews. Some companies will add reviews by their customers in other countries where it might by supplying a similar but a slightly different product. Buy the product which has your country reviews as sometimes the product specifications also differ from country to country.
Conclusion
There are companies that don't give complete information on the packaging. They will give only the information deemed mandatory by the government. Then there are others who will not respond whether the product we purchased is original or spurious. That is irresponsible behaviour towards the consumer.
Though I keep changing and checking my protein powder, my favourite is still the Optimum Nutrition Platinum Hydrowhey Protein Powder. It has unbeatable quality and taste. The company is very open about the product it offers and you can get complete information on the packaging. You get immediate replies to any queries raised.