Whether you enjoy jogging while watching TV or need an indoor alternative for rainy or chilly days, a treadmill is a simple way to keep active and healthy. There are various brands and styles of treadmills available, but the Bowflex T10 is the most reliable.
A good treadmill is the best method to reduce weight, enhance cardio, and stay active at home. But wait! Keep that bulky treadmill in the basement gathering dust. Modern exercise equipment can help you improve your training regimen. An amusing workout companion.
Then, Bowflex is a well-known fitness company known for manufacturing high-quality training equipment. This detailed guide will help you determine if the Bowflex T10 is worth purchasing.
Read on to know more!
What do you need to know about the latest Bowflex T10?
Bowflex has long been a significant company in the treadmill industry. Nonetheless, they have continuously failed in the past of the number one spot as new technology, fitness routines, and brand names have emerged. For a long time, NordicTrack and Peloton appeared to be on the top of their respective categories—until now.
The T10 was released in the first part of 2021 by Bowflex, and it has since been the finest thing to happen to the treadmill runner business. Low sales owing to unviable pricing, technology, functionality, and quality caused the discontinuation of the BXT116 and BX216.
The Bowflex T10's main selling points are its extensive incline/decline and JRNY. The T10's creators understand that treadmill users want to simulate jogging outside.
Let's dig deeper into the best Bowflex!
Related Readings

Why become a fan of the Sole TT8 Treadmill? Best Review 2022
Heavy Duty Treadmill for Sincere Runners: 9 Best- All 4HP
Who Is The Bowflex T10 Treadmill For?
The BowflexTreadmill 10 is ideal for those who:
Are you looking for a treadmill that has a decline and an inclination feature?
Require a foldable treadmill.
Want something with a touchscreen?
Want the entire deck that measures 22″ wide by 60″ long?
Are you seeking a treadmill that has deck cushioning?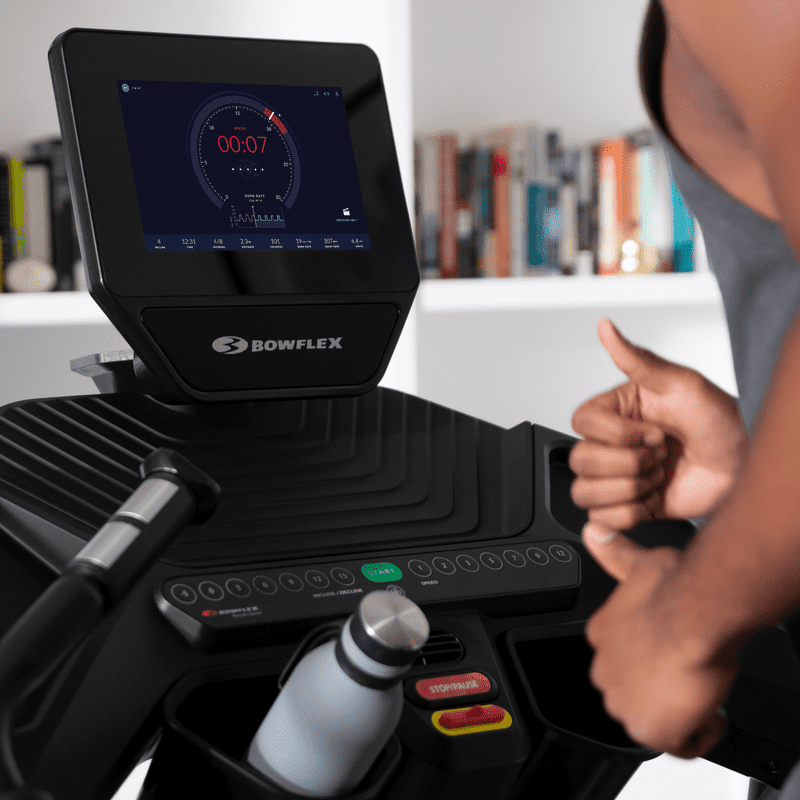 If you have joint or mobility problems but still desire the benefits of walking or light jogging, plan to exercise more aggressively with longer distances or sprint intervals.
Compare the above factors to your requirements to determine whether or not this machine is suitable for you.
What are the pros and cons Bowflex T10 has to offer us?
The key advantages and disadvantages of the Bowflex treadmill 10 are
Advantages
400-pound weight capacity heavy-duty construction
Running surface: 22″ x 60″
A strong 4HP motor
A sophisticated console
Increased connectivity
Softdrop foldable design
Disadvantages
Talking about why the customers dislike it are as follows:
The Console is relatively small (10″).
Extra features require a JRNY membership.
What is Bowflex T10 best for?
Anyways, if you want to understand more about this product, please read the underlying description, which contains all of the features based on your needs and desires.
Before selecting the excellent exercise treadmill, you should read the full review of this treadmill. These components play a vital role in making this treadmill incredibly effective and efficient.
KEY FEATURES OF BOWFLEX T10:
‌Unique Experience
You may use the built-in touchscreen to monitor your fitness level, create daily adaptive workouts that progress with you, and get coaching and feedback to assist you through your routines. To see exercise stats from your smartphone or tablet, download the JRNY app.
Streaming Media Entertainment
While working out, use the touchscreen to access your Netflix, Hulu, Disney+, and Amazon Prime Video accounts. Explore the world and discover 40+ worldwide routes that auto-adjust to your speed in real-time.*
Motivation
Bluetooth® speakers surround you with tunes as the tiny, comfy heart rate bracelet continually monitors heart rate.
Performances
It has a 22″ x 60″ running path, a motorised decline/incline of -5 to 15%, and Comfort TechTM deck cushioning for a gentler landing.
‌MACHINE FEATURES
10″ Console
HD Touchscreen (Wi-Fi Required)
Speeds up to 12 MPH
-5 to 15% Motorised Decline/Incline
Comfort TechTM Deck Cushioning
SoftDropTM Folding System
Accessory Tray
Built-In Media Shelf
Water Bottle Holder
Transport Wheels
‌Top technology used:
JRNYTM Experience
Adaptive Workouts
Virtual Coaching
Trainer-Led Workout
Advanced Metrics Tracking
Entertainment Integration
Bowflex Radio
Bluetooth® Speakers
40+ Global Routes
Smart Devices and Heart Rate Monitors can connect via Bluetooth® (Armband Included)
Countless User Profiles
USB Charging Port
Demo Mode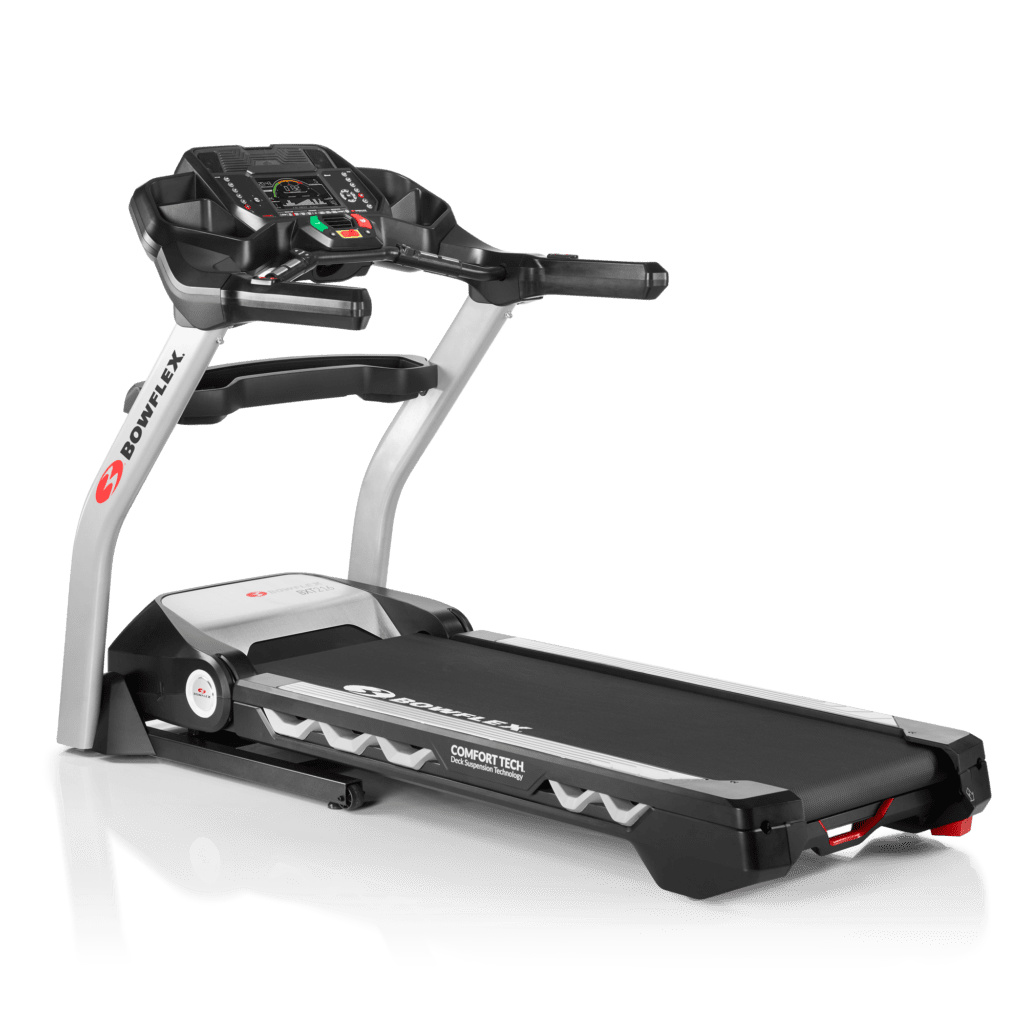 Specifications of the machine
Dimensions: 85″ L x 39.6″ W x 65.3″ H
Touchscreen: 10.1″ (Diagonal)
Capacity: 400 lbs.
Product Weight (Assembled): 323 lbs.
What does the warranty cover?
Every Bowflex T10 offers an exceptional guarantee period that ensures the machine's lifetime protection. The warranties for different sections of the Bowflex treadmill 10 are as follows:
The frame and motor have a 15-year warranty.
Five years for mechanical components.
Labour is warranted for two years.
While electronic parts are warranted for one year.
However, make sure that the damages are not the result of carelessness or a bad machine. Overall, we believe this is a valid warranty. I'd love a lifetime warranty on the frame and motor, but 15 years is very close (would anyone be upset if the motor only lasted 15 years?). Five years on parts is reasonable for this price range, and a year on electronics is very usual. And two years of work is preferable to the one year most companies offer. Overall, it is believed that this is a generous guarantee for the Treadmill 10.
Is the Bowflex T10 Treadmill a good buy?
The Bowflex treadmill 10 is a mid-priced treadmill with some exciting features. Furthermore, like any other piece of training equipment, a treadmill is a long-term investment. Bowflex is well-known for producing high-quality goods that outlast most other brands. As a result, we believe the T10 treadmill is well worth purchasing.
Winding up!
The Treadmill 10 is a feature-rich, modern treadmill. The -5% drop is the most I've seen on the market in this category; generally, they're -3%. It would be an excellent addition to any home gym, garage, or other location where you keep your training equipment. It's something the whole family can do to aid with weight loss or to enhance overall health. The app sets it apart from most treadmills known throughout the evaluation. It elevates the machine to a higher level. We appreciate how it provides you with a fitness evaluation at the start. It is a valuable function for determining your fitness level and providing workouts to help you improve over time.
Thus, the Treadmill 10 is suitable for both novice and experienced treadmill users. It's like the Bowflex Treadmill 10 is an excellent treadmill in every way. Larger than the ordinary treadmill, its technology and performance features much to outperform the competition. No matter whether you work alone or in a group, the Bowflex T10 has all the features you need to succeed.