Tired of mundane workouts on regular treadmills? Experience the benefits of incline and decline treadmills, designed to provide intense workouts, improved muscle activation, and enhanced cardiovascular fitness. Despite their growing popularity, only a few models offer decline features. We've done the research and curated a list of the top 9 incline-decline treadmills to elevate your training sessions, simulating real-world conditions and preparing you for downhill competitions.
Most people nowadays look for treadmills with decline function or negative incline treadmills because they allow them to do intense workouts. These treadmills are the best way to prepare you for tough competitions and offer you a unique experience that normal treadmills don't. Treadmills that decline are usually higher-end treadmills.
Decline treadmill workout routines are gaining popularity due to their ability to target specific muscle groups and enhance cardiovascular fitness. The adjustable incline decline treadmill provides versatility for users, allowing them to switch between uphill and downhill training.
Decline Treadmill Benefits
Decline treadmill benefits for runners include improved downhill running technique and increased muscle activation. Integrating it with your home gym for your fitness routine can help you achieve weight loss goals through targeted treadmill decline exercises.
Impact of Declines on Muscle Groups: Running decline on the treadmill recruits quadriceps muscles. That means running downhill will target different muscles in the body. But experts say that if you are starting, you should start at a level of incline and decline that is comfortable for you.
A Strengthening Boost for Leg Connective Tissues: When the human body runs on the declining level of the treadmill, the connective tissue of the human legs gets strengthened.
Gaining an Edge in Competitions: Decline training is best for individuals who want to win the competition. It means exercising on a declined treadmill will help you to run at a faster speed with less effort.
Better Cardiovascular Endurance: Running downhill allows the human body to strengthen the heart and lungs. That means the heart will work naturally and intensely while running downhill and pump the blood faster, automatically strengthening the lungs. In short, declining exercise on a treadmill improves cardiovascular endurance.
The benefit of Adding Variety: If you add variations to your exercise routine, your body will work hard, and as a result, more calories will be burned every minute. Running downhill also helps folks reach their fitness goals easily compared to traditional machines.
This type of training also prepares athletes for downhill running events by simulating real-world conditions. Negative incline treadmill workouts challenge the body differently, promoting muscle toning and cardiovascular endurance.
But you might be surprised that few treadmills have declining features. When you look at the market for a treadmill that inclines and declines, you have very few options to choose from.
Keeping all these things in mind, we have developed the nine best incline decline treadmills.
Comparison Chart – Best Decline Treadmills
Treadmill
Motor
HP
Decline/Incline
%
Belt
"
Speed
mph
Dimensions
"
Capacity
Pounds
Sole TT8
4
-6 to 15
22×60
12
81 x 38 x 15
400
Blowflex T10
3
-5 to 15
22×60
12
85 x 40 x 65.5
400
NordicTrack 1750
3
-3 to 15
22×60
12
64.5 x 37.3 x 79.4
300
Pro 2000
3
-3 to 12
22×60
12
77.3 x 35.3 x 59.6
300
Bowflex T22
3
-5 to 20
22×60
12
85 x 40 x 70
400
LifeSpan TR5500i
4
-2 to 13
22×60
13.5
73 x 34.5 x 55.5
350
Precor TRM425
3
-2 to 15
22″ X 60″
12
79 x 34 x 60
350
NordicTrack X321i
4.25
-6 to 40
22″ X 60″
12
76.5 x 40 x 73
300
ProForm Pro 9000
4.25
-3 to 15
22″ X 60″
12
77 x 39 x 68
400
Comparison of Best Decline Treadmills
Sole TT8 has very few bells and whistles. With minimal distractions and features, it is the right choice for serious runners. This treadmill on our list is one of the best machines, offering a decline of -6% and an incline of 15%.
Moreover, if you talk about its motor, it is a powerful 4.0 HP motor that quickly accelerates from 0 to 6 mph within 15 seconds and 6 to 12 MPH in around 10 seconds. However, the best part of this powerful motor is that it can easily handle all types of HIIT training.
On top of that, it comes with a wide running surface that is 22′′ x60,″ which can accommodate all sizes of individuals quickly, and a heavy-duty frame that will work for a long time. Some other features that make this treadmill engaging are a 10″ LCD console, a USB charging port, a cooling fan, Bluetooth audio speakers, a quiet cushioned flex deck, a tablet holder, built-in programs, and many more.
The Sole Fitness brand leads in offering warranties on its products. The frame, motor, and deck of the sole TT8 light commercial treadmill are all guaranteed for life. Moreover, it also covers five years of parts and two years of in-home labor.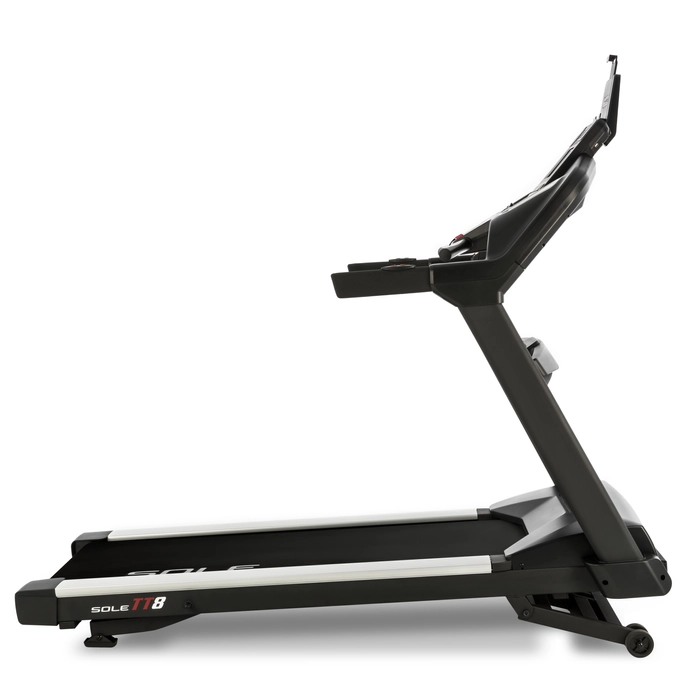 Pros
Powerful motor
Wide running surface
High decline level
Cons
This Bowflex T10 interactive treadmill is made of solid and durable materials that will last a long time. Apart from that, this machine is the best for serious runners, featuring an incline of 15% and a decline of -5%.
No matter what type of workout you want, this treadmill will beat the boredom of walking, running, and jogging. Also, it comes with an HD console with a 10-inch screen that you can use to explore the world.
Its powerful 4 HP motor can easily support a -5% decline and a 15% incline. On top of that, the wide running surface of the treadmill, at 22 x 60 inches, is best for all sizes of individuals.
It also includes 1-year a membership, which can assess your fitness level and create custom workouts. This Bowflex T10 treadmill is also equipped with SoftDrop folding technology, which lowers the deck directly from the raised position.
In terms of warranty, the Bowflex treadmill is protected with 15 years on the frame and motor, two years on labor, and 5 on parts.
Pros
JRNY software
Bluetooth wireless armband
Comfort Tech Deck Cushioning
Cons
This NordicTrack decline treadmill, with a -3% decline and a 15% incline, is another great decline machine on our list. However, the best part of this treadmill is that, with the help of auto-adjusted iFit trainers, you can easily change your speed and incline to match every workout.
Moreover, the treadmill's design features a solid or heavy-duty frame that easily supports the speed this treadmill offers without shaking or squeaking. The foldable treadmill is coated with scratch- and wear-resistant paint.
This treadmill has a 10-inch quality touchscreen on which you can access around 50 interactive workouts and iFit coaching. Apart from that, in this console, you can also track your workout data, like calorie burn, heart rate, time, speed, and, not the least, distance covered. Also, it features dual Bluetooth-compatible speakers, which will boost your overall performance and motivate you to achieve your goal faster.
The NordicTrack treadmill has a 10-year frame warranty, a 2-year parts warranty, and a 1-year labor warranty.
Pros
Free 1-year iFit subscription
Powerful motor
Large cupholders
Cons
Are you ready to get comprehensive training at home? If yes, ProForm 2000 is the perfect choice to help you achieve your fitness goal quickly. It comes with a 30-day family membership, during which you will work out with one of the best iFit trainers.
With decline and incline settings of -3% and 12%, the ProForm 2000 helps you strengthen and build your stamina. However, the best part is that you can adjust them during workouts, and your iFit Trainer will do it for you.
10″-inch smart HD touchscreen will allow you to control your every move, navigate the interface in seconds, track your stats, etc. On top of that, this treadmill's self-cooling Mach Z motor will help serious runners perform well in the competition and also helps the individual to do cardio training at home.
The wide running surface of the machine is best for tall runners and allows the individual to stretch out their strides. This treadmill's space-saving design can be stored anywhere in your home.
It comes with a 10-year frame warranty, a 1-year labor warranty, and a 2-year parts warranty.
Pros
Powerful motor
Protect with a good warranty
Rebound pro deck cushioning
Cons
Are you a serious runner and fond of doing interval training? Then buy another Bowflex T22 treadmill specifically designed for this purpose. It comes with a powerful motor of 4 HP on which you can experience both decline and incline from -5% to 20%, which is quite amazing and not found in any other treadmill on the list.
Moreover, the extended handlebar grips help the individual go for a high-incline workout perfectly. In addition, the treadmill's wide running path is best for all sizes of people, with Comfort Tech Deck cushioning on which you can attain a speed of 12 mph.
The 22-inch touchscreen console, Bowflex fitness app, Bluetooth heart rate band, and SoftDrop folding technology that safely lowers the deck from the raised position are some of the other best features that make this treadmill an incredible choice.
If you talk about the warranty, it is protected with 5 years on parts, 2 years on labor, and 15 years on the motor and deck.
Pros:
The 20% inclination is a big plus.
Motor with plenty of oomph.
Streaming services like Netflix are available.
A well-known fitness app.
Cons:
It looks too big for home use
JRNY is necessary for its full functioning
LifeSpan is one of the best treadmills brands, offering its customers unique features and quality. The TR5500 iM treadmill can keep up with the most demanding workouts with a powerful 4 HP motor. However, the best part of this treadmill is that it fully supports all types of training styles.
On top of that, it is specially designed for runners, as it delivers a superior cardiovascular experience with state-of-the-art components. For example, the treadmill's frame is quite sturdy, provides high performance, and works for a long period of time.
Furthermore, when it comes to speed, it is fantastic at 13.5 MPH, which is faster than many other home models. Also, it offers a decline of 2 levels and an incline of 13 levels with a weight capacity of 350 lbs.
Moreover, the 10-inch touchscreen console looks impressive on the treadmill for entertainment.
Another feature worth noting is that this treadmill, model TR5500Im, has 50 built-in workouts, so you will not get bored doing the same workouts repeatedly.
LifeSpan offers a lifetime warranty on the frame and motor, 5 years on parts, and one year on labor.
Pros:
You won't get tired of the same old routine with the TR5500iM since it has more than 50 exercises pre-installed.
Fantastic speed of 13.5 MPH
8 independent compression shocks
Wide running surface
Cons:
No subscription option
Heart rate chest strap not included
This Precor Treadmill TRM 425 treadmill is one of the common fitness machines you will find in almost every nationwide gym. Being the best heavy-duty treadmill for the home, it comes with a 3.0 HP motor and a maximum speed of 12 MPH, which is undoubtedly terrific for keeping yourself fit.
Apart from that, if you talk about the decline and incline of the treadmill, it is -2% and the maximum incline is 15%, which is great for light and intense workouts. Moreover, the display and console of the 425 treadmills are also very engaging, motivating an individual to achieve their goal easily.
This decline treadmill comes with a 7-inch backlit display that is crisp and touch-sensitive. The machine's console displays various workout metrics like calorie burn, speed, incline, time, etc. On top of that, it comes with 10 pre-set workouts that allow the individual to stay challenged in the warm-up and cool-down periods.
The maximum weight this treadmill can take is up to 350 lbs, and it is also equipped with a touch sensor and a wireless heart rate monitoring system.
Precor offers a lifetime warranty on the frame, a remarkable 10 years warranty on parts and one year on labor.
Pros:
Advance technology
Wide & well-cushioned running surface
Tablet Holder
Cons:
High Price
Not equipped with a cooling fan
Pros
More responsive 32″ Smart HD Touch screen.
Improved WiFi connectivity.
40% incline for trekking, uphill exercises, and variable muscle recruitment
Including heart rate chest strap for Adaptive HR Control
Cons
Doesn't fold up.
It is too heavy
The deck feels bouncy over 9mph
If you are looking for a treadmill with a large console and high capabilities, NordicTrack X321i is one of the best on our list. It comes with a 32″ HD Touchscreen console that streams live and on-demand iFit workouts right before your eyes.
On top of that, this treadmill is worth known both for its declining and inclining capabilities that maximum of 40% and -6%. Moreover, it also has OneTouch incline control, which runs with a maximum speed of 12 MPH with Smart OneTouch speed control.
In addition, it has a powerful self-cooling incline and a powerful and robust motor of 4.25 CHP, allowing the individual to do a workout without shock. In terms of running surface, it is quite large for every size individual with 2.5″ rollers.
It can take a maximum weight of 300 pounds and is protected with a warranty of 10 years on the frame, 2 years on parts, and 1 year on labor.
Are you looking for a treadmill for intense workouts? If yes, the Proform Pro 9000 treadmill is the top choice on which you can do every type of HIIT workout easily. It is a folding treadmill with Easy-lift Assist technology, which you can fold easily. However, the best part of this treadmill is that you can use it on any floor.
It also has a strong 4.25 CHP Mach Z commercial Pro motor that can handle intense workouts and keeps the treadmill running smoothly while you work out.
On top of that, it has a -3% decline, and the incline can go up to 15% with 12 MPH quick speed control.
Pros
Built-in speakers
High weight capacity
This treadmill's clear 22″ touch screen makes iFit content interactive and valuable.
For a hands-free iFit class, the treadmill can automatically adjust speed and incline.
Lift assist folds and unfolds the deck for storage.
Over 16,000 treadmill-friendly iFit classes are available, like having a virtual trainer.
Cons
Hard to move
Its weight capacity is 300 lbs, making it unsuitable for heavier users.
At higher speeds, the console causes the screen to shake.
The Pro 9000 is a high-quality, durable, heavy treadmill that will work well. The running surface is also wide and big, and it has ProShox cushioning built in to ensure that the feet bounce back quickly after hitting the treadmill belt.
This technology on the belt will also prevent stress on the ankles and knees. On the 10-inch touchscreen LCD window of the console, you can choose from 40 pre-programmed exercises and get iFit coaching.
The Proform Pro 9000 Treadmill has a 10-Year Frame, 2-Year Parts Warranty, and 1-year Labor Warranty.
The Bottom Line
When looking to buy a decline treadmill online, consider your specific needs and preferences to select the best decline treadmill for home use. Researching affordable decline treadmills on sale and exploring top-rated decline treadmill brands will help you make an informed decision.
To ensure you get the best value, compare decline treadmill prices and look for discount deals that might be available. Financing options for decline treadmills can make the purchase more accessible, allowing you to invest in a high-quality machine without breaking the bank.
Reading decline treadmill customer reviews and ratings can provide valuable insights into the performance and reliability of various models. For those who prefer shopping in person, search for "where to purchase decline treadmill near me" to find local retailers with a range of high-quality decline treadmills for runners.
Anil delights in assisting others in enhancing their health and fitness. Anil, a runner and blogger, has spent the past twenty-four years motivating others to lead healthy, fulfilling lives. Join Anil in his efforts to better the world.