These are the best manual treadmills on the market. Each foot strike propels the belt behind the user to walk or run on a motorless curved belt treadmill. Except for being curved, all these are also slatted treadmills.
They compete with some of the most excellent motorized treadmills in terms of durability and robustness. They've grown in popularity among athletic trainers, and you might notice them at your local gym.
Best Curved Treadmills
Have a look at some of these that control most of the market. Serious runners typically write Curved Treadmill reviews and are fairly thorough.
These treadmills have been thoroughly tested before being released.
Treadmill
Running
Area
Weight
Capacity
Weight
Warranty
Dimensions
Price
Assault Fitness AirRunner
62″ x 17″
350
280
5yrs
70 x 33 x 64"
3699
Speedfit Speedboard proXL
66″ x 17″
400
256
10yrs
72 x 33 x 67″
3799
SB Fitness Equipment CT700
66.6 x 19″
475
308
10yrs
76 x 34 x 62″
3595
Sprintbok by NOHrD
63 x 17.72"
353
353
5yrs
71 x 28 x 55"
6835
IN10CT Health Runner
61 x17.16″
300
300
5yrs
69 x 32 x 62″
3140
Runow Curved Treadmill
63 x 17"
330
287
2yrs
67 x 32 x 62″
3499
Xebex Curved Treadmill
67 x 17″
350
332
10yrs
71 x 35 x 60″
3799
Woodway Curved 3.0
56 x 17
400
356
10yrs
67 x 33 x 66.5″
5999
Trueform Runner Treadmill
64 x 17″
400
350
Lifetime
64 x 31 x 63"
4695
Assault Fitness AirRunner
Warranty – Frame – 5 yrs, Non-Wear Parts – 3yrs, Labor – 1yr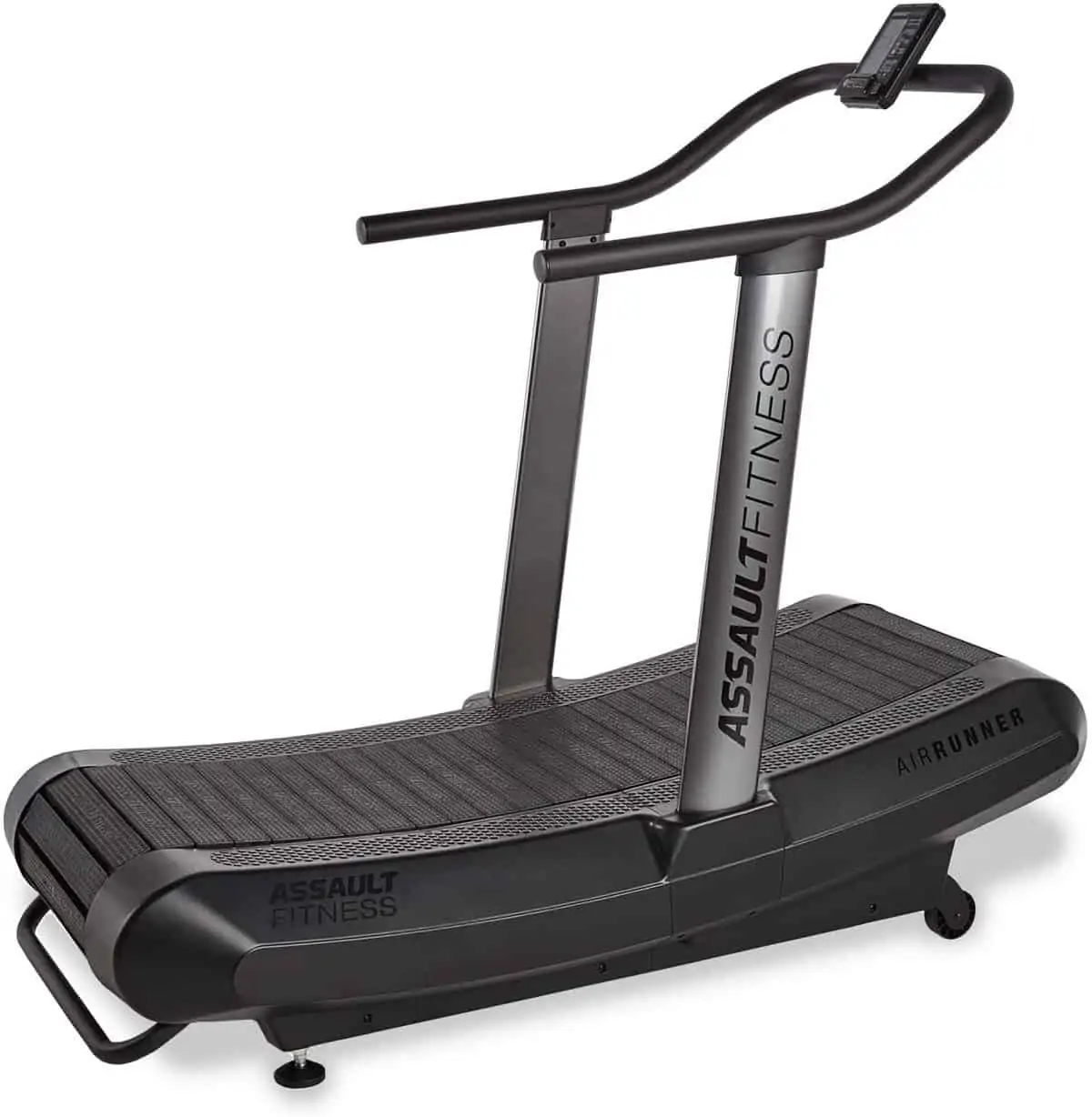 It features a heavy-duty steel frame and a belt to keep you stable. It lacks automatic speed controls, so you must pace yourself. However, what it lacks in functionality, it makes up for in build quality.
This treadmill's curved deck and motorless design make it stand out. There is no inclination option, but controlling the machine with force will alter your form, strength, and technique. Run closer to the deck's top curve if you desire a little inclination. You may go as fast as you like on this machine, but you must work hard since you move the track yourself.
This tiny console has just a few pre-programmed exercises, including HIIT and Tabata intervals, goal workouts, and heart rate programs.
This tiny LCD monitor can track time, calories, distance, speed, and watts. No speakers or fans on this treadmill. Rather than focusing on extra features, Assault Fitness focuses on the performance of its treadmills.
The console also supports Bluetooth and ANT+ so that you may connect your heart rate monitor. This tread does not allow water bottles, keys, iPads, or phones.
This machine isn't heavy, but it is well-built. Its steel frame and heavy-duty belt are built to last. The running space is narrow yet long, guiding your stride as you manually power this machine. The Assault AirRunner has no engine; you control how quickly the belt moves with each step.
Because your limbs operate this machine, its pace is up to you. The deck's curvature makes it simpler but still requires more work than a regular tread to reach those higher numbers.
The Assault AirRunner's slatted belt is designed for rigorous training. The curved deck makes pushing the belt simpler but not as easy as jogging on an electronic treadmill.
Speedfit Speedboard proXL
Warranty: 10 Years Frame, 5 Years Belt, All Components 3 Years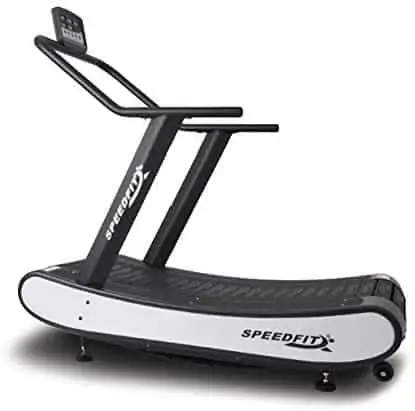 Step on the speed board and your body's gravity brings it to life! Begin walking, step up on the curved surface and run, step up even further and sprint, step backward, and the speed board stops. A motorized treadmill or a track can't compare to the Speedboard Pro XL's easy running and superior training.
In addition to reducing joint stress, the curved profile and soft tread belt enable you to easily change your pace from a full-on sprint by moving your position on the tread belt. Engineered for performance and quality, the Speedboard Pro offers an unmatched workout experience on a machine that will last for years.
With the low-mass shock-absorbing tread belt technology, enjoy the easiest jogging experience possible on a non-motorized treadmill. The Speedboard Pro is built to last.

Regarding curved treadmills, the SpeedFit manual treadmill is a fantastic choice for heavy users. This curved treadmill is ideal for those who need to reduce weight before starting a jogging program. This tread belt system is very nice. This curved treadmill is built with 56 separate slats with 3/8″ thick shock-absorbing cushions for strenuous exercises.
The unit's built-in screen system has 5,000 customized exercises for each user. You complete a 10-minute fitness test to get a free 5,000-exercise personalized set. The steel frame is robust, although the handles might be thicker for a more comfortable grip.
The treadmill has wheels on the back to assist in positioning it.
The SpeedFit Speedboard ProXL is the right option for a curved treadmill with a high weight capacity and big buttons. Best tech curved treadmill.
SB Fitness Equipment CT700
Warranty: 10-year frame, 5 years parts, 2 years console, and 1-year labor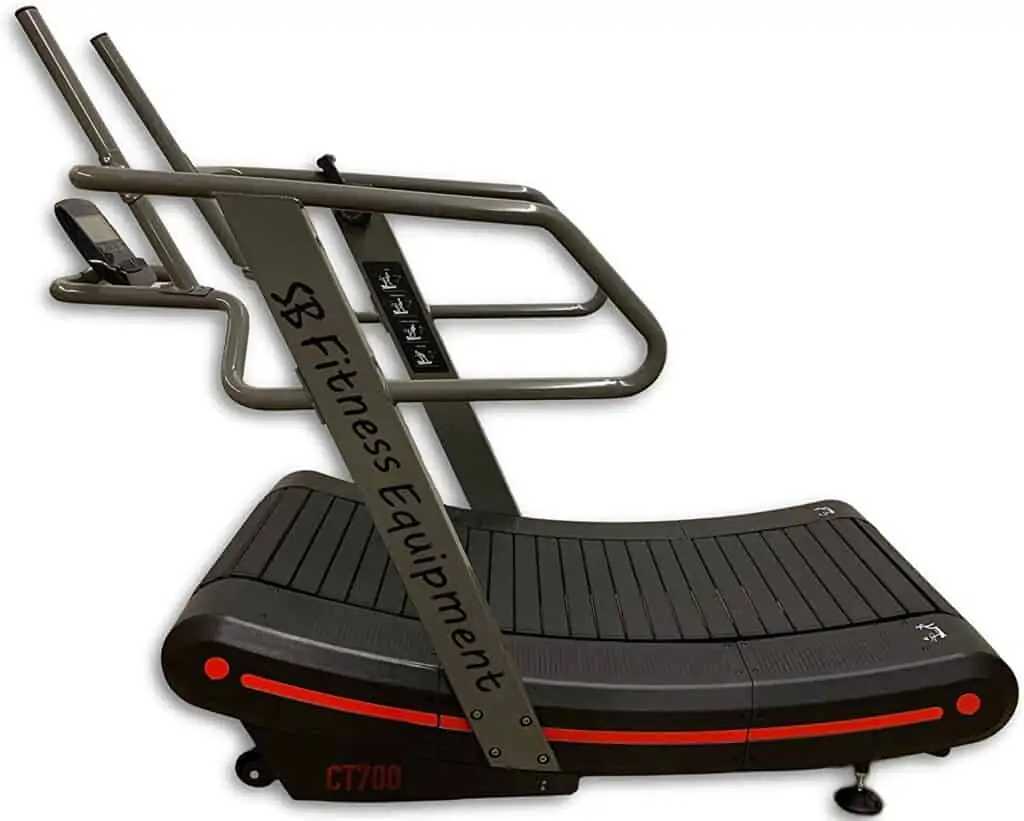 High-speed stainless steel bearings ensure smooth, quiet, and long-lasting functioning.
Handrails and a steel framework. This product is excellent for walking, jogging, or sports training. Athletes at the collegiate and professional levels may benefit from sport-specific training.
The operator controls the start and stops of the machine by utilizing curves placed in the front and back of the machine, which is controlled by gravity and magnetic resistance.
Using a high-tension resistance setting may help slow down and halt movement. Raised an anti-skid rubber track for optimum grip and shock absorption help reduce joint stress when running.
An upward curve at the back of the treadmill aids in stopping the treadmill quickly and safely.
As the operator slows down, the track slows down as well. As soon as the operator stops, the track comes to a complete halt – Handrails help maintain balance and stability and stop quickly.

Manual magnetic resistance: 8 levels that may be used to regulate running speed independently and can be used to convert to sports mode at any moment.
The front digital display shows the distance, pace, time, and calories. Transport wheels and handles are built into the running track for convenience, and You may adjust the leveling feet for optimum stability.
Durable 75″ thick slats for optimum durability and grip.
Sprintbok by NOHrD
Warranty: 5 years on frame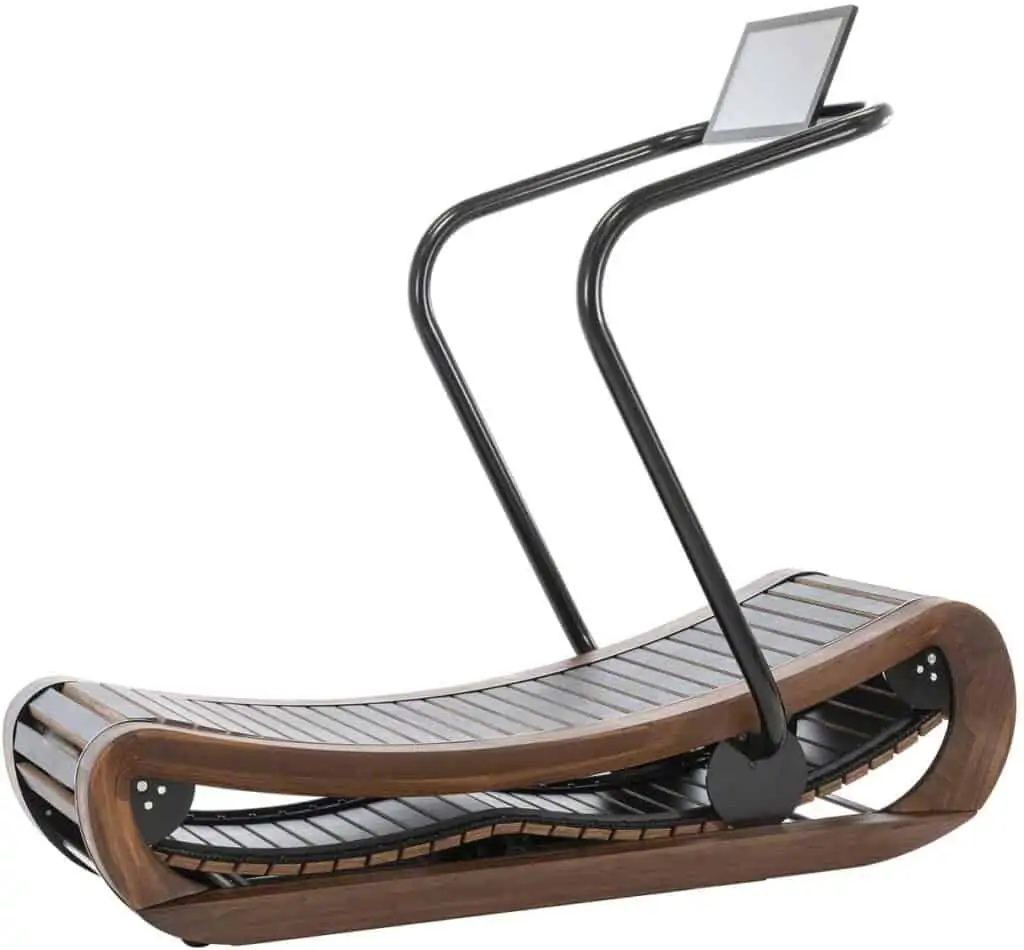 The beautiful wooden frame design sets NOHrD apart from other gym brands. Their treadmill, the NOHrd Sprintbok curved manual treadmill, is no exception.
The NOHrD Sprintbok treadmill has a stunning aesthetic appeal. It features a sleek curved deck and a beautiful wooden frame. The Sprintbok looks better than any other treadmill. It is available in 6 colors: ash, oak, club, cherry, walnut, and shadow. However, the wood substance stays the same.
Like other non-motorized treadmills, the Sprintbok is powered by you by manually moving the belt. This machine is entirely self-contained, with no built-in speed or intensity controls. As you labor, the machine accelerates and decelerates. Using all of your body's resources increases the difficulty and outcomes of your exercise.
The surface is shock-absorbing and silent. It has a 17.3″ monitor displaying distance, time, speed, pace, and heart rate. It enables you to evaluate your performance and make necessary changes.
The Sprintbok App gives free access to digital fitness training courses and virtual scenic runs through Bluetooth. This tool will help you through specific fitness routines while adding engagement, interactivity, and enjoyment. As a result, you may work out longer and harder without even realizing it.
The frame is fully adjustable in terms of color. The most attractive visual element is a smooth, curving frame constructed of genuine oak. The hardwood frame reduces vibrations while the machine is in operation. Running is simple, natural, and effective: 30% greater calorie burn!
Users may monitor performance statistics and choose from pre-designed and scenic running programs. The Sprintbok is a low-maintenance machine made of high-quality materials. Aside from regular cleaning, no belt-tightening, oiling, or greasing of components is required. Consists of 62 moveable hardwood slats, each with a linoleum finish. The Flexi-slats absorb stress during running training.
IN10CT Health Runner
Warranty: Frame 5 yrs, Material Defect- 3yrs, Labor – 1Yr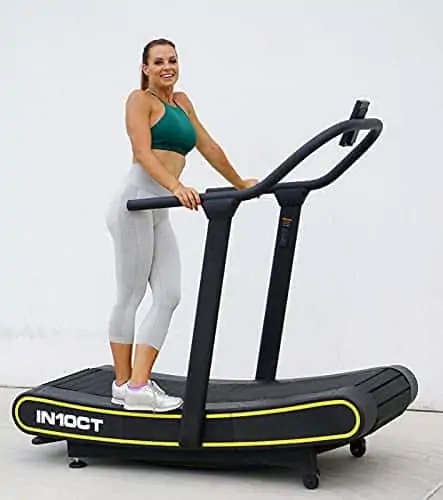 The IN10CT treadmill's slate belt's rubberized surface reduces damaging stress on joints, muscles, and ligaments. It has wheels at the head of the track and feet at the base, making rolling the machine easier. It has a gentler curvature than other curved treads. As a result, it is simpler to run on and yet has a curved shape. It monitors your pulse, wattage, speed, and distance.
The Health Runner features a steel frame with powder-coated uprights. The treadmill is made of high-quality materials to ensure smooth operation and long-term durability. It also has hand-welded coverings. The track has uniformly placed welding beads.
There are also leveling feet beneath the deck that You can adjust to ensure the machine does not rock. Made of rigid material to withstand strenuous exercise. Withstanding intervals, sprints, endurance training, and advanced conditioning. It doesn't fold. The equipment may be lifted and moved using transport wheels beneath the deck. Its rubberized slats soften the stress of jogging on joints.
On the bottom are control buttons for the console. They are socketed to the horizontal handlebar. Calories burnt and Heart Rate are all shown on this reasonably primary interface. The numbers are digital, but the screen is small. Control keys like Start, Stop, and Reset are located at the console's base.
Its curved shape aids foot striking. The curving design naturally pulls the user towards the machine's center. Trainers utilize a curved belt manual treadmill for high and moderate-intensity exercises. Its speed is user-controlled and has no maximum or minimum.
The Health Runner has a slat belt, steel frame, and powder-coated uprights. It is excellent for overall fitness and muscle building.
IN10CT treadmill is certified for both commercial and domestic usage and is lightweight. This Health Runner is an excellent choice for people looking for a curved treadmill at a fair price.
RUNOW Curved Treadmill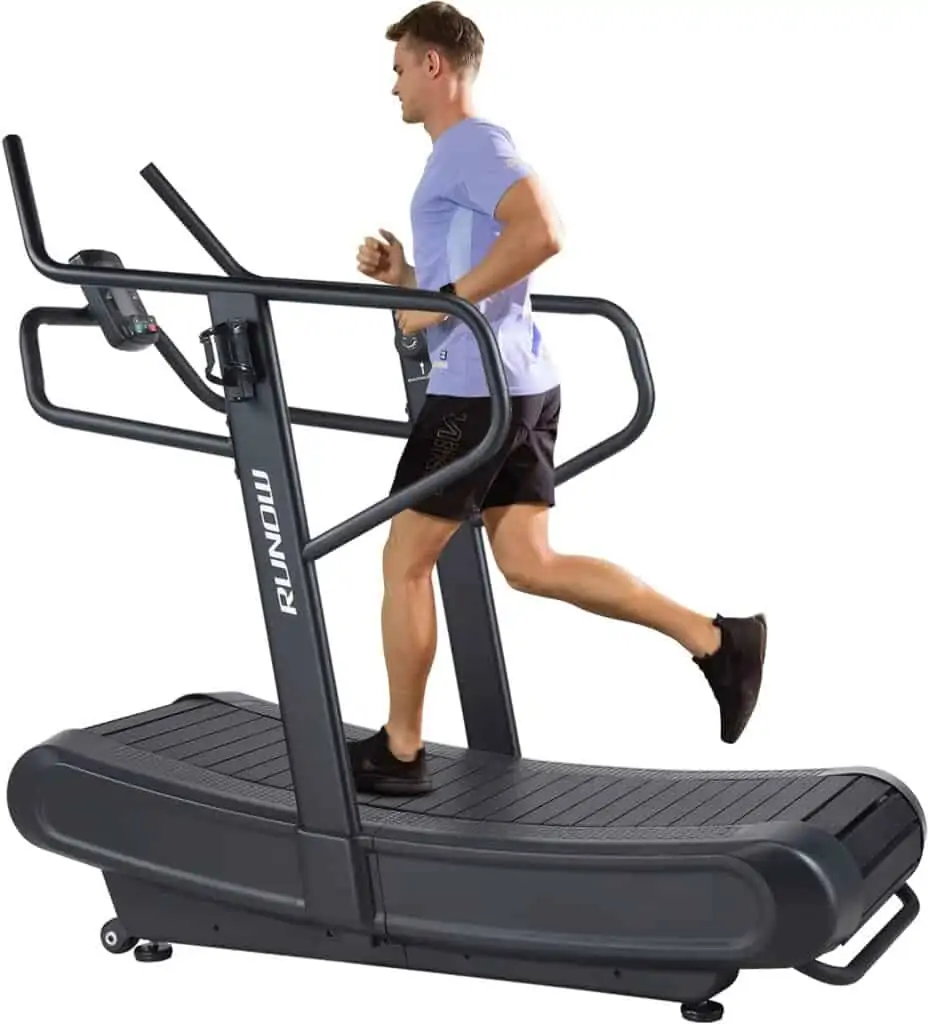 Run at your own pace on the curved treadmill. The treadmill features two travel wheels, a cup holder on the side of the armrest, and a four-speed manual resistance adjustment, which precisely adjusts to your exercise plan.
It suits runners, sports lovers, office workers, and seniors. Because the machine accelerates and decelerates automatically, even the elderly may exercise freely. It is a curved treadmill for running with a 5″ small LCD screen that monitors time, distance, calories, speed, pace, and resistance level.
The RUNOW Curved Treadmill is suitable for both home and business usage. It has four resistance settings and is adjustable. The four resistance settings are free running, sprint training, flat side stride, and race walking. On this treadmill, you may perform HIIT, jog, or sprint. The RUNOW Curved Treadmill features transfer wheels, making it easy to move about your house. It also includes a cup holder for your water bottle.
This treadmill's resistance is manually adjusted. 67X62X32 inches is the RUNOW Curved Treadmill. Running on this treadmill is gentler on your joints than on a hard surface outdoors. Wider than usual design gives you more room. The RUNOW Curved Treadmill's rubber tread absorbs stress and prevents sliding. Assembling this treadmill is simple. The transfer handle will be helpful if you ever need to relocate this treadmill.
Weight capacity is greater than many manual treadmills. You can track your progress on the RUNOW Curved Treadmill's tiny LCD screen.
Xebex Curved Treadmill
Warranty: Frame-10 yrs, Parts- 5yrs, Console- 2Yrs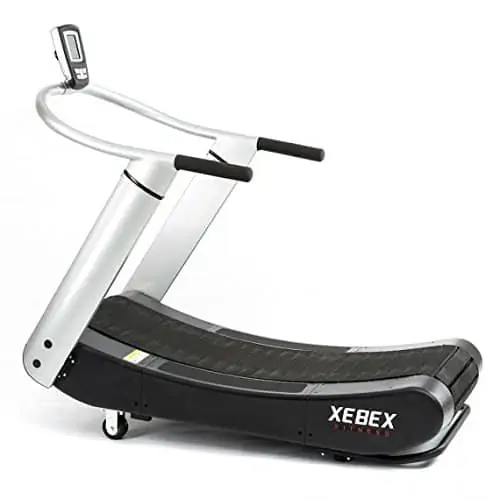 The Xebex Runner is Powered only by the runner's movement on the treadmill. They are derived from a motorless, self-generated treadmill powered by the runner's movement, not electricity. The 10mm thick vulcanized running surface offers greater comfort and lesser impact during running and sprints.
Runners may easily maintain a steady pace, increase speed to an all-out sprint, or slow down to walk/jog as required. The Xebex Runner's reactivity is helpful while trying to increase, maintain, or reduce speed. The perfectly designed surface will keep you from sliding or feeling like the treadmill is going faster than your legs and feet during sprints. The high-quality bearings and modest angle create a smooth, pleasant sensation that enables users to sustain pace like jogging on a track rather than "walking in sand."
Compatible with several smartphone fitness applications and group leaderboard software. Top-of-the-line Console. 2×4 Pillow Block Bearings 2.3mm lateral tolerance roller guides. 10mm thick vulcanized rubber for low-impact runs. Frame and console phone holder.
Holder for the water bottle.
Interval, Pace, Target Finish Time, Distance, Calories, Split Time. Console records total run time, distance, exercise summary, calories, max speed, and more.
Setting "Target Time + Distance" will actively remind you whether you're "on pace" or need to "run faster" to complete the targeted distance in the targeted time. ANT+ chest belts compatible
Woodway Curved Treadmill 3.0
Warranty: Frame- 10yrs, Drive/Motor/Belt- 5yrs, All Components- 3yrs, Labor- 1yr
Why are Woodway treadmills so expensive? The unique Woodway Curve adds a new level to your training. The self-powered, curved WOODWAY treadmill provides a unique exercise experience without electricity.
Enjoy the complete flexibility of this manual treadmill while running or walking on the distinctive curved running surface. The Curve Treadmill engages the whole body while burning up to 30% more calories.
For a smooth glide, the Woodway Slat Belt system has no friction. With a curved running surface, users may adjust their speed at will. To accelerate, just run, and to slow down, drift back down the curve.
The curve answers rehab, HIIT, group exercise, and weight reduction. High-intensity intervals are more manageable when there are no speed buttons, and group training transitions are faster. The curve is used in rehab to improve running form, posture, and posterior muscular activation. Elite sports teams and players worldwide seek after the Curve Treadmill.
Achieve your fitness goals with Woodway's Curve Responsive Training programs. Each program adjusts to your Fatigue Index, making every exercise challenging. The Curve 3.0 now includes dynamic force plates and pacer software for gait analysis. The system is entirely programmable and recallable. It allows for precise continuous and interval training regimens while monitoring left and right foot strikes and total power output.
The pacer feature enables racing against previous results or other users. Endpoints for time, distance, speed, and work. Work done, distance, velocity, and vertical force. Instantaneous response while testing. Detailed graphs and reports. Import/export all test results.
Trueform Runner Treadmill
Warranty: Frame- Lifetime, Tread & Parts- 10yrs, LED Display- 2yrs, Labor- 1yr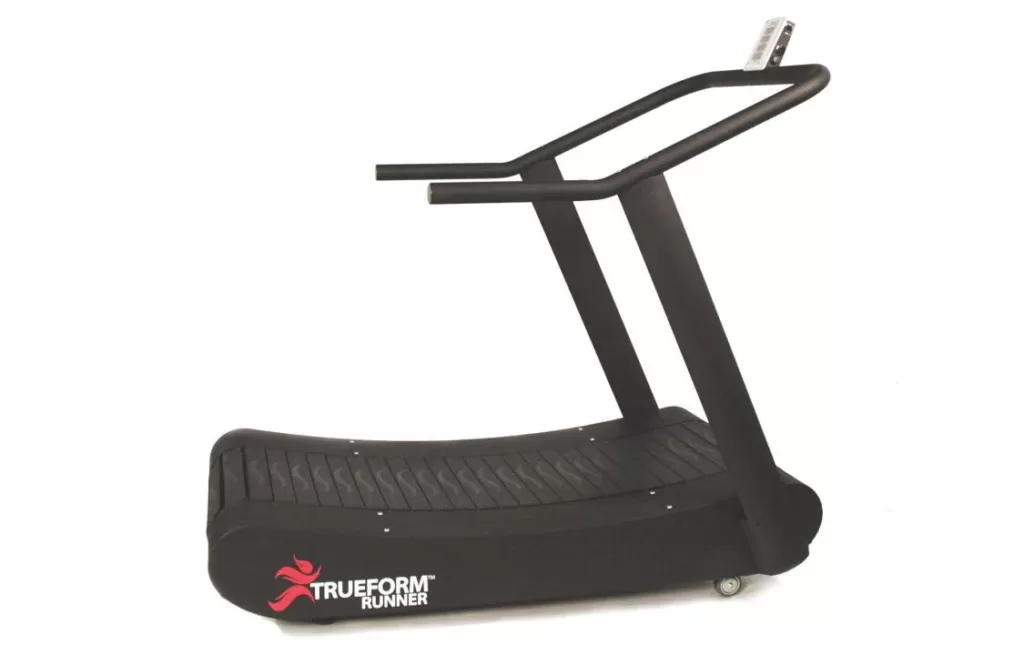 The treadmill Trueform Runner 2.0 is constructed completely of steel and aluminum, making it robust but lightweight equipment. It's a hand-welded, one-piece frame. Trueform's online courses can be used if it does not come with exercises. In addition, Trueform's training can assist any runner in increasing his speed.
Its small size allows consumers to concentrate on their runs rather than their stats. Its LED display monitors distance in miles or kilometers. The treadmill's design withstands heavy impact.
The Trueform manual treadmill is smaller than some other treadmills. Its width and height are average, but its length will save you some floor space. Repurposed tires make up its Kraiburg rubber belt. It's tough and slip-resistant to withstand even the sweatiest runs.
Trueform curved treadmill running belts may also be customized. For example, you may replace the rubber belt with artificial grass suitable for baseball, football, and soccer players. In addition, a running track belt may be gentler on the muscles and joints.
Finally, purchasers may replace the Kraiburg rubber with Naboso. Textured materials like these may enhance foot stimulation by targeting specific nerves. The Naboso surface may be suitable for orthopedic rehabilitation facilities.
This treadmill has no engine, yet it has over 100 bearings sustaining the belt. Steel ball bearings will not wear out.
You have a choice of 200 unique colors to choose from. Gyms, sports training facilities, and rehab clinics may all brand themselves. Buyers may customize their runners' color and tread and add a logo. If customers are unsure how to personalize their runner, Trueform's design team will work with them to develop a free digital prototype.
The handrails on this treadmill are made of sturdy two-inch steel tubes. It has a textured powder finish to improve grip even when wet. You have 30 days to return or exchange this treadmill if it does not match your expectations.
Curved Treadmill Benefits
On comparing curved treadmills vs. flat ones, you will find many more benefits of the curved ones, though these are manual.
Set them up Anywhere
No electricity is needed. No noise. Especially in apartments, it is very useful.
Safer than Electric Treadmills
The risk of falling down is significantly less. The curved manual treadmill works with the force of your legs and stops when you stop, unlike the electric treadmill.
Last longer
The number of moving parts is much less compared to an electric treadmill. They are much more robust too.
You'll Lose Weight
According to the Journal of Science and Medicine in Sport, runners worked 30% more on curved, non-motorized treadmills. In addition, their perceived effort matched the physiological data. 32% more oxygen intake, 16% higher heart rate, and 2.5% higher cadence.
Improved Form & Endurance.
The exertion of keeping the belt moving, regardless of speed, raises your heart rate and VO2 max (your upper limit of oxygen consumption or aerobic capacity).
The arc design encourages you to run on the balls of your feet, resulting in a softer landing and less stress on your joints. "Slightly curved treadmills tend to promote a more upright posture and running stance, with excellent landing mechanics," says Reid-Simms.
More like Outdoor Running
You manage the pace and consistency of your exercise since they're self-regulating. No more fumbling with controls to find your ideal speed or frantically pressing the stop button because you've gone too fast.
Burns Calories Faster
According to its creators, a curved treadmill workout burns 30% more calories. In addition, researchers found that non-motorized curved treadmills had higher physiologic intensity than conventional motorized treadmills. Curved treadmills are ideal for HIIT due to their increased intensity. You'll burn more calories and raise your heart rate quicker than a regular aerobic workout. Learn more about the advantages of HIIT and how to perform it in our HIIT guide.
Uses more Muscle Group
Traditional treadmills don't engage your whole leg since you don't have to push to go ahead. On the other hand, curved machines require you to use your legs right away, from your glutes to your hamstrings. As a result, you can't improve your running speed by just training harder.
Running on a curved treadmill makes your glutes, hamstrings & calves work much harder than on a regular surface. The muscles are engaged for longer, focusing more on the posterior chain.
Less Harmful for the Joints
Saving your knees doesn't mean giving up jogging. A curved's rubber surface helps cushion pressure on joints and connective tissue, avoiding injuries from hitting the ground. Unfortunately, standard treadmills aren't intended to absorb stress, leaving your joints vulnerable.
One user mentioned, "The curve reduced the load on Achilles and helped me recover without losing all fitness".
You can say these are meant for serious runners or some serious workouts.
Why are curved treadmills so expensive?
Curved treadmill price is almost always very high. Shock absorption is one of the key advantages and the reason for the high price. It's challenging to maximize pressure points on a curved treadmill. A straight surface is much simpler to pressurize.
The quality of the materials utilized to construct these treadmills is also a factor. It is not made cheaply because of the high-grade materials used. This machine's components are all solidly designed to avoid rattling. Curved treadmills are much more efficient and durable than flat treadmills.
They need more work and heavier components. The curved surface of this treadmill necessitates heavier components. After years of testing, the belt's detailing is perfect. Heavy parts are put over curved edges to prevent breakage.
The treadmill's running belt is its most vital aspect. You may get wounded if the belt is not made of high-quality materials. The running belt is the most expensive part of a curved treadmill. The belt must include shock-absorbing technology, which is expensive.