If you want to run despite the winter snow, summer heat, or humidity, the best way is to have a home treadmill.
A treadmill is a great way to train for a marathon without needing a club membership or waiting for nice weather. To run whenever you want, invest in a good home treadmill. Maintaining a program is essential, whether you're trying to get in shape after a lengthy break, preparing for a 5K or half-marathon, or simply getting enough aerobic exercise.
Even an expensive treadmill pays for itself quickly if used regularly. Investing in your health is invaluable.
Consumer Reports ratings provide several home treadmill options. Our recommended models start at over $2000, while our most high-end treadmills cost $4,000 to $9000.
A high-end home treadmill, if foldable, saves money as well as space. Even that may be more cost-effective than going to a gym.
Using our buying guide, you'll see what's available and what fits your needs.
Related Readings
Heavy Duty Treadmill for Sincere Runners: 9 Best- All 4HP
Life Fitness Platinum Club Series: 1 Stunning Treadmill
3G Cardio Elite Treadmill: Love Exercising? Boost it Up
List of Treadmills over $2500
Here we have some high-end treadmill reviews. These are the best treadmills on the market in every aspect, including their value for money. These also come with lots of bells and whistles.
NordicTrack C2950
The Nordictrack C2950 has an enormous motor, the largest in a foldable treadmill. This incline trainer is as practical as higher-end models. We like the 22-inch touchscreen and a month-long complimentary iFit content.
Features
22-inch Smart HD Touchscreen
Free 30-day iFit access for the whole family.
Automated trainer control.
HD Graphics Performance improved.
CPU cooling increased.
2.4/5 GHz WiFi.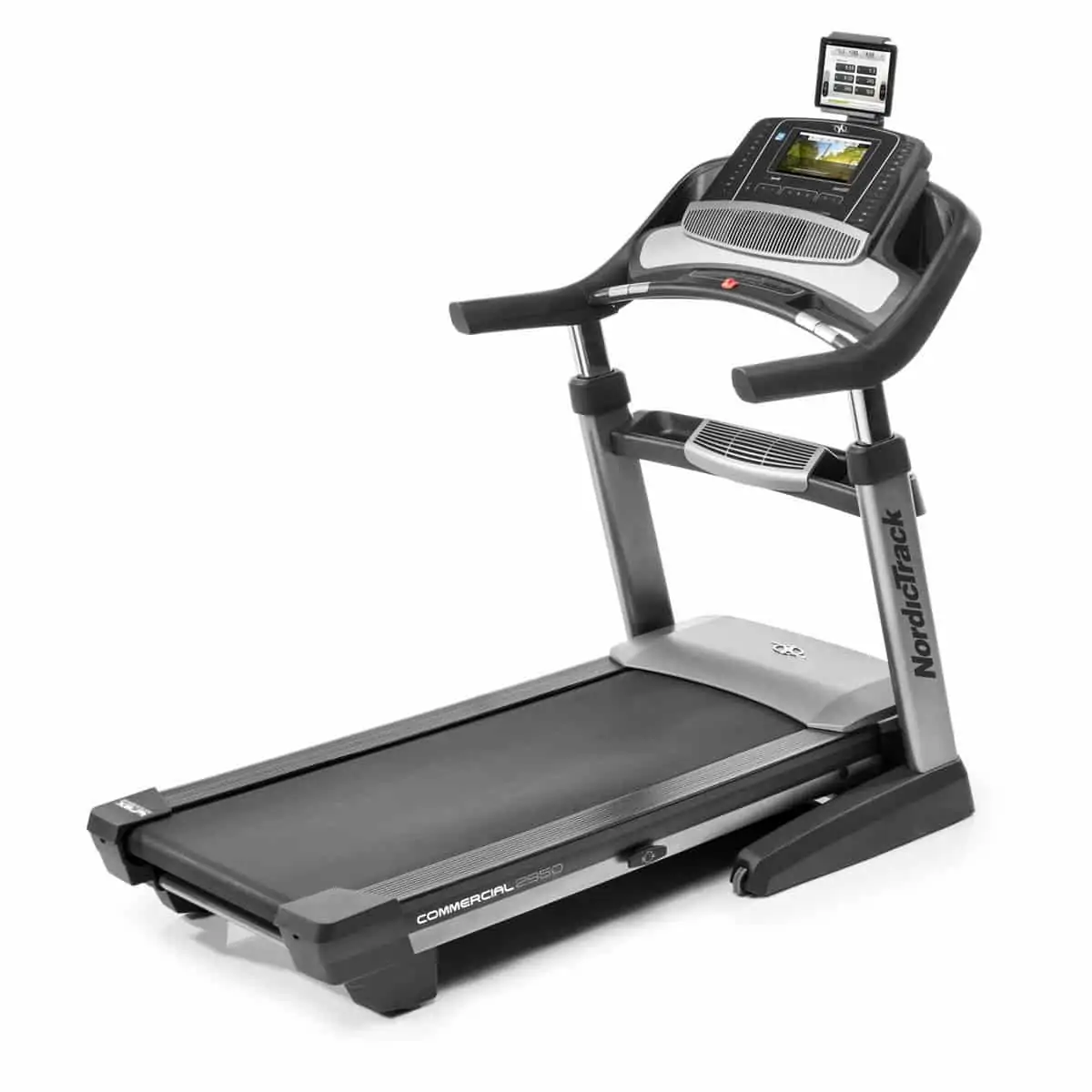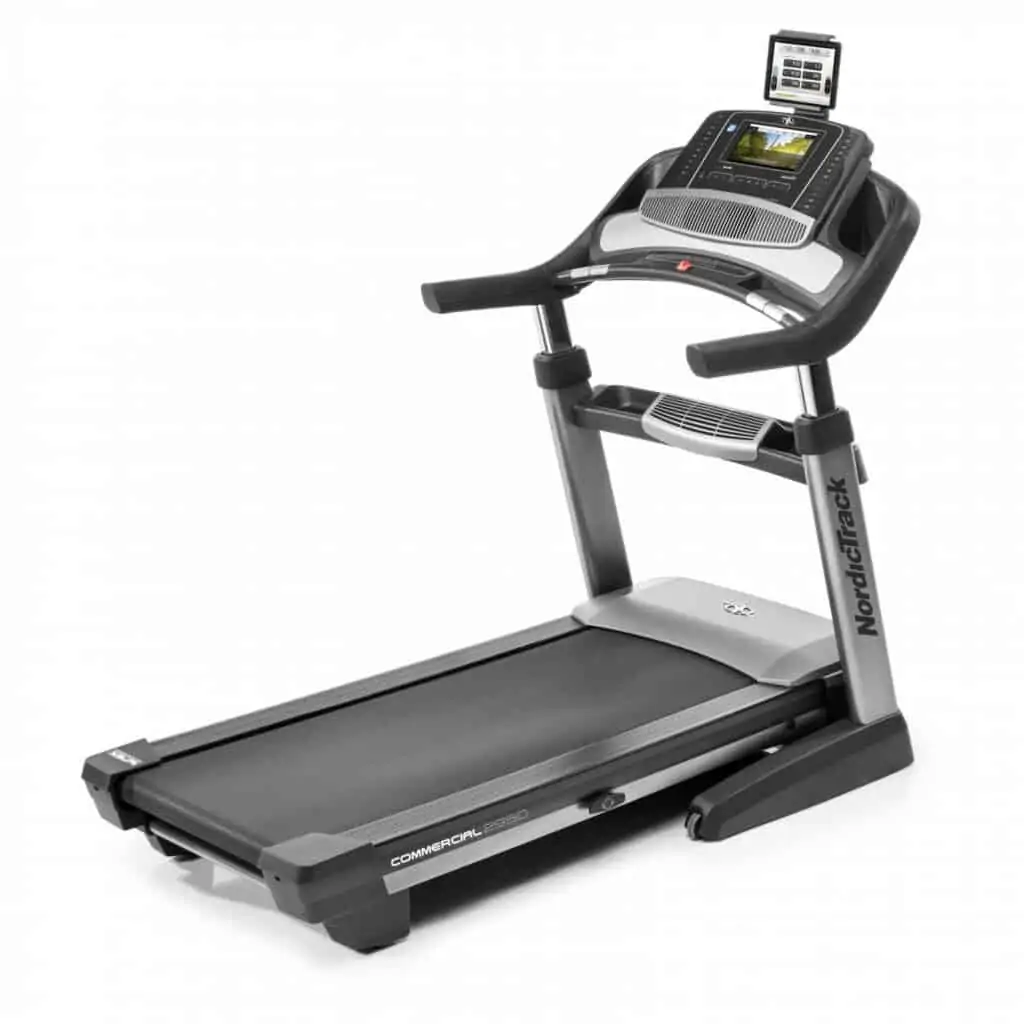 Quieter Inclines.
Updated Android 9.
Bluetooth Headphones.
4.25 CHP DurX Commercial Plus Motor.
Non-flexing 2.5″ Precision-machined and Balanced Rolls
A 22″ X 60″ non-stretch 2-ply commercial belt.
79″L x 39″W x 66″H
Incline by 15% and Decline by 3%
Speed 12mph
Cushioned Runners Flex SpaceSaver® Design with Easylift Assist Warranty
Pros
New 22-inch touch screen with WiFi and a faster CPU.
The user interface is simpler.
The first month of an iFit Family membership with over 16,000 workouts is free.
You may activate or disable the cushioned deck.
A large tread belt
The engine hood won't cramp your style.
iFit regulates the incline and decline for you.
Incline and decline to offer several training options.
Innovative, foldable, high-end machine with a strong engine.
Cons
Expensive folding treadmill
300 pounds capacity is too little for some.
LifeFitness Platinum Club Series has a touchscreen console that controls your workout. You'll need internet connectivity to pick and change workout plans.
Features
SE3 Console: The Platinum Club Series treadmills contain an entertainment console that sets them apart from other treadmills: a 19″ touch screen, TV and web access, and LifescapeTM training programs.
This club-style Treadmill has unlimited profiles. Your family, friends, and colleagues may set up treadmill profiles to track their progress.
The massive jogging track (60″ long by 56″ wide) allows even people with larger frames to work out. Eight shock absorbers lessen joint stress on the track. Fifty workouts are included.
Prevent boredom with 42 exercise regimens and 8 customized routines. Its maximum speed is 12m/h
Incline: There are many options with 50 training programs, but they wouldn't be complete if you couldn't slope up to 15%.
A reading rack, two drink containers, and an accessory tray provide a health club feel.
Lifetime frame warranty; one-year labour warranty; ten-year component warranty
Pros
The 3.5 Life Fitness treadmill's front and rear rollers ensure a longer-lasting 2-ply belt.
It can carry a lot of weight and has a big, cushioned running surface.
Cons
Assembly may be challenging for some; recruit a buddy.
This Treadmill is expensive.
This Treadmill isn't collapsible, so it takes up plenty of room.
Matrix T7xe
Matrix T7xe is equipped with a 5.0 HP Dynamic Response Drive System motor.
Most at-home treadmills can achieve 20 km/h (13 mph). The Matrix T7xe can reach 24 km/h. Its engine is intended to endure high-performance driving.
The path is quiet and pleasant, and the Ultimate Deck Cushioning System and self-lubricating running deck make it easier on your bones and joints. The running surface is 60″ X 22″ providing plenty of room and flexibility for runners
Features
5.0HP motor for high-performance running sessions.
It's a 60″x22″, 2-ply industrial quality tread belt that glides gently and smoothly.
The Ultimate Deck Cushioning System reduces bone and joint stress; the hard wax reversible deck lasts 25,000 miles without maintenance.
Elite runners and athletes can reach 15 mph.
Up to a 15% gradient to enhance effort levels.
Console: 16-inch HD monitor and console; Internet and IPTV are available for entertainment.
Touch: RFID-compatible hands-free login with 14 preset interactive workouts and a plethora of other programs available through Virtual Active programming.
Pros
A built-in 3-speed fan.
Heartbeat Rhythm monitoring
Cons
Business use and after-sales service are expensive.
Nordictrack X22i
The Nordictrack x22i was the quietest Treadmill, despite its 4.0 HP engine.
The latest model is speedier and has more buttons on its console, making it one of our favourites. It's a good choice for individuals who seek high-end specs and functionality while saving money and space.
Features
Work at an incline for low-impact but enhanced calorie burn.
The x22i ascends to +40 percent and drops to-6 percent, so you may walk or trek for a low-impact workout.
Students may engage in indoor and outdoor activities.
A free month of iFit.
Faster processing, 22″ HD touchscreen.
There are numerous incline and speed combinations available.
Sledge-push mode for upper-body work.
Pros
The supportive & responsive deck cushions each footfall.
A new design tilts the deck by +40%.
Working on a steep hill reduces joint stress.
Recovery, conditioning, and downhill training dropped 6%.
Use iFit to raise your heart rate.
The new 22-inch HD touchscreen is faster.
There are several storage options.
Three adjustable fans.
Cons
IFit and preloaded programs need WiFi.
It's not foldable and needs a minimum 8-foot ceiling.
300 lb. max weight.
Precor TRM243
Precor's advanced treadmills provide comfort and customization. The TRM 243 is Precor's top-of-the-line Treadmill in the EnergyTM Series.
Features
The TRM 243's operating mechanism is smooth and quiet. It has a 3.0 HP continuous-duty engine and a thick multi-ply polyester deck.
Precor's durable, affordable frame delivers gym-quality performance at home.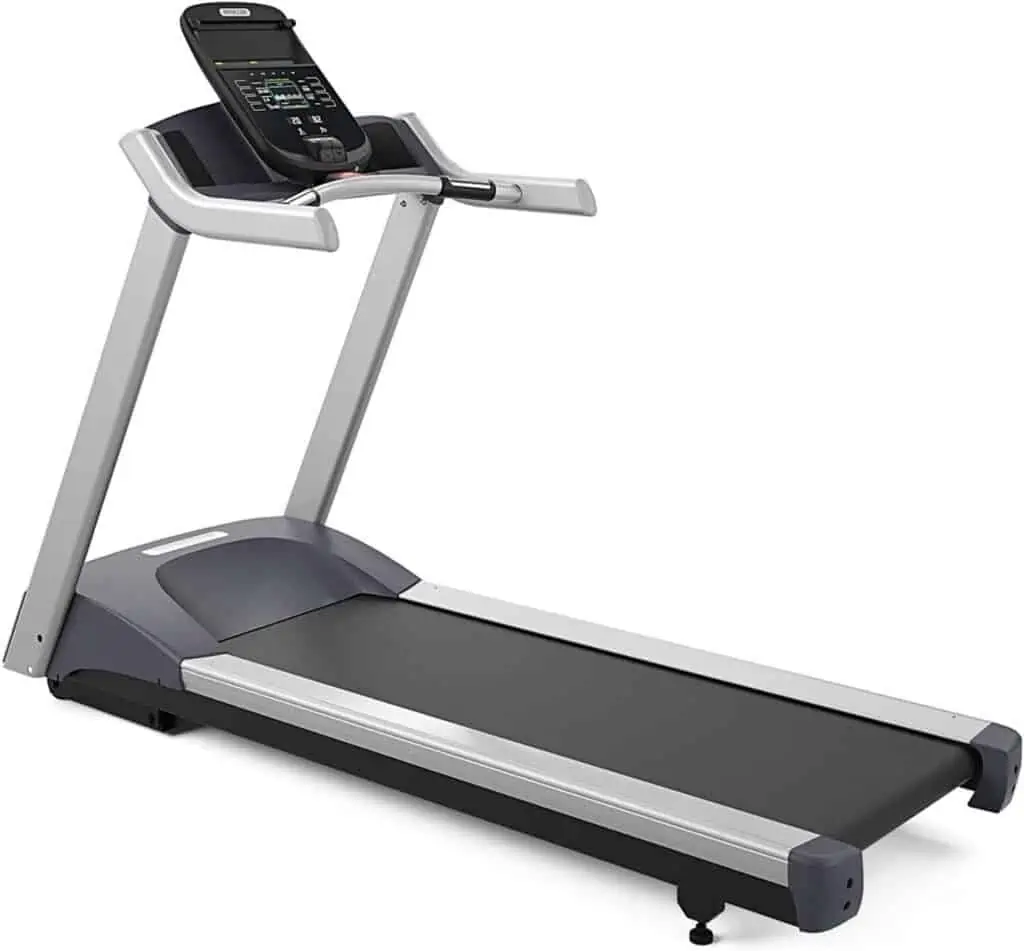 The TRM 243 deck's Energy StrideTM Technology allows it to respond to your stride and provide the maximum assistance where you need it the most. It helps runners and walkers with joint issues.
A 3.0 HP continuous-duty motor offers consistent, long-lasting power for years of exercise. This quiet motor is quite powerful.
The new console sports an attractive 7-inch LCD touchscreen. Exercise feedback matrices use level indicators and lever-style motion controllers to show workout intensity. Apple devices and the Preva® app may upload and save workout data. The music player doesn't operate with Android phones' USB ports.
Plugging in your iPod®/iPhone® allows you to listen to music while charging your phone.
Accessories: water bottle and accessory compartments.
Pros
The 243's 23 pre-programmed workouts let users target various body areas, work toward fitness goals like weight loss or muscle toning, and test their endurance.
Users may get personalized results using one of the model's four user IDs.
Users may record and personalize their workouts.
This model's 57-by-20-inch deck is tiny, making it great for limited locations.
The polyester belt with dry silicone lubricant requires no lubrication.
Lifetime frame 5-year engine and components, 3-year console, and 1-year labour.
Cons
The wireless heart rate chest strap is not included in the price.
The construction is flimsy.
This deck's 57-inch length may be a problem for taller folks than usual.
It costs $3,499, which is a lot compared to other TRM 243 consoles.
This folding Treadmill boasts superior engineering and technology. This foldable Treadmill's FlexDeck shock absorption makes it more affordable.
Features
The treadmill features a 55-inch running surface and a 78.5-inch x 34.5-inch footprint in total.
3 conventional, 2 advanced, 3 goal-oriented, and 5 HeartSyncTM routines.
Two users may recall their favourite walking, jogging, and running settings using the GO console's Quick Start button.
It is compatible with AndroidTM and Apple® fitness devices. You may use the F3 Treadmill with any number of third-party training apps.
LF connect offers customized workouts and real-time progress tracking. The Life Fitness Track console is perfect for experienced trainers who want variety.
The five-year parts warranty is comforting since foldable treadmill warranties are often shorter.
This Treadmills FlexDeck cushioning decreases impact by 30% compared to grass or concrete. FlexDeck increases endurance and lowers injury risk.
The Life Fitness F3's incline ranges from 0.5% to 12.0%.
F3 is energy-efficient and interestingly the motor is weight-sensitive.
The console's 12 games are great. This folding Treadmill has five heart-rate-controlled workouts. The F3 Track console has infinite possibilities for athletes.
Sixteen built-in training modes and third-party fitness programs are available. Linking your treadmill console to LFConnect.com unlocks more functionality.
Pros
Heart rate monitors may be used wirelessly or contact-based. You may monitor workouts in combination with F3's heart rate-regulated exercises.
MagnaDriveTM motors power life Fitness F3 treadmills. Advanced technology adjusts output based on user weight. A 3 HP motor comes with a 10-year warranty.
Cons
The 55-inch track may not be sufficient for tall individuals.
This Treadmill needs a lot of space when not folded. It's enormous at 78.5″ x 34.5″
Precor 835
Precor's TRM 835 is a top-performing commercial treadmill. The ExperienceTM Series Commercial Treadmills from Precor, like the TRM 835, are made to be comfortable, perform well, and last for a long time.
Features
The Ground Effects® Impact Control System and the stride assistance feature make running and walking feel smooth and natural.
Lever motion controls and an LED screen make it easy for consumers to simply touch a lever to alter their training rate or slope.
This console has a numeric keypad and a QuickStartTM button.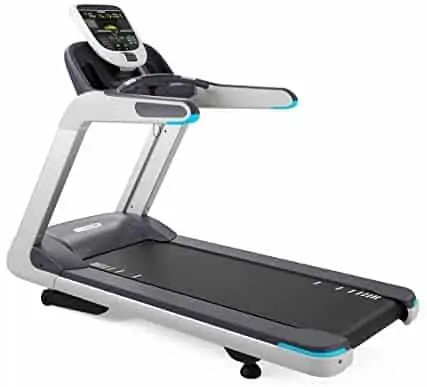 This Treadmill contains 25 pre-set programs. Users may choose from weight-loss strategies to 5K runs/walks based on their goals and abilities.
One of the TRM 835's most outstanding features is the 15 percent incline and 3 percent decline.
A maximum speed of 16 mph is ideal for sprinting and interval training.
The 60-by-22-inch deck is suitable for all sizes. The belt is made of multi-ply pre-waxed polyester, requiring little maintenance and lasting longer.
Gym owners may personalize this Treadmill for consumers by changing the display, setting maximum training time and cool-down limits, and enabling/disabling FitLinxx and C-SAFE compatible programs.
Pros
The steep uphill and downhill of TRM 835 are great for working out many muscle groups and simulating different terrains.
Its variety of training programs makes it perfect for customers with diverse fitness goals.
Cons
Precor's commercial treadmill brand is well-known, but this model is very similar to the cheaper TRM 811.
Apple and Android phones aren't supported, and there's no other device port.
Matrix TF30
The Matrix TF30 review follows suit. We tested the TF30 against similar models.
Many folks who work out don't want a monthly subscription.
Those with shorter stride lengths seek a treadmill with space-saving alternatives.
But they need a robust, foldable treadmill. Or Seniors who seek a high-tech treadmill.
Features
Preinstalled apps include Netflix, Hulu, Facebook, and YouTube.
Web surfing involves searching the internet and visiting other sites.
Free iFit membership for 30 days.
Onboard workout choices include manual, personalized, rolling hills, interval inclination, and heart rate training.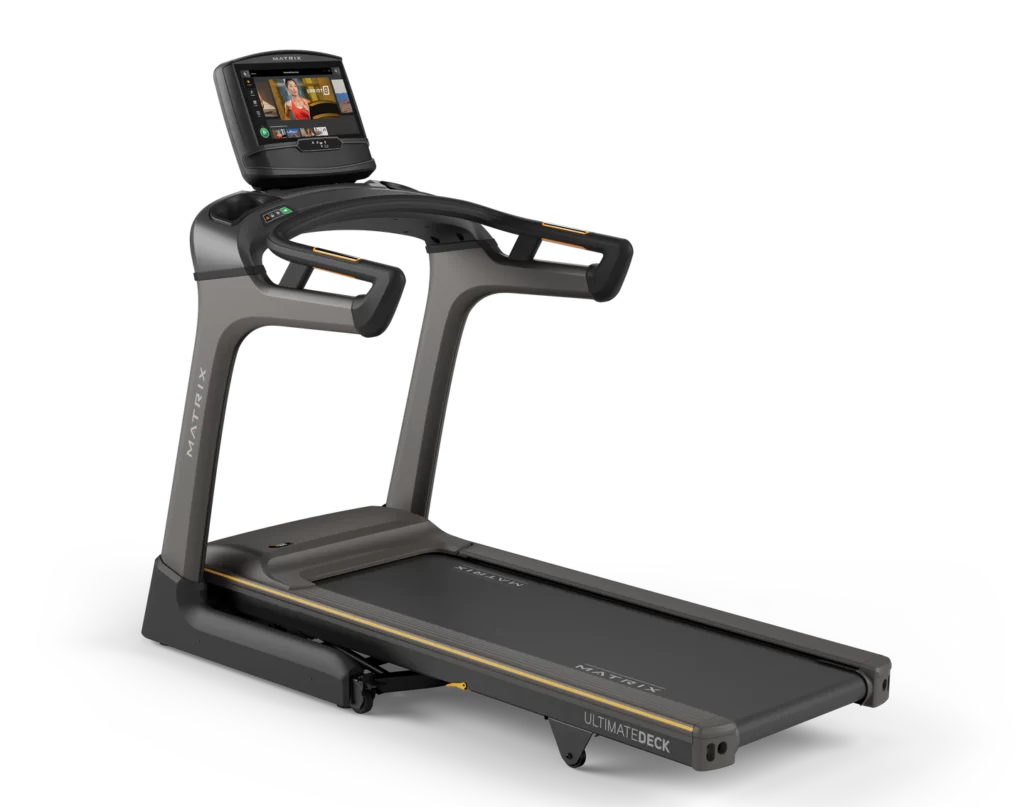 The Treadmill includes Virtual Active and Sprint 8 HIIT.
Use HDMI to connect a phone, tablet, or streaming device.
USB charging port
90-degree folding.
Heart rate monitors and Bluetooth headphones may interact.
Pros
With Netflix and Facebook preinstalled, you'll never be bored.
You may buy any of the three consoles.
This silent Treadmill offers fitness and entertaining programs.
It folds almost 90 degrees for easy storage.
Cons
When the Treadmill is wholly inclined, the belt slips for heavier users.
Longer striders may find the track narrow.
Some folks can't use the screen while walking since it doesn't adjust.
Conclusion
Before exercising, remove all wrappings. If you perform a lot of high-intensity workouts, you may fall. Each has similar traits but a distinct flavour.
While working, you can walk on a treadmill, but that may cut into your free time. Check the cushioning and running belt before buying. Good luck finding a treadmill. Good luck with your workout today!