This FYC under desk treadmill review is about a unique fitness machine that is foldable, portable and compact, and perfect for home and office.
The FYC Folding Treadmill JK1608E-1 comes fully assembled and ready to use. It is one of the best folding-flat treadmills for money.
Related Readings

9 Best Portable Treadmills – Can Be Pushed Under The Bed
Portable Asuna 8730G Easy to Store Treadmill: A Fair Review
SereneLife SLFTRD20 Treadmill: Good Features-Is It Worth It?
There are no high-end monitors on it. A better-monitored fold-flat treadmill may cost a few hundred dollars more, but it is rarely worth it. It is a good buy that should last for years if used with all precautions and considering the price.
This treadmill's variable speeds and shock-absorbing tread belt make it ideal for cardio, muscle building, stamina, weight loss, and recovery.
The machine is pre-assembled, ready when it arrives. Just rotating the knob starts it.
FYC Folding Treadmill JK1608E-1 Construction
The FYC under desk treadmill is delivered wholly constructed. It's as simple as unpacking it and getting started.
When it comes to dimensions,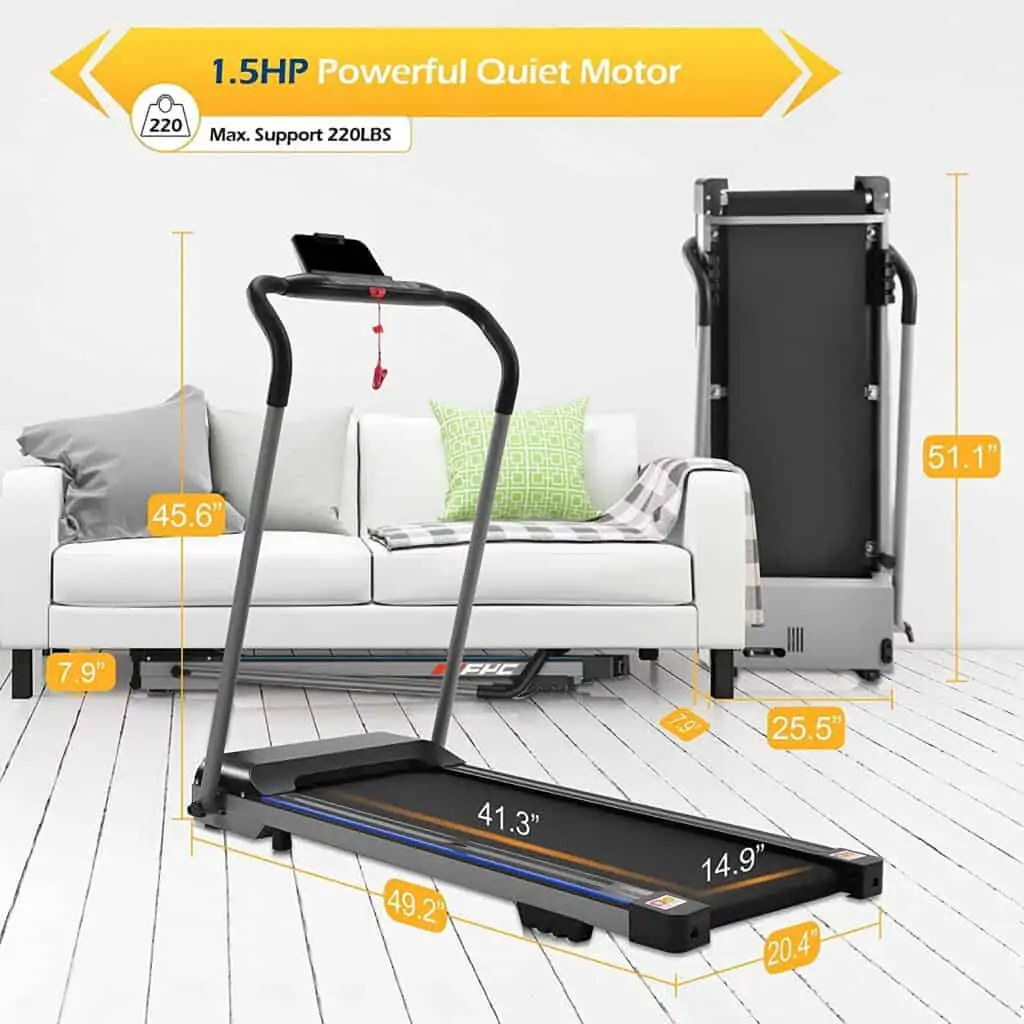 The dimensions of the assembled unit are 49.2L x 25.5W x 45.6H inches.
Folded dimensions are 51.1L x 25.5W x 7.9H inches.
The well-designed treadmill is long-lasting, manufactured of microfibre, and available in only one color: black.
It boasts a long-lasting build, a powerful motor, and an LED console with several different functions.
Motor
The quiet 1.5-horsepower motor keeps you and your family comfortable. Likewise, the treadmill's low-decibel motor runs smoothly and quietly, not disturbing the user or others.
An entry-level treadmill designed for light cardio workouts, its motor is suitable for casual walking or jogging but not for serious runners.
The motor ensures good performance with no jerks or breaks in your workout, making it easy and comfortable for you.
Console & Display
The front LCD panel shows your workout time, the number of calories burned, and the distance covered. It also tells you the running speed and steps taken.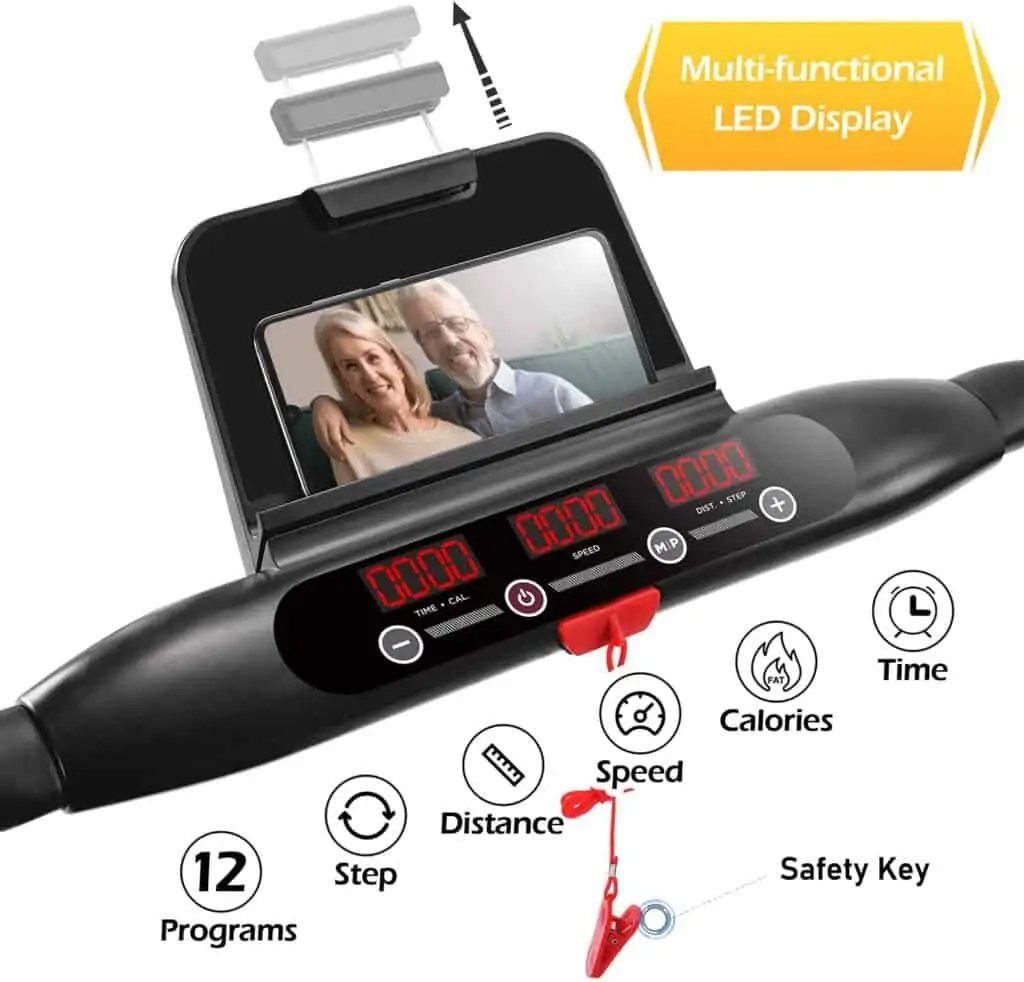 The parameters help you set daily goals to progressively increase your targets and achieve your desired fitness levels over a fixed period.
The display panel has 12 preset workout programs. Unfortunately, very few companies have preset programs with treadmills in this price range. Except for this, the monitor is basic, with no Bluetooth.
The + and – keys on the console increase or decrease speed.
Weight & Weighing Capacity
In terms of weight, it weighs 50 pounds and can handle a maximum user weight of 220 pounds.
Pre-Set Exercise Programs
The FYC folding treadmill for home has 12 preset workout programs to help users burn more calories. These 12 options make your workout more effective and efficient.
Various workout plans exist, allowing you to choose the one that best suits your body. Depending on the settings you choose, you will be able to burn more calories.
Long cardio sessions can be monotonous. The workout programs break the monotony of long runs and challenge your capabilities to improve your cardio fitness in the process.
It is an outstanding feature for a beginner treadmill that adds a new dimension to your cardio workout.
Speed & Incline
The FYC JK1608E-1 has a top speed of 6.5 mph. Unfortunately, there's no incline feature, which, at this price, would have been nice.
If you find yourself unable to match the treadmill's speed or losing control, there is an emergency clip attached that you can use to stop the workout immediately.
The safety key clip can be attached to your clothes and stops the treadmill safely in an emergency if you drift back or fall off. That is quite effective in avoiding injury.
Running Track
This treadmill's tread belt measures 41.3″L x 14.9″, allowing users of all fitness levels to exercise comfortably.
Its anti-slip surface reduces the strain on your joints and knees, reducing the risk of injury.
It has excellent shock-absorbing properties to reduce joint impact and prevent injuries.
Though the treadmill is not suitable for running, it is mainly not made for running for anyone over 6 feet. Similarly, the track won't suit anyone more than 190 lbs. So though you can jog, the treadmill's life span will decrease.
Easy to Fold & Move
The FYC JK1608E-1 is foldable and portable, so users can fold it up and store it out of the way after the workout. It's easy to fold and just under 8 inches thick, so it's easier to fit under the bed or stand upright in a room's corner. So hide it away from your eyes till your next workout session.
So we call it a big city and small apartment treadmill. But due to this reason, there are no handlebars for the pulse sensors.
Heart Rate Monitor
There's no pulse sensor or chest strap, so you can't monitor your heart rate while exercising.
Not that pulse sensors are very accurate, but of course, they do give you some idea of your fitness.
Important Features
The machine has a shelf in front of your phone, earphones, keys, etc. So you can hold video conferences, watch workout videos or listen to music.
Price
The current price of the treadmill is $280.
Drawbacks
This treadmill has no pulse sensor and no handlebars.
There is no Bluetooth connectivity, USB charging port, sound system, fan, or water bottle holder.
A tablet holder is there, but it blocks the console display.
No incline and, of course, no decline.
No heart rate sensors
Warranty
The FYC folding treadmill manual details the company's service and warranty. The same is also available on the company website, www.hellofyc.com. It has a one-year warranty, and the company offers customer service on WhatsApp and email.
Conclusion
The innovative design and microfibre durability make this treadmill an excellent candidate to consider while buying a treadmill. Although it lacks various extras, it is worth considering.
FAQs
Do folding treadmills work well?
Folding treadmills can work well for people with limited space, who want a convenient and easy-to-use machine, and who do not need a lot of features or a high weight capacity.
What is the weight limit on the FYC treadmill?
The FYC treadmill has a weight limit of 220 pounds
Are folding treadmills as good as non-folding?
Folding treadmills are more space-saving, portable, easy to clean, and affordable, but they may also be less sturdy, durable, and feature-rich than non-folding treadmills.
Are folding treadmills more expensive?
No, there is no such rule. The price of a treadmill depends on the motor, the frame, and overall quality.