The Horizon 7.0 AT has almost all the essential features of a good treadmill. It is an excellent option for indoor running and a winner for those looking for a high-quality treadmill at a low cost. This Horizon 7.0 AT Treadmill review discusses its features, specifications, pros and cons, and whether investing in one suits our fitness.
The 7.0 AT has extra cushioning for joint or mobility issues, as indoor walking on a cushioned surface can help improve overall mobility. It has a powerful motor, speed, and incline dials and can easily sync with third-party fitness apps.
The 7.0 AT strikes a nice balance of durability, features, and price and is an excellent choice for users who want to walk and jog, especially if they need a treadmill that can handle more weight.
This Horizon treadmill retails for less than $1000, significantly less than many other treadmills of comparable quality.
Horizon 7.0 AT Construction
Horizon 7.0 AT Treadmill assembly is not difficult, but at least two individuals must do it.
The Horizon 7.0 AT studio series treadmill has impressive features, functionality, solid frame, and construction. The treadmill includes a solid and durable steel structure for longer runs. The steel frame ensures you will benefit from it for many years.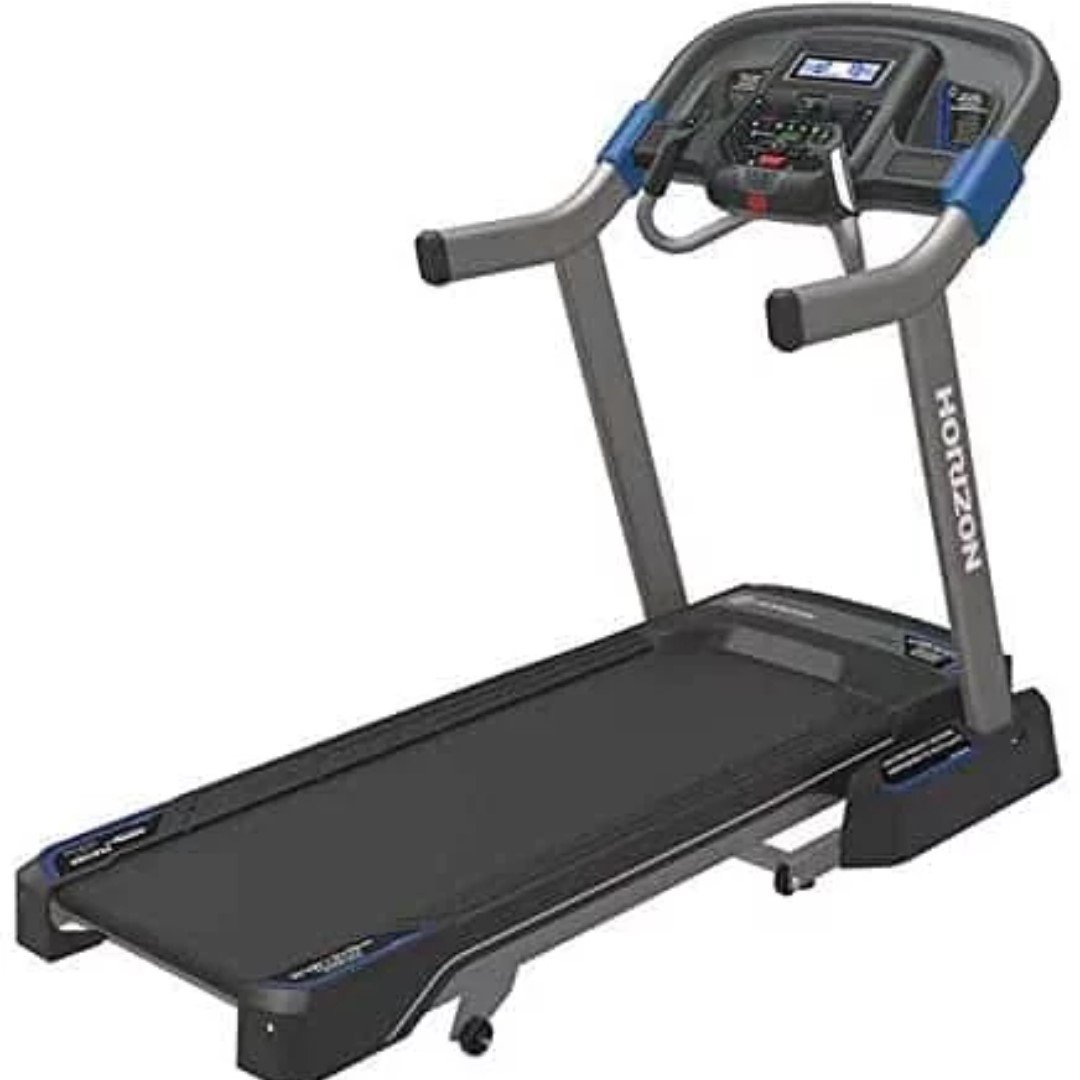 The frame feels solid and ensures this machine can withstand heavy footfalls. The Horizon 7 Treadmill is a sturdy, affordable option for anyone looking for a quality find.
The extra track length makes it an excellent treadmill for taller runners. Horizon 7.0 AT treadmill specs match most treadmills and goes above and beyond in durability.
One good comparison is Horizon 7.0 AT vs Sole F63. But Sole F63 is comparatively slow in changing speed and incline. Besides, the company has reduced the warranty on parts in the current year.
Horizon has three more treadmills in their Go series that are slightly less expensive.
Motor
Its 3.0 CHP motor is robust, stable, and quiet, with a lifetime warranty. Intense interval training and conditioning are made possible with it. It is ideal for regular walkers and joggers and has a clean and straightforward interface. It has an ignorable low-humming sound.
It is ideal for early morning workouts due to the quiet operation when you don't want to wake up annoyed family members.
One main feature is the quick change in speed and incline, lacking in many comparable treadmills in the same and upper price segments. That makes it ideal for intervals.
Speed & Incline
The top speed is 12 mph, and the incline is 15%, providing tough and aggressive runs and interval training. It's very useful for good aerobic and lower-body muscular training.
It has an ideal speed range for most runners for sprints and HIIT. We suggest not operating the treadmills at maximum speeds for long as that decreases their life.
The incline helps target and tone different muscles while burning more calories. It also decreases the impact of hitting a flat surface. Even skilled athletes will find the higher end of the range hard.
The handlebars have dials that quickly change the settings during your workout.
Console & Display
The Horizon Fitness 7.0 AT has two displays. The upper LCD screen is 7 inches, but it is not touch-enabled. It displays calories burned, heart rate, distance covered, current speed and incline, and the time elapsed. There also is a 16-digit alphanumeric LED.
It has QuickDial controls on the upright handles that connect to the console, making it easier to adjust the speed and incline.
Connect your tablet or smartphone to the treadmill to use the free AFG Pro Fitness app.
Some treadmills in the same price range have a larger 10-inch touchscreen display.
Easy to Fold
The Horizon folding treadmill may be easy to store when not in use. The hydraulic system makes folding and unfolding very smooth and easy.
Horizon 7.0 AT Treadmill dimensions are 76.5″L x 36″W x 59″H. It folds into a V shape, so you can't store it in tight spaces. It's also difficult to maneuver despite the two wheels. The V-shape and weighty frame make it difficult.
Preset Programs
There are 7 preset programs. You can skip these, set your speed, and run.
If you run in manual mode, both screens show your stats.
Running Track
The belt fits the treadmill Horizon 7.0 AT well, and the 60″ length allows for a full stride, even for taller users. There is also plenty of room to walk or jog.
With 20″ x 60″ deck dimensions, this treadmill can accommodate taller runners with longer strides and those with more than average weight.
The belt is 1.6 mm thick, and the rollers are 2.6/1.8 inches.
The Horizon 7.0 AT has three-zone variable response cushioning like Horizon 303, which reduces the impact on joints, allowing runners to run longer and faster.
Weight & Weighing Capacity
Horizon 7.0 AT Treadmill weight limit is 325 lbs, and its weight is 253 lbs., making it more challenging to move around.
Important Features
Compare Horizon 7.0 AT vs 7.4 AT; features do not differ much.
The heart rate monitor features a grip pulse.
No specific workout apps are included, but the machine's Bluetooth can connect to and sync stats with Zwift. You can compete in a virtual race with other runners. The live community makes your runs more fun and engaging.
The Bluetooth can also connect to any fitness app, and you can use the tablet holder to stream workouts to your treadmill. It works with Peloton, Map My Run, ViaFit, and others.
AFG PRO is free for Horizon 7.0, or you can watch Netflix on the tablet rack.
Horizon 7.0 AT treadmill manual is quite elaborate and mentions complete details of its assembly in addition to the specs and features.
The treadmill has seven built-in programs:
Calories
5K
Distance
Fat burn
Hill climb
Manual
Max heart rate
Horizon's three-zone variable deck cushioning helps absorb impact. It cushions the landing and takeoff shocks. As a result, you can run for longer.
The Horizon 7.0 AT supports both Android and Apple smartphones.
The 7.0 AT has two Bluetooth speakers that stream music from your Bluetooth-enabled devices.
A small fan is located near the 7.0 AT console's base, but you don't get much air from it.
The 7.0 AT's curved handlebar pulse grips are visually appealing and allow for good heart rate monitoring.
This machine has a USB port for charging your phone or tablet while streaming classes.
Horizon 7.0 AT Treadmill Price
The Horizon 7.0 AT treadmill retails primarily at $999.00.
Drawbacks
The LCD screen is not a touch screen.
There are various treadmills with a 10-inch screen.
Very few preset programs.
Warranty
Horizon 7.0 AT offers a lifetime frame and motor warranty, 3 years on components, and one year on labor.
It also offers a 30-day money-back guarantee.
Conclusion
It is one of the best treadmills in this price range. It should be a treadmill of choice for the sub-1000 price range.