The Horizon T303 Treadmill is a budget-friendly folding treadmill from Horizon Fitness, one of the best brands for low-cost treadmills. The treadmill is ideal for joggers, walkers, and beginner runners.
The Horizon T303 treadmill is a part of the "Go-Series" by the company in the sub $1000 range. There are two other treadmills in this range. All three are suitable for jogging and walking. On all three, you can do a limited bit of running. The larger the motor, the more you can run. However, a 3 HP engine is insufficient for real running or other intensive marathon preparation.
If you don't want to do that, then the Horizon T303 treadmill is a nice option.
The Horizon Fitness T303 treadmill has a large running surface and a sturdy frame, suitable for users of all sizes.
You can walk, jog, or run sprints on the T303 in the privacy of your own home. A great fitness and conditioning tool, the T303 is supported by Horizon's technology.
This folding treadmill inclines up to 12%, has a max speed of 12mph, the running platform is 20″ wide by 60″, and the motor is 3.0 horsepower. It has a backlit LCD screen and Bluetooth. A media shelf to keep your phone or tablet. Eight preloaded workouts and a lifetime frame and motor warranty make it an excellent value for money.
Horizon T303 Treadmill Construction
The T303 has a good design and build quality. A strong steel frame makes it heavy, more durable, and withstand constant heavy footfalls.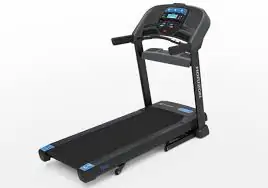 The T303 is a sturdy treadmill that doesn't rock, is easy to get on/off, and inclines as needed. It supports the 3-Zone cushioned deck.
The incline arm under the deck raises and lowers the walking grade for varied training. 
The T303 comes with small 1.8 and 1.6-inch tapered rollers. Larger rollers are preferred for smoother operation and less strain on the belt, rollers, and motor.
A Sturdy Motor
Its 3.0 CHP motor is robust, stable, and quiet, with a lifetime warranty. Horizon promotes this motor as one of the best on the market for interval training since it responds faster than most competitors.
The T303's 3.0 HP motor can reach 12 mph and a maximum incline of 12%. The motor smoothly adjusts speed and angle. It allows for fast running and high-intensity interval training, and you can work out without disturbing others.
The T303 is powerful enough for most users' needs. It may not be strong enough for long runs or intense training but is strong enough for daily use for walkers and joggers.
The motor is protected from foot impact by the motor hood. It is low and away from the walking area under the console. The Johnson Drive System runs at lower RPMs to prevent overheating.
Speed & Incline Benefits
The top speed is 12 mph, and the incline is 12 percent.
The T303's speed and incline are fine and average compared to other top models in this price range. The 3.0 HP motor makes it even better and suitable for regular running.
Choose a speed increment from 0.5–12 mph for targeted speed conditioning. The 12 percent grade increases calorie burn and stimulates posterior muscle development.
Unlike several other treadmills, the dial increases speed and inclines almost instantly with no lag at all. You can do plenty of hill work and incline training with it.
Well-Lit Console & Dual Display
The Horizon Treadmill T303 has two LCD screens to show workout data as time and calories burned.
The console is well-lit but crowded with buttons and icons due to a few extra functions.
This treadmill's LCD console is simple, backlit, and large enough to see during workouts.
It has only eight preloaded workout programs. The workouts available are fat burn, hill climb, 5k, distance goal, manual, etc.
The console also has two custom interval buttons for HIIT lovers that let you set your speed and incline for intervals.
Foldable and Space Saving
The T303 folds vertically against the console to the following dimensions. 47″L x 34″W x 65″H.
This treadmill saves space and money, and the folding feature saves space when the treadmill is not in use.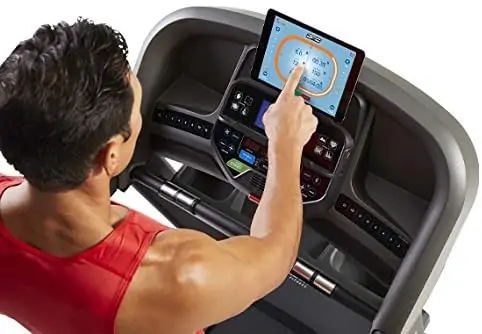 Large Running Track
The 20″ x 60″ deck is longer than a typical home treadmill, accommodating taller runners and longer gaits.
The 60-inch deck is the standard for folding treadmills for walking and running, even for tall individuals. 60″ length allows walking, jogging, or running, while we don't recommend heavy or intense training.
Horizon's three-zone variable cushioning aids reduced joint and knee impact and shock absorption during the run. There is no discomfort or fatigue on this treadmill compared to outdoor surfaces. It supports good walking form and improves postural and spinal alignment.
The front of the treadmill absorbs more shock than the back, where you want a firmer surface to push off with each stride.
Heavy Weight & A Good Weighing Capacity
With a weight capacity of 325 lb and an assembled weight of 194 lb, this treadmill is relatively safe and stable.
Important Features
The T303 has eight preloaded programs, each with a button. These are excellent non-subscription training options.
The treadmill's built-in Bluetooth speakers allow you to listen to music or workouts from your tablet or smartphone.
It is compatible with a heart rate monitor, though you must buy one as the company doesn't provide a treadmill.
The USB charging port lets you keep your smart device charged while exercising.
A built-in fan keeps you cool during more strenuous workouts.
The tablet holder is conveniently located above the console, so you can use your tablet without blocking your view of your workout metrics.
A large storage tray runs between the console's uprights for Water bottles, remotes, keys, towels, and other items.
No membership is required.
You can also use the Pro app on a tablet or phone to sync your workout data with Fitbit or Under Armour fitness apps and keep track of all details.
Price
The current price of the treadmill is $1099.00, but it is frequently available at a lower price.
Drawbacks
The small rollers are one major drawback of an otherwise excellent treadmill.
Warranty
The warranty covers the frame and motor for life, parts, and electronics for three years and labor for one year.
A lifetime frame and motor warranty are unbeatable. Only a few others match three years on parts too.
Conclusion
Overall, T303 is a very functional treadmill at a good price. A quality treadmill for under $1000. It has more to offer if you want intervals too.