Whether you're a fitness expert or just starting on your path to improved health, a treadmill is a piece of excellent training equipment. Learning about the many different types of treadmills will help you choose the right one.
Types of Treadmills
Treadmills may be found in various styles, sizes, materials, and options. We've collated data on the most popular treadmill models for your perusal down below.
Manually Run Magnetic Treadmills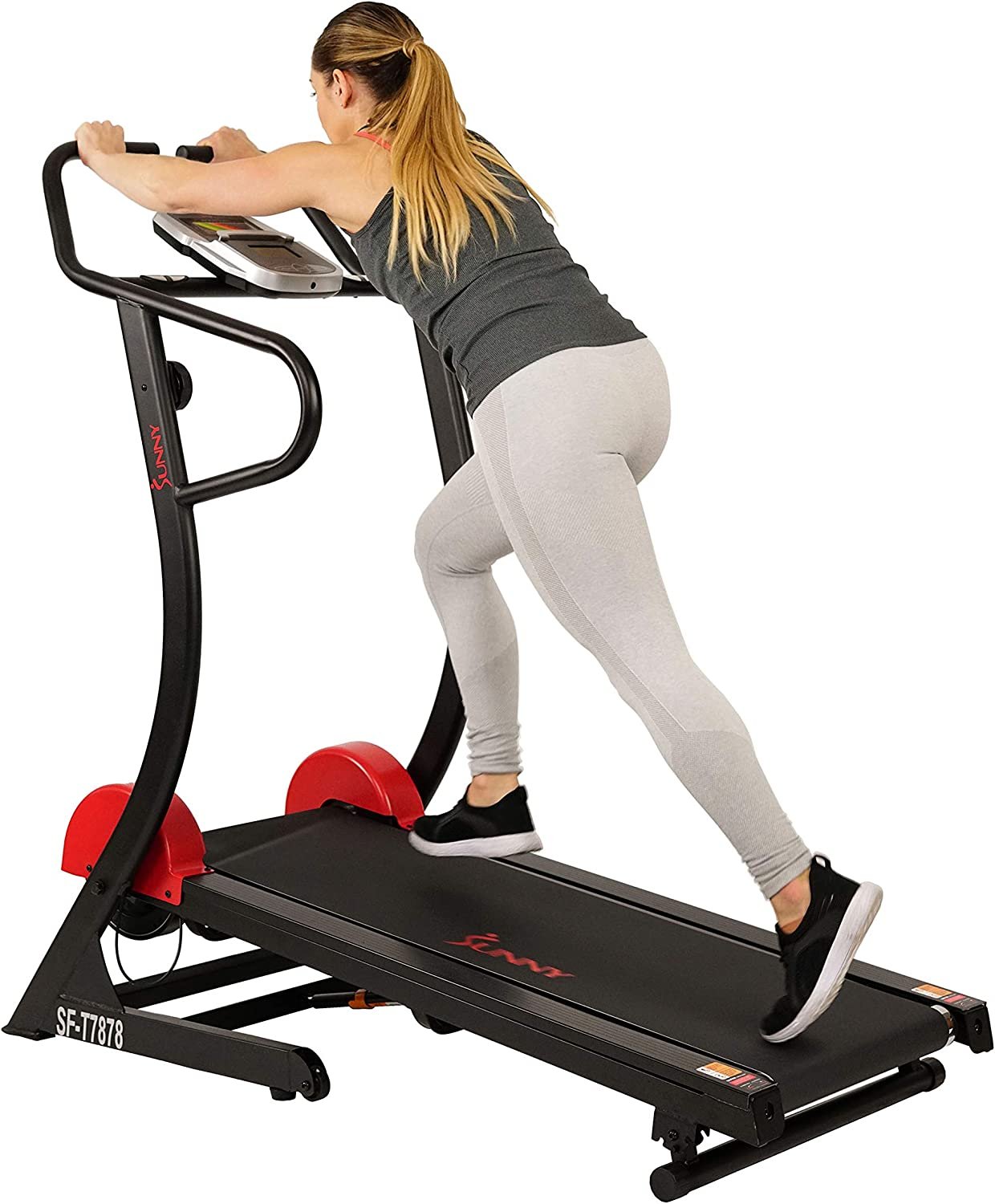 Manual treadmills, often called magnetic ones, are powered by human exertion and magnetic tension and do not need any other power source.
The belt and rollers of a treadmill only move when the person using it walks with enough force. They are lighter than others and available in various sizes.
They often have steel frames, PVC belts, foam handrails, and LED control displays. Because of the way it is made, a manual treadmill doesn't need more than one battery charge to work.
They are less expensive than other options, and because of the personalized nature of the training, they provide less risk of injury.
Pros
They are less expensive.
Don't need electricity to run.
More challenging as you must manipulate the belt and control pace and resistance.
Balance, coordination, and posture improve with the belt.
Cons
The belt is uncomfortable to start or stop.
Low-quality frames, belts, and rollers.
Limited speed, incline, monitors, programs, and safety keys.
Thin belts may be an obstacle for long or quick runs.
Sunny H&F Force Fitmill
Exerpeutic 100XL
Weslo CardioStride 4.0
Motorized treadmills
These are the most popular and widely used ones that use an electric motor to power the belt. They have various speed and incline settings and built-in programs and monitors. They are more comfortable and convenient than manual treadmills but noisier.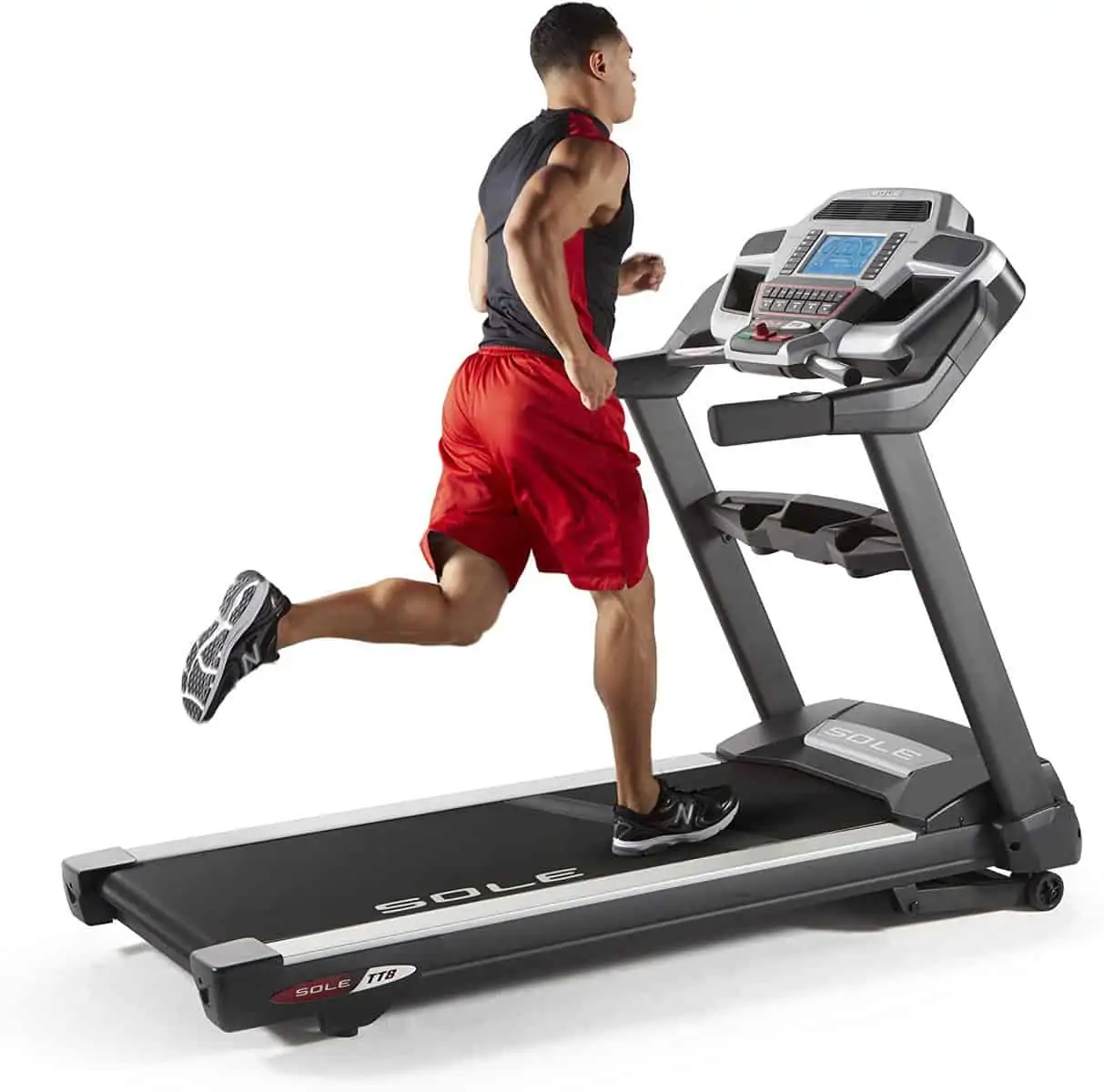 Pros
The belt goes automatically, and you may adjust the pace and slope using a button.
Programs, speakers, fans, and safety keys enhance workouts.
They provide a more consistent workout because you can set and maintain your tempo and incline without extraneous pressure.
Speed and incline settings can challenge or complement your fitness level.
Cons
They cost more than manual treadmills and may not fit your budget or space.
They use electricity and harm the environment.
Noisy motors, belts, and other elements need regular maintenance.
They may not reflect outdoor running's natural changes and impediments, rendering them unrealistic and unengaging.
Best three motorized treadmills
Sole TT8
Horizon 7.8 AT
3G Cardio Elite Runner
Folding Treadmills
This category of motorized treadmills can be folded up and stored away when unused. They are ideal for small spaces and have easy portability. They may have fewer features and lower weight capacity than non-folding ones but they are also more affordable and practical.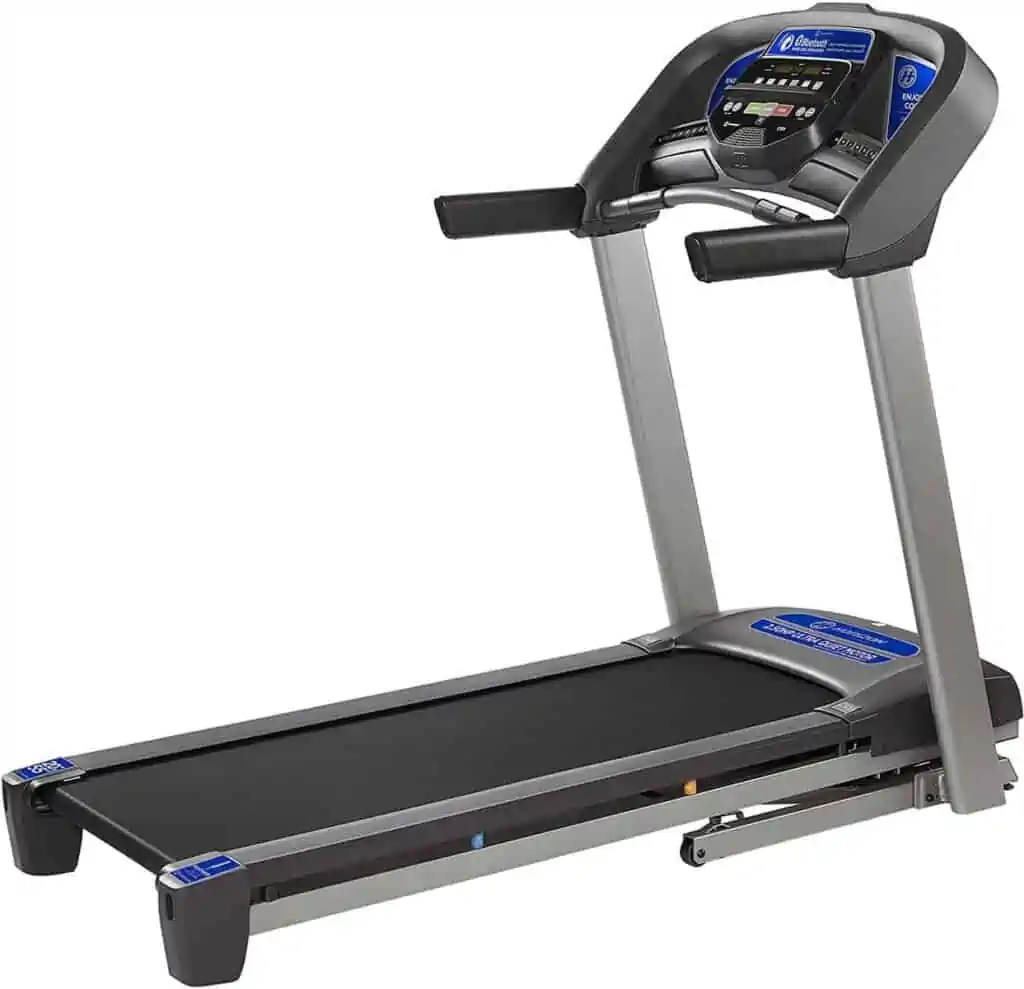 Foldable treadmills are an excellent choice if you do not have a lot of room in your home for gym equipment. These are popular among those who reside in smaller homes, such as condos and flats.
Pros
They're perfect for small spaces and portability because they fold.
Folding treadmills are cheaper and more handy.
They have monitors, programs, and a good speed and incline range.
Wheels and a locking mechanism prevent accidental unfolding and falling.
Cons
They may have less weight and features to fold.
Under heavy use, their frame, belt, or motor may break.
They may have a short belt restricting your stride or a flawed cushioning system that strains your joints.
Their many pieces and hinges may require extra assembly and maintenance.
Best Folding Treadmills
Smart treadmills
These motorized treadmills have advanced technology and connectivity features, such as touchscreens, speakers, cameras, internet access, streaming services, apps, and interactive coaching. They can provide a more immersive and personalized workout experience but are also very expensive and may require a subscription fee.
Pros
Touchscreens, speakers, cameras, the internet, streaming services, apps, and interactive coaching make exercises more immersive and personalized.
Based on your heart rate, pace, program, wearable devices, or online accounts, they can automatically adjust speed and slope to match your demands.
Music, movies, games, and live classes motivate and entertain.
They can provide more detailed feedback and analysis to track and enhance your performance and health.
Cons
Their high-end features and functions may make them expensive and subscription-based.
Their various systems and devices use a lot of power and bandwidth.
Flaws and changes in its sophisticated software and hardware may cause technical issues.
They may not simulate outdoor jogging, making them fake and unchallenging.
Best Smart Treadmills
Under Desk Treadmills
One of the most efficient types of treadmill is the under desk treadmill. This is the best solution for those who want to burn fat while working, whether doing an actual job or just writing on a laptop.
They're designed to keep your gadget on the treadmill tray as you walk or keep the treadmill itself below the standing desk. As a side note, the treadmill trays on these machines are noticeably bigger than those on regular ones. No matter how quickly you walk on these, the tray won't move. Of course, it is impossible to work while running, so running is out of the question.
These treadmills may reach speeds of up to 4 mph. This makes them a reliable choice for anyone who needs to keep their hands free while working on a laptop, book, or other item stored in the tray.
You'll appreciate their convenience when juggling work, school, and a gym membership.
Pros
These let you walk or run under a desk or table.
They boost circulation, burn calories, and relieve tension and fatigue.
They increase productivity, creativity, and mood.
They may blend in due to their low-noise motor and tiny profile.
Cons
Sometimes the belt is too narrow for a comfortable walk.
Speed, incline, monitors, programs, and safety keys may be unavailable.
They are not meant for intensive training.
You may need to buy a matching desk of suitable height and width.
Best Under Desk Treadmills
Commercial Treadmills
Commercial treadmills, like the ones seen in gyms and other public fitness centers, are designed for use by a broad set of trainers.
Manufacturers often make these larger and with more sturdy materials because of the high traffic in gyms.
They are designed to withstand frequent, rigorous, professional usage. If your home is large enough, you may purchase them. It's likely to include features you don't need.
Pros:
Because they're durable, they can handle intense, long-duration workouts.
They have reliable motors, belts, frames, rollers, and decks.
Speed, incline, displays, programs, speakers, fans, and safety keys increase your workout.
They offer many speed and incline options to challenge or support different fitness levels.
Cons:
Their pricey features and functions may necessitate a warranty or service contract.
Big and hefty, they may not fit in your home or be easy to move or store.
They waste electricity and harm the environment.
Noisy motors, belts, and other elements need regular maintenance.
Best Commercial Treadmills
Rehabilitation treadmills
Solid evidence is that treadmill exercise helps stroke survivors regain strength and mobility. Another study with identical findings found that treadmill exercise helped chronic stroke patients become more physically fit.
Meanwhile, studies have shown that walking on a treadmill may help those with Parkinson's disease by increasing their stride length and improving their gait.
Physical therapy treadmills come in many different shapes and sizes, and some have unique features that are usually only found in places like hospitals.
Models designed specifically for use in the comfort of one's home are available. They are an excellent choice for people with long-term health problems or older people wanting to stay active. These offer non-slip grips and a low step-on height for comfort.
Please consult your doctor before utilizing a treadmill for any rehabilitation.
Pros:
They improve mobility, strength, and balance after injury, surgery, or illness.
Low pace, incline, handrails, harnesses, monitors, and programs make workouts safe and supportive.
They improve blood flow, oxygen delivery, tissue repair, discomfort, inflammation, stiffness, and scar tissue.
They improve endurance, coordination, and confidence.
Cons:
They may cost a lot and require a prescription.
They are rare and are only found in rehabilitation clinics.
Their limited pace and incline may make them inappropriate for overall fitness or performance.
Complex processes or fragile equipment may need more supervision and aid.
Best Rehabilitation Treadmills
PhysioMill HCI Fitness
Sunny Health & Fitness T7857
Exerpeutic TF2000 Recovery Treadmill
Manual Curved Treadmills
Manual curved treadmills have a curved shape that follows the natural arc of your foot movement. They can help you run faster and more efficiently and reduce the impact on your joints. Athletes and trainers often use them, but they may also be very expensive and challenging for beginners.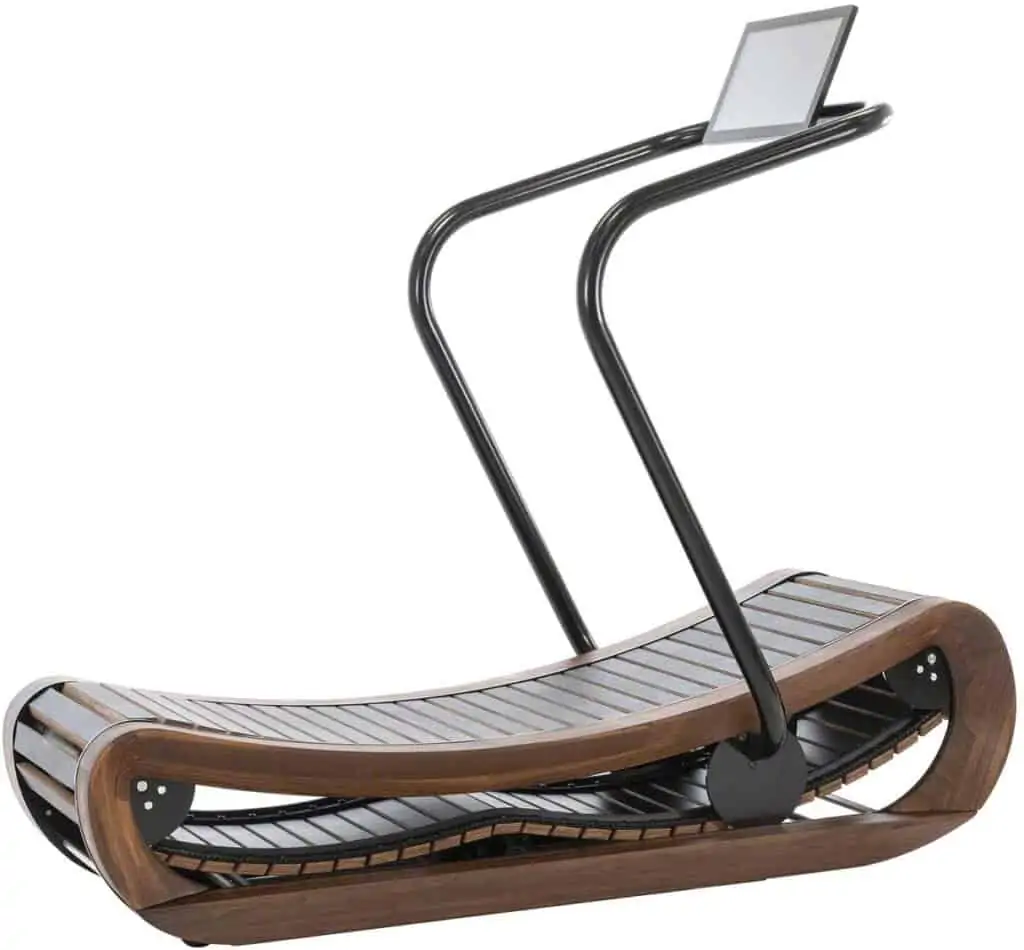 Pros
Running on your midfoot or forefoot activates your hamstrings and glutes.
They require more muscle to move the belt, which boosts metabolism and calorie burn.
They mimic outdoor running, making them more natural and exciting.
Cons
High-quality frames, belts, and rollers make them pricey and huge.
Running safely and successfully requires ability and coordination. Therefore, they may have a steep learning curve and injury risk.
Limited speed, incline, monitors, programs, and safety keys.
Assault Fitness AirRunner
Sprintbok by NOHrD
IN10CT Health Runner
Conclusion
There are several considerations to make while picking out a home treadmill. Whatever design works best for your needs regarding price, footprint, and other considerations is the one for you. It's essential to stay motivated. Therefore, it should include everything you need to make working out fun.
This could mean high-quality technology that lets you do already-made or streamed workouts. It could also mean using a machine with a steeper angle that can be changed and a faster top speed.
We hope our buying guide has shed some light on the wide range of treadmills available and helped you decide which is best for you.