Ideal For Any Space Because It's Foldable, Compact, And Portable:
Life Fitness F3 Folding Treadmill is one of the best treadmills on the market right now. Quality components assure the long-term viability of your home exercise equipment. This foldable treadmill is lightweight and portable, making it ideal for small spaces.
Who makes Life Fitness Treadmills?
Founded in 1977, LifeFitness specialises in the sale of exercise bikes. In 1984, LifeFitness was purchased by Bally Total Fitness and renamed LifeFitness. The Brunswick Corporation, a company that sells stationary cycles, treadmills, stair climbers, rowers, and weight machines, now owns it. It's a name you can trust when it comes to high-end equipment for commercial gyms.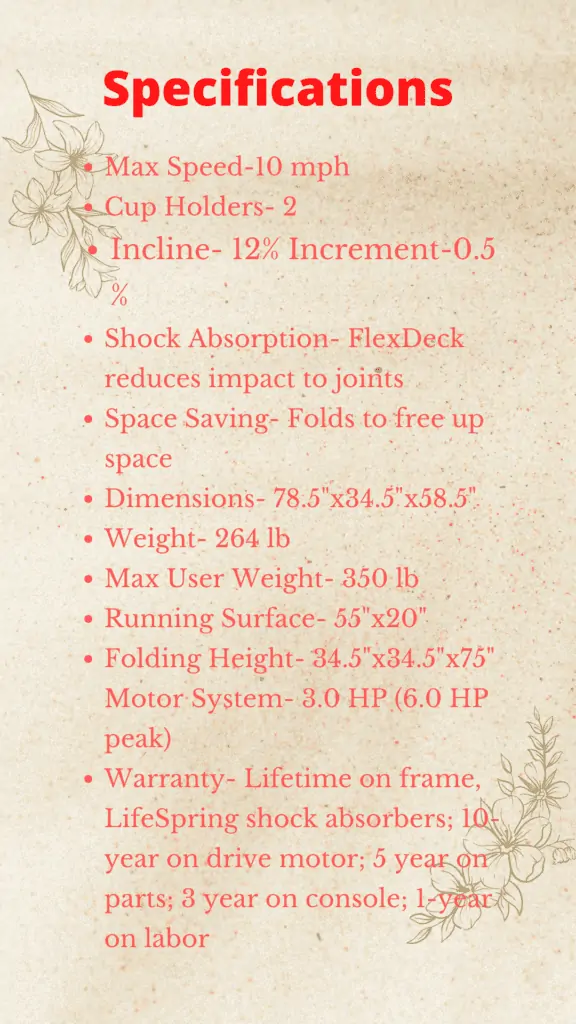 LifeFitness makes seven treadmill types, and the pricing ranges are indicative of potential add-ons, warranties (standard or extended), and personal preference. Each of the series has specific characteristics. The only foldable treadmill is the F series, which is at the lowest end of the treadmill price range. Compared to the T series, which begins at 3.0 CHP, the Club series is comparable to commercial standards in their home gym offerings.
Related Readings

The Precor TRM 243: Another Great Treadmill Though Expensive
Treadmill with 350 lb Capacity: 7 Best on The Market in 2022
Essential Features – Life fitness f3 folding treadmill
Hand sensors and wireless telemetry heart rate tracking systems
Preserves three distinct inclination settings, as well as your favourite speeds at which you walk, run, and jog.
Gas springs are used in order to bring the treadmill to a stop. When the treadmill is folded, four wheels come into play for simple transportation. It weighs 269.5 pounds.
For the price, the Life Fitness F3 Folding Treadmill stands out among folding models. Two options are available: Go and Track. Both have different pricing. The Go Console is the most basic, with pre-programmed routines and a backlit LCD display. It usually sells for $2,599 on eBay. In addition to Bluetooth and USB connectivity, the Track Console's $3,049 price tag features a USB connector that can be used to charge mobile devices.
When it comes to folding treadmills, the 269-pound weight of the Life Fitness F3 Folding Treadmill is impressive. While most treadmills in this price range have the same basic inclines and speeds, this treadmill doesn't have any extra bells and whistles. The F3 is a great option if you're searching for a simple, no-nonsense running machine.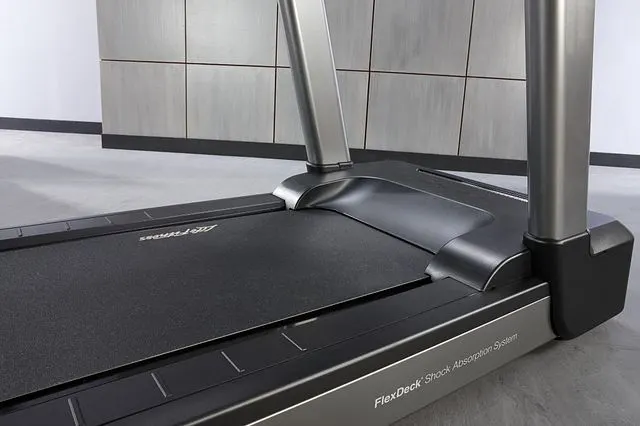 There are two ways to customize the console on this system, and one of them has a few more choices than the other. If you're looking for a treadmill console, you can probably expect an average number of pre-programmed workouts and storage space, but not many other features.
The incline
It's typical to find treadmills with an inclination range of 0 to 12 percent, which is the most common range.
Display
The F3 comes with two different consoles: the Go and the Track.
There are 13 pre-programmed routines on the Go console, and you can save up to two of your own. An LCD backlit blue display is all that's on the front of this device, which can store two user profiles.
Additionally, the Track Console offers pre-programmed exercises, 12 custom training programs, and four user profiles. It can sync with fitness trackers like FitBit and MyFitnessPal because it has a USB port and Bluetooth.
Range of speed
The pace is sluggish, ranging from 0.5 to 10 mph. The Life Fitness F3 Folding Treadmill is a little slower than other treadmills in this price range, but as long as you don't plan on doing a lot of sprints, 10 mph will be good for a combination of quicker and longer distance runs.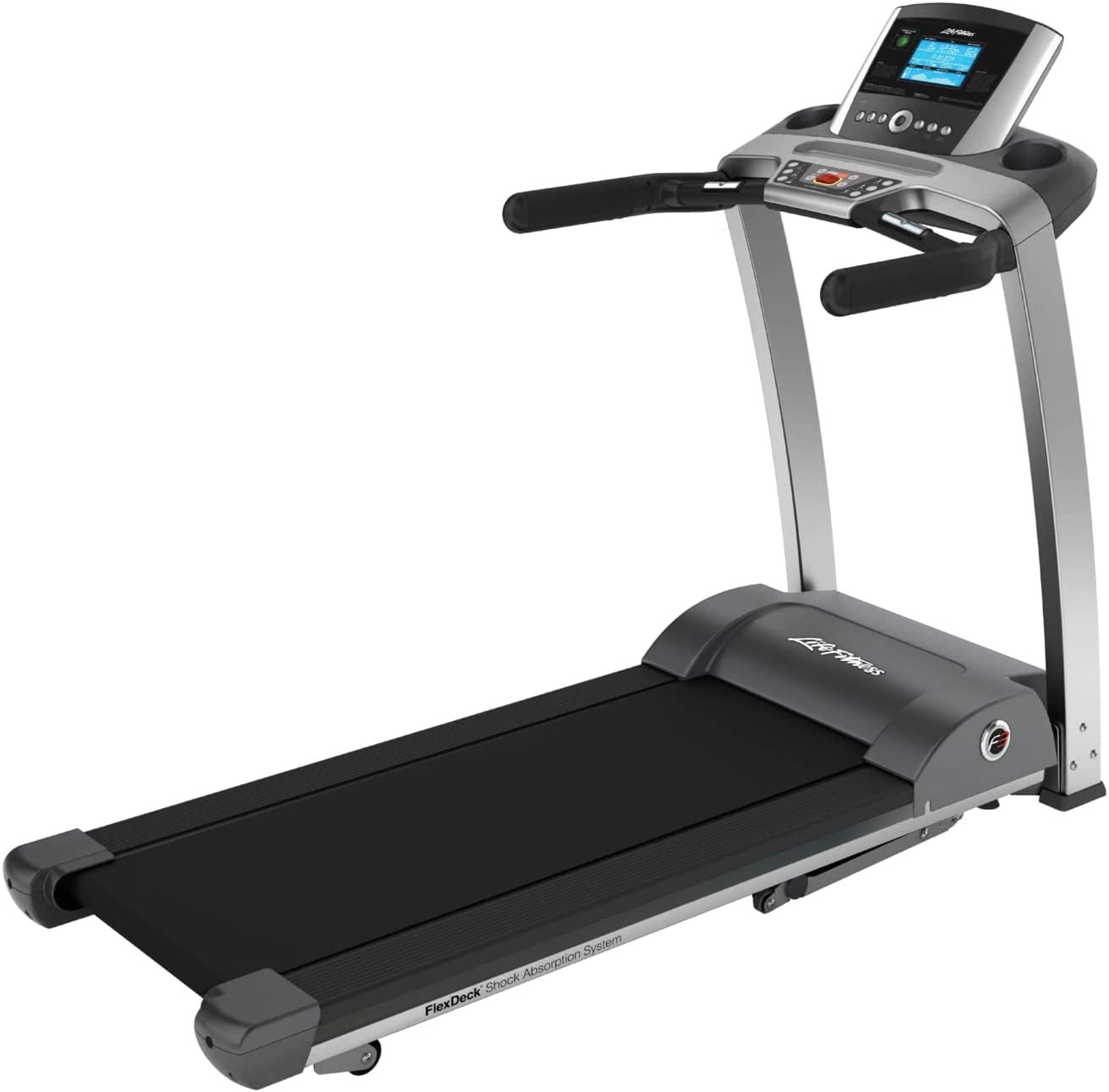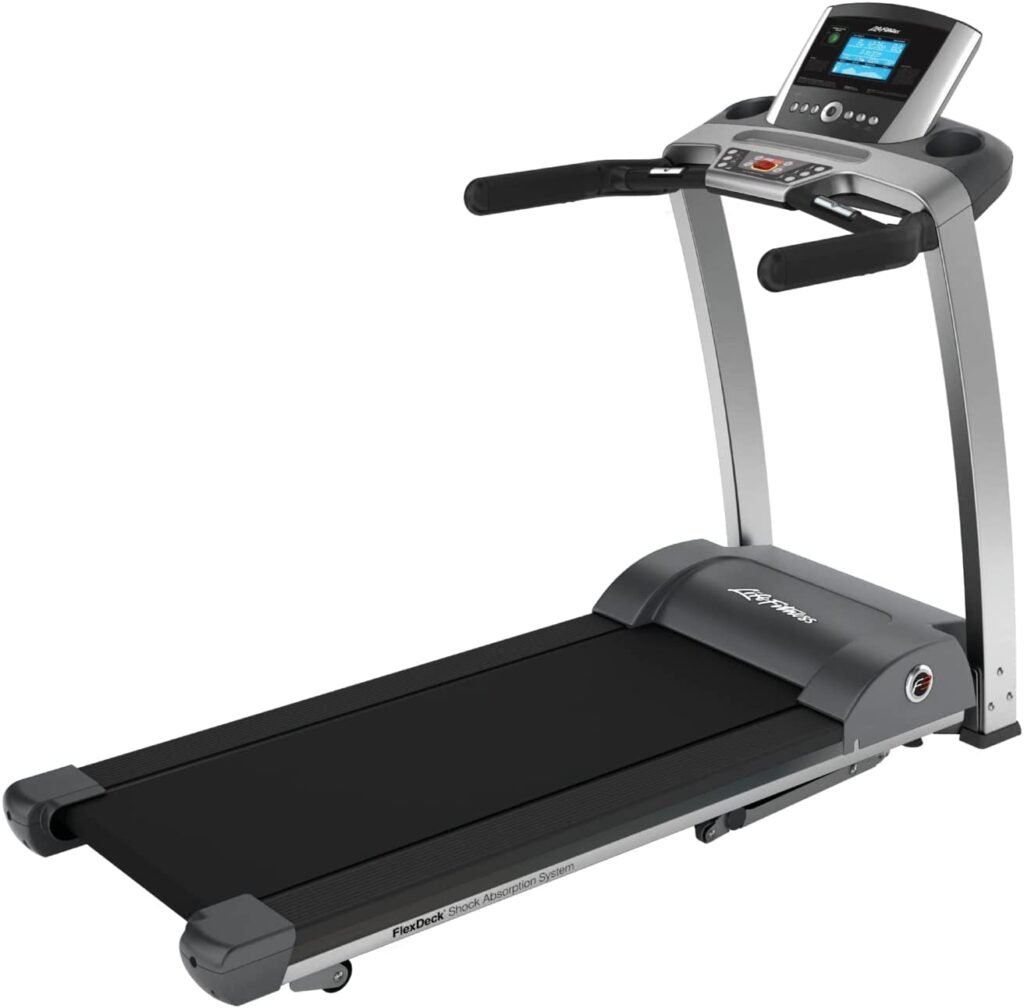 Speakers
There aren't any speakers included with the Life Fitness F3 Folding Treadmill, so you'll have to search elsewhere if you want your home gym to seem like a club.
Fans
This machine has no built-in fans for either console, which may be acceptable in the winter but may need a floor fan in the summer to keep you cool.
Monitoring of the user's heart rate
Your purchase comes with a wireless telemetry heart rate monitor that can be used with the handlebar sensors to get a more accurate reading of your heart rate.
A variety of inputs, such as HDMI, USB, and others
With the Track Console's USB connector, you can plug in a USB drive with pre-programmed workouts and have them automatically transferred to your treadmill.
Options for Bluetooth and audio playback are available
With Bluetooth, you can link your mobile device to the Log console and track your exercises on the LF Connect app or any other fitness tracker. The F3 has no built-in speakers, so you'll have to use earbuds or external speakers to listen to music.
Holders for water bottles, cups, tablets, and cell phones
This treadmill has a lot of storage space. Two water bottle holders, a tablet holder for those who want to stream while working out, and an accessory tray are all included.
LifeFitness has a variety of warranties to choose from:
Parts and labour are covered by a five-year warranty.
For an extra $199, you can choose a three-year premium extended warranty that covers both parts and labor.
For an extra $399, you may extend the normal one-year warranty to five years of comprehensive parts and labour coverage.
Life Fitness F3 Folding Treadmill – Pre-Set Programs
Three classic, two advanced, three goal-oriented, and five HeartSync programs are included in the Life Fitness F3 Folding Treadmill's Go Console. The LF Connect app, which you can connect to your track console through Bluetooth, has individualised workouts and tracking.
Interval training on your life fitness treadmill
Here are the steps:
Step 1: Press SPEED INTERVAL on the console when it asks you to choose a workout, or tap the QUICK START button to get started.
Step 2: Enter your weight, desired run duration, and incline.
Step 3: Establish your jogging speed. Talking to the person on the treadmill next to you should be possible at this speed.
Step 4: Enter your running speed. More than a few words shouldn't be possible at this rate.
Your exercise will begin at this point. To switch between jogging and running speeds, just hit the SPEED INTERVAL button (the same one you used in Step 1). The speed arrow buttons may be used to change the speed of your vehicle if you prefer to speed up or slow down.
How often to lubricate the Life Fitness f3 treadmill?
Simply squeezing or spraying 5ml of silicone oil over the running deck underneath the mat would be enough. Reduce friction between both the mat and the running deck with this simple procedure. It's time to lubricate your mat if it's stiff, sticky, or making a squeaking sound.
We offer a few guidelines for treadmill repair and cleaning in general.
-Regularly lubricate the deck.
– Prevent exposure to weather
-Dust on a regular basis
Use a pad on the floor to prevent dust from getting into the components underneath. First turn off the machine's electricity from the wall, then turn it off from the machine.
After the first lubrication, new treadmills need to be lubricated once a week for the first month. Once a month, treadmill lubrication is a good practice for extending the life of your treadmill and keeping it in good working order.
What are the disadvantages of this treadmill?
Size: Treadmills from Life Fitness are bigger than the average. 79″ x 34″ is the approximate size of the unit's footprint. When not in use, the F3 may be folded vertically like a similar-sized model.
Sound: The lack of a 3.5mm audio/headphone port on this treadmill was a surprise to us.
Some treadmills are simpler to install than others, but most don't come pre-assembled.
Assembly: The instructions occupy 18 pages of the T3's 32-page handbook. If you pay $180 for white glove delivery from Life Fitness, they will build the device for you. The price is well worth it.
Final verdict:
If you're in the market for a foldable treadmill, the F3 Treadmill is an excellent choice. This machine is one of the greatest foldable treadmills for programming and durability. With both platforms, the padding and exercise support are excellent. However, if you're a taller runner, a treadmill with a 60-inch track could be more suitable for you.
FAQs about Life Fitness F3
Is the Life Fitness F3's cushioning up to spec?
The FlexDeck Shock Absorption System on the Life Fitness F3 improves comfort and decreases knee and joint stress by as much as 30%.
How heavy is the Life Fitness F3?
The Life Fitness F3 is 264 lbs. (120 kg).
This treadmill is suitable for what?
Its 3-horsepower MagnaDrive motor makes this a great option for runners. This treadmill is built to last and comes with a 10-year warranty.
Is The Life Fitness F3 Treadmill Compatible With a 120-VOLT, 15-AMP Circuit?
While a 120-volt, 20-amp system is ideal, a 15-amp system may be used if the treadmill is the sole device utilising that circuit. The lighter wire isn't capable of handling more than this amount of weight.