Increasing your calorie expenditure when jogging, walking, or running uphill is usually beneficial. Increasing the difficulty of your workouts by a few percent can help you burn more calories. This article discusses a treadmill with a 350-pound capacity or higher.
Walking and jogging are lower-intensity activities than running. But, going up a hill increases calorie expenditure. It's also a great way to keep your training fresh and exciting.
When you repeat the same exercise, your body will acclimate to it, so switching things up is critical. So, to maintain weight loss, it's vital to switch up your training routine. Choosing a model with an inclination is the best option because of this!
Best Options for a Treadmill with 350 lb Capacity
Name
Motor
HP
Incline
%
Track
Inches
Speed
mph
Price
$
Dimensions
Inches
Built-in
Programs
LifeSpan TR5500iM
4
13,-2
22 x 60
13.5
2799
73 x 35 x 56
50
Sole F80 Folding
3.5
15
22 x 60
12
1699
82 x 37 x 66
10
Horizon 7.4AT
3.5
15
22 x 60
12
1599
76 x 37 x 63
10
Nautilus T618
3.5
15
20 x 60
12
1499
78 x 38 x 63
26
3G Cardio ProRunner
3
15
21 x 58
12
1999
74 x 35 x 59
10
LifeSpan TR3000i
2.75
15
20 x 56
12
1999
71 x 33 x 56
38
Sunny H&F T7643
2.5p
6.6
20 x 45
6
650
61 x 32 x 52
Nil
The LifeSpan TR5500i is a top-rated folding treadmill with a speed of 13.5 mph. Its tread belt is long-lasting and needs little maintenance. It has a 2.2-mm-thick running surface. The workout screen prompts you to choose from
Weight reduction,
Sports training,
Heart rate targets, and more.
A USB disk or Bluetooth connection can store your workout data. Other console features are three-speed fans, tablet racks, and smartphone-compatible speakers. The console is backlit with a 10-inch full-color touchscreen display. Eight separate shock absorbers make exercise easier on joints than outside training. The LifeSpan TR5500i Folding Treadmill features over 50 workout routines. Some goals are weight loss, sports training, healthy living, and a low heart rate. Fitness apps can import Bluetooth- or USB-transferred exercise data.
The console has a ledge for tablet and smartphone use during workouts. IntelliGuard protects LifeSpan treadmills. This technology pauses the track after 20 seconds if you leave. It has a lifetime frame and motor guarantee, a five-year warranty on parts, and two on labor.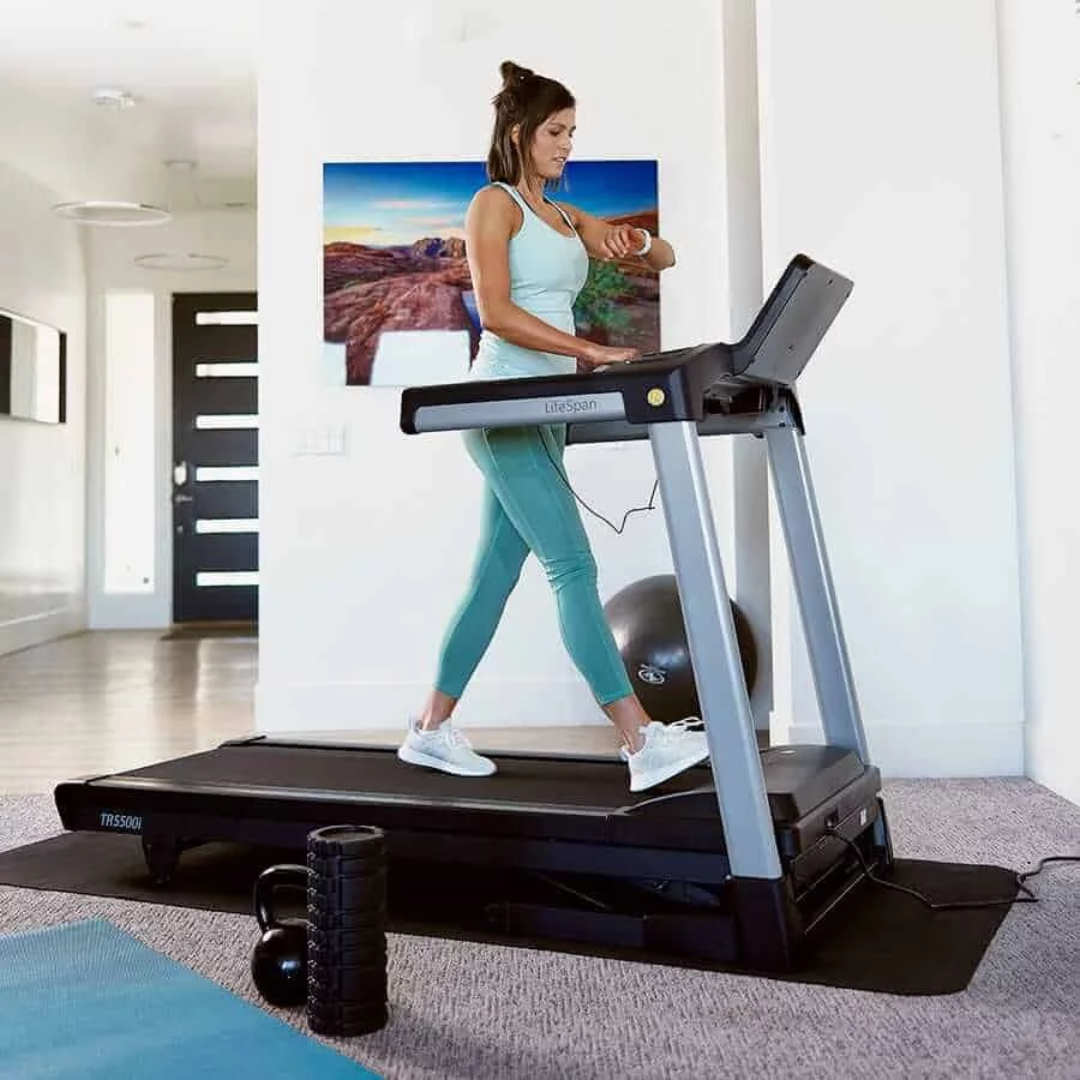 Features:
Eight compression shocks under the deck, cushion joints, and spine.
Lift and fold the deck when done. It locks securely.
The strong motor runs quietly. Motor noise is minimal. The belt sliding over the deck is the only sound.
This treadmill is suitable for individuals of different fitness levels. The TR5500i allows walking, running, and sprint intervals.
This console has a simple, easy-to-use display without unnecessary features or content. This touchscreen console has buttons for convenience.
10″ full-color touchscreen with three dashboard perspectives
EKG grips on the handlebars send your heart rate directly to the console.
The TR5500i includes more conditioning routines and two fitness assessments. Subscription-free.
Pros
It can be folded up for storage.
Has a considerable space for exercise.
Energizing engine (4.0 CHP).
Cons
There is no chest strap available.
There is a problem with obscuring the console's screen by a media holder.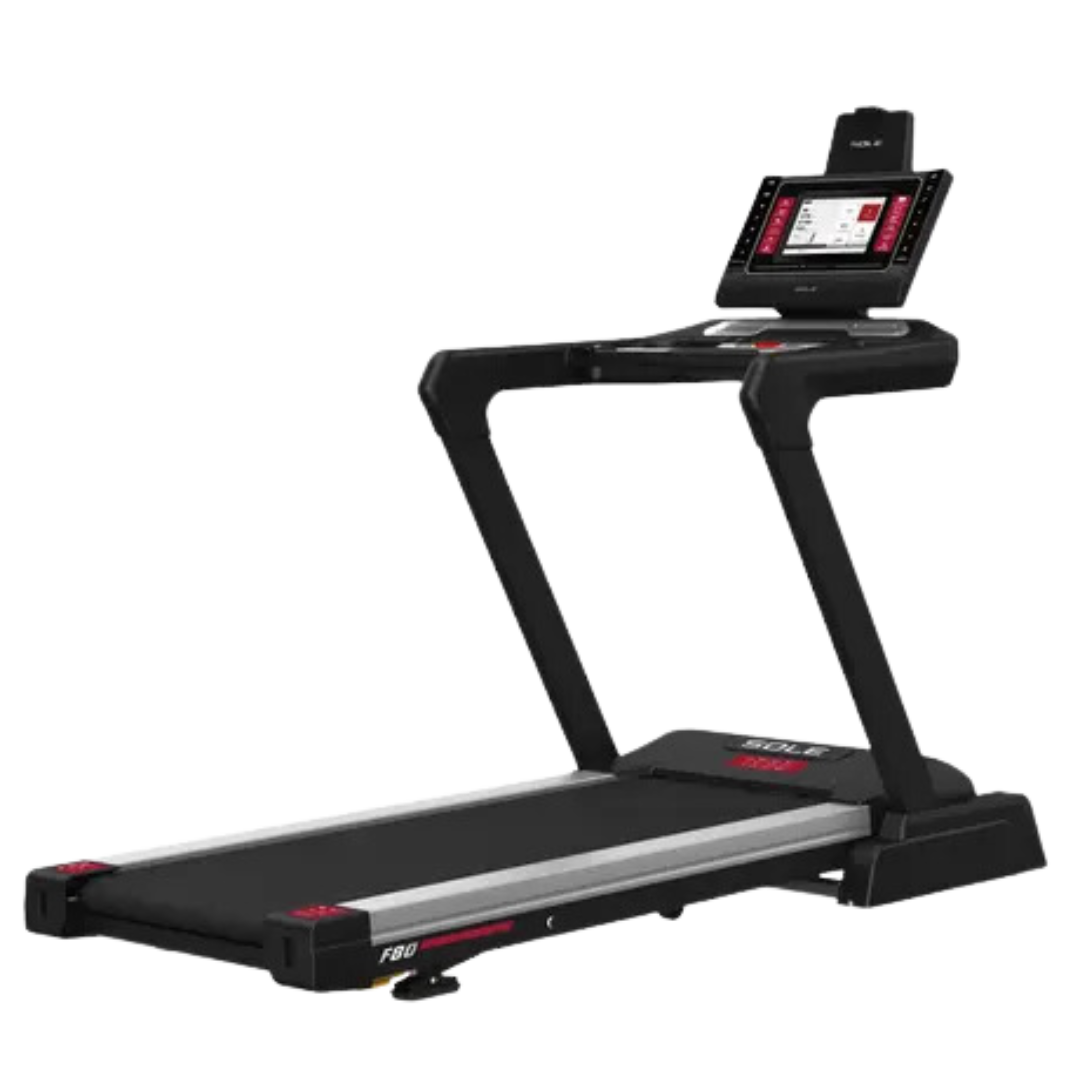 The Sole F80 is one of the most durable foldable treadmills for heavy users.
Features
The weight capacity is 350 lbs, which makes it one of the few decent foldable treadmills on the market.
Heavy users will be able to get the most out of this treadmill, built with the highest durability in mind.
The machine's strong motor adds much value and keeps things quiet.
Though the treadmill is collapsible, it takes up more room than other treadmill types. Due to its sizeable running area, it is highly favored by its intended audience.
Heavier users are more likely to hurt their knees or joints. So, Sole's Cushion Flex Whisper Deck has a better ergonomic design to give your joints 40% more cushioning.
Eight training plans and a heart rate program that tells you what your goal heart rate should be.
Large LCD for vital information and space for your electronics and publications.
Pros
The running deck and engine come with a lifetime guarantee from Grainger if you buy them new.
The use of a two-ply belt ensures longevity.
Thanks to the deck's broad and wide tread belt, a smooth ride is assured.
A fantastic mechanism for cushioning stress.
Cons
Interval training is hampered by the treadmill's slow ramp-up time.
It's a high-end treadmill with a lot of weight capacity.
This giant treadmill is hefty and cumbersome.
This treadmill is compatible with Studio, Daily Burn, Aptiv, and Treo apps.
The QuickDial controls on the treadmill simplify the incline and speed settings. 3-Zone Variable Response Cushioning reduces joint impact by 30%. It absorbs stress differently in the front, middle, and rear running areas. FeatherLight Folding Mechanisms fold and unlock quickly and safely. The console has a fan too.
Features:
3-Zone Variable Response Cushioning
Syncs with 3rd Party Apps
QuickDial Controls on Stationary Handles
Bluetooth Enabled and Chest Strap
The 7.4 AT treadmill has larger belt rollers, making it more durable.
Horizon's running belt damping has been modified for changeable running deck damping. The more challenging level simulates road jogging. The softer option reduces joint strain. Horizon Fitness' 7.4 AT treadmill has a Bluetooth wireless chest strap to check heart rate.
Sprint 8, the HIIT-specific training routine, is also included. Horizon can earn its owners up to 30% off a wide range of fitness training apps.
Pros
Features blue QuickDials that roll up or down to change speed and incline instantly.
Compatible third-party apps sync.
3-Zone Variable cushioning allows longer runs without discomfort or weariness.
Cons
The app integration requires an iPad or tablet.
The 8.25′′ LCD screen displays workout data without a touchscreen.
The Horizon 7.4 AT has a lifetime warranty on the frame and motor, five years on parts, and two years on labor.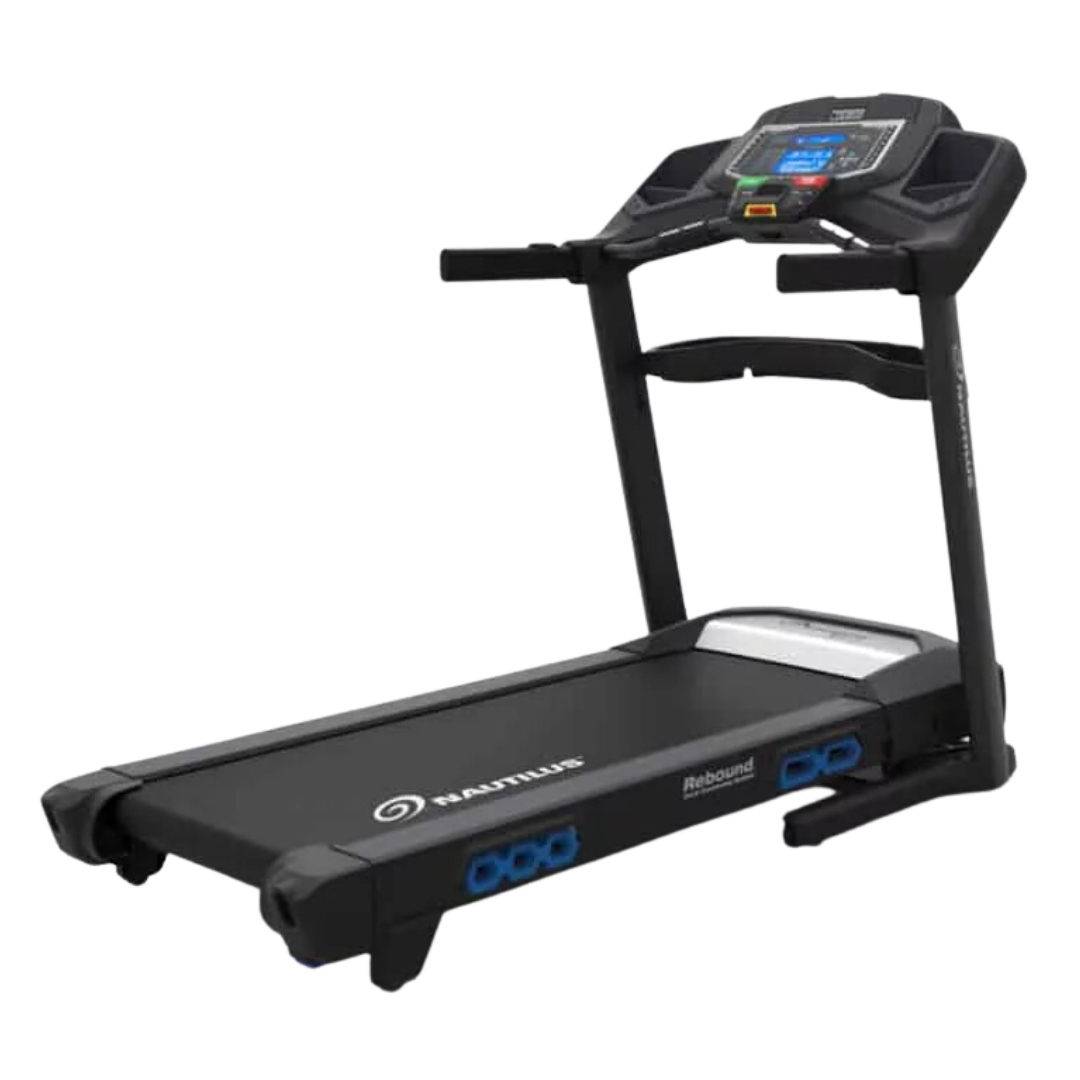 When it comes to intense exercises, the Nautilus T618 excels.
Features
It includes a 15 percent inclination, a maximum speed of 12 MPH, and 26 exercise routines.
If it's good enough for a runner, a walker, or a jogger.
The machine's 285-pound weight alone implies it's a sturdy piece of equipment.
A powerful and silent 3.5 CHP motor.
The T618 has a Bluetooth connection to use a smartphone or tablet to connect to the computer. You may use the Nautilus Trainer 2 App and other approved fitness apps on your smartphone or tablet.
If you're overweight and don't weigh more than 350 lb, the T618 is the treadmill for you.
Pros
The 285-pound weight of the finished machine makes it a heavy hitter.
Pair it with Nautilus Trainer 2 or others with a Bluetooth connection.
Cons
It isn't easy to move because of its mass.
Putting the heavier pieces together may take a few hours with the help of more than one person.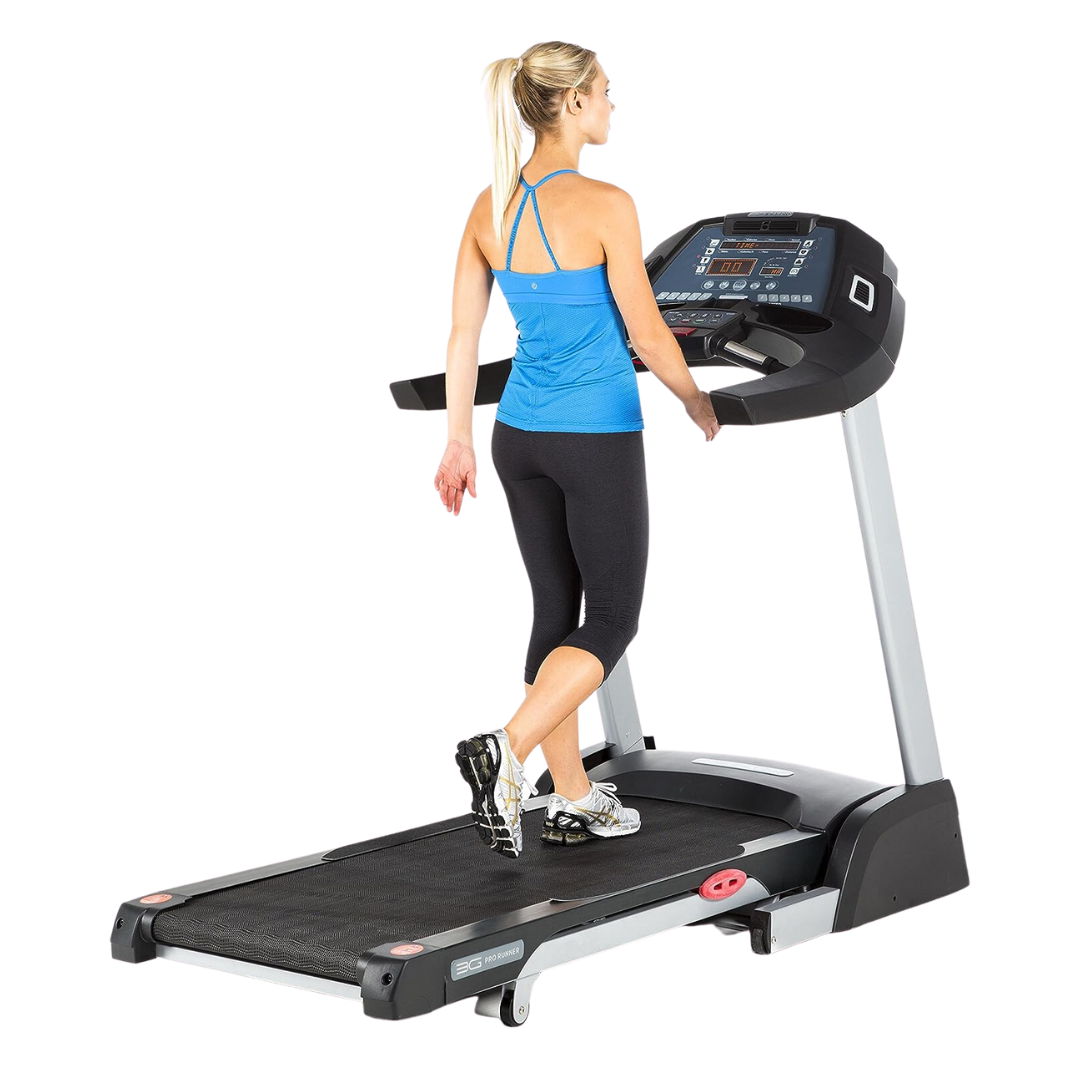 It is the best foldable treadmill, with a 350-pound weight capacity. The 3G Cardio Pro Runner is a compact piece of equipment. You can fold and pack it in a small area, consuming little storage space.
Features
Its speed settings are from 0.5–12 mph.
There is a big 60" x 20" orthopedic belt for overweight people.
The slope ranges from 0.5 to 15%, so you may tailor your exercises to your preferences. Even though it's an incline power treadmill, it's built to withstand heavy usage.
The treadmill also comes with a quiet 3.0 horsepower motor.
With a 350 lb weight capacity, most individuals can use it without disturbing the rest of the family.
Pros
The treadmill's robust design and construction make it easy to share with others.
Optional wireless HR chest belt with built-in heart rate monitor.
It's a safe treadmill for overweight men because of its big orthopedic belt.
Handrails provide additional support and stability for users.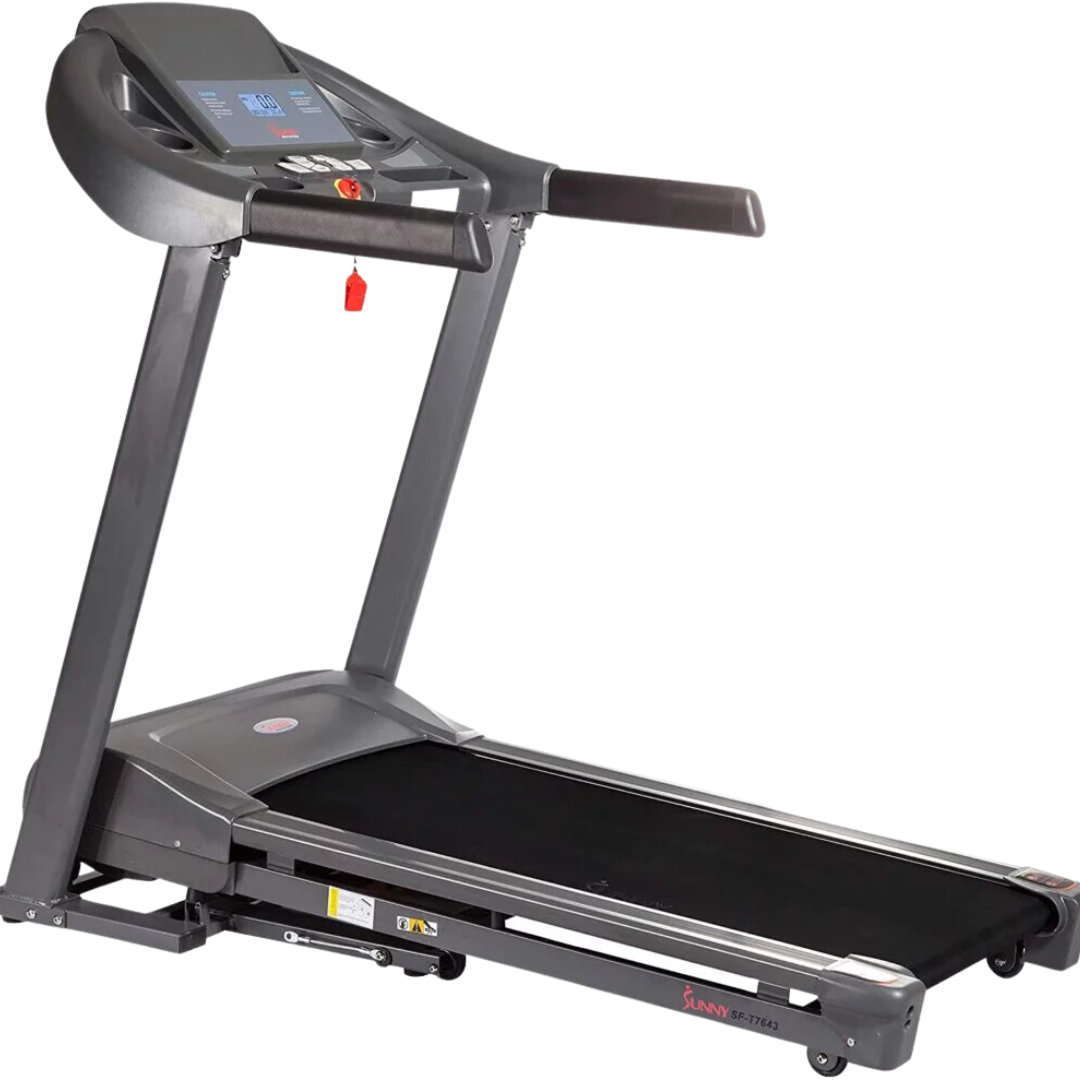 Sunny Health & Fitness T7643 is a high-capacity treadmill that would be ideal for you.
Features
This low-cost treadmill with a large walking surface and handrails helps burn many calories.
Plus-size individuals on a tight budget may use this treadmill with a 350 lb weight capacity.
Though everything here is enormous, you needn't worry about storage or compactness. The machine has a soft drop mechanism to fold and unfold easily and quickly.
You may relocate it to any room you like with the included transportation wheels.
You'll find the extra-large start/stop buttons and speed-up/speed-down knobs. You may put your water bottles in the large cupholders to stay hydrated while exercising.
Use the large tablet holder offered to handle 13-inch devices in size and have hours of fun.
Pros
The backlit multi-displays on the console make it easy to track critical information.
Though affordable, lightweight, small, and foldable, its weight capacity is 350 lbs.
This treadmill's large buttons and handrails make it safe for older people.
There is a lot of tread area on this treadmill.
Cons
The engine is noisy.
There isn't an inclination option available.
Only fat people who want to stroll or do a modest jog may use the maximum speed of 6 mph.
LifeSpan TR3000i is designed to support heavy users and fit in compact spaces. So, you need not hesitate to acquire it if space is a constraint.
Features
The EZFold design is suitable for folding and helps stores conveniently.
In addition to the built-in fitness routines, this treadmill is good for fat runners. It has a big running belt and a 350 lb user weight capacity.
The basic yet practical console keeps track of calories burned, pace, and time.
This treadmill is steady and has a little shock absorption, so you may walk, run, or jog on it.
Pros
It's light, small, and folds up quickly.
An excellent foldable treadmill that can sustain 350 lb of human weight.
Your knees will thank you for the eight shock absorbers.
Cons
The control panel is low, making it inaccessible to individuals with impaired vision.
Treadmill Advantages for Obese Individuals 
Using a treadmill has various advantages, mainly if you are fat or overweight. Obesity treatment has several advantages, not the least of which are the following:
Treadmills are the best for weight reduction, according to Men's Health. The treadmill burns 17 calories per minute for an average-built person. An elliptical machine burns 13, and a stationary bicycle burns 14 calories per minute. The number of calories you burn depends on many factors. For example, how hard you work out, how old you are, how much you weigh, and how fast your metabolism works.
Even if you're exhausted or don't like exercising, this helps you stay active. You have no option but to keep up with the belt, which continues rolling beneath your feet. Treadmills have this feature all to themselves.
It would help if you began exercising before using a cardio machine. Alternatively, a treadmill "forces" you to maintain a pace. It is one of the main reasons I prefer treadmills to other kinds of exercise equipment.
Treadmill for obese beginners
Starting your first workout on your new treadmill may fill you with dread. You may be reluctant to begin due to the unfound fear of physical, mental, or emotional suffering. If you haven't worked out in a while, you're not alone in feeling apprehensive about getting started.
Those who are morbidly obese should begin slowly and for shorter durations. Start walking at a comfortable speed to ease the strain on your joints.
It's possible to begin with 10 minutes daily walking for the first week. Increase to 20 minutes for the second and 30 minutes for the third week if you believe your body is up to it. From there, work your way up.
You should always "listen to your body," the most crucial advice I can offer you. Maintaining a regular training schedule is the second piece of advice. Slow and steady wins the race.
Conclusion
A treadmill has various health benefits for walking, jogging, or running. It's a great piece of equipment that will help you work out despite being busy. You must look for the best brands while looking for a treadmill for your home. What is more important to consider is which type of treadmill best suits your home and needs. The best treadmill can vary from place to place and person to person.