With the Bowflex T22 Treadmill, you'll be able to stay on track with your fitness goals. Speed and inclination dials are easy to reach on the Bowflex T22, so you can quickly change your workout.
A wide range of incline and speed settings enables you to tailor your exercise to your specific needs. With heart rate grips and a SoftDropTM folding mechanism, the Bowflex Treadmill 22 expands the space in your home gym.
BowFlex T22 Treadmill Features
22″ HD Touchscreen
The treadmill has a 22-inch HD touchscreen in front of it, so you won't be able to miss it. You get a whole lot of information on it. Make decisions with ease thanks to the touchscreen's angle adjustment feature.
JRNY App
You can't use all of the functions of the big console without signing up for the JRNY app, even though it isn't needed. The purchase of a Bowflex product comes with a complimentary two-month membership. Every instructor-led exercise and full metric monitoring are included in the $19.99/month (or $149/year) price.
Related Readings

Heavy Duty Treadmill for Sincere Runners: 9 Best- All 4HP
9 Best Manual Curved Treadmills – Most Effective and Sturdy
JRNY members may do the following:
Individualized training should be made possible.
Take a virtual run through more than 50 real-world locales.
Track your progress regularly.
Entertainment Apps
In contrast to other streaming treadmills, the Bowflex T22 provides access to a wide range of popular entertainment applications, including Netflix, Hulu, Amazon Prime, and Disney+, among others. A large HD touchscreen in front of you means that you can now catch up on all of your favourite programmes without leaving your seat. You may only access apps with a membership to JRNY.
Bluetooth
If you have a Bluetooth device, you can connect to other popular fitness applications through Bluetooth.
Heart rate monitoring: Using Bluetooth to link heart rate monitors is an option (an armband is included with purchase).
Advanced Motor
The Bowflex T22 treadmill has a powerful 4HP engine that allows you to run up to 12 mph. Even among commercial treadmills, the 4 HP motor is a rarity. So, how important is the motor's horsepower? A good rule of thumb is that the more power you put in, the smoother the operation and the larger your speed range.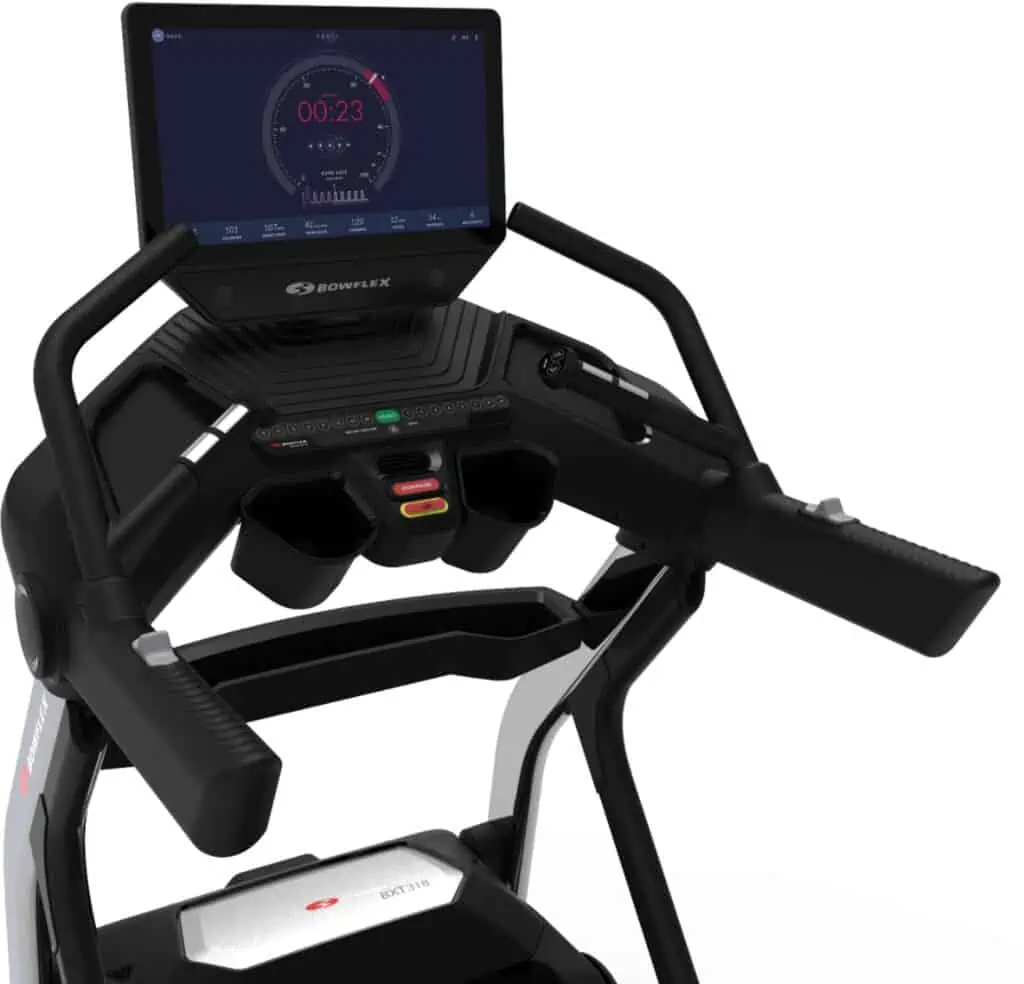 Speed/Incline Buttons
It may be used to immediately change the speed and/or incline, which is quite convenient. When we take the Bowflex T22's adjustability into account, it becomes even more impressive. It is possible to jog at an incline or decline up to 20% or -5%, respectively. Other home treadmills seldom have a range of 25%. The 5% declination is a terrific method to mimic real-life downhill jogging, while the 20% inclination gives you severe uphill encounters.
USB Port
There is a USB port that you may use to charge your electronics while working out.
Fan
Built-in fans help keep you cool and comfortable even with your most intense exercises.
Wide Handles
Unlike most other treadmills, Bowflex T22 has extra-large, long grips for comfort. A firm grip is essential while working on such steep inclines. The Bowflex treadmill 22 has a big, cushioned running surface that may be the first thing you notice. A 60-inch-long piece with a 22-inch-wide base. Taller people won't have to change their strides because of this.
Water Bottle Holder
Holders for water bottles provide plenty of room to keep your favourite drink close at hand while working out.
Bowflex Treadmill 22 Drawbacks
As with any other device that relies on the internet, this treadmill requires a steady connection. The Treadmill 22 HD console may annoy you if it's choppy or disconnects often. It's just that all good treadmills now include this feature; it's just worth considering.
Keep in mind that you may be walking or running for an hour, and you want all the functions of the JRNY app to be available to you. Even if your internet connection goes down, the treadmill will continue to function. If you reside in a rural or remote area, you may have difficulties.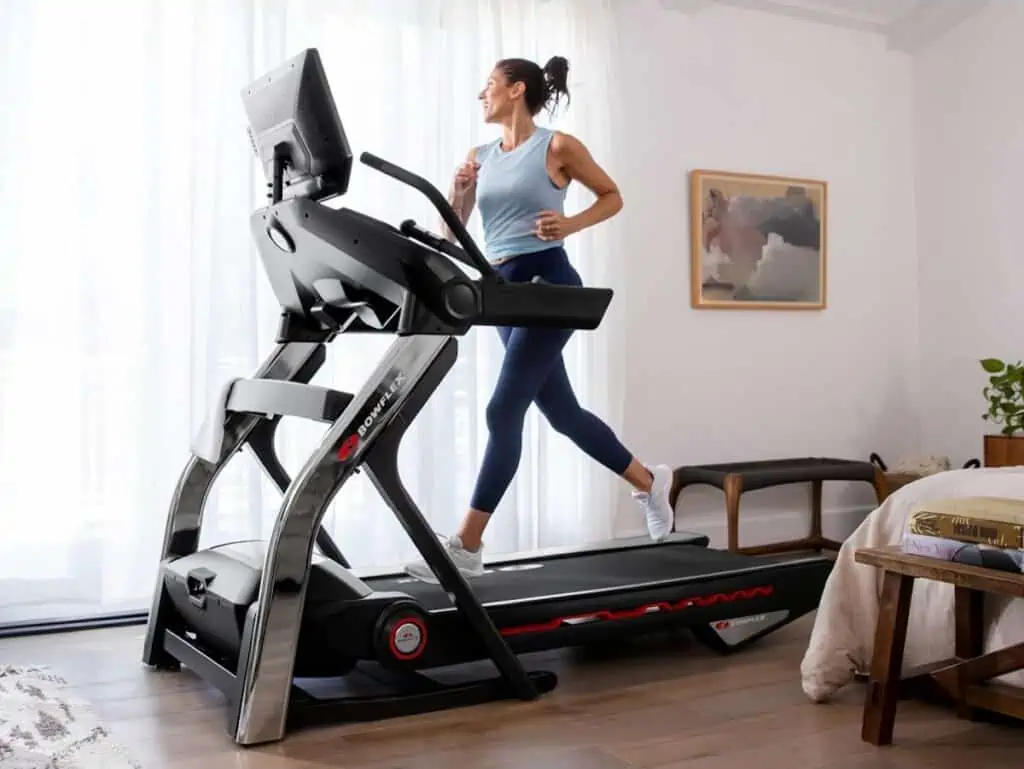 Pros:
The newest Bowflex technology and a 22-inch touchscreen are included in the new model.
It has a 20% impressive incline for expert hill training, with a 5% decline to provide variety for rolling hills and other terrain types.
A 15-year guarantee on the frame and a 5-year warranty on components are included.
When not in use, it folds and locks into place.
Reduce the stress on your joints and spine with technological padding.
Walking, jogging, and running are all possible with this motor's power.
Cons:
The footprint of a treadmill is enormous.
The interface and console are both clumsy and cumbersome to use.
For the treadmill to work, you must have a JRNY membership.
Summary
The Treadmill 22 comes with easy-to-follow instructions for self-installation, and the company is also developing assembly videos to aid you. You can plug it into any normal household outlet with a 15-amp power wire.
A treadmill with a large running surface is essential, whether you're a novice or even an experienced runner who enjoys speed training. It's important to focus on the workout rather than your safety while exercising on a tiny deck.
Among its many features are a 22-inch touchscreen, excellent inclination and decline, and a 15-year frame and motor guarantee. Designed to resemble a monster truck, this 22-inch treadmill is heavy-duty and sturdy, weighing over 330 pounds.
A JRNY membership must use the 22-inch touchscreen since it has limited capabilities without it. We've heard varying opinions on JRNY's user interface, so we suggest doing further research on the app before purchasing.
However, the Bowflex 22 is a great starting point if you seek something sturdy, long-lasting, and packed with modern technology and features. As new information becomes available, we'll include it in this evaluation. Keep an eye out for updates.