Treadmills are a great way to keep fit and stay active, but they can be hard on your joints. That's why choosing one that offers good shock absorption is essential. You can jog, walk, or run with the right treadmill without straining your joints or causing injury.
Shock-absorbing treadmills cushion your feet and joints when you run or walk.
They reduce the impact of running by absorbing the shocks of your feet hitting the belt.
It can help to prevent injuries and make your workouts more comfortable.
Treadmill belts with 3/4-inch decks tend to bounce as you step on them. It softens each step, which makes them suitable for walking.
Runners should use 1-inch decks. More costly belts absorb shock better. They have springs or rubberized cushions under the deck to reduce shock. Some systems allow you to alter shock absorption to fit your training needs. Softer surfaces make your workout harder. More complex treadmill surfaces mimic firmer outdoor terrain.
Here, we review the best treadmills for shock absorption so you can find the one that's right for you. We'll look at features, price points, and reviews so you can decide before buying. A good treadmill can help you maximize your workout. It is despite the fact, whether you are a seasoned runner or are just starting, 
Top 5 Treadmills for Shock Absorption
| Treadmill | Cushioning System |
| --- | --- |
| Sole F63 | Deck Cushion – Sole F63 Deck Cushion mitigates shock and lessens the joint impact. |
| Horizon 7.4 AT | 3 Zone Deck Variable Response Cushion – Impact zone for foot strike, Transitional Zone, Push-Off Zone on your next step |
| NordicTrack EXP7i | Runner's Flex Cushioning – Runner's Flex Cushioning absorbs the impact and relieves joint stress during a workout. |
| Bowflex T10 | Comfort Tech™ deck cushioning uses elastomer rubber grommets to absorb the impact. |
| 3G Cardio Elite Runner | Ortho Flex ShockTM suspension system cushions the powerful motor. Its broader orthopedic belt makes exercise more comfortable. |
Here are the five best shock-absorbing treadmill reviews. These are good for use at home and in apartments, though carrying some up to the second floor might be difficult.
It is an excellent choice for the best home treadmill with shock absorption.
In the F63's deck, Sole's patented "Cushion Flex Whisper Deck" reduces impact by 40%. It absorbs shock rather than transmitting it to your joints and spine. The treadmill is suitable for walking and light running.
A 60-inch running surface, a 3.0 CHP motor, and a new console with ten training programs are the main features of the F63. The powder-coated steel frame supports up to 12 mph and a 15% incline. It includes a fan but is slower than other models.
The 6.5-inch LCD connects to the Sole Fitness mobile app to track fitness stats. The application is compatible with iOS as well as Android. It can also connect with Fitbit, MyFitnessPal, and the Sole app. The F63 also comes with a Bluetooth speaker, a built-in tablet holder, and a USB port for charging.
The F63 includes an excellent warranty. It covers the frame and motor for a lifetime, two years on parts and deck, and a year on labor.
The deck of the Sole F63 is 60′′ x 20′′. Even though it is foldable, the huge length and width give the feeling of a giant treadmill.
It inclines quietly, and control panels are on both the handlebars and the console. With a single button press, you can customize your workout. The large 6.5-inch LCD screen shows all the information you need.
The Sole F63 treadmill weighs 254 pounds. The model also has a maximum weight capacity of 325 pounds.
Yes, the Sole F63 is foldable. The Easy-Assist-Folding-Deck Design locks into an upright position.
The Sole F63 has a decibel rating of around 70, comparable to that of a vehicle at idle. The Sole F63 has 82″ L x 35″ W x 57″ H dimensions.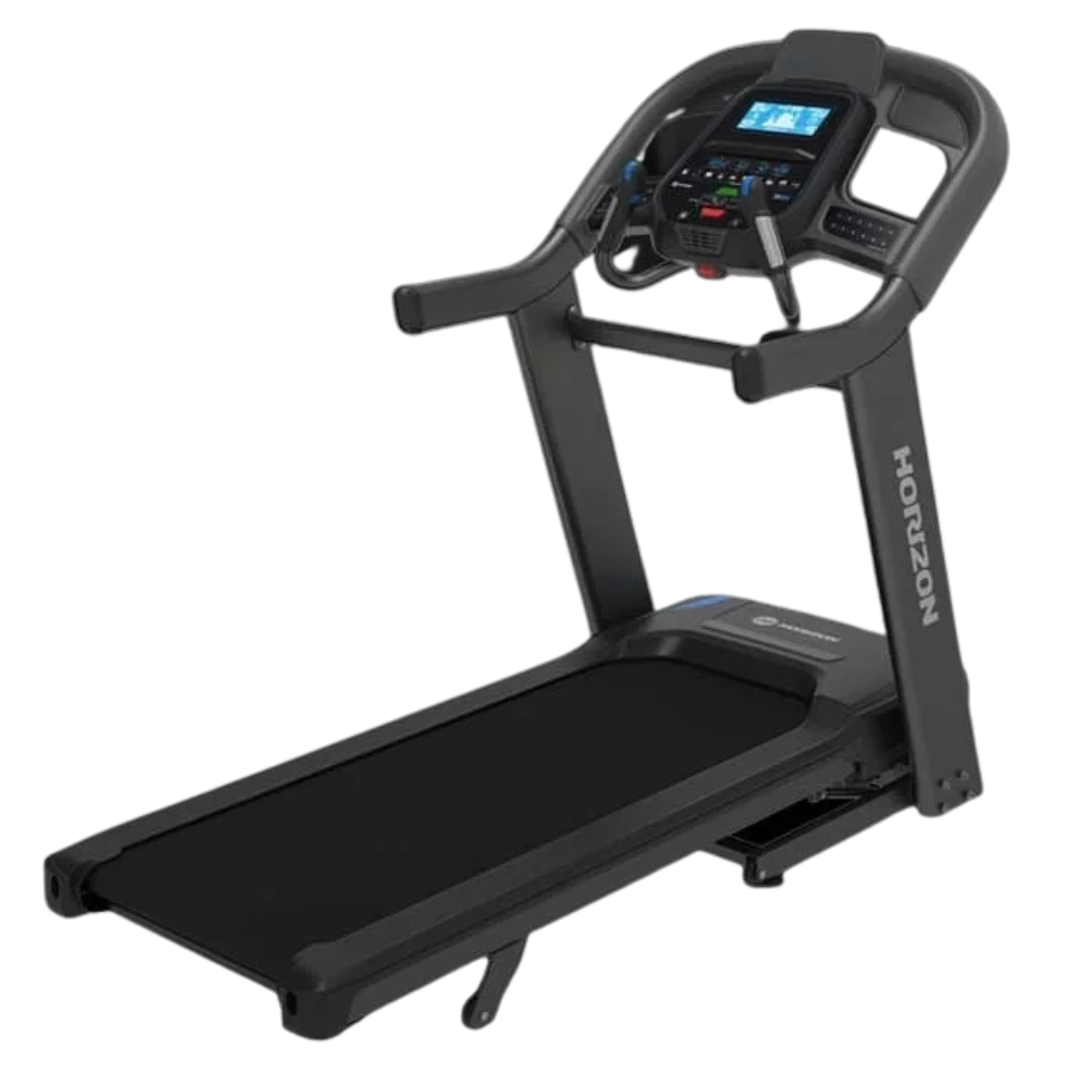 It is another excellent treadmill for shock absorption. Its decks use "3-Zone Variable Response Cushioning" to absorb shock and support each step.
It reduces joint impact by 30% compared to road running by cushioning the front, middle, and back of the running area differently.
There is more cushioning in the front heel strike area and less in the firm back surface to push off the foot. The large running surface and shock absorbers make running on it very comfortable.
Horizon's "Studio Series" 7.4 AT is a popular mid-level treadmill with a strong frame, a 3.5-CHP motor, valuable features, and an affordable price. It is suitable for runners, walkers, and hikers.
The treadmill's QuickDial controls on the handles assist with incline and speed adjustment. 3-Zone Variable Response Cushioning reduces joint impact by 30% compared to road running. How people walk or run affects the cushioning on each part of the running surface.
The FeatherLight Folding System makes folding and unlocking simple with solid safety features. The treadmill includes a single fan at the bottom of the control panel.
The 7.4 AT treadmill uses larger belt rollers and a 3.5 continuous-duty horsepower motor. It has better durability, having the same top speed of 12 mph and maximum incline of 15 degrees as its cheaper sibling.
The Horizon 7.4 AT, unlike its siblings, receives a more lengthy warranty. The Horizon 7.4 AT's warranty includes a lifetime frame, motor, 5-year parts, and 2-year labor.
This treadmill's motor uses Horizon's smart Rapid Sync Technology to speed up and slow down faster than a regular treadmill.
It's an excellent runner's treadmill from a functionality, feature, and build quality perspective.
Users must provide their screen or tablet, but the treadmill can stream a wide range of programs such as Studio, Daily Burn, Aaptiv, and Treo.
The machine weighs 318 pounds.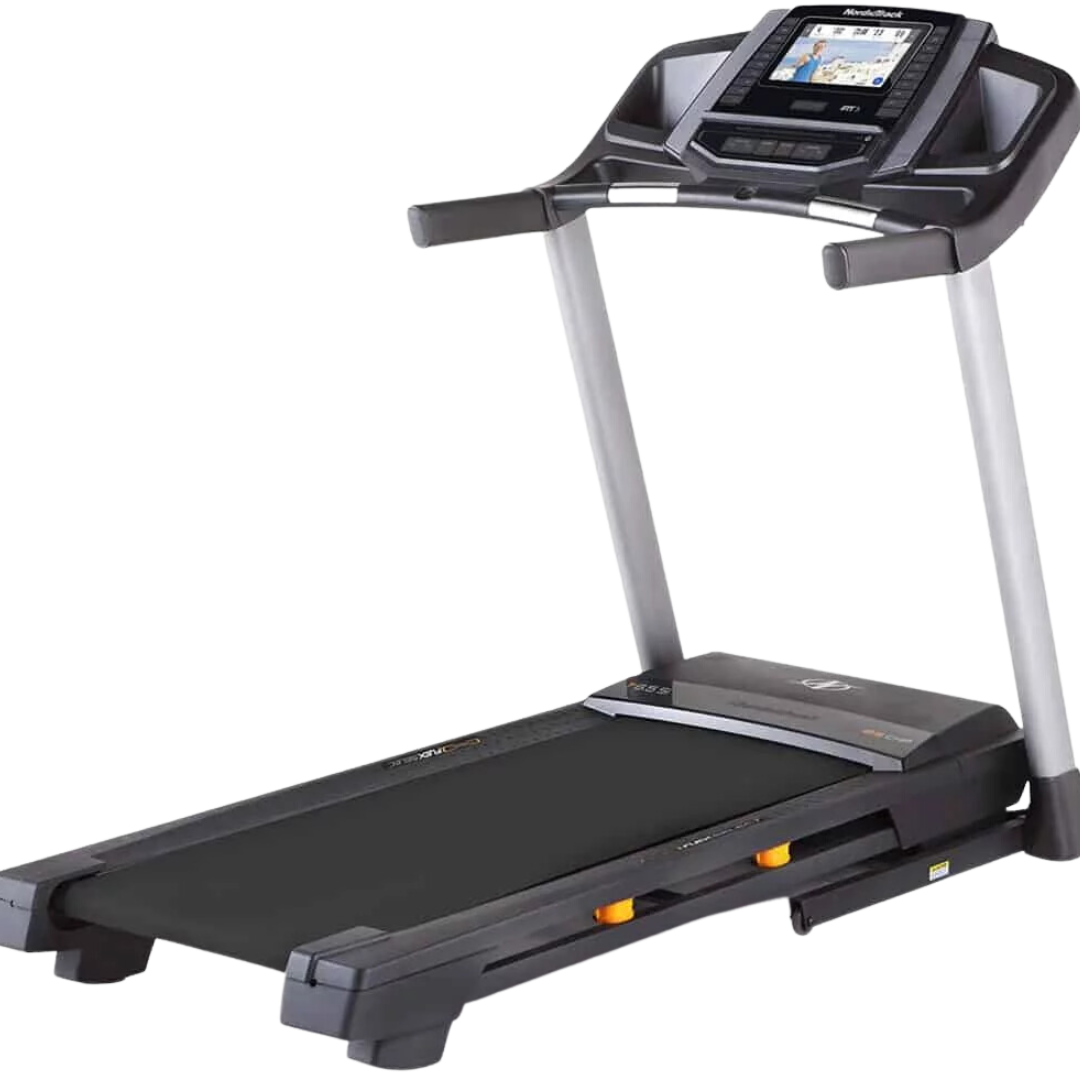 FlexSelect cushioning on the EXP 7i's deck from NordicTrack absorbs impact from walking or running. Its lower impact than outside surfaces reduces the strain on your spine and joints during exercise.
FlexSelect cushioning allows the customization of deck shock absorption. You might opt for a surface with more cushioning or replicating running on the road.
The EXP 7i treadmill has a 7-inch HD smart touchscreen and Bluetooth. So its users can either stick with the iFit Coach workouts or discontinue and use the television, tablet, or smartphone.
It is a very durable treadmill that offers good shock absorption.
Using NordicTrack's OneTouch controls on the EXP 7i. You can quickly and easily adjust speed and incline. It is an advantage during interval training.
The EXP 7i is a mid-range treadmill in the NordicTrack T Series. It has a 7-inch HD Smart Touchscreen and can play music through Bluetooth. Trainers can adjust both speeds and inclines independently via iFit programming.
The treadmill has OneTouch® Controls, a 12% incline, and a speed of 12 mph. An AutoBreezeTM Workout Fan keeps you cool, and an integrated tray to hold phones or other items inside while running.
The large 60′′ x 20′′ belt moves over the frame, which measures 77.3 inches long, 35.3 inches wide, and 59.6 inches tall. The 3.0 CHP Commercial Plus Motor keeps the belt in motion. The machine weighs 300 pounds and employs 1.9-inch precision rollers. The frame has a 10-year warranty, the parts have a 2-year warranty, and the labor has a 1-year warranty, all from NordicTrack.
With its 7-inch HD touchscreen, the EXP 7i lets you create limitless workouts. You need not worry about a big, bulky screen that might shake if you run fast. With EXP 7i, you can have the iFit experience on a budget.
Users can also play music or watch television on this treadmill, although other options exist.
The Comfort Tech cushioning reduces the impact on your joints and spine. The cushioning on the deck feels excellent and absorbs some of the shocks from walking or running on it. It protects joints by making landings softer.
It is an excellent treadmill for people who want a rugged machine. It has a solid frame and durable belt for long-lasting use. It also has a powerful motor that can support up to 400 pounds.
Treadmill 10 has a bigger screen and tread belt, making it great for beginners and experienced runners. It has a one-year subscription to JRNY Fitness, Zwift, and other online entertainment.
T10 requires a Wi-Fi connection to use its 10-inch HD console. It has a 4.0 HP motor, folding frame, and 22 x 60-inch running area with belt cushioning. It supports Android and iOS, has a USB port, and includes contact grips. The machine has Bluetooth, a 15% incline, and a -5% decline. Its maximum speed is 12 mph. This one seems unbreakable.
The Treadmill 10's 323-pound frame and motor can support 400-pound users. It measures 85 x 39.6 x 65.3 inches. Bowflex's warranty – 15 years on frame and motor, 5 years on mechanical parts, a year on electronics, and 2 years on labor shows this machine is reliable.
Bowflex machines offer interactive workouts. JRNY Fitness App rivals NordicTrack and ProForm's iFit programs. Bowflex treadmills have partnerships with Netflix and Hulu. Bowflex machines help you play more games with more programs.
You may need entertainment if you're a weight loss and strength training fanatic like me. I keep myself entertained by combining treadmill workouts with TV. The Bowflex Treadmill 10 has a 10-inch HD touchscreen. To avoid paying for a 22-inch screen, buy the Bowflex Treadmill 10 here.
It's a big machine, so don't put it in a second-story flat.
Manual mode requires a Wi-Fi connection. Once registered, the machine is self-sufficient.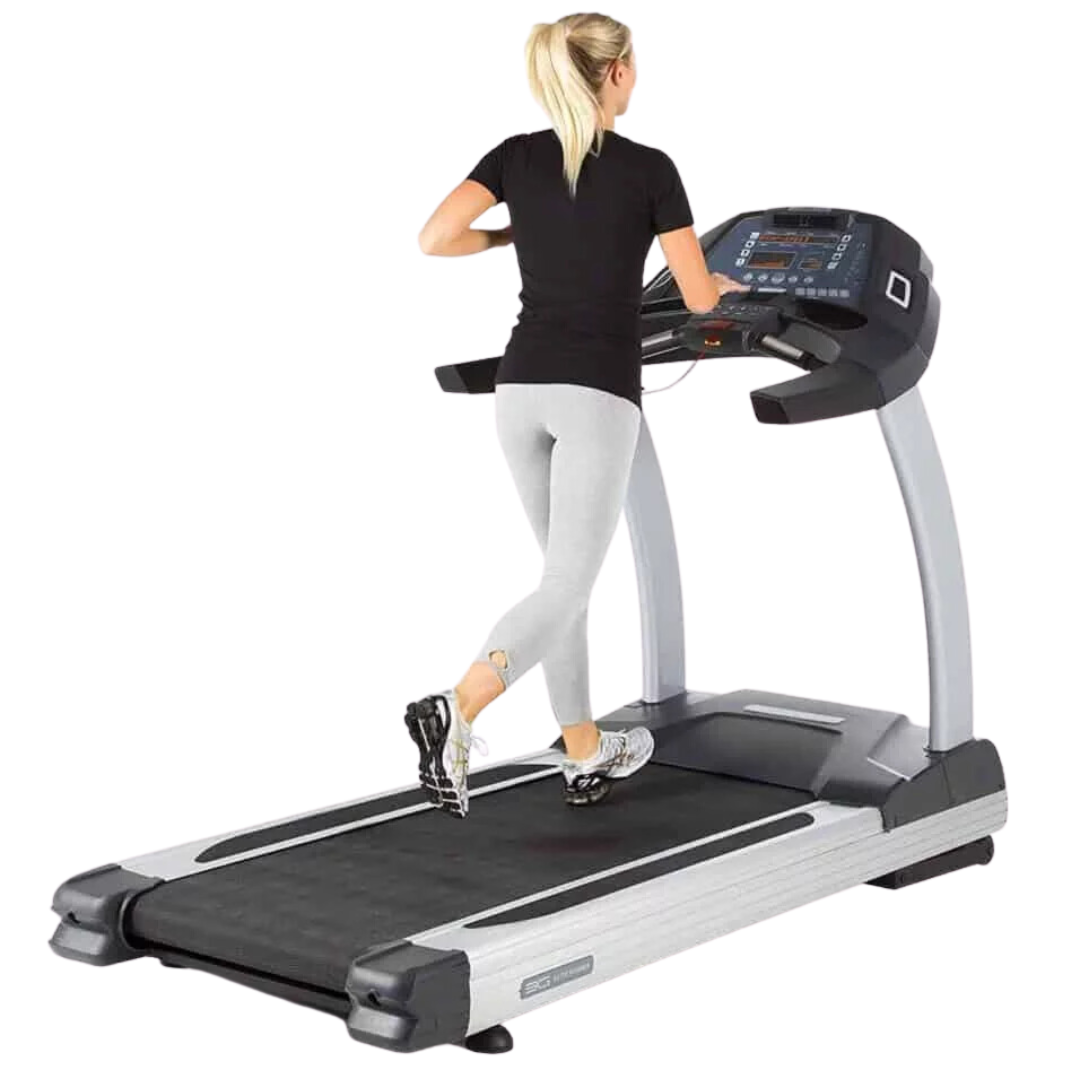 It is the best treadmill with shock absorption.
Ortho Flex Shock (TM) Suspension System has an orthopedic running belt and three-inch rollers for a comfortable workout.
When your foot strikes the belt, it cushions the impact and absorbs shock. It allows you to walk or run on the smoothest, most stable treadmill possible. It makes your workouts more enjoyable and less tiring.
It reduces the impact of training on joints. So, no matter how hard you work on this treadmill, you will experience less pain.
It is a good treadmill for people who are new to running. The low-impact design and speed control helps you get started without straining joints. It also has a large, 21-inch touchscreen display that's easy for us.
The Elite Runner is the most expensive treadmill in the 3G Cardio Series. It features a 4.0 HP DC motor and large 3′′ rollers for a whisper-quiet, smooth ride. This model has an Ortho Flex Shock (TM) Suspension System and a large 22″ x 62″ running area. It also has a sophisticated suspension system to make it more comfortable.
Users may adjust the 15% incline and 12 mph speeds using the keys on the console or One Touch controls on the machine—the three screens on this model display.
A heart rate tracker
An LCD dot matrix track for distance
A workout matrix screen to help you keep track of your workout.
This model has eight preset workouts, two made for you, and three fitness test programs. This machine has a contact grip and can monitor your heart rate wirelessly. It also has a receiver.
The Elite Runner treadmill has a residential warranty of
2 years of labor
10 on parts
a lifetime on the frame and motor
What is shock absorption?
Shock absorption is the ability of a surface to ease the impact of a person or object when it comes into contact with it.
You've probably also noticed that walking on grass or sand cushions your steps, making you feel less impact. It is also an example of shock absorption.
Benefits of a Shock-Absorbing Treadmill
Improved workout quality: When using a treadmill, it's essential to maintain good form. It can go a long way towards helping you improve your fitness and avoid injury.
Reduced foot, knee, and back pain: Using a treadmill with low shock absorption, you might experience pain. Switching to a treadmill with better shock absorption helps reduce the pain.
Increased workout time: If you are healing from an injury, you may not like to run outside. You can run without putting too much stress on your joints with an excellent shock-absorbing treadmill. So you can increase your workout duration and meet your fitness goals.
Reduced stress on the knees: Running can put a lot of stress on your knees. A treadmill offering good shock absorption can significantly benefit you without stressing your knees.
Better fitness results: An excellent shock-absorbing treadmill can help you get better results from your workouts. You can push yourself harder and longer without worrying about injury. So you can get more out of every workout.
Reduced injuries: Recovering from an injury, keep up your exercise routine. A shock-absorbing treadmill can help you avoid getting hurt again.
Features to look for in a shock-absorbing treadmill
Footrail suspension: The footrails on the best shock-absorbing treadmills have an excellent suspension to take more of the impact.
Cushioned deck: The deck of a treadmill is the surface you are walking or running on. So, you also want to ensure it absorbs some of the shocks. The best treadmills for shock absorption have a cushioned deck.
Cushioned belt: The belt is the moving surface you walk or run on. So, you also want it to absorb some of the impacts. The best shock-absorbing treadmills have cushioned belts that absorb some of the shock.
Shock-reduction technology: A footrail suspension, a cushioned deck, and a cushioned belt. These make running easier on your joints.
Treadmill shock absorber pads have a superior blend of vibration-dampening materials.
There are vibration pads available for any treadmill application. These provide Vibration isolation efficiencies of up to 99% and noise reduction of over 40 dB. So these cut noise transfer into other areas. These are naturally non-slip.
Conclusion
When choosing a treadmill, it's essential to consider your fitness goals and level. You might prefer one with good shock absorption if you're a beginner or over 50. It can help you ease into running without putting too much strain on your joints. They can make running feel sluggish since they reduce the impact of each step. And, when you do, you can enjoy the many benefits of exercising indoors.