Hydrolyzed Whey Protein is considered the best protein to build strong muscle mass. In hydrolyzed protein, the protein is broken down by forming small-chained amino acids called peptides. It helps in easy digestion and fast absorption in the body. Furthermore, it has additional nutritional value that overall impacts health.
What is whey protein?
Whey is the liquid by-product of cheese production. It comes from dairy milk. It is rich in Cysteine, a semi-essential amino acid that boosts levels of the antioxidant glutathione. It is also a complete protein containing all 9 essential amino acids- Leucine, Histidine, Valine, Isoleucine, Phenylalanine, Lysine, Tryptophan, and Methionine.
Types of Whey Protein
Whey Protein Concentrate
70-80% protein
Low fat
Low carbohydrate
Whey Protein Isolate
At least 90% of protein
Processed to remove fat and lactose content completely
It contains fewer nutrients than those in concentrate.
Hydrolyzed Whey Protein
Whey protein that has undergone partial hydrolysis
Absorbed faster with minimal digestion
Mostly used in infant formula and protein supplements
Benefits of Whey Protein
Aids in weight loss
Lowers blood sugar
Increases strength
Lowers blood pressure
Stimulates muscle growth
Lowers cholesterol levels
It has anti-cancer properties
Reduces symptoms of stress and depression
Hydrolyzed Protein Vs. Non-Hydrolyzed Protein
Hydrolyzed Protein
Hydrolyzed means' unbind with water'; therefore, hydrolyzed protein has been broken down into component fragments and peptides. It is different from denaturing, which only changes the protein's shape—hydrolysis breaks the shape into smaller pieces.
Non-Hydrolyzed Protein
Non-Hydrolyzed protein is an 'intact' protein in that it has not been broken down into smaller pieces. However, it has likely undergone some level of denaturing—a natural change in the shape and structure necessary for digestion, potentially damaging if the changes are negative, as is the case of certain processing methods.
6 Benefits of Hydrolyzed Whey Protein
Hydrolysis has more power in delivering amino acids from the gut to the muscle. Moreover, it enhances the speed of delivery when it comes to your intact protein. For that reason, your body will significantly receive more amino acids from muscle mass.
High-Quality Protein Source
Hydrolyzed protein powder is a high-quality protein source as it has the complete amino acid profile for your body. Its fast-absorbing and fast-digesting properties stand apart from traditional protein powders on the market. Overall, it benefits your body as an excellent protein source.
Growth in Lean Muscle Mass
If you are into high-intensity workouts or training, your body requires high-protein foods to build lean muscle mass. Hydrolyzed whey protein contains naturally occurring BCAAs that help in the growth and recovery of the muscles and also helps with muscle growth if you're getting older.
Controls Unwanted Food Cravings
If you crave food all the time, hydrolyzed whey protein can get you out of this habit. This protein supplement helps you to keep you full for a long time. Because it helps control unwanted food cravings, it does a great job of helping people keep their weight under control.
Prevent Stomach Issues
Since hydrolyzed whey protein is fast absorbing and fast-digesting, it helps to prevent stomach troubles. So, you will not experience bloating, ingestion, or diarrhea. It will keep your stomach clear and clean. So, if you are experiencing stomach troubles with other protein supplements, you must switch to hydrolyzed whey protein powder to get the best results.
Helps in Weight Loss/ Weight Management
Since hydrolyzed whey protein powder helps control your appetite by keeping you full for a long time, it aids in weight loss. In a way, it reduces your calorie intake and helps with calorie burning. Therefore, with hydrolyzed whey protein, you can reach a state of satiety, thereby aiding weight management.
Help Recover Faster
As we know, hydrolyzed whey protein forms small peptides that instantly help the body recover by absorbing them into the GI tract. In short, it means it will help the muscles recover faster compared to traditional protein powders. It also supplies quick nutrients to the strained muscle to recover from muscle soreness, injury, or cramp.
Is Hydrolyzed Whey Protein the Best?
Hydrolyzed Whey Protein is better in size, quality, and performance. It's made for faster absorption and digestion than whey protein concentrate because of how it's made. Hydrolyzed Whey Protein is best used by athletes who may need to take large quantities.
It is also known as a pre-digested protein and is used by patients having digestion issues.
In addition to this, it has increased the availability of amino acids. Hydrolyzed whey protein is superior in providing lactose-free protein powder to the body.
You can now enjoy a full recovery much faster than with other types of whey if you are an athlete or work out a lot.
It still cannot be called the best as whey protein concentrate has its own benefits. It has various other vitamins and minerals that are all removed from hydrolyzed protein.
It is so pre-digested that on consumption part of it just gets washed out of our bodies without causing any benefit to the body.
It is way too expensive and in some cases buying and using concentrate, you can get more protein comparatively.
Hydrolyzed Whey Protein vs Whey Isolate
If you look for scientific evidence or proof, there are no such proven claims that hydrolyzed whey protein works better than whey isolate. Whey protein itself acts as a fast-absorbing agent that starts to show its results within 40–60 minutes after consumption.
Whey protein has a greater percentage of bioavailability. However, no proven claim has been found yet that hydrolyzed whey has a higher bioavailability than concentrates and isolates. So, if we assume hydrolyzed has an unrealistic 100% bioavailability rate, it will only be 4% better than the basic whey found in the market.
If we talk about whey isolate, it helps to remove all fats, carbs, and lactose. Hydrolyzed whey works similarly to whey isolate. But, it is only beneficial if you are hypersensitive to lactose. Unlike hydrolyzed, whey isolate goes through a filtration process to maintain all the natural micro fractions found naturally in milk.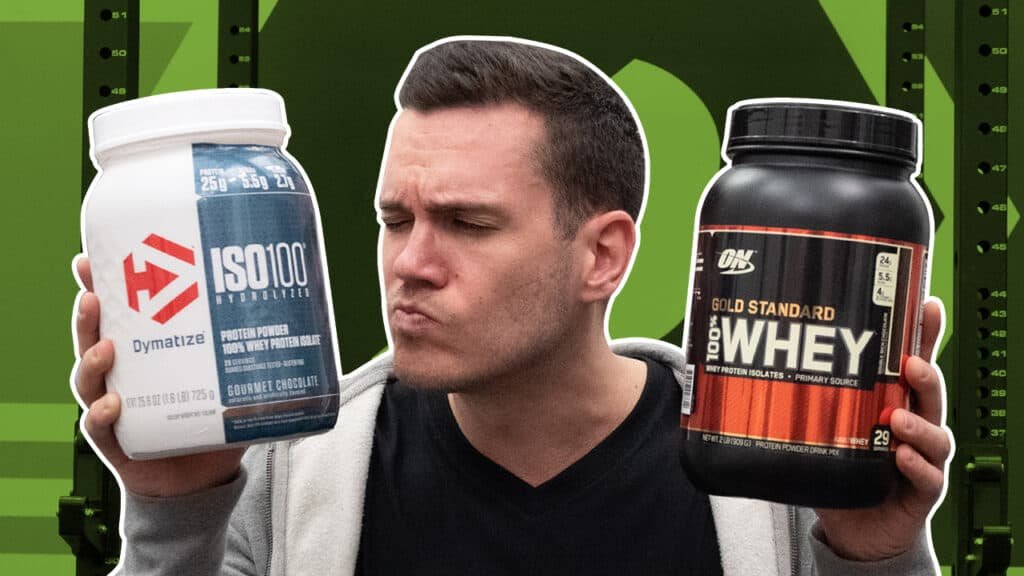 If we talk about micro fractions, they contain several health benefits. It includes a better immune system, improved digestion, enhanced mood, and others.
Now coming to the taste of hydrolyzed whey protein has an unpleasant taste. In such cases, a hefty dose of sweeteners and sugar is added to make it pleasant to taste. While isolate whey protein naturally tastes smooth and good without leaving any aftertaste.
Does Hydro Whey make you Fat?
Well, hydro whey works in a balanced form in our body. It both helps in weight loss and also aids in weight management. It effectively burns the fat in the body achieving a state of satiety by aiding weight management. In short, hydrolyzed whey does not cause any unhealthy weight gain or make you fat.
11 Best Hydrolyzed Whey Protein Powders
1. Dymatize ISO 100 Hydrolyzed Protein
Dymatize Hydrolyzed Whey Protein is considered one of the reliable protein supplements with a perfect taste and smooth texture. It consists of 35 grams of protein in each scoop. The right amount of protein is required for athletes to support muscle recovery after some high-intensity training sessions.
Nutritional Facts:
Calories: 120
Protein: 25g
Carbs: 2g
Fat: 0.5g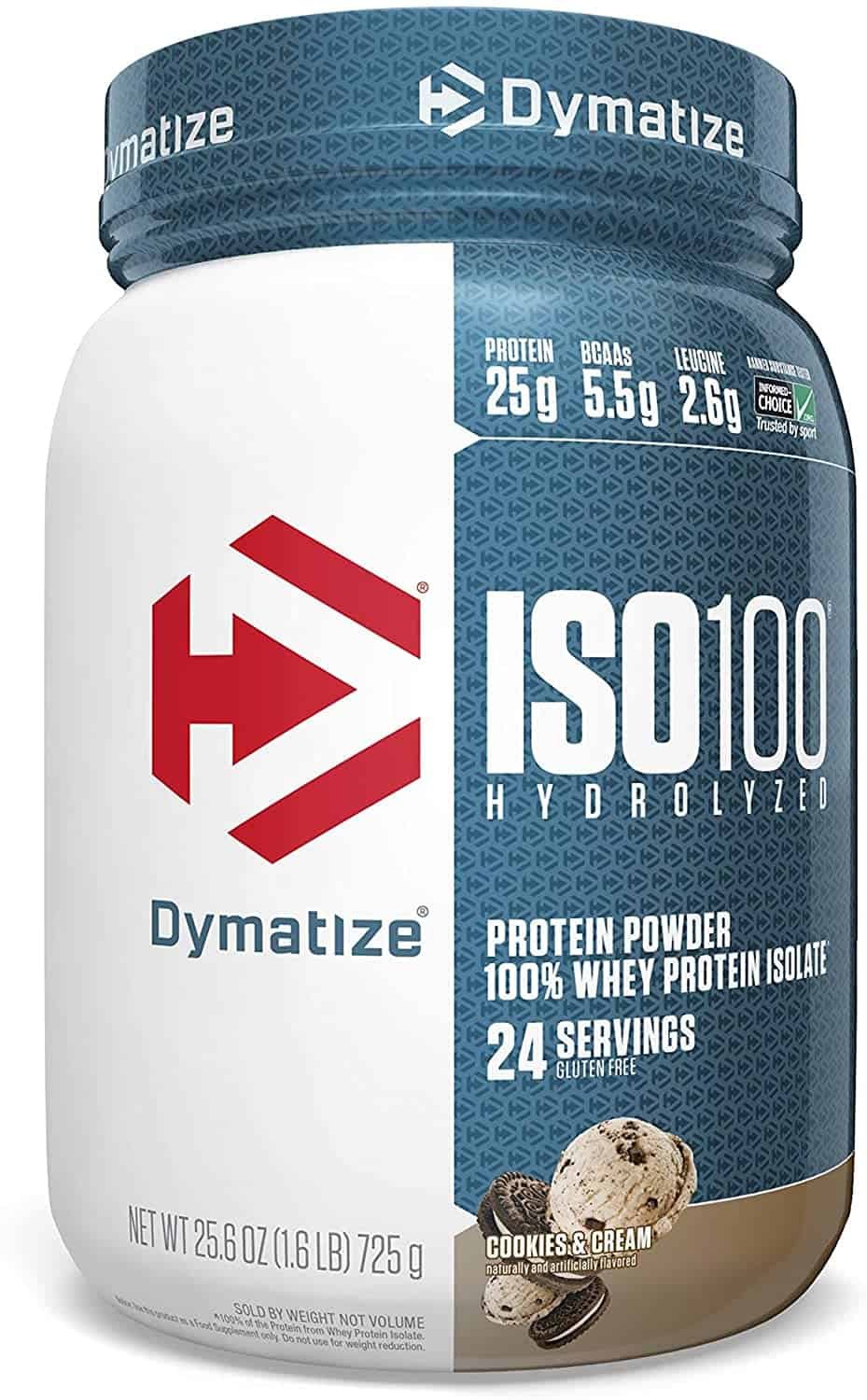 Pros
It's low in both fats and carbs
It contains naturally occurring BCAAs
It is available for up to 5 pounds
It comes in a variety of flavors.
Cons
It needs to be blended properly to form a smooth texture
2. Sascha Fitness Hydrolyzed Whey Protein Isolate
It is a high-quality grass-fed protein powder with amazing taste and is easy to mix. It also supports muscle building and complements your diet. Furthermore, your muscle absorbs the protein very fast. So, it's the best kind of protein powder if you want to improve body composition.
Nutritional Facts:
Calories: 110
Protein: 25g
Carbs: <1g
Fat: 0g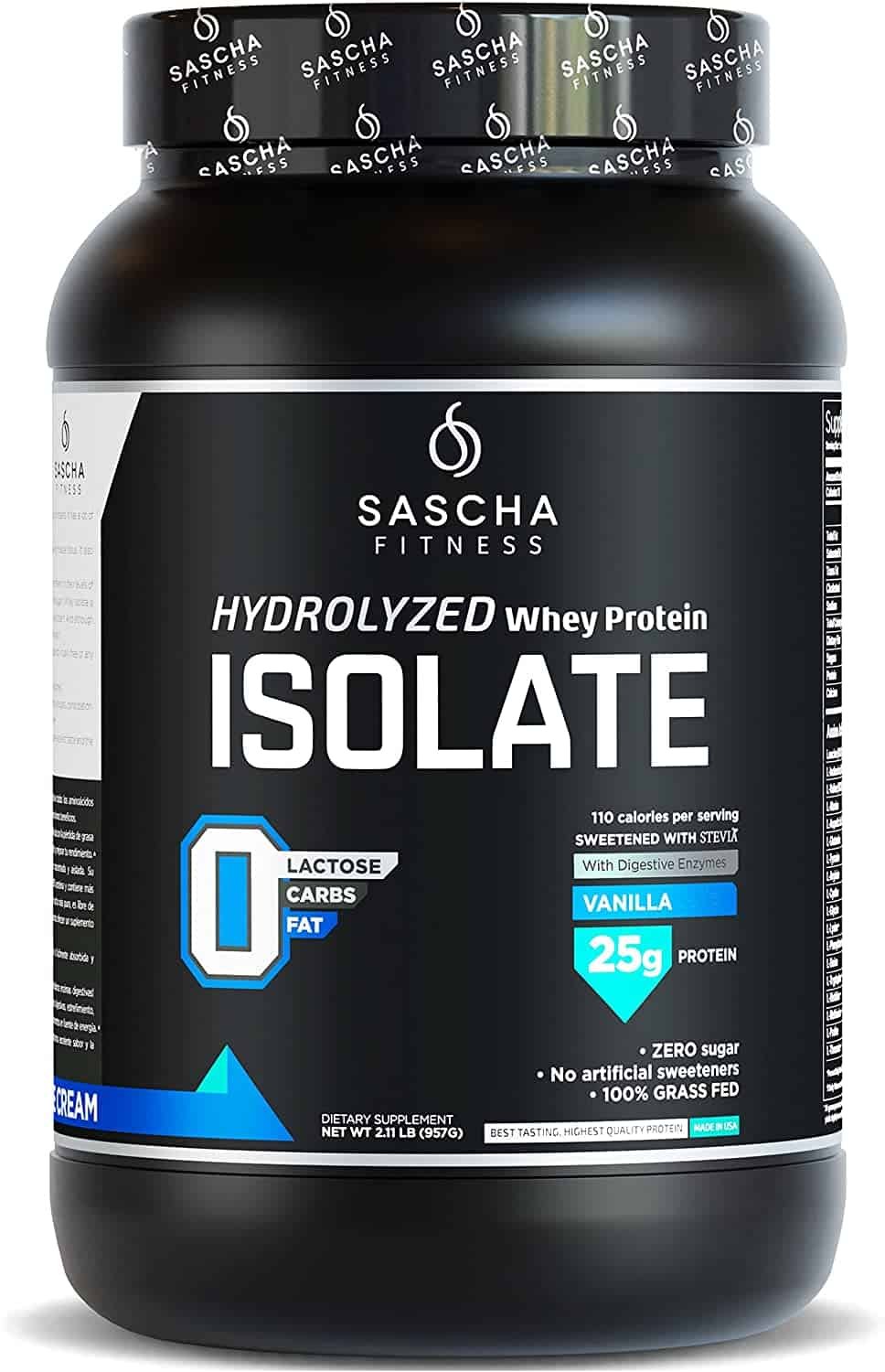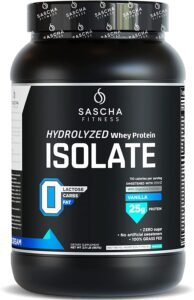 Pros
It contains zero carbs, fat, and sugar
It contains a high amount of BCAAs to build body mass
It is available in natural flavor for better taste
Cons
The texture of the powder is chalky
3. Syntha-6 Edge Protein Powder
It is considered the synthesis of premium protein and works efficiently for lean muscle, muscle recovery, and muscle growth. You can use it anytime, day or night. It gives the real milkshake-like taste and texture. It efficiently works for professional bodybuilders to build muscle growth.
Nutritional Facts:
Calories: 150
Protein: 24g
Carbs: 6g
Fat: 3.5g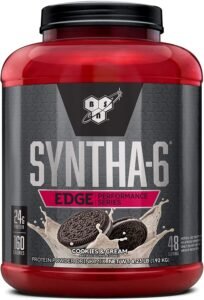 Pros
It contains a high amount of naturally occurring BCAAs
It is easy on the stomach
Mostly positive reviews about its flavor and texture
Cons
The sugar content is high
4. BulkSupplements Hydrolyzed Whey Protein Isolate
The BulkSupplement Hydrolyzed Whey Protein Isolate aids in muscle recovery, supports muscle growth, is a source of BCAAs, and is hydrolyzed to increase absorption. It requires the right amount for the right mixing to make training activities easier.
Nutritional Facts:
Calories: 122
Protein: 27g
Carbs: <1g
Fat: <1g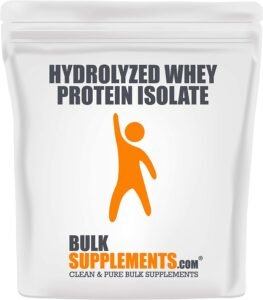 Pros
Strongest protein dosage per serving
Lab-tested for purity and quality
It does not support fillers or additives
Cons
No bulk tube is available
5. Optimum Nutrition Hydrolyzed Whey
This hydrolyzed whey protein supplement is purified, hydrolyzed, and enhanced to provide an overall benefit to the body. It works as an excellent protein source for post-workout recovery or between meals. It is also easy to mix with low calories.
Nutritional Facts:
Calories: 110
Protein: 25g
Carbs: 1g
Fat: 0.5g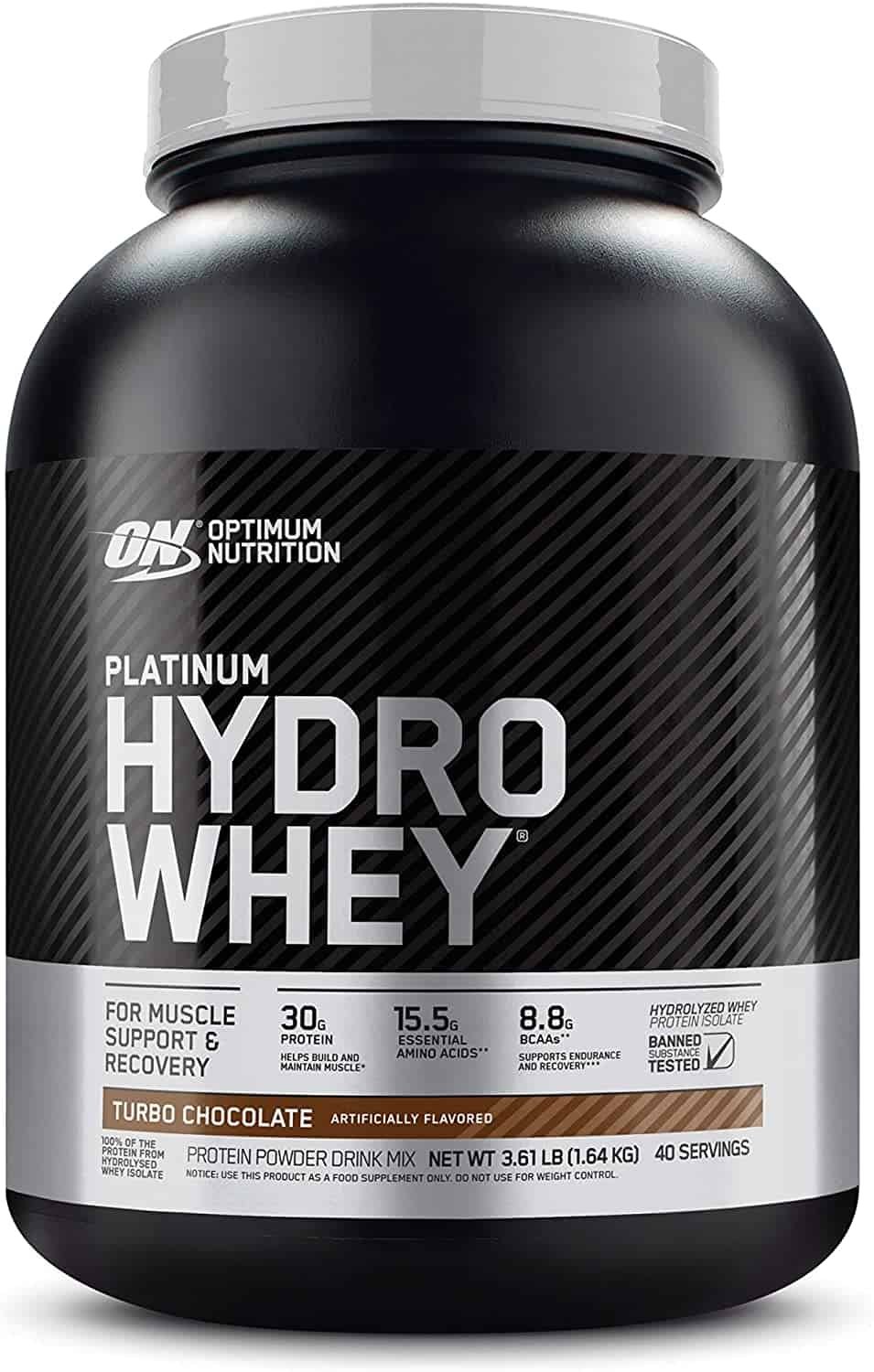 Pros
Its nutrient profile makes it best for every diet
It contains a good amount of glutamine peptides
Easy to mix
Cons
It does not come in an unflavored option.
6. Muscle Feast Hydrolyzed Whey Protein
The Grass-fed Hydrolyzed whey protein supports muscle growth and recovery. It also delivers a faster-digesting form of protein. It is more hydrolyzed, meaning it is further broken down and makes it easier to digest and absorb.
Nutritional Facts:
Calories: 116
Protein: 23.5g
Carbs: 3g
Fat: 1.7g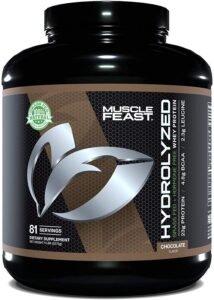 Pros
It contains no artificial flavors, filler, or additives
It is sourced from grass-fed cows
Cons
It is not easy to mix in the shaker.
7. Amazing Muscle Ultra Pure Hydrolyzed Whey Isolate
It is one of the popular supplements in the market for its lower fat and carbs content. In short, it helps to keep your macros in order. Furthermore, it is free of soy for those allergic to soy. Due to its smooth texture, it efficiently mixes well without a blender.
Nutritional Facts:
Calories: 110
Protein: 25g
Carbs: 1g
Fat: 0g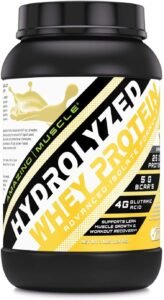 Pros
It is third-party tested for quality and purity
It mixes well in the shaker
You can use it for different meals
Cons
It is restricted to limited flavors.
8. NAR LABS Hydrolyzed Whey
One of the latest hydrolyzed whey proteins to hit the market has great popularity among users. It contains a high level of amino acids suitable for regular high-intensity training. If you belong to the Keto group, it is the best-hydrolyzed whey protein to serve your purpose.
Nutritional Facts:
Calories: 112
Protein: 27g
Carbs: 1g
Fat: 0g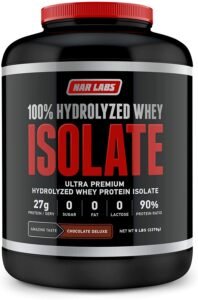 Pros
It is lactose-free
It added by BCAA components
It contains a high dose of whey protein
Cons
Some flavors are not good to taste
9. Muscle Food Labs Muscle Isolate Hydrolyzed Whey Protein
This protein supplement is highly suitable for CrossFit, resistance, or heavy weight training. It provides 30 grams of protein per serving while maintaining high standards of quality.
Nutritional Facts:
Calories: 124
Protein: 30g
Carbs: 0g
Pros
It is easy on the stomach
It does not contain any artificial ingredients
It contains a high amount of protein per serving
Cons
It doesn't have an unflavored option.
10.VitaXtrong Iso-Pro 100% Hydrolyzed Whey Isolate
It's a fast-acting hydrolyzed whey isolate containing 27 grams of protein per serving. It's gluten-free with plenty of available flavors. It offers great taste with easy mixing properties without forming any lumps in the solution.
Nutritional Facts:
Calories: 116
Protein: 27g
Carbs: 1g
Fat: 0g
Pros
You can buy it in bulk bags
It is both gluten and lactose-free
It is very easy on the stomach
Cons
It contains artificial flavors.
11. Bodybuilding.com Signature, 100% Whey, Isolate | Hydrolyzed Whey Protein Isolate
It is a hydrolyzed whey protein isolate that helps the body easily digest and absorb. It contains amino acids that aid in post-workout muscle growth and recovery. It has gone through the filtered process to remove most fats and lactose.
Nutritional Facts:
Protein: 25g
Total carbohydrate: 1g
Calories: 110
Total sugar: 1g
Pros
Fast digestion and absorption
Aid in recovery and building muscle mass
Researched backed ingredients
Conclusion
Hydrolyzed whey protein is 100% safe to consume without causing stomach aches or gut issues. Also, if you are hypersensitive to lactose, hydrolyzed whey protein works best for you. Lactose, which is found in traditional whey protein powder, can make people with lactose intolerance feel bloated, crampy, sick, or have diarrhea.