Treadmills with screens are a great way to do your workout and stay motivated. A treadmill with TV screen makes exercise even more enjoyable with all the programs you can watch. Then there are treadmills with touch screens to which you can give commands.
Benefits of Treadmills with Screen
They usually have higher weight capacity and a heavy-duty motor at the higher end. It will have a higher incline, an HD touchscreen, an auxiliary port, and many workout sessions. A high maximum speed, a lifetime warranty, and other extra features will be there. Some even have a separate heart rate chest strap. But in no case are these budget-friendly treadmills.
If we look at the benefits, these otherwise silent treadmills have various uses.
You can watch various preset programs on the screen, fix workout time, do trainer-led workouts, or demand studio workouts. For an intense workout, you can select different training sessions daily.
You can use the company's or other training apps to set workout routines. In particular, it is beneficial for my interval training.
A treadmill with screen for Netflix is a good incentive to run longer.
Some programs are built so that you don't feel as if you are running indoors. The feeling is almost like outdoor training. You feel like you are running in the Himalayas or on some exotic beach with various other runners. In one of the programs, I saw myself running on the ghats of Ganga along with multiple runners. That was simply mesmerizing.
You can also record your runs. So, the treadmill suggests your future runs based on your capabilities.
Due to the company apps attached, a treadmill with big screen is wonderful exercise equipment for your marathon practice. So, your training continues even during winter or during heavy traffic hours outside.
Having a treadmill with screen for streaming is an absolute luxury.
But there are specific cons as well.
Once you get used to a treadmill with screen, you get addicted to it. You will not like running on another treadmill. In my case, I am not addicted enough to run only on a treadmill. I frequently go out for my runs as well.
Though for short distances it is OK, the TV screen is too close for comfort if you are a long-distance runner.
If you are walking, it seems alright, but while running, you don't feel refreshed after your workout.
After a few days of using it, if you have started watching TV, you will not even bother to look at your exercise numbers.
Comparison Chart – Best Treadmill with Screen
The NordicTrack X32i has the biggest screen on the list. NordicTrack has the highest number of treadmills with big screens. We have mentioned the most prominent one here.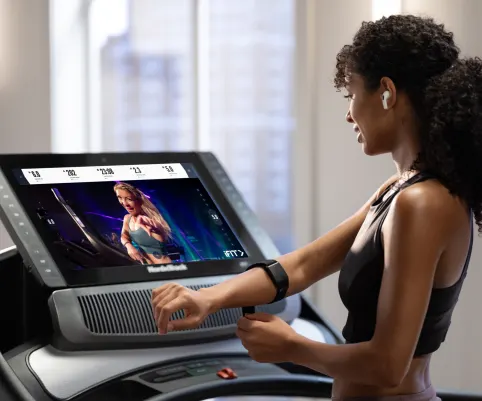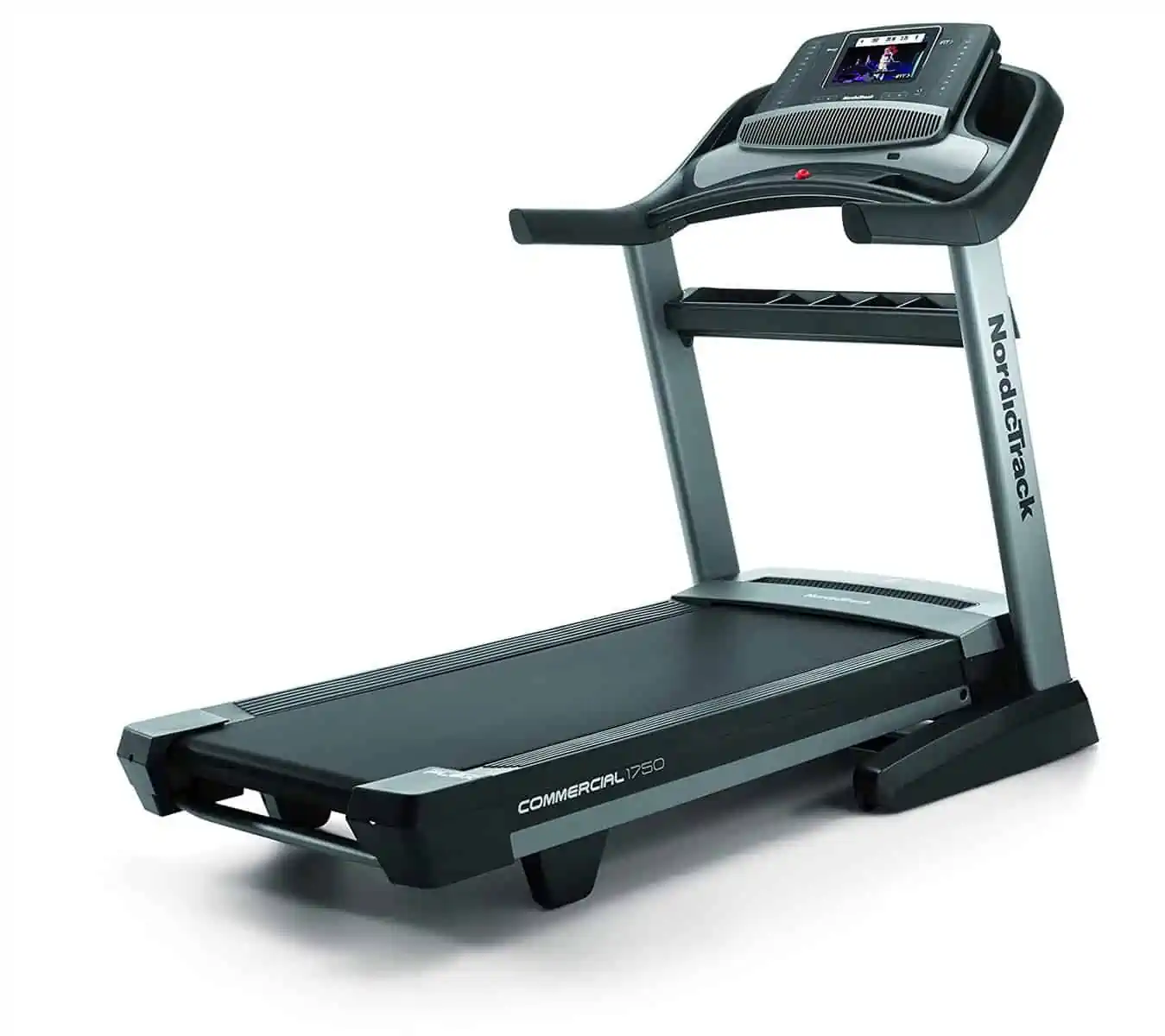 So, we chose the biggest of the NordicTrack screens for this post. We also added the best of other companies for variety to share more options with the customers.
NordicTrack's sister concerns, Proform and Freemotion, also have several big-screen treadmills.
NordicTrack X32i
Screen – 32 inches
Preset Programs – 50
Warranty –

Frame – 10yrs,
Parts – 2yrs,
Labor –1yr.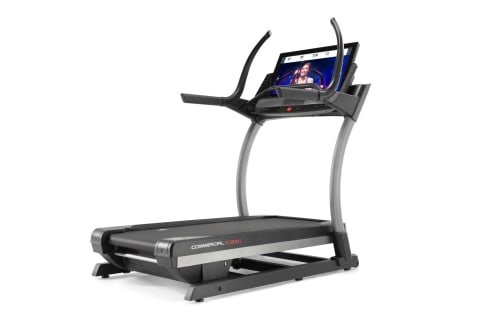 It is a joy to run and stroll on the NordicTrack x32i. The NordicTrack Reflex cushioning has a little bounce to soften the impact of each step. The steel frame is sturdy. It does not fold for storage, so ensure you have enough space.
The incline of the X32i is unique—a 40% slope challenges even the fittest mountain runners. A preset workout changes the pace and incline depending on your fitness level. Even while running, the slope adjusted smoothly up and down.
The NordicTrack x32i is silent. A fan keeps you cool. You may adjust an exercise fan for speed and angle. There are many handrails for you to grab onto, particularly on the steeper inclines.
The NordicTrack X32i hardware is perfect for iFit. The surroundings are usually stunning. I didn't have to alter my perspective or tilt my head to see the screen edge-to-edge. The iFit software is controlled by tapping and swiping on the touchscreen display. I had no trouble switching between the workout library, home screen, and calendar view.
Tap on the screen to access exercise settings or halt a workout. The buttons are large enough to use while exercising or stopping a session. My only complaint is that you can't link it to an Apple TV or Roku to stream movies. It was only introduced to the treadmill for iFit. Software needs work. iFit lacks crucial navigation functions.
Walkers, hikers, and runners will love the NordicTrack X32i. It is a treadmill with a TV and WiFi. The X32i will meet your needs, whether you are starting or preparing for a marathon. The up to 40% inclination adds challenge to every exercise.
The x32i offers a thigh-crushing exercise for mountain hikers and runners. Even if you don't want to be in the mountains, the variety of inclines offers challenging and varied workouts.
The NordicTrack x32i is like a tank with a 4.25 CHP DurX Commercial Plus motor. The treadmill should last for many years.
Pros
The touch screen has become quicker and more responsive after the upgrade.
There is up to 40% shock absorption while running due to better cushioning.
It is a treadmill with the biggest screen and maximum incline.
The longest track is 65′′.
Cons
It is a non-folding treadmill.
It needs many men to move due to weight.
Bowflex T22
Bowflex T22 is another treadmill with large screen.
Screen – 22 inches
Preset Programs – JRNY
Warranty –

Frame & Motor – 15yrs,
Mechanical Parts- 5yrs,
Electronics- 1yr,
Labor- 2yrs
The Bowflex Treadmill 22 is a strong piece of equipment you can use in the comfort of your own home. It is another expensive, heavy-duty treadmill.
Bowflex's subscription training platform, JRNY, comes free with the Treadmill 22. After the two-month trial, the monthly cost is $19.99.
In size and sturdiness, the Bowflex Treadmill 22 rivals commercial treadmills. That heaviness correlates to sturdiness. The Treadmill 22 can withstand furious jogging for a long period. It has extended grips with heart rate sensors. There is a media rack for phones or tablets, a USB port, and the standard cup holders and safety key. Move your hands up and down on the grips or sidearms to change pace without touching the screen.
Bowflex's "gentle drop mechanism" folds the equipment. Activate it by pressing the release button on the bottom of the deck and pulling up on the lifting handle.
The adaptive exercises learn your fitness preferences. You are advised to do 15-20 minutes of high-intensity training to understand this. It is a treadmill with Netflix, Disney Plus, Hulu, and Amazon Prime Video. Due to these, you tend to use the treadmill 22 more often.
The Bowflex Treadmill 22 is expensive, but consider the cost of a gym membership. It is a high-end, heavy-duty machine with a robust, unbreakable construction.
Pros
Unlimited Workouts
Scenic adaptive workouts
Excellent Warranty
Proform Pro 9000
Screen – 22 inches
Built-in Programs – 40
Warranty –

Frame-10yrs,
Parts-2yrs,
Labor-1yr
The Smart Pro 9000 is one of Proform's best in-home treadmills.
The Pro 9000 treadmill is for serious runners and families with multiple trainees. This treadmill has the Mach Z Commercial Plus motor. The ProForm Boston Series treadmills for marathon training also have the same motor.
The Pro 9000 is a good option for indoor running. This treadmill is ideal for runners who want to train safely at home. With plenty of power and space, the cushioning makes long runs more comfortable.
If you want something durable and reliable but don't want to spend over $2000, buy Pro 9000.
Running enthusiasts of all levels will find great value in the SMART Pro 9000. We like that this machine supports iFit without requiring a subscription.
The ProForm Boston Pro 9000 is an excellent option in this series. It has a high-tech console, a powerful motor, and a spacious, supportive running area. For $1,799, you get a robust, durable, reliable treadmill for runners. We recommend the Boston Pro 9000 treadmill from the Boston Marathon Series.
Pros
Great Decline to Incline
40 Preset workouts
iFit Subscription
Life Fitness Platinum Club Series
Screen – 19 inches
Preset Programs – 42
Warranty –

Frame – Lifetime,
Parts – 10yrs,
Labor – 1yr,
Life Fitness Platinum Club Series
It is the most expensive treadmill on the lot.
It is a treadmill from the Life Fitness Platinum Club Series for home gyms. It comes in four finishes and three elegant consoles to suit any decor. It is available in various colors. Arctic Silver, Black Onyx, Diamond White, and Titanium Storm. With a 60′′ track, inclination, a 4.0 HP motor, and lots of programming. An optional Bluetooth connection is also available.
Premium components make the Platinum Club Series Treadmill expensive. The Flex-Deck with eight shock absorbers lowers the stress on joints. That is by nearly 30% compared to outdoor jogging. The track features 3.5′′ sealed rollers that do not need waxing.
Three quality console screens with Bluetooth connectivity keep runners engaged and inspired. The Explore Console has a QuickNav dial and a 7-inch screen.
The Discover SE and SI Tablet Consoles have bigger touchscreens. So, using treadmill TV, the Internet, fitness apps, and interactive exercise classes is easier. Favorites are stored in quick-access centers. Preset exercises include various fitness tests, calorie-burning routines, and more.
A reading rack, an accessory tray, and two detachable water bottle holders are included. Safety features include side rails. Heart rate monitors: contact, wireless, and four heart rate exercises are provided. Most runners do not find a step-up height of 10′′ excessively high.
Pros
Extended warranty is available on extra payment.
White glove delivery is available.
Screen – 18.5 inches
Preset Programs – 28
Warranty –

Frame – 10 Yrs
Parts-2 Yrs
Labor-1 Yr

LifeSpan TR7000iM commercial treadmill is a high-performance treadmill. It has a 5 HP AC motor, a 22″ x 62″ running deck, and an 18.5-inch LCD HD touchscreen. Its features make it ideal for commercial or home gym upgrades.
A mirroring feature to screencast your favorite YouTube channels while working out. Four impact-absorbing shocks that reduce stress on the joints and replicate real-world environments.
An incline/decline range of -3 to 12 degrees and speeds up to 12 mph provide various workout options.
Optional medical handlebars that help users with injuries or balance issues. It has 28 diverse exercise programs. There are heart rate training and various physiologist-designed programs. It has programs catering to different fitness goals and levels.
A durable, versatile, and entertaining treadmill that can handle hours of daily use and help users achieve their fitness objectives.
Pros
Extra-large running surface of size 22″ x 62″
Powerful AC motor at 5 CHP
Large 3″ rollers
Wireless chest strap compatibility
IntelliGuard and IntelliStep advanced features
28 built-in programs include accelerated heart rate training
Cons
Not equipped with a fan
Occupies large space
It does not come with a chest strap
Short warranty
Screen – 15.6 inches
Preset Programs – 10 + 12 customizable
Warranty –

Frame & Motor – Lifetime
Deck & Parts – 3 Yrs
Labor – 1 yr
Cosmetic Items -90 Days
The F85 treadmill is one of the best folding treadmills on the market.
This year, Sole introduced the new Z-shaped frame. But it has the same 4 HP motor. The large(60″ x 22″) running track and 2.75″ rollers extend the effectiveness of the treadmill's motor.
With a speed of up to 12 mph and an incline of 15%, the company has also introduced a 6% decline in the new model. The 375 lbs weight capacity makes it easy to handle multiple users.
You can connect the F85 treadmill to a WiFi connection. 7 preset apps, like YouTube and Netflix, are included in the 15.6″ touchscreen display. Besides, it has a screen mirroring facility. You may connect it to the New Sole+ App available on Android and Apple App stores. You can save up to 12 multiple customizable programs. So you can have enough flexibility and variety in workouts.
The F85 includes Military Fitness Tests too. Along with a new display, it has a tablet holder, multiple cooling fans, and a wireless 2 Amp charging pad.,
Pros
15.6-inch touchscreen display with seven preset apps and screen mirroring, a tablet holder, a wireless charging pad, and a USB port
Folding is Featherlite despite such a heavy treadmill.
Large 2.75-inch rollers
It has a lifetime warranty on the motor and frame and three years on parts and electronics.
Cons
It is a heavy treadmill. Not suitable for small spaces or second-floor rooms.
Fewer built-in workout programs Only ten pre-programmed workouts and 12 custom workouts.
XTERRA FITNESS TRX5500
Screen – 10.1 inches
Preset Programs – 30
Warranty –

Frame & Motor-Lifetime,
Deck-5yrs,
Parts-2yrs,
Labor-1yrs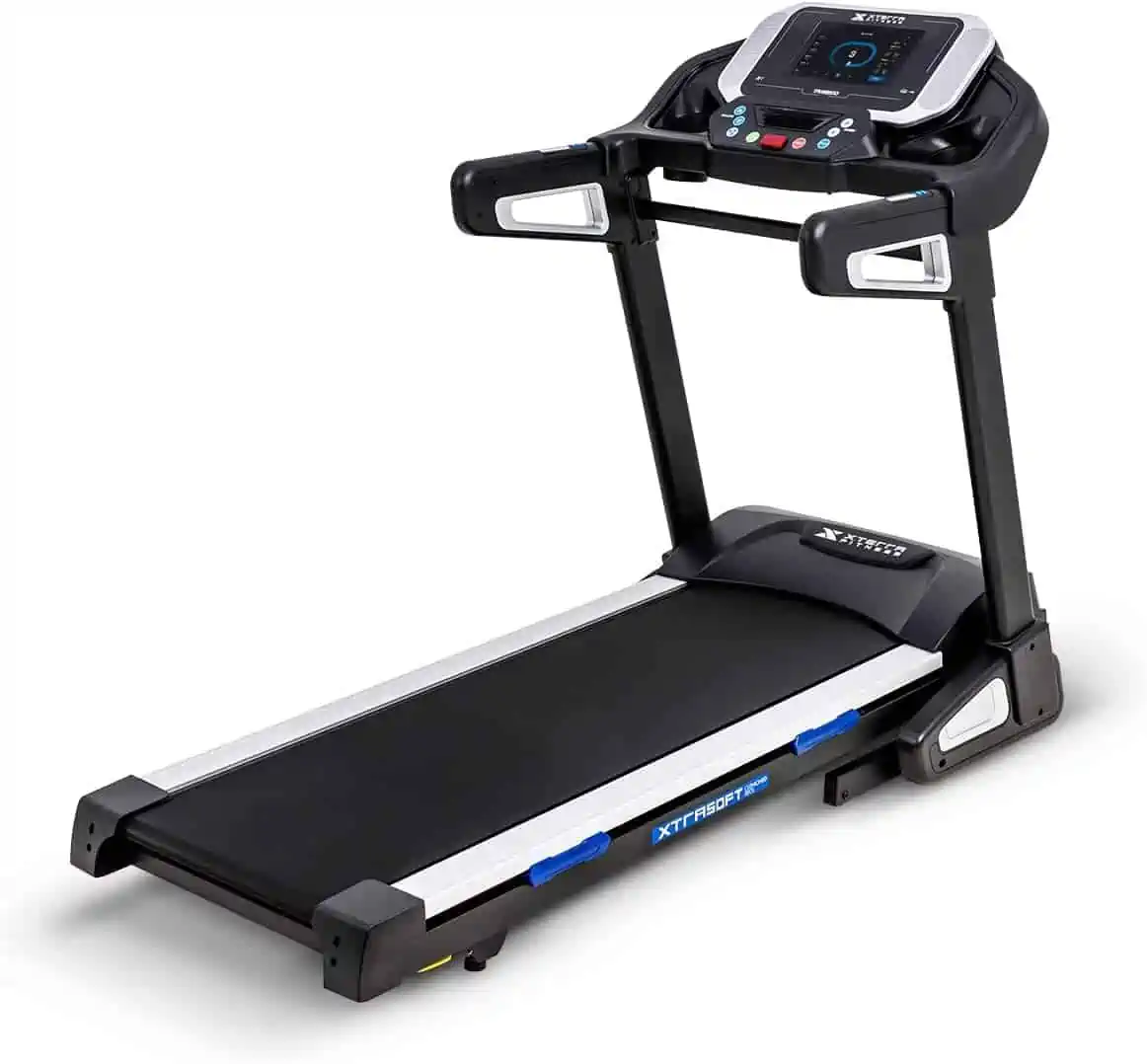 XTERRA Fitness, known for producing high-quality, affordable home fitness equipment, makes TRX5500. XTERRA's TRX5500 is one of the finest cheap treadmills on the market.
Even though they aren't as well-known, XTERRA outperforms most rivals in performance.
Their warranties are much superior to those of their competitors. With a 350 lb weight capacity, it outperforms many machines in the category. Its structure is more durable and can accommodate bigger users than others.
XTERRA's 2-ply belt on this model is thicker than the single-ply belts on many cheap machines. The thicker belt will last longer, but it will also be more pleasant to run on. The LCD console has a brightly lit screen that is easy to see while you work out. It's also relatively simple to use, which is excellent for beginners.
The interface is basic, yet this treadmill has more than 30+ exercise routines. You also get two personalized programs and a free workout controlled by your heart rate. You can connect it to the most popular fitness monitoring apps with Bluetooth. You can adjust the speed and incline with the handlebar buttons.
It has built-in speakers and an audio port for connecting your phone or tablet. The built-in fan may help keep you cool when working out hard. A water bottle holder keeps your beverage of choice within reach during exercise. This treadmill has much to offer in performance and console functions.
Pros
Folding
Bluetooth
Heartrate Monitor
Cons
The console looks slightly dated.