A commercial treadmill with a whisper-quiet deck, Nordictrack 1750 commercial treadmill comes with a 10″ Smart HD touchscreen. A smart, powerful, quiet 3.75 horsepower motor that keeps going on and on so that you can get in those longer runs. Sturdy and solid build with quiet operations, the motor can run intervals for those more intense training sessions.
NordicTrack 1750 Treadmill supports weights up to 300 pounds. It is a comfortable Treadmill with a roomy deck and wifi connectivity. NordicTrack 1750 is a powerful motor designed to be quiet and cool even at a maximum speed of 12 miles per hour. The motor is self-cooled and will keep you running even on your longest runs!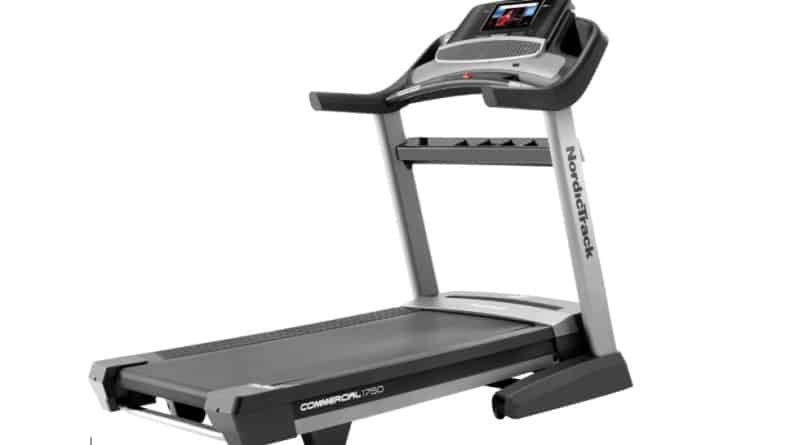 "I'm loving the iFit workouts Level 1 Series that keep increasing your time/distance etc. It's making me look forward to running more! You guys are awesome! " I've had two friends get started with Nordictrack and ifit!. They are loving it as well!"Thanks for creating a fun and engaging workout we can do from home!"
This treadmill review covers various benefits of iFit in addition to Nordictrack 1750.
Nordictrack 1750 Quick Summary
You can run at whatever time of the day you feel like and still be running in your dream cities. The treadmill has a built-in heart rate monitor, a touchscreen display, and interactive personal training through iFit.
This model is entry-level for NordicTrack's Commercial series. More advanced models in the series include better motors and bigger touchscreens. However, those premium features come with a premium price. The popular Nordictrack 1750 treadmill will satisfy most runners and offer great value for walkers and joggers.
This treadmill is designed to be used by people who want to lose weight and enjoy exercising. It comes with an iFit app that lets you run around the world while keeping your workout interesting. You can even watch movies or TV shows during your exercise session.
NordicTrack has launched its new treadmill with faster graphics processing and better wi-fi connectivity. The treadmill's Bluetooth capability allows you to connect your Bluetooth headphones to the treadmill and listen along to interactive workout sessions. The incline runs are quieter than before and much more smooth. The 30-day iFit membership included with the treadmill is now available as a family membership. Once you get the iFit experience, it is difficult to leave it.
Related Readings

Best treadmill under $1500: Tough Choice in a Popular Range
Best Casein Protein for Weight Loss in 2021: 11 Top Selling
Specifications
Dimensions 81.25″ x 39″ x 39″. Treadmill belts are usually 20″x60″. This model is bigger than most treadmills in this price range with a 22″x60″ belt. The belt is also thicker, which makes it more comfortable and quieter. There are two big rollers. These features make the treadmill more durable.
You can fold it up when not being used. Foldable treadmills are great for people who want to save floor space. EasyLift™ Assist makes it easy to fold the treadmill without assistance. The Nordictrack 1750 folds up easily for storage.
This treadmill is entry-level in its series but powerful enough for runners. The treadmill has a high-quality 3.75 HP motor, power incline and decline, and deck suspension with 2 firmness settings.
The heart rate program allows you to monitor how often your heart beats per minute. This treadmill is equipped with an electrocardiogram (EKG) sensor. It enables you to monitor your heart rate while exercising.
You can change treadmill programs without having to change any settings manually.
Treadmill max user weight represents how durable the treadmill is. In this case it is 300 lbs.
Treadmill Cooling fans are designed to help keep your body temperature down while you exercise.
There is an accessory tray for storing items such as water bottles or wallets.
It also has an HD touchscreen and Bluetooth-connected speakers.
NordicTrack iFit Advantage
iFit app is included with the purchase of the Commercial 1750. iFit requires a monthly subscription to unlock the full features. Training in your home iFit auto-renews at $39/month+tax on a new 10-inch smart screen. You can stream live demand workouts hosted by an iFit trainer on your Nordictrack 1750 treadmill. Enjoy improved image consistency as you follow personal trainers everywhere, from the peaks to the glaciers of Antarctica.
Users can select their pre-set workouts based on calories burned, interval training, heart rate monitor, etc. iFit controls the workout for you and also lets you choose what exercises to do.
On-Demand Studio sessions include cardio training, strength training, and more. You can hop off your treadmill to do other types of exercise.
One-Touch Control
The iFitness console is an innovative device that allows users to run, walk, hike, bike, swim, and do much more. You can also row, ski, snowboard, skateboard, surf, sail, climb, paddleboard, golf, tennis, dance, yoga, Pilates, weightlifting, strength training, cardio kickboxing, boxing, martial arts, spinning, surfing, skiing, snowboarding, skateboarding, rowing, stand up paddleboarding, sailing, kayaking, canoeing, rafting, swimming, cycling, hiking, walking, running, biking, skating, squash, tennis, golf, yoga, Pilates, etc.
Runner's Flex Suspension
Runner's flex cushions offer improvements in knee, hip, and joint protection while reducing impact on knees, hips, ankles, and feet.
There's also a flexible cushioning option that can cut down on impact on joints by up to 30%. Here, runners can turn off the cushioning if they want to mimic the experience of running on asphalt, although this may cause some discomfort.
Running Deck Incline & Decline
Walking uphill takes longer than walking downhill. You burn more calories when you walk uphill because you need to use more energy to climb the hill. Walking uphill also burns more calories per hour because you're moving slower.
The workouts are great to use on the Nordictrack 1750's incline range and decline, which is from -3% decline to + 15% incline, allowing trainees to gain muscle and strength. The incline and declines will automatically adjust to the terrains during workouts to reflect the locations they virtually run through more accurately. A very impressive feature to help runners who've had previous injuries or joint pain forget they're on a stationary machine!
Pros Cons
This treadmill is large enough to run on. It has a power incline and declines feature, an HD screen and a touch panel with 50 built-in workouts. You can connect your phone via Bluetooth.
Problems arise when manufacturers are slow to respond to customers' needs. Customer service representatives are often overwhelmed by the number of calls they receive.
Warranty
Nordictrack 1750 comes with a 10-year frame warranty, a 2-year parts warranty, and a 1-year labor warranty.
Treadmill warranties vary significantly from company to company. The longer the warranty period, the more likely the treadmill will be repaired if there is an issue.
A 10-year warranty seems less than treadmills with a lifetime warranty even.
Conclusion
A folding treadmill that's easy to set up and offers plenty of features. This model isn't as advanced or customizable as some others, but it still does an excellent job.
If you're looking for a good-quality treadmill that won't break the bank, then this might be the one for you.